Our bi-monthly (3rd Tuesday) online meeting
Despite the Coronavirus Outbreak we continue to meet and Rotarians in the West of Scotland and beyond are very welcome to attend and maintain contact with others in the West of Scotland.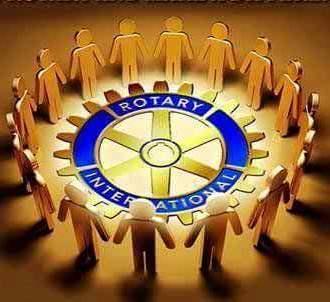 Our picture shows a number of people in a circle around the Rotary Wheel. This is not politically correct in that social gatherings should not be taking place and if they were there should be much more space between each person! However our meetings are conducted online so we don't physically meet, at least not in the present situation.
You are very welcome to join us from the comfort of your own home. We are a very relaxed group - no dress code required and often with a glass or cup in hand.
We meet on the first Sunday of the month and the third Tuesday at 8pm (GMT or perhaps British Summer Time). There is information about Zoom Video Conferencing Meetings on the front page of our website.
Contact Iain Shaw about this page: