Rotary has been organising youth exchanges for over 60 years, providing incredible opportunities for young people to see the world, experience a different way of life, maybe learn another language, make international friends and discover a lot about themselves whilst acting as an ambassador for their own country.
Parents and guardians can be assured that Rotary is committed to maintaining a safe environment through policies designed to ensure the health, safety and welfare of all participants in the programmes.
Each year, worldwide, over 7000 young people enjoy the experience of a lifetime through Rotary Youth Exchange. Will this be your year to travel on an amazing voyage of self-discovery and change your life forever.
A page to print with the above information on (it can be used as a poster in schools), will shortly be available. Check back soon.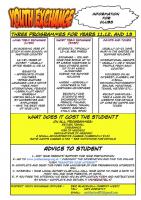 Students: Please use the link www.youthexchange.org.uk for full details of all the programmes. You will be able to register your interest in a programme is the first step in the adventure of a lifetime.

Clubs: Please contact the District Youth Exchange Officer, Eric Blackwell, who will guide you through the process of organising an exchange.