Welcome to the New Rotary Year
July 2021
It is a great privilege to be the District Governor for Rotary across the Thames Valley for the year from July 2021.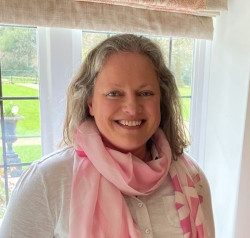 With 56 Rotary clubs, plus Rotaract, Interact and Rotakids clubs we have members making a huge difference in their local communities and supporting many international projects. From Banbury in the north, Burford and Faringdon in the west, Hungerford and Newbury in the south and Pinner, Hillingdon and Uxbridge in the east you will find Rotary's presence supporting many initiatives.
You will see patches of purple crocuses promoting our global polio eradication campaign, you will glimpse the Rotary logo on food bank vans and community mini buses. Clubs have donated laptops to schools, many Rotarians have helped at Covid vaccination centres, and a number of youth groups have benefited from Rotary grants for training, counselling and facilities. These are all amazing examples of our Rotarians as People of Action.
Our Rotary International President for the year, Shekhar Mehta, is encouraging us to take advantage of our new Area of Focus "Protecting the Environment". Many of our clubs are already engaged with environmental projects, often in partnership with other community groups.
Empowering girls is another of Shekhar's key themes. While we often think of the disadvantages that girls face in education in low income countries, there are still inequalities in our local communities and our clubs do already support young people and their programmes to close those gaps.
I look forward to visiting clubs, helping out at events and assisting Rotarians to tell their inspiring stories.
To see what your local clubs are doing, use the menu at the top of the page to see the full list of clubs and click on a link to visit the club website.
Karen Eveleigh
District Governor for Rotary District 1090 in the Thames Valley