African GSE Team Leader's Diary- Wensleydale
A rest day, then on to Wensleydale
Thursday 14thMay 2009
One of the astounding things for a person coming to the UK for the first time is the vast range of choices that people here have! For any single thing you may want there are lots and lots of options. Take a very simple case, say of bread. Back at home the only choice may be the bakery. In up-country towns in Uganda there would be no choice at all. Perhaps the choice would be to buy or not to buy. That is if you found the bread. Some places would not have any bread at all. Where you found bread, it would most likely be a few days old and probably gone stale. Here we have found shelves and shelves of different types of bread. First you have to decide whether you want white or brown bread. If brown then you have to decide whether you want whole meal bread which has grain. You then have to decide whether you want salted or sweat bread. Once you have passed this stage you then go to whether you prefer the bread sliced or not. If you are not taking sliced you have to decide whether you want the long stick bread (baguette) or block bread. There are many other factors to consider such as whether you would want organically grown wheat or not etc, etc. There is simply too much choice! When we walk through supermarkets we are amazed at how much there is to choose from.
I wonder how the men do shopping here! My wife usually writes a shopping list for me and I then go shopping. My work is relatively easy because if the choice is meat, I will go to butchery along the road, ask the butcher to chop off two kilogramme of meat for me and that is all. In many places I do not even get to choose which part of the meat I take. Here I would not know how to but meet! My wife would have to pinpoint to within 10 centimetres of the part of a cow from which I have to take the meat! For many of our men, shopping would be a nightmare.
Perhaps because of the vast choices here is so much wastage. When I first came to Britain I went with a friend to a dumping place and was shocked! Lots of household items which were, in what I thought was very good condition, had been dumped! There was furniture which still had many more years of life in it! I could have furnished a whole house all from that dumping place! I turned to my friend and asked why anyone in their right mind would want to dump such items. He replied that they were most likely replacing the furniture or the different items and that there was no second hand market for it. But at home if I had furniture that I considered worn out, and by that I mean really worn out as in threaded here and there, I would probably put new covers. Then when that got worn out and the chairs started sagging, I would give that to my young brother or cousin. He would have graduated from plain wooden chairs to a sofa set and would deeply grateful. Many years later, when the sofa was all worn out and only the wooden frames remained he would then give that furniture to an uncle in the village. The uncle would be extremely pleased to receive "town chairs". Such is life. We recycle and recycle and recycle. We do not waste anything! What would be a worn out trouser would be a deeply appreciated gift to my uncle in the village. He would wear it until for years, routinely patching up any holes that came up. Even when it got to a point where the local tailor was unable to help, there would be someone else who would be grateful to have it. If it gets threaded we get the ends and tie knots. That is life. If I bought bottled water and drank the water, the empty bottle would find some use in the village. It would be used to for carrying paraffin from the local shop. It could even be used for storing homemade passion juice.
We have local blacksmiths who will weld a cooking saucepan so many times and extend its life over 10 times the manufactures warranty. If it gets to appoint when it cannot be patched up, the bottom part will be cut out and a new bottom fitted, usually made out of other worn out saucepans.. We do the same with enamel plates. Sometimes we do not bother taking plates to a local blacksmith; we mend them ourselves at each meal time. If there is a hole at the bottom of the plate, you get a piece of the food that you are going to use and patch it up. Most of our food is starchy and it will hold the sauce till the end of the meal. Then you eat up the "patch". Once I went with my elder brother to visit an old aunt. She had one good plate and one which had holes. Being younger, I should have been served in the plate with holes but I had just come back from Britain and so I was considered the guest of honour and served in the better plate. My aunt used a bit of the plantain which she had cooked for us to patch up the plate for my brother's sauce. She did not have chairs and so we sat on a mat on her mud floor. Half-way the meal, my brother's sauce was running down the floor. "Mushiyi wekha ni tsinyinyi tsomwana wange!" she cried out in exasperation. My brother had eaten up the patch on his plate! Yes, for first time comers here, we see many things being thrown away and we think what wastage! Newspapers too. We would use the newspapers to light up the charcoal stoves. The local kiosk (corner shop) would use them for wrapping the things they sell.
But back to our itinerary. Our days of rest went by very quickly. There was not much to see in Grassington, it is such a small place. We did however appreciate the rest. And we were quite rested when Mike and Mark came to pick us at 11.am. We drove up the Wharf dale and over Richmond into Wensleydale where our next hosts were waiting for us. To our surprise, however, there was no River Wenslay in the dale! How then did it come to be called Wensleydale? We had been to Airedale, which has the River Aire, Wharf dale which has River Wharf. Where did Wensleydale come from? They may have been no river Wensley but we did find President Laurie Kent of the Rotary Club of Wensleydale and the In-coming President Leslie waiting for us at Street head pub. Once again we were saying bye to old friends and getting to meet new ones. Laurie and Leslie treated us to a lunch at the pub and we then started our fifth leg of out GSE tour. Along the way, we stopped over at Aysgarth falls, a picturesque place along the River Yore and
visited the three falls. Thereafter, we headed for the homes of our new hosts and to prepare for our presentation in the evening.
We had been told that Wensleydale was much colder and wetter than the places we had been too. We had also been told that the Rotary Club of Wensleydale was a small club in terms of numbers but a very strong club where all members took an active part in all the activities of the club; that all members took Rotary seriously. That evening we confirmed both things. It was we, wet and cold. But the contrasting warmth and friendship that we received made up for the cold. It was not even the Club's fellowship day! The Club has fellowship on Mondays but most of the members turned up on a Friday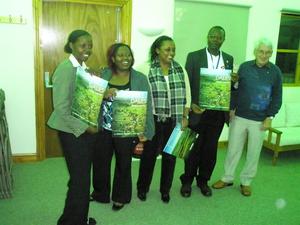 evening carrying food and drinks to meet us. We felt warmly welcomed.
Friday 15th May 2009
What if
What if I visited a home where a fugitive English royal sought refuge
And what if I was in the room in which she was
What if that Royal was Mary Queen of Scots?
What if all this is true
Yes, what if!
This has been a roll coaster trip indeed. From my humble upbringing in the hills of Bulucheke in the Mount Elgon ranges in Uganda my life has now been interwoven with the Yorkshire Ripper and now with Mary Queen of Scots! What an incredible three weeks these have been! But we must start the story of Mary Queen of Scots from the beginning.
When we arrived in Wensleydale on Thursday, we were shown Bolton Castle and told that Mary Queen of Scots was imprisoned there in the 16th Century. The Club had arranged for us to visit the castle but the team said that we had been to so many castles and we suggested that we agree an alternative programme.
Friday was a wet day. It was wet from morning to night time. We started the day with a visit to Leyburn cattle market and the farmers market. We arrived at the market when it was raining. But we were not going to waste the day because it was raining. We had been told that it was always raining in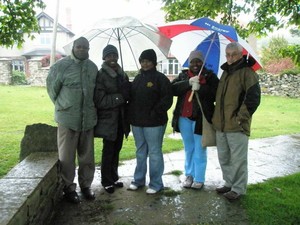 Wensleydale and we reckoned that if we waited for a dry day we may not get one. So we were game for the walk in the rain. AG Phil Oliver, Pres Laurie Kent and Rtn David Greenwood were our guides. We started our walk with a visit to the Leyburn Shawl. We were told that Mary Queen of Sots had attempted to flee from Bolton castle and at about that spot she lost her shawl. David told me that in the evening I would see the room she stayed when she fled the castle. Intriguing!
We continued the walk and went to the Farmers market.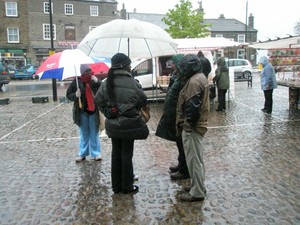 Rtn David who appears to know every person in Leyburn would stop to greet the different people and explain to us who they were. We were impressed with his wide knowledge of local history. In the middle of the street he showed us a building where his wife was born. He explained that he himself was born in a castle nearby and still lives there. It was clear now why he knew virtually everyone.
After the Farmers market we went to the cattle market. This was fascinating for all of us. It was our first time to visit an auction. Two cows and about 5 calves were auctioned. We had expected the bidders to shout their offers and were baffled when we could not hear a single person saying anything and yet the auctioneer went on increasing the price. We were told that sometimes the bidders signaled with a nod or even an eyelid. Strange!
When we left the cattle market we had a cup of tea before heading for Tenants, an antique market. We were a day too early for the bids but we were impressed with the wide collection that was going to be sold by bid the following day. Reserve prices on some of the items however seemed exorbitant.
We visited Wensleydale Creamery in the afternoon where we had lunch before we toured the
creamery. We met with Liz the Human Relations Manager at the Creamery who took us around the creamery. Liz was team member of a GSE team to California in October 2008. We had extremely useful interactions with her both on the vocational exposure side and sharing GSE experiences. We were fascinated by the cheese making process which, except for automation in several areas, largely remains as it was done many years ago. We ended the day's activities with a visit to a rope maker.
In the evening the different members went for dinner to homes of various Rotarians. I and my host family; President Laurie and Margaret were hosted by Rotarian David Greenwood. Indeed as he had said he lives in a big stately home and is right to call it a castle. Before we sat down to have dinner, David took me around and showed me his home. Parts of it date back to the 11th Century! This as incredible! Since we have been here we have been walking further and further back in history.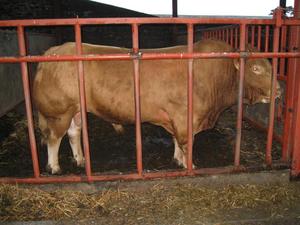 Rtn David is a farmer and his farm won a first prize in 2000. He showed me why; on his farm he has the biggest bulls I have ever seen. They are of a French breed called the Limousine. A bull weights about 1000 kilogrammes he told me. They mature very fast and are reputed to be one of the best beef one can find.
We then went upstairs in his house and he showed me a room where Mary Queen of Scots was said to have hidden after escaping from Bolton Castle. Did Mary Queen of Scots really stay in that room? Did she jump through that window when her presence was traced to that home? Is she the lady depicted in the painting in the room? Of course, nearly 500 years later this is difficult to prove. But then what if? Yes, what if it is true? Could such a story have developed without any basis? Mary's incarceration at the Bolton Castle is documented. Her escape is also documented. If that was the nearest stately home in the neighbourhood, how can we doubt it?
There is therefore a very high probability that I shared a room with Mary Queen of Scots.
Unfortunately, we were separated by nearly 500 years. But does it make any difference? Since the Korea/Japan World Cup in 2002, people are still flocking the hotel where David Beckham and other football stars slept. The visitors pay nearly twice the cost of the accommodation just to sleep in the rooms where the football stars stayed. Back in Uganda, the Clinton Suite at the Imperial Botanical Beach Hotel in Entebbe commands a premium price simply because President Clinton slept there over 10 years ago. The people who stay in those rooms will have shared a room with their idols. So, let us say Mary Queen of Scots stayed in that room