Creating a 'yudu' presentation
YUDU the energy efficient way of sharing your Publications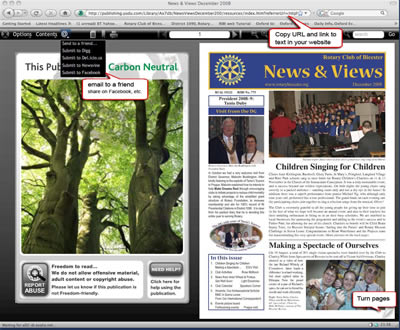 Newsletters, Membership leaflets, brochures can all be transformed by YUDU into attractive automated page-turning digital on-screen publications. See this example from the Rotary Club of Bicester, (which opens in a new window)
YUDU is a very user-friendly site, with easy to follow instructions.
The basic level is absolutely FREE!
Acceptable formats are PDF, Word, Excel, PowerPoint.
(Office documents should be saved in Compatibility Mode i.e. Office 97 2004)
Prepare your publication in the normal manner, with single pages in the correct order.
Set your printing preferences - page size & orientation (landscape or portrait) before saving.
In Word documents or PowerPoint, use common fonts, as fancy typefaces may be substituted in the conversion process and alter the layout slightly. If you need to use anything exotic, save your document as a PDF
Best results for PDFs are obtained by saving at a minimum resolution of 200dpi.
Go to the Yudu site
To organise your files and make life easier for you, set up your own Yudu Library
Go to Help & Advice in the top menu bar

Select Setting up your own library and profile
Fill in Registration form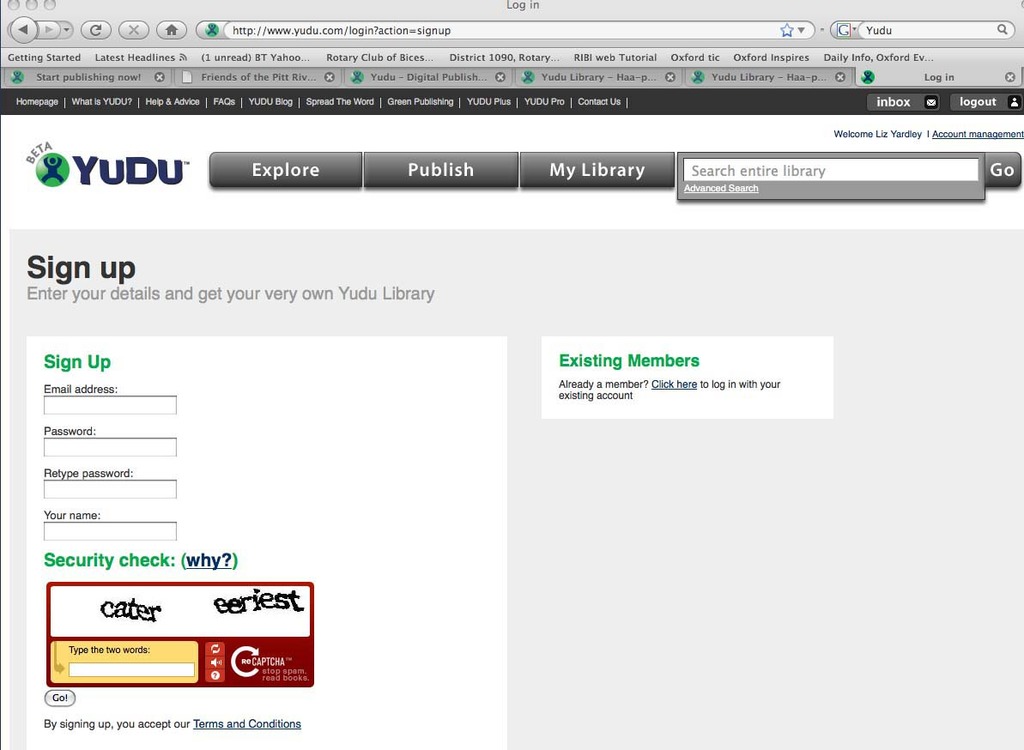 Once registered, you are ready to publish
Select Publish from the large menu bar at the top of the page

From the choice of Publication types select Document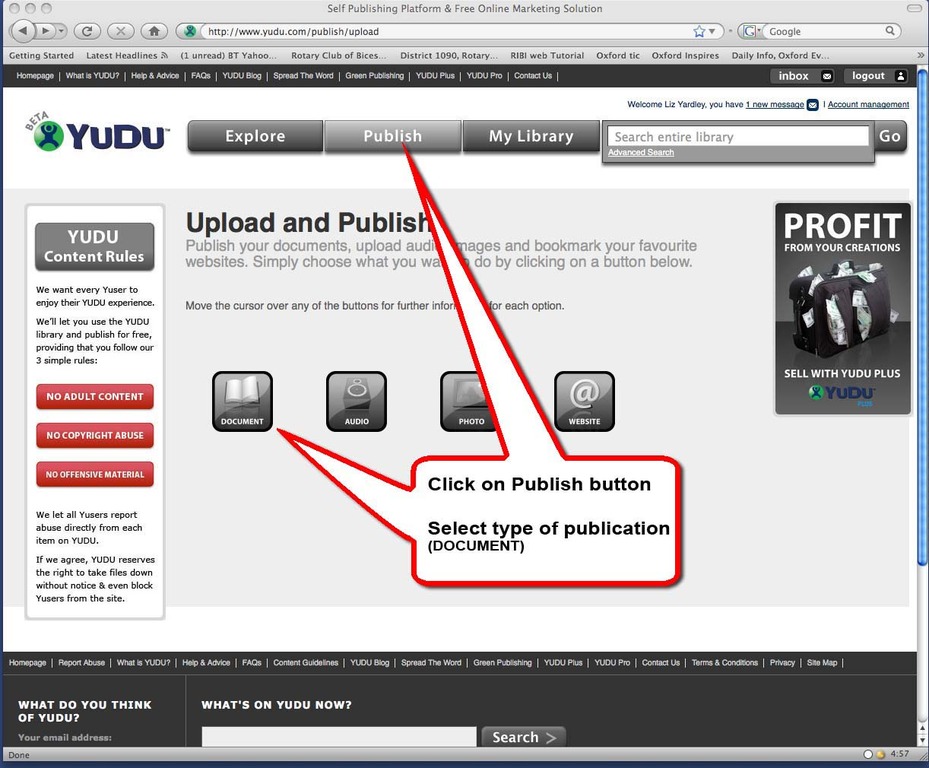 Click on Browse to select the file you wish to publish and upload
Give it a title to identify it in your library
Select the Publication type
Privacy level: You will want your publication to be public
Publish! This will take a few moments to process, depending on the size of your publication. You will receive a confirmation email once the process is complete.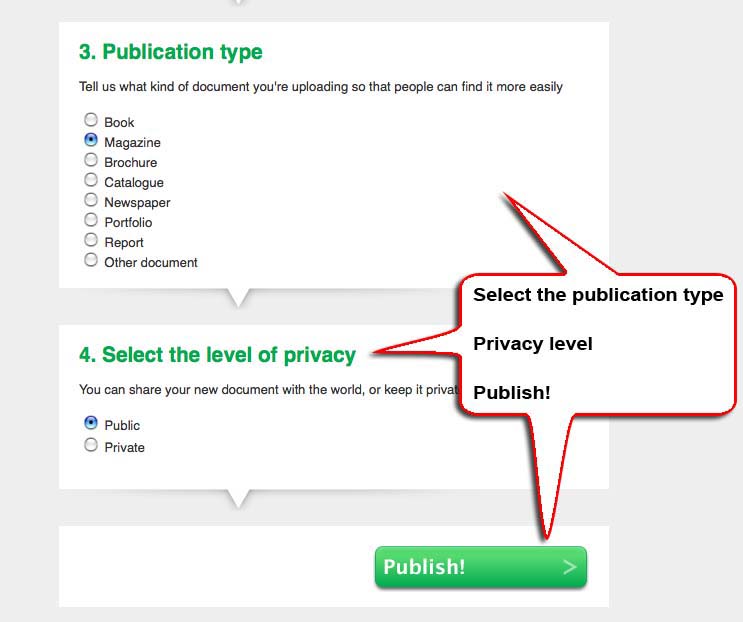 The screen will change and you can add relevant details to the publication's profile, or publish another document.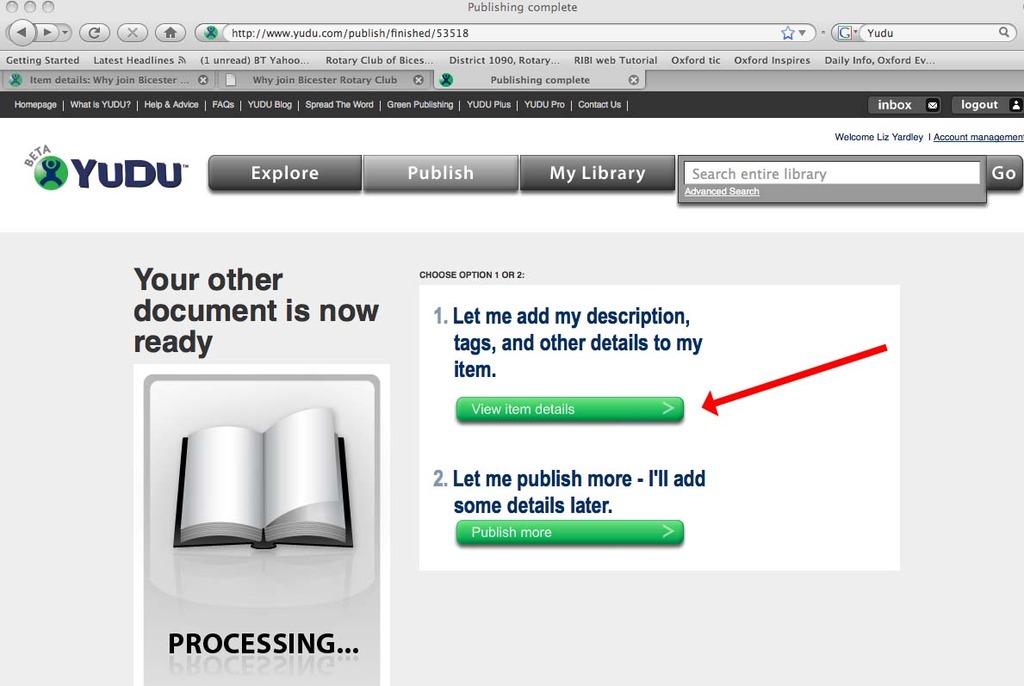 You can now view your publication by going to My Library
---
Notes: Once uploaded, your publication cannot be edited from the YUDU site.
If you have made an error, it will have to be altered from your original file.
Delete the YUDU file and start the Publish process again with the corrected version.
Web-links included in your publication are live in YUDU useful for the reader and also useful for you as it raises your profile with search engines.
You can share your publication by copying the URL onto your website, or into an email.
Free applications for creating your original publications:
PC USERS - Open Office (www.openoffice.org) is a free service which allows you to create lots of different publication layouts and to insert images into them
MAC USERS - Use iLife, iPhoto (installed on all MACS) and iWork - these allow you to create albums, brochures, newsletters etc and convert them into a PDF that can be uploaded to YUDU.
Written by Liz Yardley RC Bicester