Future meetings and events around the district
Yelverton - Tue 24th October 2017 at 08.00 - 16.00 Collection for World Polio Day
We have arranged a street collection at Yelverton for the End Polio Now campaign.
Yelverton - Tue 24th October 2017 at 19.00 - 22.00 Skittles
Yelverton Club v Salcombe RC at Princetown ( Prince of Wales ).
Yelverton - Sat 18th November 2017 at 19.00 - 23.00 Barn Dance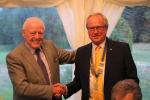 Yelverton Club are holding a Barn Dance at Yelverton Memorial Hall on Saturday 18th November raising funds for Brain Tumour Research and other Rotary Causes.