Future meetings and events around the district
Wells - Sun 8th July 2018 at 08.00 - 16.00 Boules tournament 2018

Knockout competition held in Wells Market Square, in aid of Rotary charities, particularly the Dorset and Somerset Air Ambulance. Organised, by the Wells and Avalon Rotary Clubs as a joint venture.
Wells - Sat 18th August 2018 at 12.00 - 16.00 Meet the Sikhs at the Bishop's Palace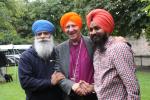 Opportunity to meet 'Good men in turbans' and experience the dance and food of Sikhs who work to help others.