Future meetings and events around the district
Wells - Mon 27th August 2018 at 10.30 - 16.30 Pop-up Shop at the Palace Moat Boat Race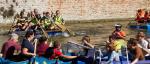 Last year raised almost a thousand pounds through a series of pop-up shops for the local charity, Heads Up. The club will continue to support this valuable charity with this year's pop-up shops.
Wells - Fri 31st August 2018 at 08.30 - Sun 2nd September 2018 - 08.30 Litter pick in Wells
Litter pickers will assemble on the three days outside the Town Hall at 0830. The Mayor will be there to chase everyone off to appropriate areas with suitable rubbish bags etc.
Wells - Sun 9th December 2018 at 11.00 - 16.00 Reindeer Parade
The annual Reindeer Parade and associated children's competitions take place in the town's High Street.