Future meetings and events around the district
Penicuik - Fri 20th September 2019 at 19.00 - 22.30 Race Night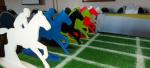 Following on from an extremely enjoyable and successful Race Night held last year, we are holding another on 20th September. Get your tickets (£10 including buffet) from Alister on 01968 675661. Don't get left at the starting gate.
Penicuik - Fri 29th November 2019 at 19.00 - 23.00 Rotary Club of Penicuik - 50th Charter Dinner
Please note your diary our 50th Charter Dinner will be held in the Original Hotel, Roslin on 29th November. Further information to follow soon.