Completed meetings and events 2019-2020
Thu 8th August 2019 BUSINESS MEETING – with sandwiches
Taking Place in Bath and County Club
Please come along and hear what is being planning and take part in future planning
Thu 1st August 2019 Sports evening
Another great sports evening at Victoria Park. Meet ground floor of Pavilion, sports side. Come and test your skills in crazy golf, tennis, and may be beach volley ball. Followed by dinner in the Pavilion
Wed 24th July 2019 VISIT to the BISHOP'S PALACE GARDENS in WELLS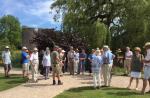 Beginning at 2.30 pm in WELLS , on market day– followed by an invitation to a cream tea at Maggie Steel's home in Wedmore.
Thu 11th July 2019 Minor Spas of Bath - Chris Pound

Held in the Hilton Hotel.
Chris Pound is an architect, town planner, writer and a World Heritage expert. He is the author of "A Verye excellent treasure- values of the Bath Spa resort" also the author of "The Genius of Bath".
future
calendar
local events