Completed meetings and events 2014-2015
Sat 20th June 2015 Social and fund raising BBQ at Jans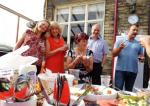 A great time was had by all at Jan's and Michael's house and the sun actually came out!
Thu 18th June 2015 Bradford Refugee Week

Courtlin Stoker told us about her links with Rotary and her work with refugees.
read more...
Thu 11th June 2015 Bookstart

Susan Brewster-Craig talked about the importance of the parent as their child's educator, of reading to your child even before birth and what Bookstart is trying to achieve in all aspects of a child's development,
Thu 4th June 2015 The Royal British Legion

Jeffrey Long M.B.E amazed us with the story of his walk to Switzerland for the Royal British Legion.
read more...
Thu 28th May 2015 - From Source to Sea along the Mississippi

Rotarian Ken Robertshaw wowed us with tales of his expedition down the Mississippi all in aid of the Giggle Doctors
Thu 9th April 2015 New Member Anita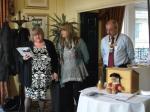 We are delighted to induct Anita Jones into the family of Rotary.
Thu 19th March 2015 - Tue 7th April 2015 Cheque for Cancer Research UK

President Dave West loves to walk and each year he sets off on one of his "marathons". This year he walked Offa's Dyke and raised �2,650 for Cancer Research UK.
Thu 12th March 2015 Asian Sunday Newspaper

Fatima Patel talked about Asian Sunday and the stimulating articles the newspaper runs.
Thu 5th March 2015 - Mon 16th March 2015 Mama Na Mtoto Uk

President Dave presents a cheque for £1,115 to Anita, Tina and Christina from Mama Na Mtoto UK an organisation which supports mothers and babies providing holistic maternal health in Swchiti, Africa.
Thu 12th February 2015 - Tue 24th February 2015 Donation to Motor Neurone

President Dave presented a cheque for £250 to Willie Clark.
read more...
Thu 12th February 2015 Dealing with conflict

Claudia Maffettone, Rotary Peace Scholar at the University of Bradford gave the club a presentation on dealing with conflict. The presentation can be found here
http://prezi.com/roybzaz1is3_/?utm_campaign=share&utm_medium=copy&rc=ex0share
Thu 5th February 2015 Professor Caroline Hughes

Professor Caroline Hughes inspired us with stories of the amazingly influential jobs the Rotary Peace scholars achieve and the networks they develop
Thu 29th January 2015 - Mon 9th February 2015 Hedron Collider

Out first ever evening Rotary meeting was crowned by Alan Wintersgill and his visit to see the Hedron Collider in Cern
Thu 22nd January 2015 DG Rod Walmsley

District Governor Rod Walmsley came to visit our club and spoke about his experiences in Rotary.
Thu 8th January 2015 Westy's Walk

Our very own President Dave West talks us through his amazing tales of Westy's Walk! Many curious things happened to Dave on his 200+ mile walk along Offa's Dyke but he lived to tell the tale and raised £2000 for Cancer Research - well done Dave.
Thu 11th December 2014 Paul Smithson from Alzheimers.
Paul Smithson from Alzheimers talked about the help and support that is available for the 6000 sufferers in Bradford District and the help that is available for their carers.
Thu 4th December 2014 Claudia Maffetone – Rotary Peace Scholar
Claudia talked about her work before she became a Peace Scholar and her interest in conflict resolution.
Thu 20th November 2014 Nigel Harrison

Nigel told us about the work of the organisation and about the extent of the legacy of the Olympic Games.
Thu 6th November 2014 - Wed 3rd December 2014 Moira

Rotarian Moira Mohit's gave a fascinating talk about her trip to the Emirates and her visit to the Rotary Club in Rak.
Mon 20th October 2014 Rotary Conference

Alison, Richard, Jan, Pauline, Tess and Alan has a great time at this year's Rotary Conference in Scarborough staying at our favourite B&B Lonsdale Villas. This year we also had Assistant Governor Marla, all the way from Texas.
Mon 20th October 2014 Rotary Conference

Alison, Richard, Jan, Pauline, Tess and Alan has a great time at this year's Rotary Conference in Scarborough staying at our favourite B&B Lonsdale Villas. This year we also had Assistant Governor Marla, all the way from Texas.
Thu 25th September 2014 Alan Hall

Alan Hall ex head teacher of Belle Vue Girls' School, has a passion for writing about Bradford. He told us some interesting tales about the history of Bradford which he uncovered when researching his latest book.
Thu 18th September 2014 'The Grey Nomads'

Called 5000+ Rob and Jane gave a fascinating talk about the work they do with communities in Nepal, Kenya and Sri Lanka, to change mind sets. The question posed is what can you do with what you have? They empower people to address poverty.
Wed 17th September 2014 THE ROTARY RIVER AIRE CHALLENGE

We met up with Robin at one of his stops in Leeds. The Rotary Club of White Rose put on a great night. Robin is raising money for Aquabox
www.facebook.com/rotaryriverairehallenge
Thu 11th September 2014 - Mon 15th September 2014 RYLA

RYLA Candidate Naeemah Patel from Belle Vue Girls' School gave us a brilliant insight into her week at Hebden Hey.
Wed 10th September 2014 Charter Night

President Dave West hosted Bronte's 21st Charter dinner. The guest speaker was Councillor Susan Hinchcliffe who gave a very interesting insight into how Bradford is developing.
Mon 25th August 2014 Leeds Festival Clean Up

Rotary Club of Bradford Bronte face another clean up session at Leeds Festival....and it rained again!!!!
Thu 7th August 2014 Rosie McDonnell
Rosie McDonnell is a budding 17 year old footballer playing for Bradford City Ladies. She came with her Mum, Allyson, to tell us about her career to date, her plans and hopes for the future and to ask if Bronte will sponsor her for the new season.
Sat 19th July 2014 - Wed 23rd July 2014 Mad Hatters Tea Party

Rotarian Juli organised and event in City Park to raise money for Inn Churches. The Mad Hatters Tea Party took place at Forster's Bistro. Great atmosphere, just shame about the weather!!!
Thu 17th July 2014 Brain Box
A very informative presentation about an organisation called Brain Box and the work they do with sufferers of brain tumours which are cancerous. It was incredible to hear that brain tumours effect so many people's lives.
Thu 10th July 2014 - Mon 14th July 2014 Tess
Rotarian Tess Wilkins told us the fascinating story of Harry McLinden. Her father, John Howlett,an historian has written a book about his mother's fiance who fought and died in WW1
future
calendar
district events
local events