Completed meetings and events 2017-2018
Thu 28th June 2018 Cooking @the Storehouse aka Mr President's handover dinner
Come and celebrate the end of President Roland's year with a great slap up meal at the Storehouse.
Thu 28th June 2018 Handover

Ok, we are off on a new Rotary year!
Thu 28th June 2018 Assembly and Handover
We will be celebrating President Roland's year and welcoming President Elect Pauline into the post for 2018/19
Sat 16th June 2018 White Ribbon Group
White Ribbon. The UK campaign to end male violence against women
Sat 9th June 2018 Ben Mussanzi
Ben is from the Congo
Thu 7th June 2018 Different Strokes

Geoff Render a young stroke survivor talked about the organisation called Different Strokes which is all about reclaiming lives after a stroke.
Thu 17th May 2018 Job talk
Crina will be giving us an insight into the work she does at the University.
Thu 10th May 2018 Update on Gambian School Trust
Hilary and Steve are coming to tell us about the plans they have for 2018.
Thu 3rd May 2018 Banger Rally Part 2
Dave West's exploits on the Banger Rally with photos!
Thu 29th March 2018 Malcolm the Weaver

For those people who could not make it to Rotary this morning – you missed a real treat. Malcolm Campbell enthralled us all with his mission to bring fun and colour to the lives of 4 to 8 year olds whilst they begin to understand the world around them.
Thu 22nd March 2018 Credit Unions

A very interesting talk on 22nd March from Ian Brewer, Financial Inclusion Development Officer. I would encourage other clubs to contact him to come and speak.
Mon 26th February 2018 Bronte Buddies
Come to Bradford Brewery and meet like minded people. Got a charity project you want supported? Let's hear it.
Fri 23rd February 2018 Call My Quaff # 4

Join us for a fun night with wine expert Sophie of Martinez Wines who will present wines from around the world for you to taste and identify. Wines to taste which can be bought at a discount price and a delicious 3 choice hot supper with cheeseboard.
Thu 1st February 2018 Cheque for Manorlands

Resident Roland presenting the cheque to Harriet who receives it on behalf of Manorlands Hospice.
Thu 25th January 2018 Jacqui's Million

Inspirational speaker today at Rotary from this wonderful lady Jacqui Drake on how to stay positive in the face of cancer and she has and still is going through it. She is so grateful to the Bexley Wing she has set herself a target to raise a lot of money
Thu 2nd November 2017 Sorm Studios
School of Rock and Media Ltd presented by John Bolton
Mon 30th October 2017 New satellite club launch
Meet at Bradford Brewery at 7pm, all welcome.
Thu 26th October 2017 Working Together
Assistant Governor Manoj will be talking to us about working together
Thu 19th October 2017 Rotary Club of Bradford Bronte 24th Charter Dinner

We would like to invite you to celebrate with us, there will be entertainment, our guest speaker is Kersten England Chief Executive of Bradford Council, also speaking will be Robert J Morphet, District Governor
Thu 14th September 2017 Forget Me Not Childrens Hospice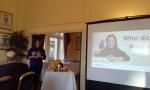 Nicky Fox gave an excellent and very moving presentation about the work of this hospice which is based in Huddersfield.
Thu 7th September 2017 Duke of Edinburgh Award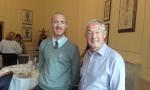 Andy Cavill, Operations Officer, North of England for DofEcame to outline how we can support our Interact Club at Belle Vue Girls' School with the DofE Bronze Award.
Thu 31st August 2017 RYLA 2017

Mehmoona Pervaz came to talk about her experiences and what she learnt about herself after being on the RYLA programme this summer. She found the experience amazing and the best thing she could have done.
read more...
Thu 17th August 2017 Bradford Soup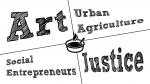 Come along and enjoy something to eat and drink, listen to a couple of pitches from local community groups who are looking for a small amount of seed funding. A great time to chat and share delicious food which would have gone for landfill.
Thu 17th August 2017 Rosie returns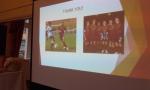 Rosie came to see us in 2015 as a teenager who loved to play football.  She needed a small amount of funding to help with getting some football kit.  What a difference 2 years makes.  She came back to say thank you and to give an update.
Thu 3rd August 2017 Swan Songs

Ben 'Buddy' Slack is doing an independent project called Swan Songs' at the Marie Curie hospice which is really interesting.  He is meeting with patients and sometimes carers and they work together to write and produce a song which he then records.
Thu 27th July 2017 SHINE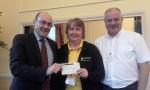 Kathe Boghal gave us an update on the work of SHINE. Rotarian Dave West raised £750 for the charity and a cheque was presented to Kathy.
Sat 22nd July 2017 Bingley Show Rotary Showcase

G10 joined forces and showcased many aspects of Rotary at the Bingley Show.
Thu 13th July 2017 Interactors from Belle Vue Girls' School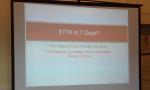 Three representatives from the Interact Club based at BVG School gave an excellent presentation and explained their fundraising ideas and how the money raised helped the young people in Gambia attend a school nearer to them.
Thu 6th July 2017 A new year, a new President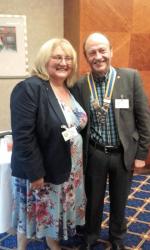 Caroline hands over the reins to Roland. We wish him a fantastic year and hope he achieves all he wants to do.
Thu 6th July 2017 A Paul Harris for Juli

At our handover meeting outgoing President Caroline surprised and delighted Rotarian Juli with a Paul Harris Fellow for all the amazing work she does within the Bradford Community - well deserved Juli.
future
calendar
district events
local events