Completed meetings and events 2017-2018
Thu 7th December 2017 Projects Meeting
Thu 30th November 2017 Joint Social Evening at Bridlington Links
Thu 16th November 2017 Meal Meeting with speaker
Thu 2nd November 2017 Projects Meeting

Thu 19th October 2017 Meal Meeting with speaker

The meal will be followed by a talk about Dementia Suport by Maya Richardson, Community Fundraiser of the York Teaching Hospital Charity
Thu 5th October 2017 Projects Meeting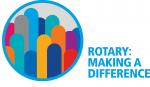 The business part of the meeting will be followed by an informal get-together over drinks and nibbles
Sat 30th September 2017 Hunmanby Village Michaelmas Fair

The Club's celebrated Human Fruit Machine will be in action to provide fun and raise money for Rotary local projects
Thu 21st September 2017 Meal Meeting with speaker

Meet at the White Lodge Hotel at 6:30 p.m. for meal at 7:00 p.m. followed by a talk by David Pendleton entitled 'The Emperor of Brazil, A £30,000 Carpet and a Six Course Meal', or something different according to David's mood
Thu 7th September 2017 Projects Meeting

The business part of the meeting will be followed by a fellowship gathering over drinks and nibbles.
Thu 7th September 2017 - Sat 30th June 2018 Ebor Academy and Rotary Book Club

Rotarians and students from the Ebor Academy will meet each half term to select a book to read, and then discuss the previously read book
read more...
Thu 20th July 2017 Away from Home Meeting

Away from Home get together at the Anvil Arms, Wold Newton. Meet at Wold Newton Church at 6:30 p.m. for aperitif and 'look round', followed by buffet meal at the Anvil Arms from 7:30 p.m.
Thu 6th July 2017 Business Meeting at St. Mary's Church Hall (no meal)
Meet at St. Mary's Church Hall, Filey, for the first meeting of the new Rotary Year, to review the programme ahead
read more...
future
calendar
district events
local events