Completed meetings and events 2018-2019
Mon 17th September 2018 Andy Inkpen - My Career Talk
Mon 10th September 2018 Business Meeting
Mon 27th August 2018 No meeting

No meeting - August Bank Holiday
Mon 20th August 2018 Visit from DG JOAN GOLDSMITH

Routine visit by DG
read more...
Sat 18th August 2018 - Sun 19th August 2018 MODEL RAILWAY EXHIBITION

Exhibition held at John kyrle High School. This year we are raising funds to help JKHS twin school in Namatumba, Uganda, to install a water supply in the Science Block
Sat 18th August 2018 - Sun 19th August 2018 Ross Model Railway Exhibition - August 2018
Over 20 exhibitors, 5 traders and demonstrations plus refreshments available throughout the event.
read more...
Mon 13th August 2018 Rotary Business Meeting
Club business meeting is for members only
read more...
Mon 6th August 2018 Web site visit

Brian Cole will lead a tutorial for members on how to get the best out of the Club website.
read more...
Sat 4th August 2018 Ross-on-Wye Carnival 2018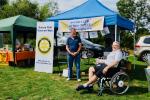 Every year the annual procession makes its way around the town centre with a magnificent display of floats and fancy dress. Anyone can take part in the carnival with some great prizes up for grabs. Free entry.
read more...
Mon 30th July 2018 - Mon 23rd July 2018 A Social Night at The Walwyn Arms, Much Marcle

A social evening with Rotarians, partners and prospective new members. Menu available at walwynarms.co.uk
read more...
Mon 23rd July 2018 Talking Newspapers
A talk by Dr Janet Stevens
read more...
Mon 16th July 2018 Community Policing, Insp James Ashton, West Mercia Police

Talk by West Mercia Police - "Policing Ross Community"
read more...
Sun 8th July 2018 Merton House - Annual Garden Party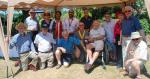 Rotarians from Ross-on-Wye helped at the Merton House Annual Garden Party with the sale of locally produced strawberries and hot/cold beverages
read more...
Mon 2nd July 2018 The 68th Ross-Rotary Club Handover
2nd July - The change of officers within the Club lead by the Old President Richard handing over the position to our new President Philip Dazeley
read more...
future
calendar
district events
local events