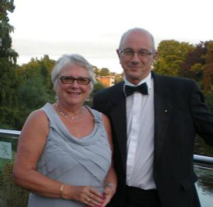 Anne and I wish you a very Happy New Year
We're all now half way through our year of office (except of course for those brave souls who are taking the role on next year too). If I can be of any help to you at all then please do contact me.
I'm happy to turn up at events, to present awards or generally help
where I can, if my diary will permit.
D1100 RYLA 2018 promotion, and review for the future:

Meetings
7.00-9.00pm (Tea and Coffee will be available)

17 January 2018:
Tewkesbury Primarily for Northern Clubs)
Wheatpieces Community Centre, Columbine Road, Walton Cardiff, Tewkesbury, GL20 7SP
www.wheatpiecescommunitycentre.com
25 January 2018
Patchway (Primarily for Southern Clubs)
Patchway Community Centre, Rodway Road, Patchway, Bristol BS34 5PF www.patchwayca.org
Dates and Time and Venues
7.00-9.00pm (Tea and Coffee will be available)
All welcome to attend either meeting