Completed meetings and events 2018-2019
Sun 2nd June 2019 The Big Lunch - Sunday 2nd June 2019

Our hugely popular annual community-building event in the Station Gardens, Sturminster Newton, with FREE treats and stalls for children of all ages!
read more...
Sat 1st June 2019 The Grand Gardening Fair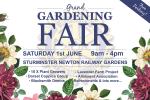 Spruce up your garden and raise funds for local causes! 10 x plant growers, blacksmith & wicker demonstrations, Sturminster Newton Allotment Association, The Lavender Farm, Refreshments, plus lots more...
read more...
Sat 8th September 2018 - Sun 9th September 2018 Sturminster Newton Annual Cheese Festival

This Sturminster Newton Rotary event has become a permanent feature bringing over 1500 visitors from all over the county and beyond into our town to enjoy a prestigious show celebrating the craft of the cheesemakers.
read more...
Sun 1st July 2018 Gold Hill Fair Shaftesbury
Sturminster Newton Rotary Club helped with "Marshalling" at The Gold Hill Fair run by Shaftesbury Rotary Club. Please check out our previous year events from drop down menu.
future
calendar
district events
local events