Future meetings and events
Tue 27th February 2018 at 18.00 - 21.00 27th February 2018 Fellowship & Royal Navy Presentation Team

The Royal Navy Presentation Team provides a dynamic, multi-media presentation aimed at informing and increasing knowledge of the work of the Royal Navy.
We explain what the Royal Navy does and why. We brief on our equipment, our people, current and futur
Sat 3rd March 2018 at 09.30 - 15.30 Collection for the Marie Curie Daffodil Appeal

RCNA will be assisting the Newton Abbot Marie Curie branch carry out a collection in Newton Abbot.
Tue 6th March 2018 at 18.00 - 20.30 GROUP MEETING & CLUB COUNCIL
A Group Meeting - Group members will discuss projects to action for 2018.
The Club Council will follow at the end of the meeting.
Wed 7th March 2018 at 14.00 - 16.00 Club Visit to Harcombe House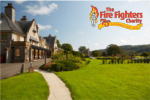 RCNA have been invited to have a look around the Firefighters residential home in Newton Abbot TQ13 0DG.