Future meetings and events
Mon 4th December 2017 at 17.00 - 21.00 District quiz v RC Holyhead
We welcome members of RC Holyhead, for the 2nd round of the district quiz. Note the 7pm start time.
Sat 9th December 2017 at 17.30 - 19.45 Llandudno Carols by Candlelight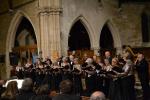 Alzheimer's Society Cymru's Carols at Christmas is returning to Llandudno on Saturday 9th December in Holy Trinity Church. The magical evening will be full of festive readings, sing-along carols and winter treats.
Mon 18th December 2017 at 19.30 - 23.00 Christmas Dinner at RC Conwy Valley
RC Conwy Valley have kindly invited us to join them for a combined Christmas Dinner at The Maenan Abbey Hotel