Future meetings and events
Thu 16th August 2018 at 17.45 - 19.00 Agnes Ritchie - District Governor Visit - District 1020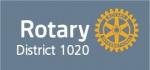 Each year we are visited by the DG of our district. That allows them to find out about the activities and challenges at the club and informs the members and friends about the activities elsewhere in Rotary at International, National and District levels.
Thu 23rd August 2018 at 17.45 - 19.00 Leith Sea Cadets

Join Michaela Guthrie to hear about the great work that Leith Sea Cadets do locally.
Thu 30th August 2018 at 17.45 - 19.00 Emma Wood from STEKA joins us

Come along and join Emma Wood talking about the wonderful work STEKA do. STEKA is a grass roots Malawian NGO, led by Godknows Maseko, an ex "street kid", who established a family home for 65 very vulnerable young people.
Thu 13th September 2018 at 17.45 - 19.00 Eilidh Quinn joins Leith Rotary to talk about the Vine Trust

Vine Trust is an international development and volunteering charity which enables volunteers to empower communities living in severe poverty in Tanzania and Peru.