Featured pages
Rotary Club of Longniddry & District - welcome! Please scroll/swipe down through this page to find out more about us, in addition to the pages linked in the menu, top-left.
---
About us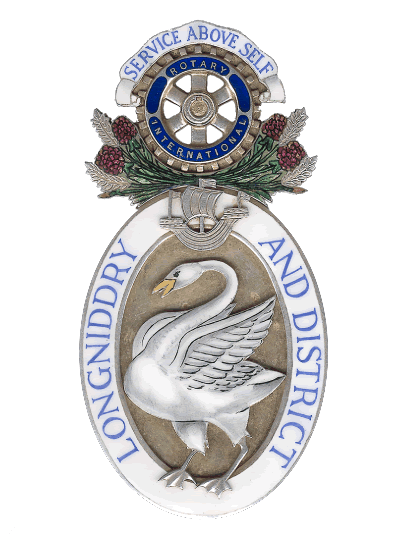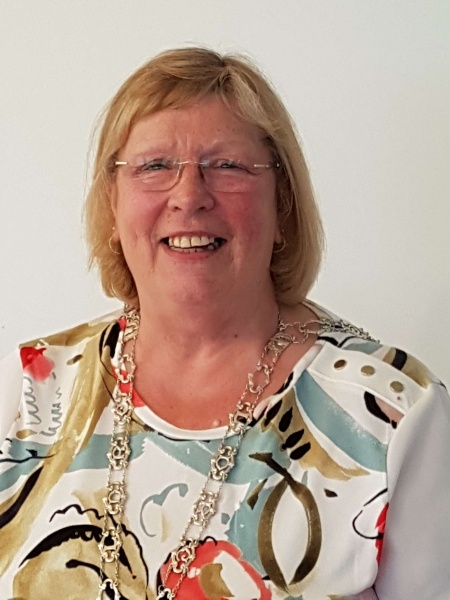 President Margaret Libberton and the members welcome you to the website of the Rotary Club of Longniddry and District
Honorary Members
Peter & Heather Antonelli, Fred Last and David Paton

The club serves the communities of Longniddry, Prestonpans, Aberlady and Cockenzie and Port Seton

Anyone interested in joining the Club should contact Membership Convener Past President Douglas Farquhar
(see Membership under Club Action Groups)
Past President Richard Greenough handing over a cheque for £200 to Tracy Vince matching the coin collection at Longniddry Pharmacy in support of Saltire Team Gymnastics. Some members will be representing Team GB at the European Championships in Slovenia in October.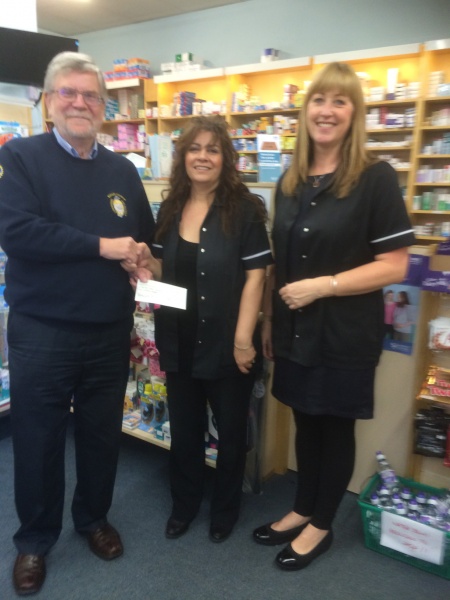 Adam Smith & Johanna McMullen tell how to look after our feet (and show some photographs to encourage us)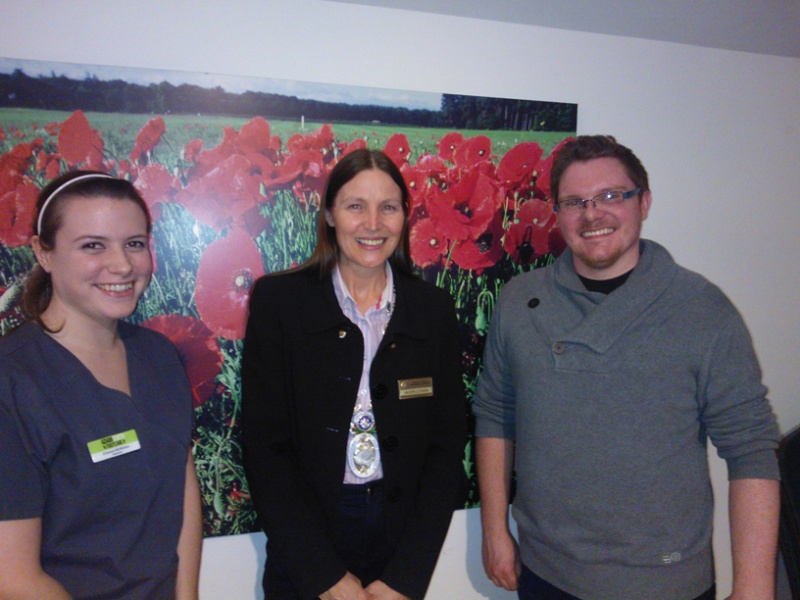 GSE Team vist from Ohio, USA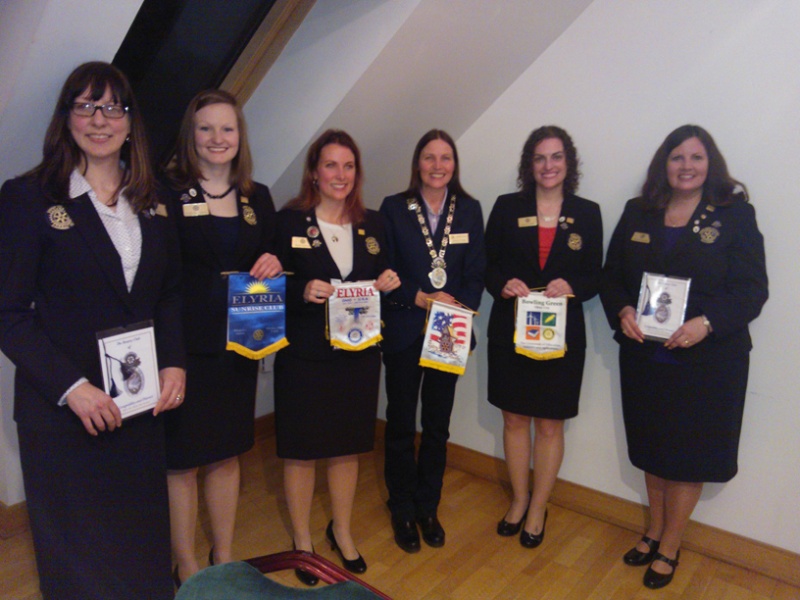 Prestonpans Primary School, Winners of the Club heat of the Primary School Quiz 2016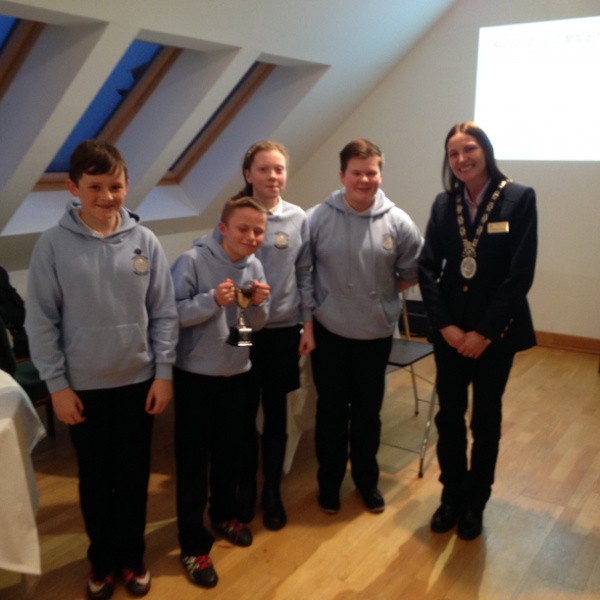 David Warren and Drug Smuggling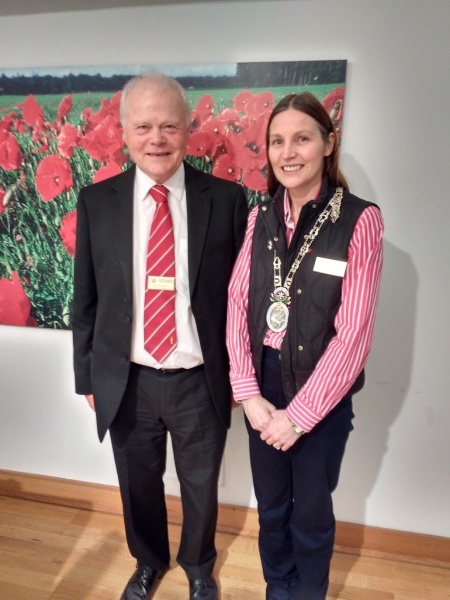 Dave Ostler - The Spitfire Man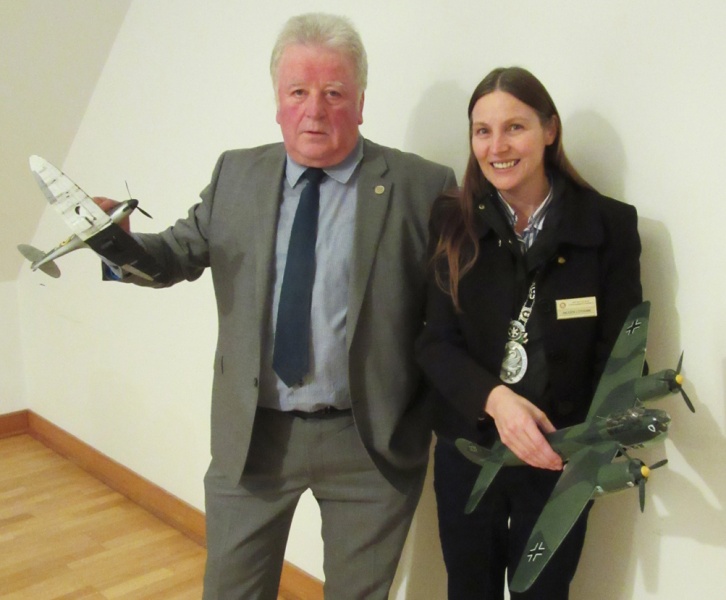 Prof Jeanne Bell and Edinburgh Direct Aid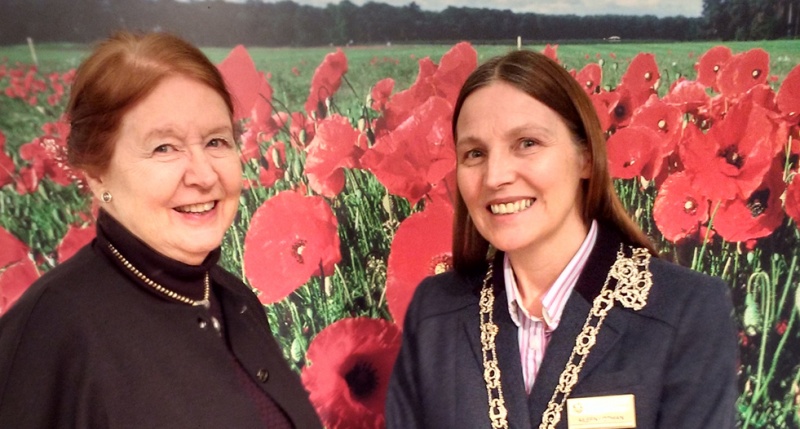 Tony Bray on the history of East Fortune airfield
Jude Henderson and Claire Verri talk about the Celtic Challenge cycle to Iona for St Columba's Hospice


Gerry Urwin and the Siege of Haddington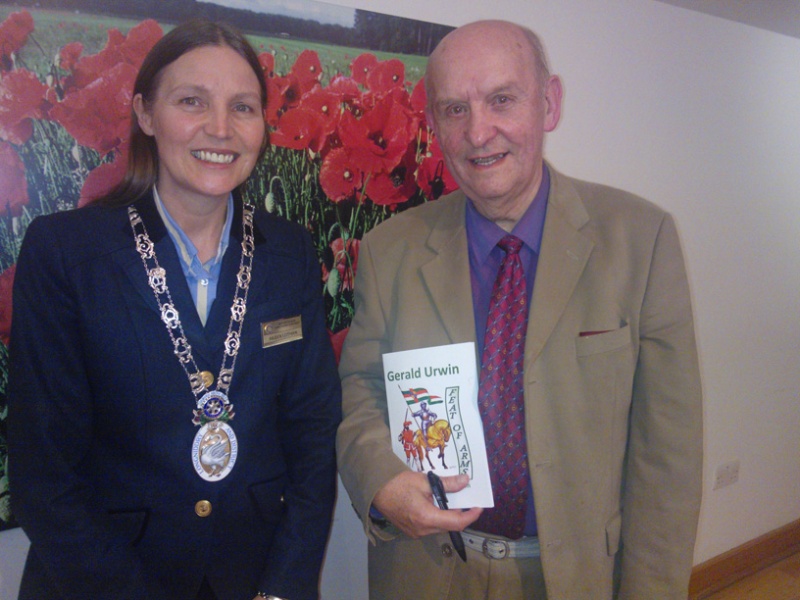 President Aileen receives a District Silver Citation for 2015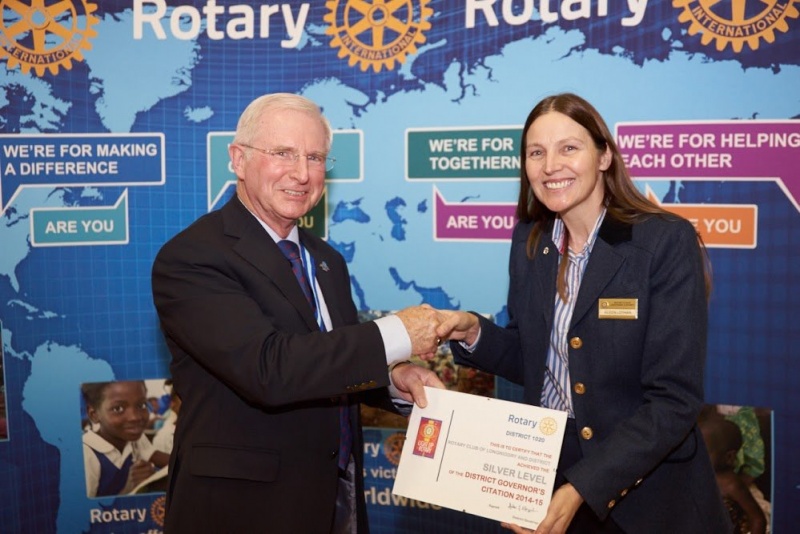 Molly & Rory, our 2015 RYLA participants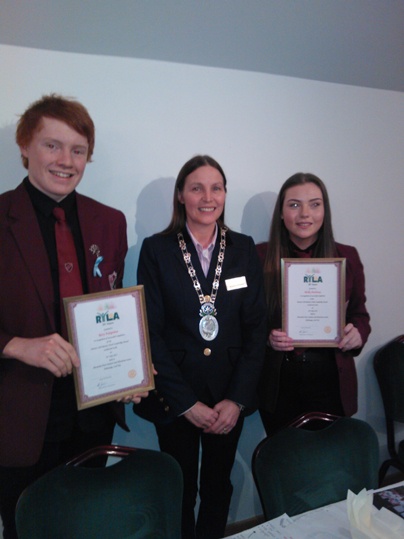 President Aileen welcomes new member Ron Mees to the Club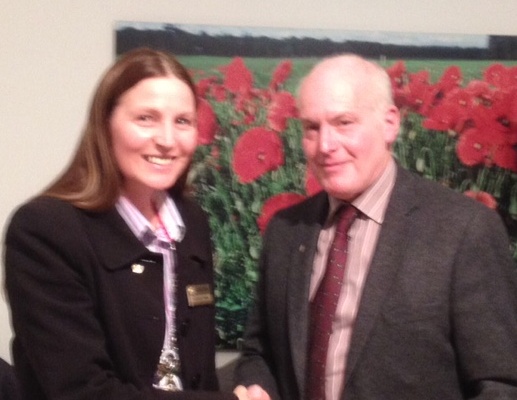 Andy Bennetts talked to us sbout his recent visit to Peru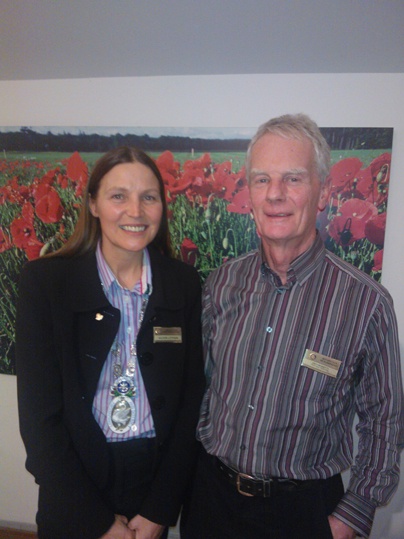 Cheque Presentation to Cockenzie in Bloom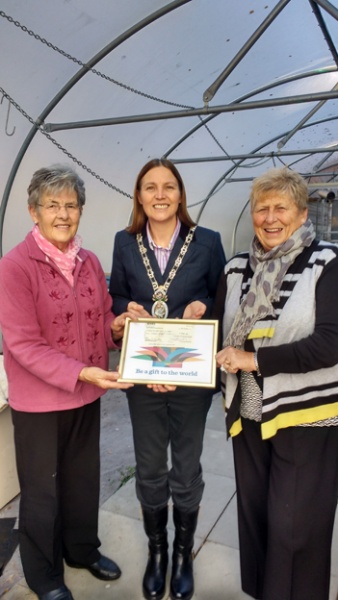 Bob Bathgate talks about TerraClean and the Two Ball Rally to raise money for Macmillan Nurses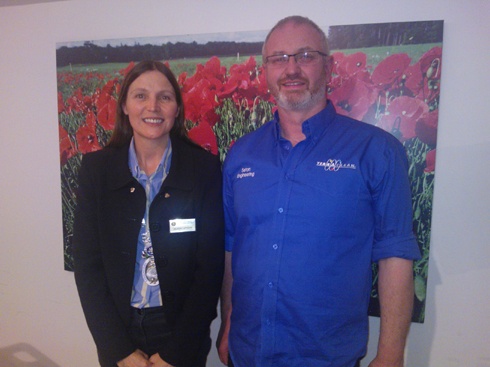 A familiar face at the District Conference in Dundee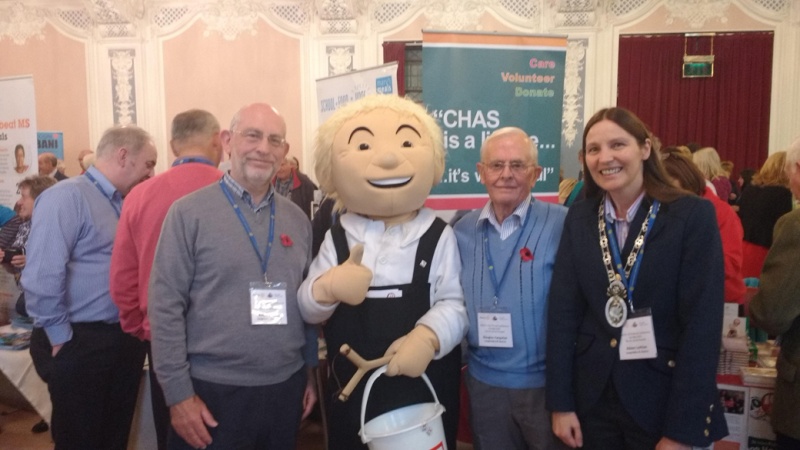 Eric Glendinning tells us about the old Priory at Haddington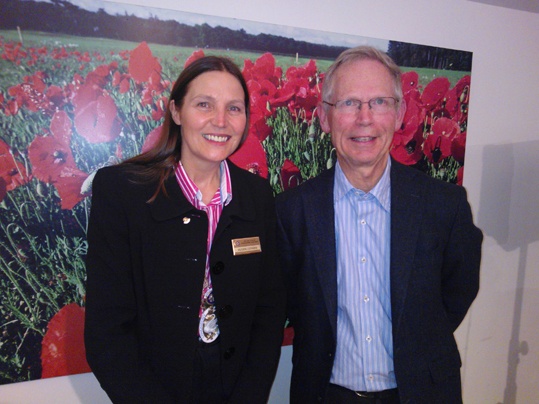 Graeme Bennion talks about the upcoming Preston Lodge Under 16s trip to Las Vegas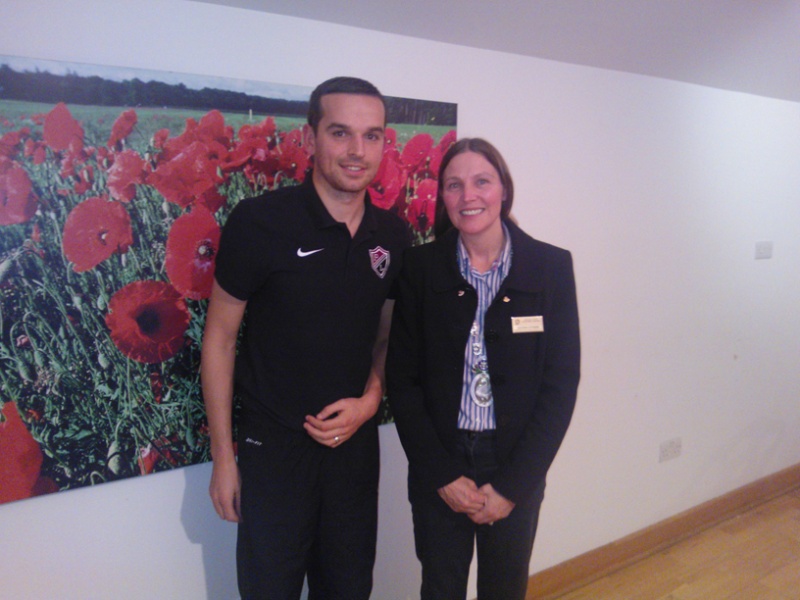 Professor Alf Baird discusses Port Development possibilities for Cockenzie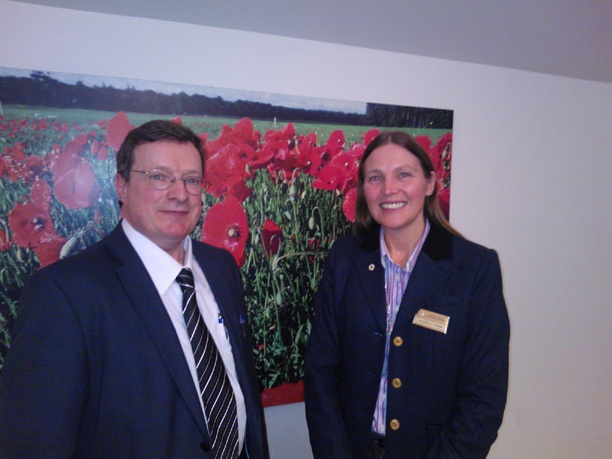 President Aileen presenting a cheque to Neil Clitheroe, CEO of Scottish Power for their preferred charity following the demolition of the chimneys at Cockenzie Power Station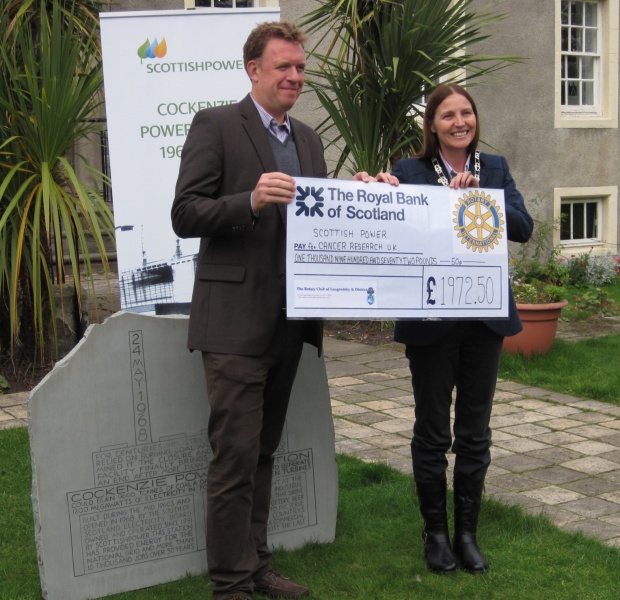 President Aileen with P/Nominee Margaret and Treasurer Gordon at Cockenzie
Now you see them....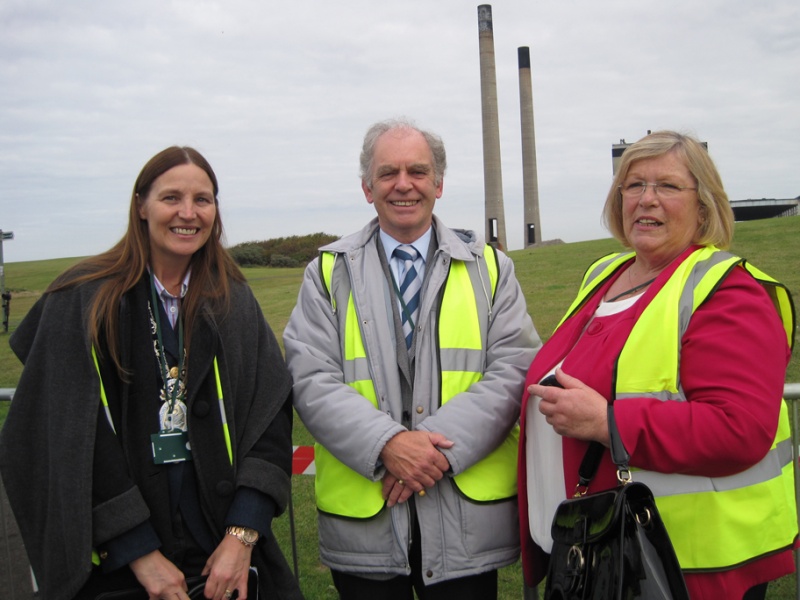 Now you Don't !!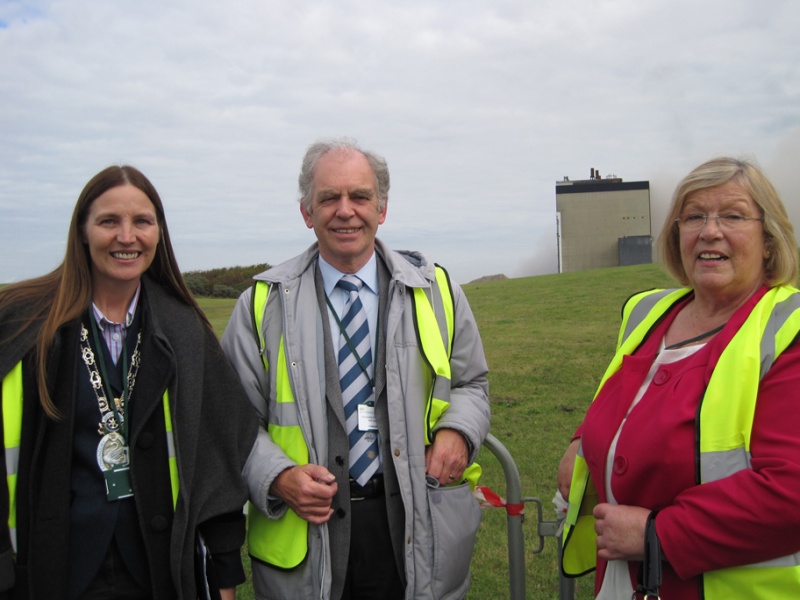 President Aileen with District Governor Andy Ireland at his recent visit to the Club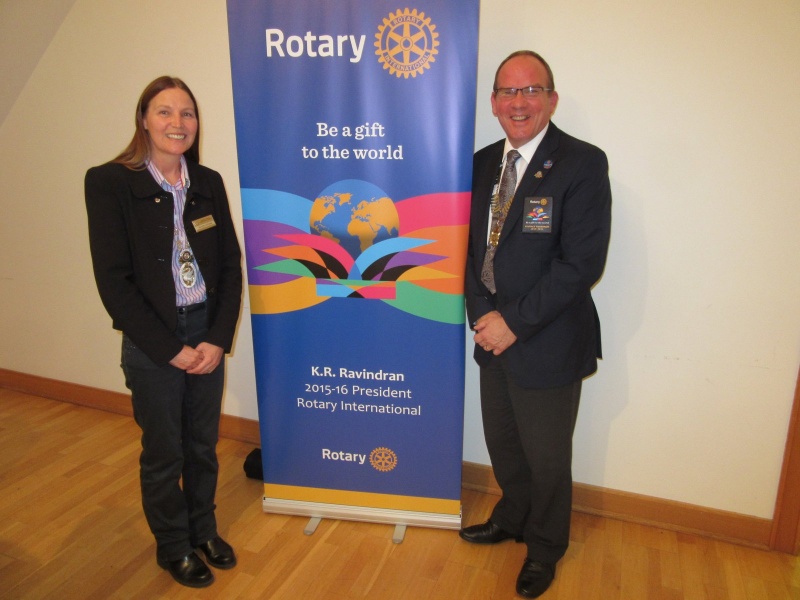 President Aileen welcomes new member Mary Boyle, with sponsor Richard Greenough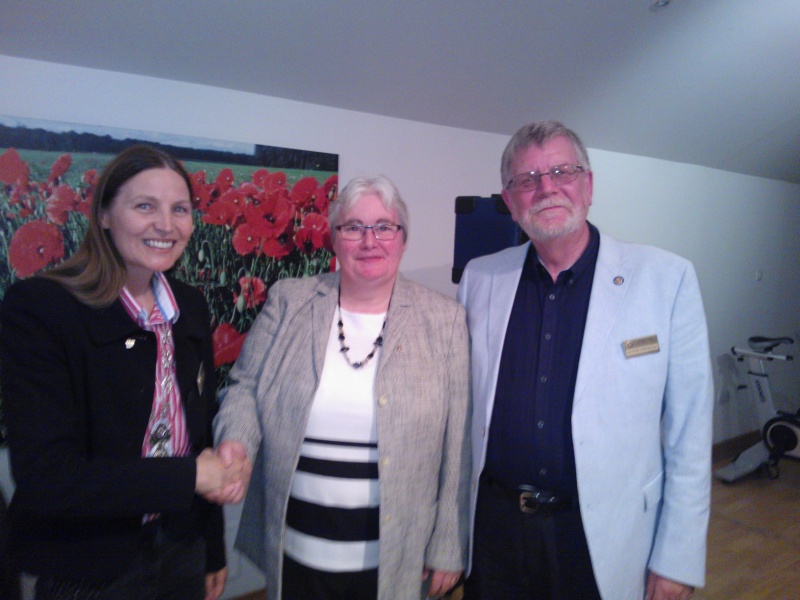 Ian Robertson and Frank Mitchell from East Coast FM - 1 October 2015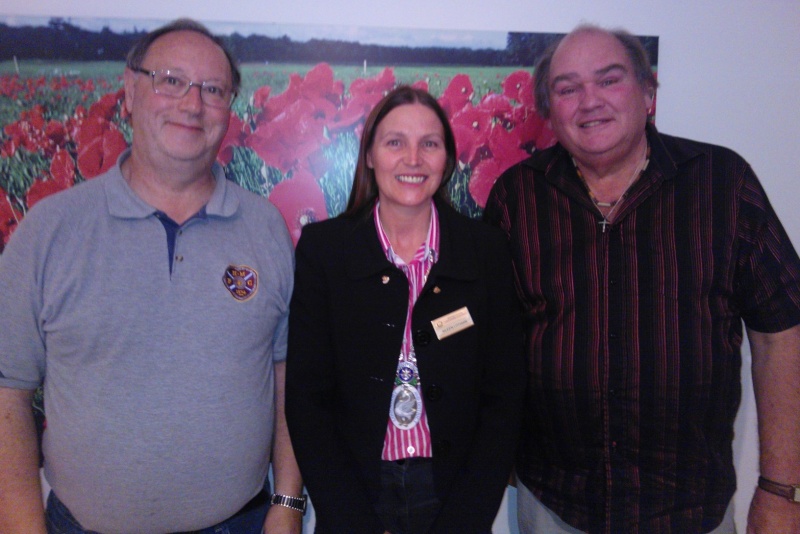 Exchanging banners with visiting Rotarian Elizabeth Carter from the Hedge End Breakfast Club near Southampton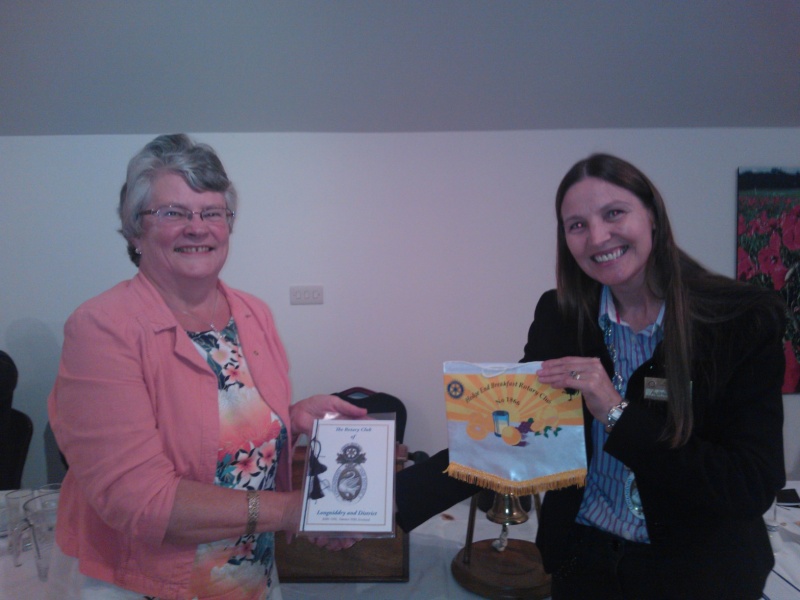 Speakers Bruce Halloran and Stephen Lissamann with President Aileen - Developing Swimming in East Lothian - 24 September 2015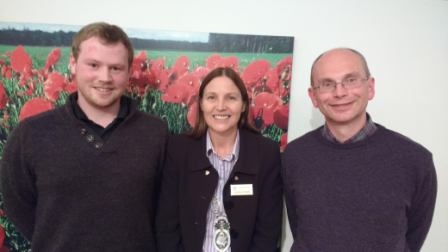 Our three fastest Rotarians at a recent outing to the Go Karting at Raceland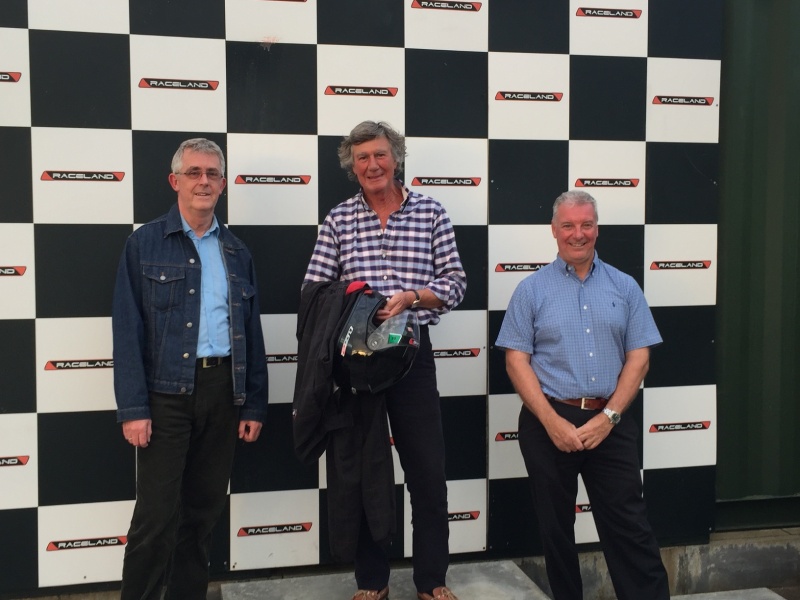 Past President Keith welcomes new member Eileen Morrison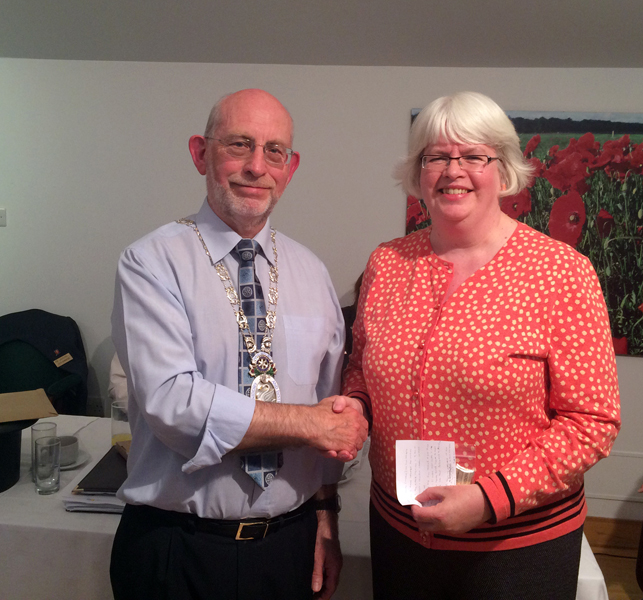 Prestonpans Primary School Rotakids gets Charter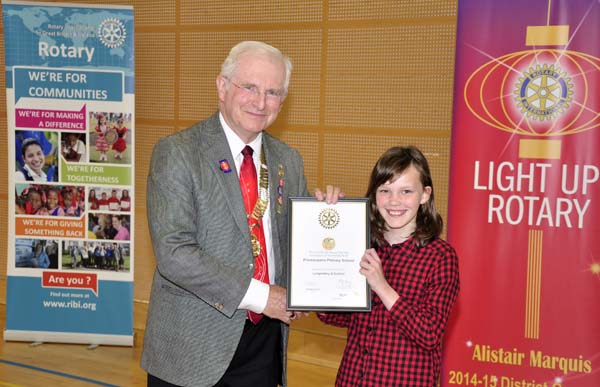 District 1020 Governor Alistair Marquis presents Vice President Emma Taffe with the Prestonpans Primary School Rotakids Charter
Lewis Quinn our Challenge Enterprise candidiate from Preston Lodge High School with School Head Gavin Clark and Past President Keith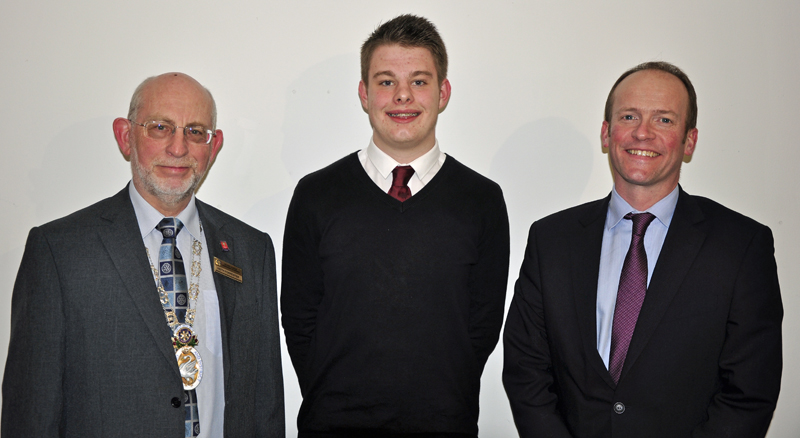 Pure Malt - Folk Group entertained an enthusiastic audience at Longniddry Community Centre for our Folk Night with Cheese and Wine on offer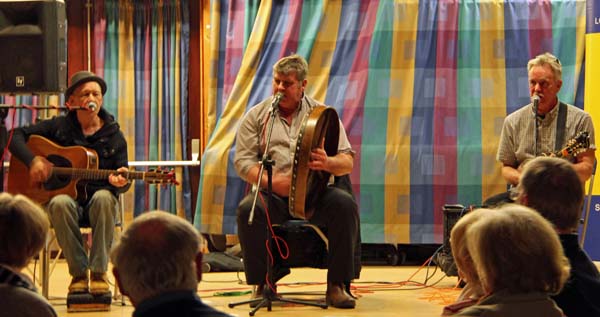 Longniddry Rotary and Scouts provide an Aqua Box for provision of safe water in disaster areas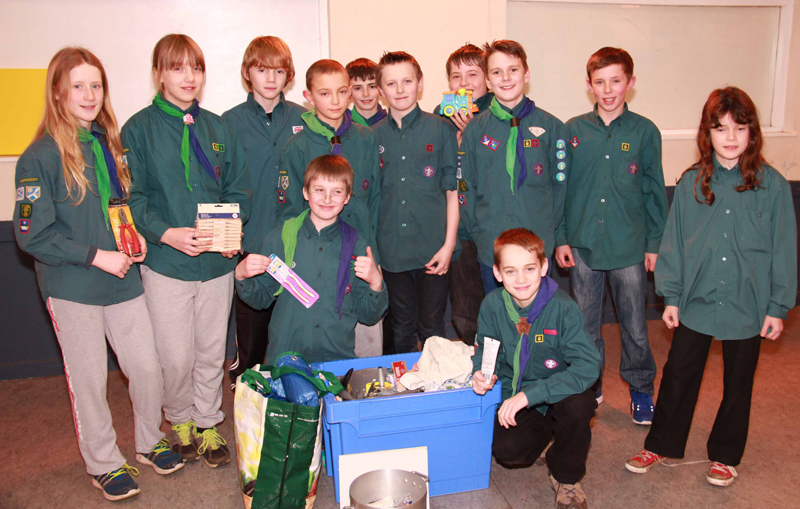 Girls and boys of the 1st Longniddry Scouts gather round one of three Aquaboxes they filled for the Rotary Club of Longniddry and District that will be sent to any disaster area in the world where it is needed.
The Aquabox is a large strong plastic box containing a tap with filter and sterilisation tablets that turns contaminated water into safe drinking water and, with repeat filling, provide sufficient drinking water for a family of four for four months; it also contains four survival bags and is filled with a large manifest of humanitarian aids the scouts very ably completed. These were a wide range of items including basic cooking utensils, hygiene items, general hardware and tools to help rebuild one's life.
Longniddry Rotary is extremely grateful to our local Scout Group who completed this task very proficiently and as the picture shows, with enthusiasm. The Rotary Club completed another two boxes which will be sent south to Derbyshire and await the next disaster anywhere in the world.
Disasters around the world come in many forms; war, drought, earthquake, flood, typhoon and hurricane. But they all share a common challenge - the provision of safe water for survivors. When disaster strikes, establishing a supply of safe drinking water is a priority.
Over 70,000 Aquaboxes have been distributed throughout at least 55 Countries.
Longniddry Primary Crocusses
The accompanying photo was taken at Longniddry Primary School on Monday when Anna McPhee and my wife Janet judged the wrapper designs to pots of crocuses which Rotary supplied them with last October as part of our End Polio Now efforts Douglas Farquhar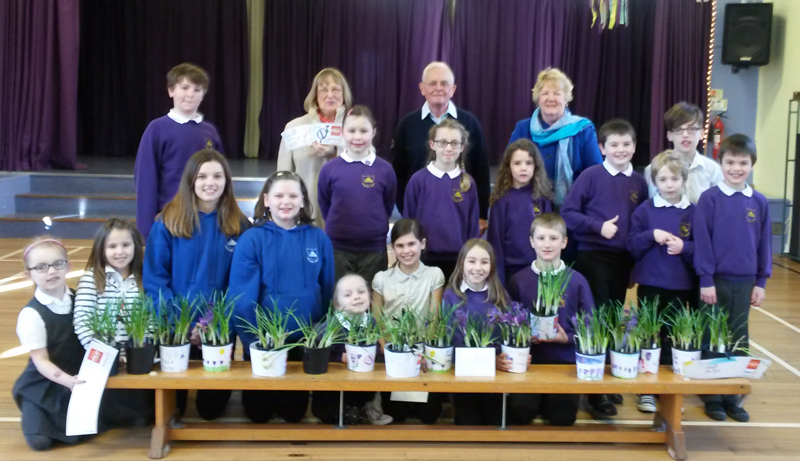 Robert Ferguson receives his RYLA certificate from Past President Keith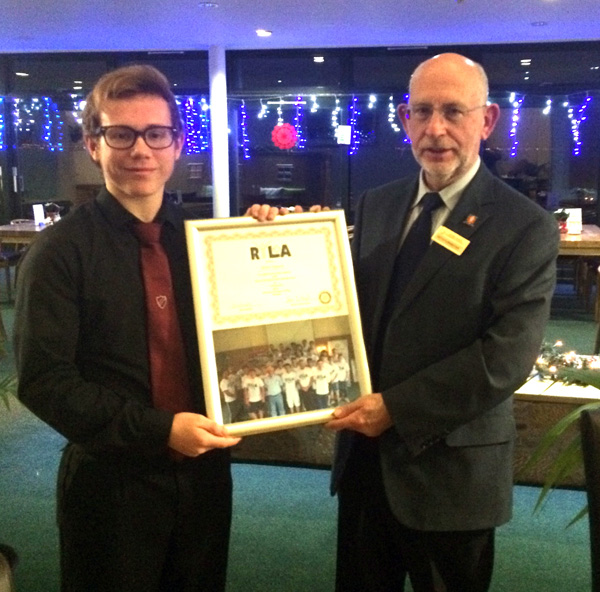 President Elect Aileen exchanges banners with Steven Smith President of Toronto Rotary Club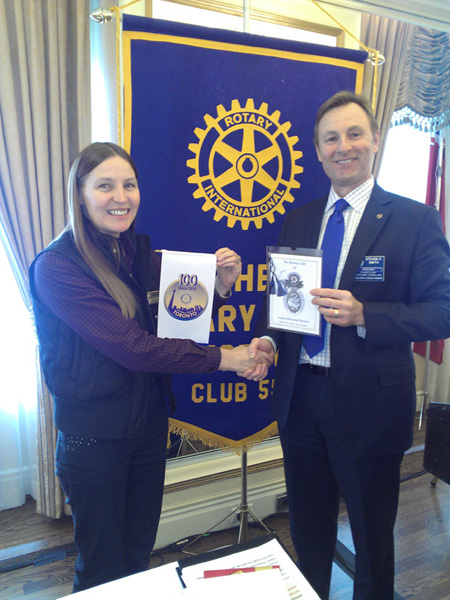 Scouts visit Club to tell us about their Chamboree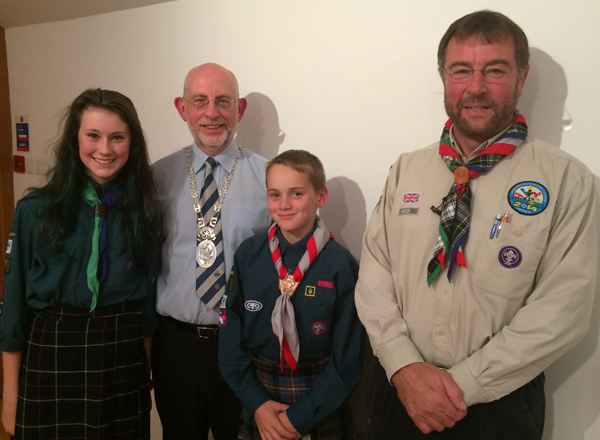 President Keith with from the left Rhianna Boyd , Gregor Thomson and Asst District Commissioner Paul Ince
Following donations totalling £450 Longniddry Scout Leader Paul Ince and Scouts Rhianna Boyd (14) and Gregor Thomson(11)visited the Club on the 9th October to tell members how their donations had been spent. Paul explained that some donated funds had been used to update the Scout Hut which now supports the various levels of scouting for which there is a waiting list to join.
Rhianna and Gregor gave an excellent presentation of their trip to the Cheshire Scouts Chamboree in Chester which they both obviously enjoyed
JIM Maclean
Sadly our Founder President Jim Maclean passed away peacefully on 25th August. Past President Calum Thomson has penned his memories of Jim.
---
---
"Smiles are the badges of friendliness. There are plenty of them
within you. Do not hold them captive. Set them free at right times
and places and their beneficent effects will carry to the very gates of
eternity".
Rotary Founder Paul Harris, The Rotarian magazine 1934
A smile can open and reveal the character behind it. In Jim MacLean's case it was a cheeky, rosy grin, full of bonhomie; it suggested that this was a man of great wit and humour; someone who was a joy to know and enjoy his company.
You could easily tell that Jim MacLean was well liked. The most vivid memoires I have of Jim was when we used to attend the Sportsman's Dinner in Musselburgh. I always remember having to drag Jim away from the event as he reminisced with old friends whose faces would light up assoon as they spied Jim within the crowded company. He, in turn, was so pleased to meet an old friend and chat and chat all night. As a natural raconteur, the anecdotes never dried up and his tales were always welcomed and appreciated.
As an emotive story teller, Jim would often be exploited by the club when we hosted and entertained perhaps a visiting Rotarian or a group of Foundation alumni. I will always remember his wonderful anecdotes as we said farewell to the Group Study Exchange team from Florida in PP Bill Aitken's house in 2005. Jim was part of their 'cultural experience' Longniddry style!
Jim would often talk about the first days of the club; he liked to inform District Governors that when the club was formed we made up the rules as we went along. Not an original concept but a successful strategy. Never take yourself too seriously. It was said in the early days that visiting Rotarians enjoyed the relative relaxed and friendly atmosphere of the club. Many of the conventions, customs and practices established by founder President Jim still endure to this very day.
Of course, Jim didn't retire on July 1st 1981. He would lead the International Committee in its nascent days and help build some of the projects and programmes that would continue for many years such as support for the Limaru School in Kenya and the twinning with the Randaberg Rotary Club in Norway. He understood that Rotary existed beyond the locality. He stood (unsuccessfully) for election for district office as International Committee Chair. The district's loss, I submit.
Jim had the unique honour of watching every one of his 34 successors take office and I have never
heard him say a harsh word against any of them. As President, some 27 years after him, he wrote me letters, hand written of course, for we never ever received emails from the man. These letters were always thoughtful, constructive and sincere. You can rest assured they remain intact to this very day, a reminder of a kind, generous, positive human being.
I conclude that The Rotary Club of Longniddry and District, with its twin foundation pillars of fellowship and service is the living embodiment of its first President - Jim MacLean.
Calum Thomson 28/8/2014
A German Visitor
Harald Steeb from the Abstatt-Lauffen Rotary Club District 1830 Germany exchanges Banners with President Keith Forrester at a recent Club meeting.
Wrist Bands for the kids at the East Fortune Airshow
Presi

dent Richard with four newly installed Paul Harris Fellows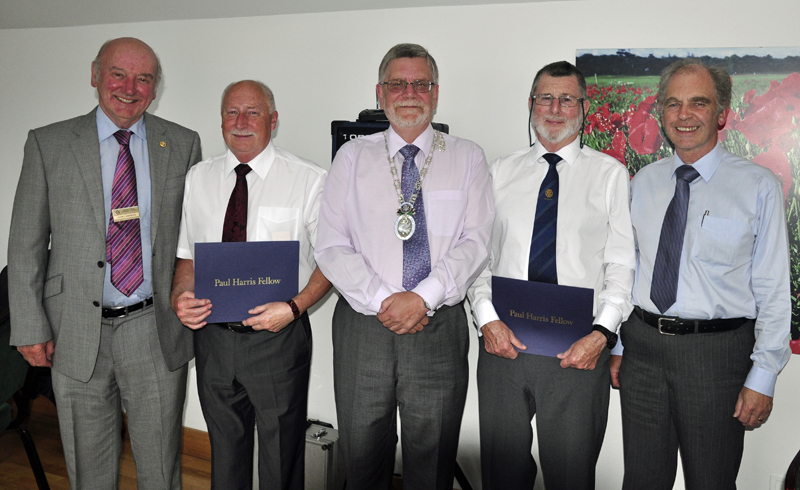 From the left John Chambers, John McPhee, President Richard,Alastair
Kirkpatrick and Gordon Smillie
President Richard with the staff and pupils of the Hub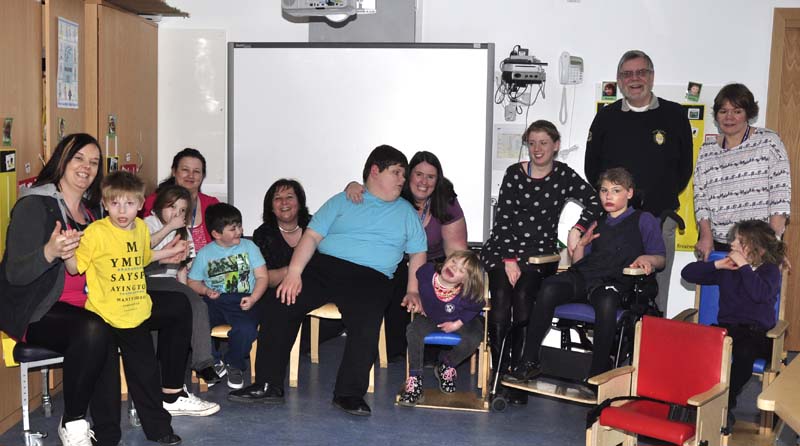 Ben Muir receives his prize as winner of the District 1020 Young
Musician of the Year (instrumental)

Excellent performances at Preston Lodge for this Years Young Musician of the Year competition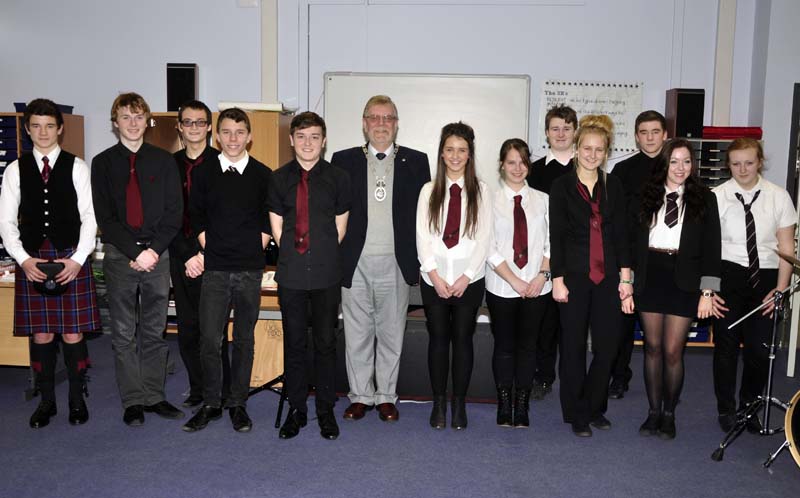 Latest pictures of the Barrel Trains at Prestonpans Station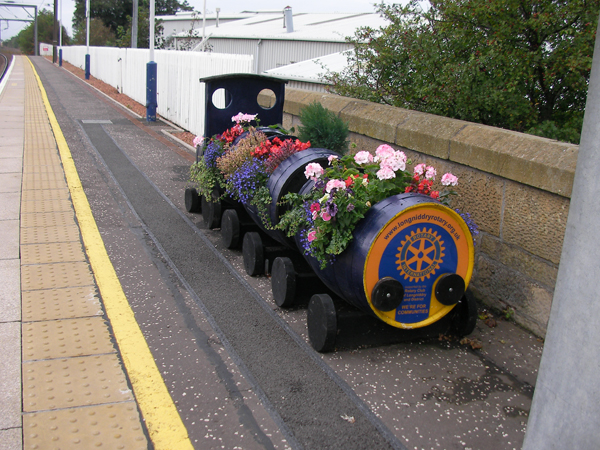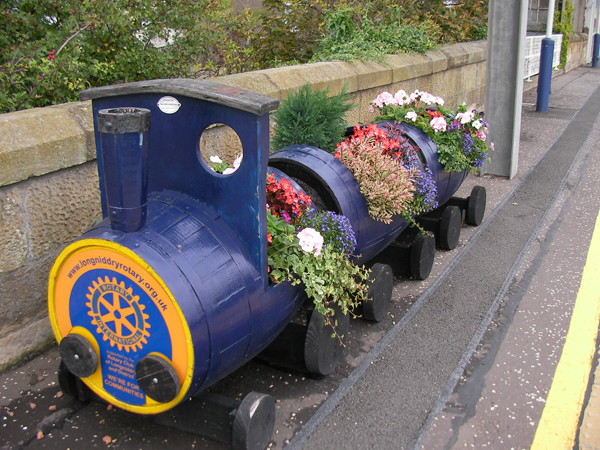 Happening soon...
Meetings and events happening soon
Thursday 24th January 19.00
Internal Quiz
---
Andrew Ferguson
Thursday 31st January 19.00
Girls Education in Sub Saharan Africa
---
Lindsey Rae
Thursday 7th February 19.00
Surprising Dubai (Ladies Evening)
---
Barry Turner
Thursday 14th February 19.00
Workshop - The Five Year Plan
---
Eileen Morrison
future events Past Events calendar district events local events
---
---
---
Rotary News
Be part of a global network of volunteers, trying to make the world a better place. Please also see the 'links & news' page for information from the local district and live feeds from Rotary International and Rotary International in GB&I.
Family Rotary club use skills to kick-start local charities
---
Rotary members unite to tackle world hunger
---
---
Meetings & Venue
Where and when:
We meet on Thursdays at 19:00 for 19:15
(
No meetings during the Christmas and New Year weeks
)
Craigielaw Golf Club, Craigielaw, Aberlady, East Lothian, EH32 0PY
01875 870802