Featured pages
Rotary Club of Bodmin - welcome! Please scroll/swipe down through this page to find out more about us, in addition to the pages linked in the menu, top-left.
---
About us
The Rotary Club of Bodmin has been active for 66 years and currently has 29 members representing a wide range of local business and professions - Brief Club History.
Bodmin town is situated in Mid Cornwall embracing beautiful Countryside and Moorland within a short distance of the sea.
<>

Bodmin Club - Handover to new president 2017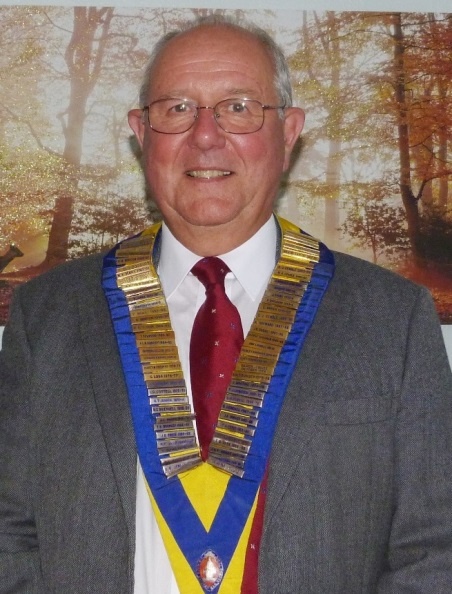 On the 5th of July the Rotary Club of Bodmin handed the chain of office to its new President, Colin Marshall. Colin who lives in the village of Helland is a retired Estate Manager from Hampshire. He and his wife Valerie moved to Cornwall five years ago – a welcome return for Valerie who was born and brought up near Hayle. Colin has been a Rotarian for nearly thirty years and his aim for the year is to continue a high level of support for the local community with a particular emphasis on youth. He is also hoping to welcome new members to the Club.
<>
BODMIN ROTARY HELP FELICITYThe Rotary Club of Bodmin recently assisted in the purchase of a motorised wheelchar for Falicity Marriot, of Bodmin - A donation of £1000 was made in conjunction with Bodmin Lions Club.
Below is a recent photo of Falicity receiving second prize in a dressage competition in Gloucestershire, using her new wheelchair at a Riding for the Disabled Event.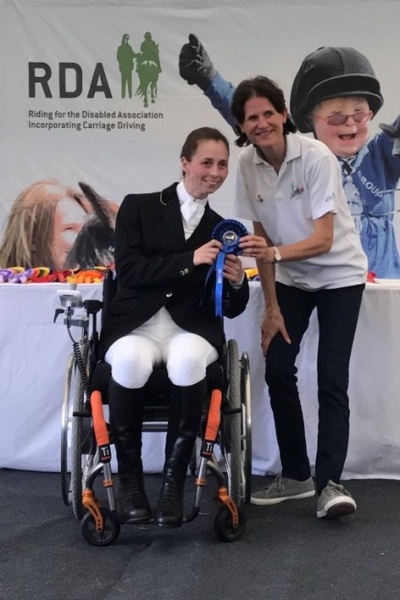 <>

Bodmin Rotary Club - Annual Charity Golf Day - Fri. 5th May 2017PHOTO & PRESS REPORT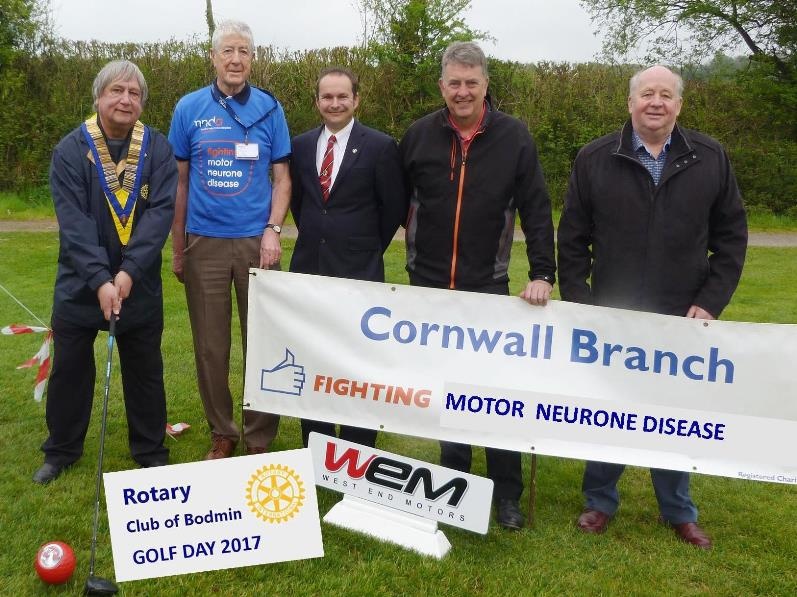 L to R - Peter Williams (President Bodmin Rotary), Derek Williamson (MNDA), Andy Coppin (WEM Sponsor), Graham Bond ( Lanhydrock Golf Club), Peter Old ( MCB Sponsor)
£6,000 + Raised for MNDA at Bodmin Rotary Golf Event.
The Rotary Club of Bodmin held its annual charity golf day at Lanhydrock Hotel and Golf Course on 5th May which raised in excess of £6,000 for Motor Neurone Disease (MND).
The golf day, which is a regular annual event is hailed as the biggest charity golf day in Cornwall, with forty six teams of 4 (184) golfers braving the windy weather to compete a 'texas scramble' format for various prizes including a car for a hole in one. Local businesses donated generously and volunteers of the local branch of the MND Association prepared a raffle, the tickets of which sold out within just a few hours.
Bodmin Rotary Club organised the event in conjunction with Derek Williamson of the Cornwall MNDA. Derek who, lost his wife, son to the disease and prior to that his sister in law, pledged to raise money for MND and promote awareness of the illness. He has helped to organise numerous golf events in Cornwall and Spain and to date the events have raised well over £100,000 for the Motor Neurone Disease Association.
Bodmin Rotary Club have organised a golf day for the past 16years for different charities to benefit, but for the past 9 years have supported Derek and MND.
Bodmin Rotary President Peter Williams, in his speech before the prize giving, thanked Graham and Clare Bond, the owners of Lanhydrock Golf Club for the use of the facilities and their personal support.
Past MP, Scott Mann presented the winners with their prizes - the overall winners were the Dave Nottle Scaffolding (with an overall score of 54.4) Derek Williamson thanked everyone who attended the golf day, giving special thanks to the Rotary Club of Bodmin for their overwhelming support in organising the golf day once again.
Rtn. Peter Bray 8/5/17

Press Officer
<>
BODMIN ROTARY CLUB WELCOME A SPECIAL GUEST
Brian Cumming MBE. GCStG, an 85year old Chelsea Pensioner, from The Royal Hospital, Chelsea (RCH), was recently entertained by Bodmin Rotary members, at a special meal in the Westberry Hotel, Bodmin. Members were honored that Brian accepted their invitation and travelled such a long way and after the meal gave a very interesting and amusing talk on life at the RCH.
The following day, Bodmin Rotary President Peter Williams, hosted Brian at The DCLI Museum, which included Cornish Pasty & Saffron Cake for lunch, although Brian chose the take the Saffron Cake back to Chelsea for his friends.
<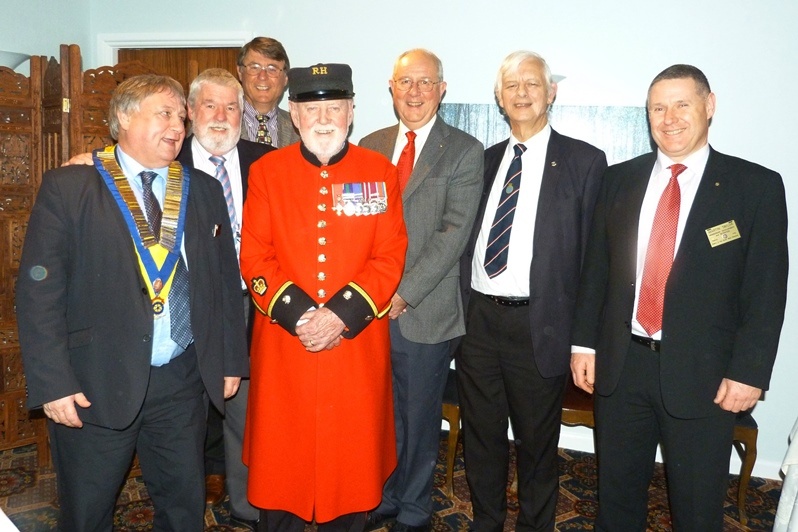 Some members enjoy one of Brians many jokes !

~~~~~~~~~~~~~
L to R President Peter Williams, David Jenkins, Allan Foad, Brian, Colin Marshall, Peter Ripley, Martin Taylor.
Brian Cummings MBE is a sprightly 85-year-old, a keen photographer and a tour guide for the Royal Hospital who attributes his youthfulness to 58 years of a wonderful life and a wonderful wife, whom he met at 15 and married at 18. Then four days after their honeymoon, left for Egypt and didn't return for almost four years.
The line of medals on his chest reflects his 33 years in the Royal Corps of Signals serving, inter alia, in Egypt during King Farouk's deposition, Jordan after King Abdullah's assassination and Cyprus during the EOKA troubles, as well as in Singapore and Germany. He was made an MBE for his welfare work at the Ministry of Defence, where he spent 14 years after retiring from the army.
Upon qualifying for the RCH (applicants must be over 65, have no financial dependants, be of good character and have served as a regular soldier for 12 years) Brian was invited for the customary four-day trial period. He said: "The moment I arrived, I knew this place was for me" He sold the family home in Plymouth, packed his remaining belongings into two suitcases and two cardboard boxes, and embarked on his "new life" at Chelsea. - What a wonderful man.
wmBODMIN DRAGONS SWIMMING CLUBPresident Peter presented winners Rotary shields to club members:
Mens 1500 Mtrs Freestyle - winner Tom Taylor.
Ladies 800 Mtrs Freestyle - winner Sian Temple.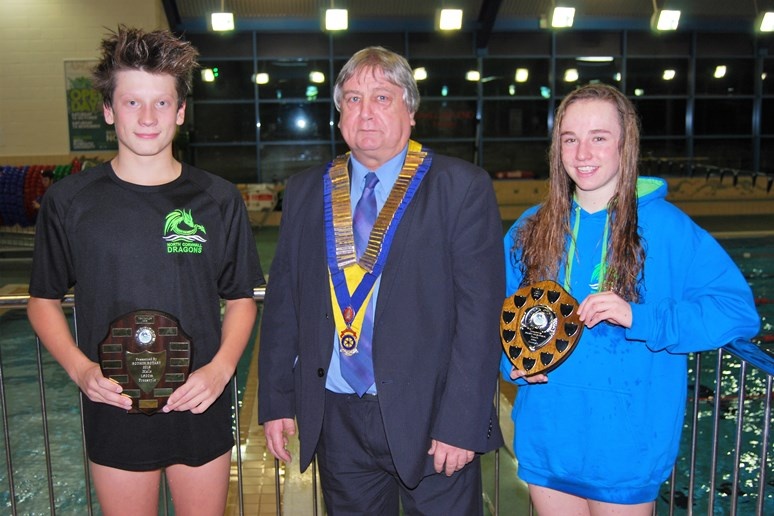 BODMIN ROTARY - BEER FESTIVAL
Bodmin Rotary Oct. Beer Festival was a great success attracting a huge number of friends and customers. special thanks go to the Landlord & Landlady of the Masons Arms Bodmin, Stewart & Mandy, who kindly allowed us to install 10 barrels of Real Ale and sell it in their bar ! - Many Thanks also to many other helpers and our ale sponsers.
BODMIN ROTARY - Trophy Winners

Bodmin Carnival was a great success - Congratulations to the Carnival committee, their hard work and determination paid off - despite the weather and many obstacales thousands of local people turned out to support it. Bodmin Rotary Club were delighted to receive the First Place Cup for the 'Topical' section and also the overall Carnival Cup.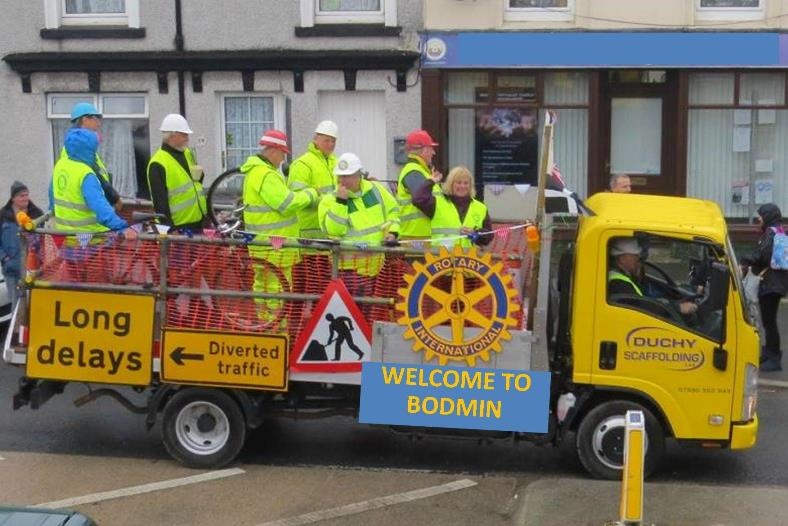 <>
Poor Press report ! Comment placed on facebook 25/8/16
CONGRATULATIONS TO - BODMIN CARNIVAL COMMITTEE
Following the very poor report produced by the Cornish Guardian this week Bodmin Rotary Club would like to say what a great job of organisation the Carnival Committee did. Despite all the problems, including the weather and insurance for floats etc. the procession went ahead and was supported by thousands of local people who obviously wanted to see a Bodmin Carnival again. Well done to all the committee – we look forward to next year.
PB PORC Bodmin
RYLA - 2016

RYLA - Rotary Youth Leadership Award is an annual event organised by Rotary. The course, for 18 - 28 year and 14 - 17 yr olds, is held on Dartmoor in July for one week and comprises an intensive programme of outdoor activities and tasks aimed at team building and leadership skills, along with a series of projects and lectures from eminent Members of the South west community.
All Bodmin entries are selected from local youth - This year's candidates representing Bodmin Rotary Club were: Lucy Fuller and Jake Clutson.
At a recent Rotary Dinner, Lucy and Jake, were presented with their certificates and gave reports of their experiences and training at RYLA - both saying how much they had achieved and benefited from it - and of course how much they enjoyed it.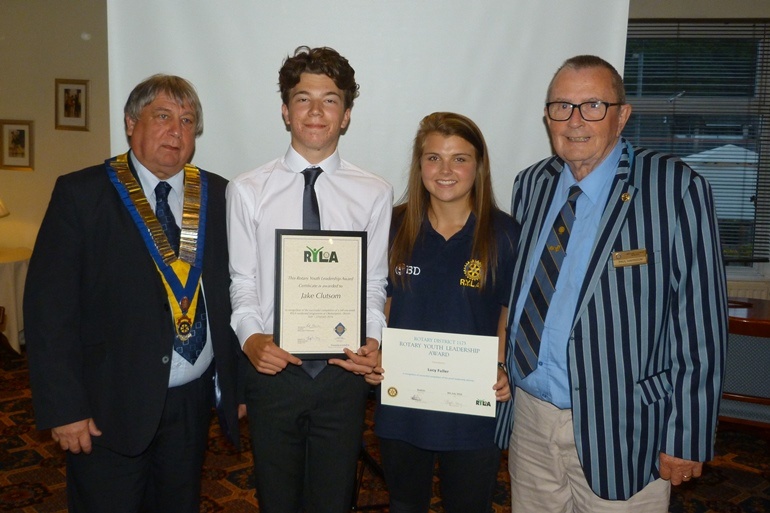 PHOTO: L to R - Rtn. Peter Williams (President Bodmin Rotary), Jake Clutson (Bodmin College), Lucy Fuller (Bodmin College), Rtn. Paul Harrison (Bodmin Rotary Club)
Bodmin Club - Handover to new president 2016 / 2017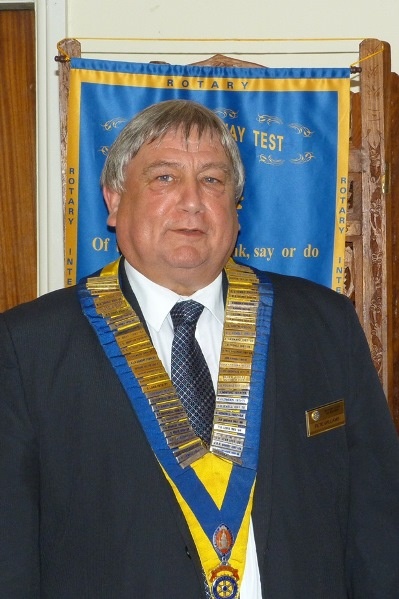 <

On the 6th July 2016 the chain of office was passed to Rtn. Peter Williams - From the village of Polruan to the County Town of Bodmin, Peter has served his community. Firstly, as a firefighter with Cornwall Fire & Rescue Service for 36 years, and currently as a member of the Rotary Club of Bodmin. Peter has accepted the chain of office as Bodmin Rotary Club President for the next twelve months, July 2016-17. Peters aim is to continue a high level of involvement in the community and youth projects, also giving international help whenever required.
<.

.
The Westberry Hotel - Bodmin - Meeting Venue.
Le Khanh & Simon welcome you....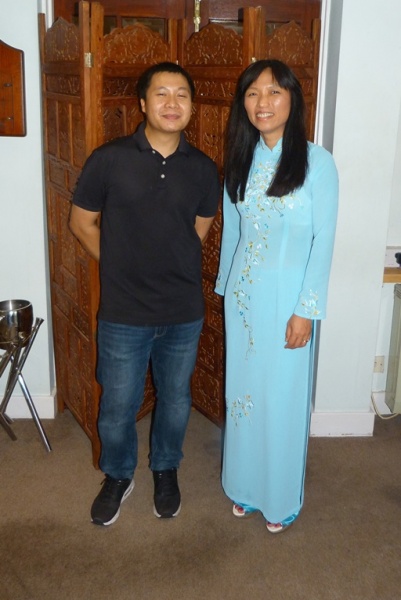 The Westberry Hotel, at which the Rotary Club of Bodmin has met
regularly since 1989, changed hands on 5th April 2106 when Bob and
Carole Marshall finally decided that it was time to take a very
well-earned rest and retire. The business was then sold to two cousins, Le Khanh
Au Duong and Simon Nguyen, who are now jointly running the hotel with
the help of almost all of the team who were formerly working with Bob
and Carole, together with a few new faces.
>
Both Le Khanh and Simon originally come from Vietnam, but have been
living in the UK for over 20 years -- Le Khanh, whose background is in
statistics and operational research, gained an MBA at Cass Business
School a few years ago and then went off to spend four years in Abu
Dhabi working with Etihad Airlines. Simon and his family, meanwhile,
have been busy running a very successful Vietnamese restaurant in the
centre of Islington's bustling Chapel Market. With hospitality being a
fundamental part of Vietnamese culture, Simon and Le Khanh want to
make every guest feel equally welcome -- their stated aim is to ensure
that all guests are treated just as if they were close friends or
family. They will also be introducing some Vietnamese dishes to the
menu, and have launched an Oriental buffet on Sunday lunchtimes which
is becoming extremely popular. When the busy summer season is over,
work will start on a substantial programme of renovation to bring all
of the public areas up to the same high standard as the terrace
restaurant.
>
Le Khanh is a keen supporter of charitable organisations (she and her
husband are both founder Trustees of Safe Anaesthesia Worldwide), and
she and Simon very much wish to retain the close links with Bodmin
Rotary that have been built up over the years.
>
One not-so-good piece of news is that the roadworks for the Bodmin
Growth Deal will have a major impact on the Westberry in the coming
months, with Dennison Road being closed to traffic from Sept. 2016
to at least June 2017. As this is a new business venture for Simon and
Le Khanh, the Westberry Hotel and Restaurant will need all the support
it can get from local customers, businesses and friends to help it
survive this very difficult time.
Photo to follow....
Le Khanh Au Duong
Access to the Hotel will be maintained through the road works whenever possible, the hotel car park and others near by will also remain open.
Bodmin College Cricket

Paul Harrison chairman of Bodmin Rotary Youth Committee, presents a cheque for £50 to sponsor Bodmin College U13 cricket team in Rotary's Cricket Competition. Receiving the cheque on behalf of The College is Jess Reed, president of Bodmin Interact Club.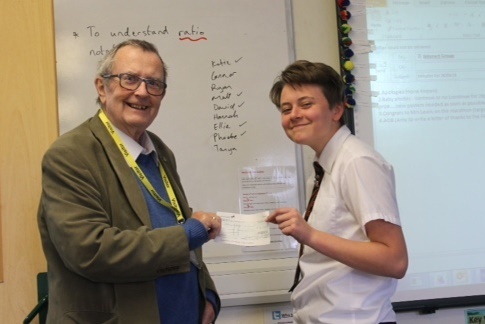 Back to School for President

Bodmin President Rtn. Peter Williams returned to the classroom last to meet the Bodmin College Interact Group - The group formed by Bodmin & Lostwithiel Rotary Clubs has been active for almost three years and are involved in a programme of Local / International Community projects.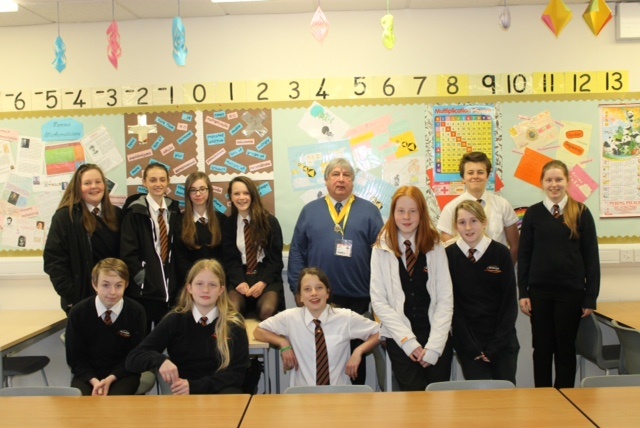 Peter is the one in the middle !
Why are they all girls ! ?
Bodmin Rotarian - 101st Birthday Aug 2016

" Happy Birthday Vinton "
Members of Bodmin Rotary Club congratulate Rtn. Vinton Hall on his 100th Birthday
Vinton became a member of Rotary over 50 years ago in Colchester, then moved to Exeter about 1970 and became President in 1976. Finally, Vinton retired from his profession as Exeter City Architect and transferred to Bodmin Club in 1990.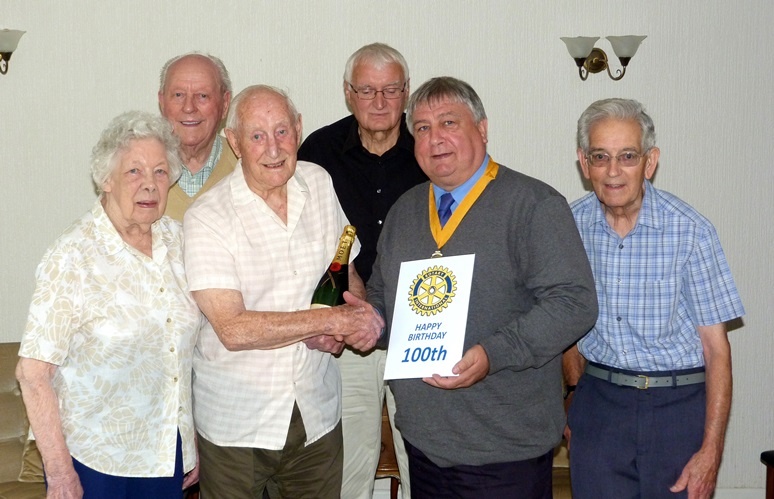 Vice President Peter Williams making the presentation to Vinton & Dorothy

<>
~~~~~~~~~~~~~~~~~~~~~~~~~~~~~~~~~~~~~~~~~~~~~~~~~~~~~~~~~~~~~~~~~~~~~~
<>
<>

Happening soon...
Meetings and events happening soon
Saturday 19th August -
BODMIN CARNIVAL Sat. 19th August 2017
---
Bodmin Rotary Club were winners last year - Lets do it again !
Don't miss it.
details
Wednesday 23rd August -
6.30 for 7.00 Evening Meal
---
Speaker finder: Peter Ripley
Speaker: Peter Ripley - Getting the most from your Duck Race !!!
Monday 28th August -
ROTARY DUCK RACE
---
Cardinham Woods River 1200hrs
Wednesday 30th August -
PARTNERS EVENING
---
Foundation Committee - Peter Ripley making all arrangements:
See - Details....
TEN-PIN Bowling & meal - Trethorne Leisure Centre.
List will be circulated soon....

details
Sunday 3rd September -
JUNIOR PARK RUN
---
Bodmins First Junior Park Run - Supported by Bodmin Rotary Club and other local organisations. See Details....
Contact Colin Bell for further information - Use contact form below....
details
Wednesday 6th September -
6.30 for 7.00 Evening Meal
---
Speaker finder: Peter Bray
Speaker: Josh Wilton - 2017 Junior RYLA candidate, presentation.
Wednesday 13th September -
6.30 for 7.00 Evening Meal
---
Speaker finder: Peter Ford
Speaker: From Cornwall Blood Bikes
future events completed calendar district events local events
---
---
---
Rotary News
Be part of a global network of volunteers, trying to make the world a better place. Please also see the 'links & news' page for information from the local district and live feeds from Rotary International and Rotary International in GB&I.
Rotary Young Citizen Awards
---
Watch coverage of the 2017 'Rotary Young Citizen Awards', highlighting outstanding young people.
Details on RotaryGBI.org
How Rotary is Funding Polio Immunization in 2017
---
Find out more about Rotary fighting disease
Details on Rotary.org
---
Meetings & Venue
Where and when:

We meet on Wednesdays at 1830 for 1900
(
Partners 5th Wed T.B.A.
)
The Westberry Hotel, Rhind Street, Bodmin. PL31 2EL
01208 72772