Download an application form for funding from Rotary Shop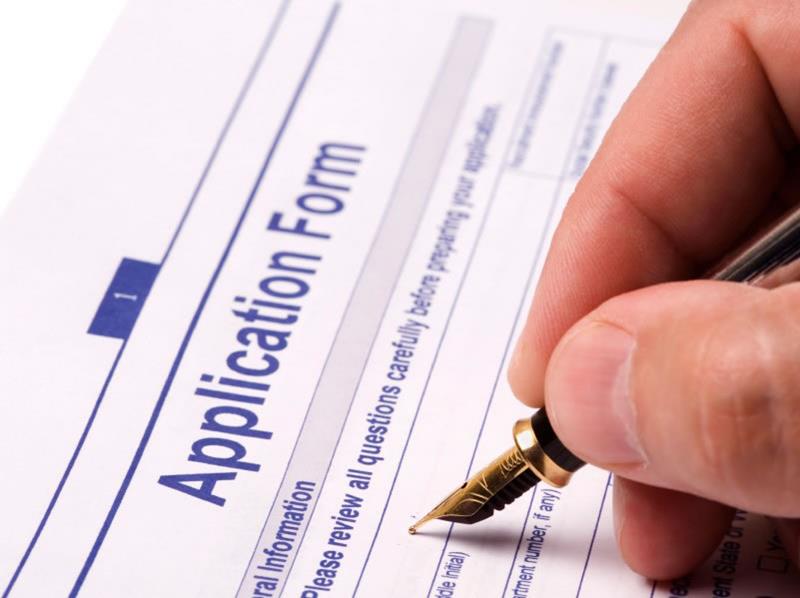 Click on picture
Launceston Rotary Citizen of the Year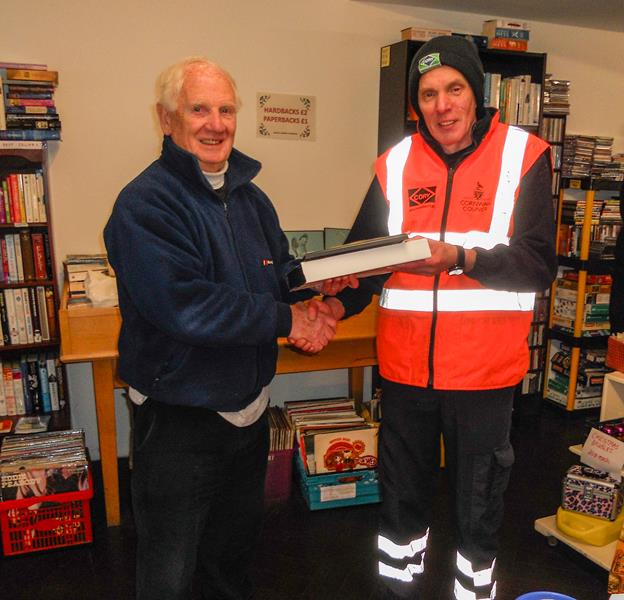 A well-known local figure was presented with the annual Citizen of the Year Award in the Rotary Shop by Rotarian Neville Helme.
Raymond Phillips, the town road sweeper, was nominated by Rotarian Barrie Boundy for his excellent attitude and the devotion he shows to his job. The Rotary Club have been trying to present the award to him for several weeks, but he moves so fast that it has been difficult to pin him down!
Picture shows Neville presenting the inscribed salver to Raymond and we would all like to thank him for keeping the town clean and tidy. If you see him tell him, "Well done."
Archbishop visits Rotary Shop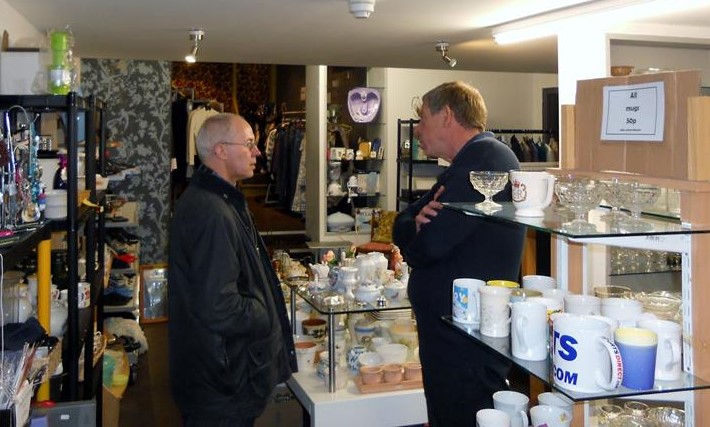 The Archbishop of Canterbury Justin Welby visited the Launceston Rotary Community Shop on 15th November where he chatted with the chair of the shop committee Rotarian Alan Rainsley. Alan said afterwards, "He seemed very impressed with the initiative and the help that the shop gives to the local community. He was a very pleasant man and seemed to be genuinly interested in what we were doing."
Community Shop, Rotary and the public send help to Philippines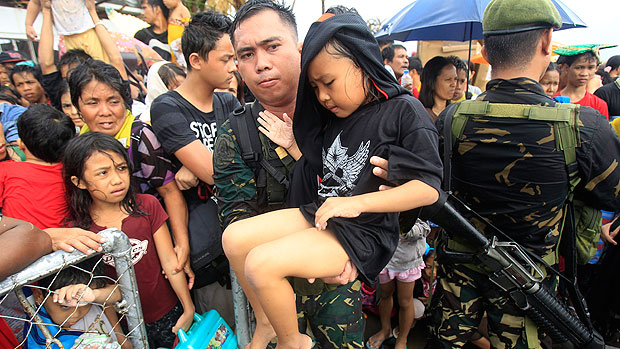 The Community Shop with the Rotary Club team up to send help to the Philippines.........more
The shop is now open - come and have a browse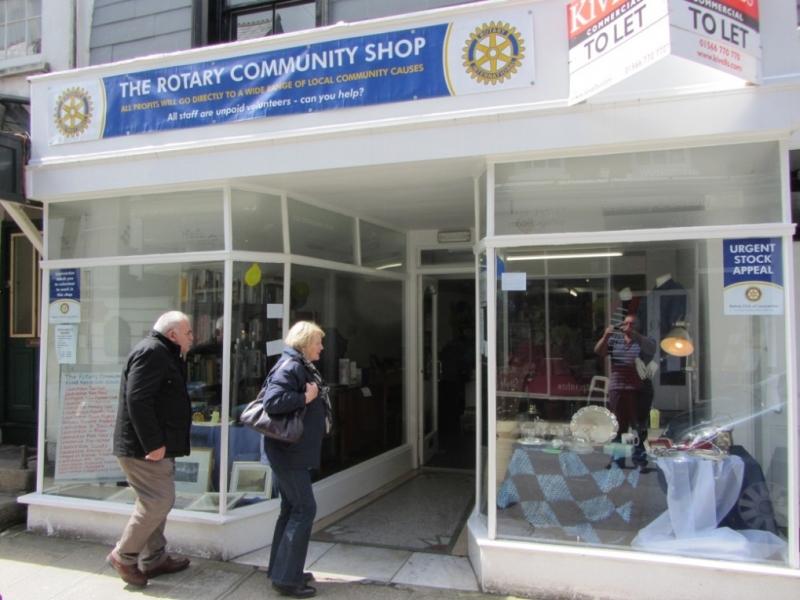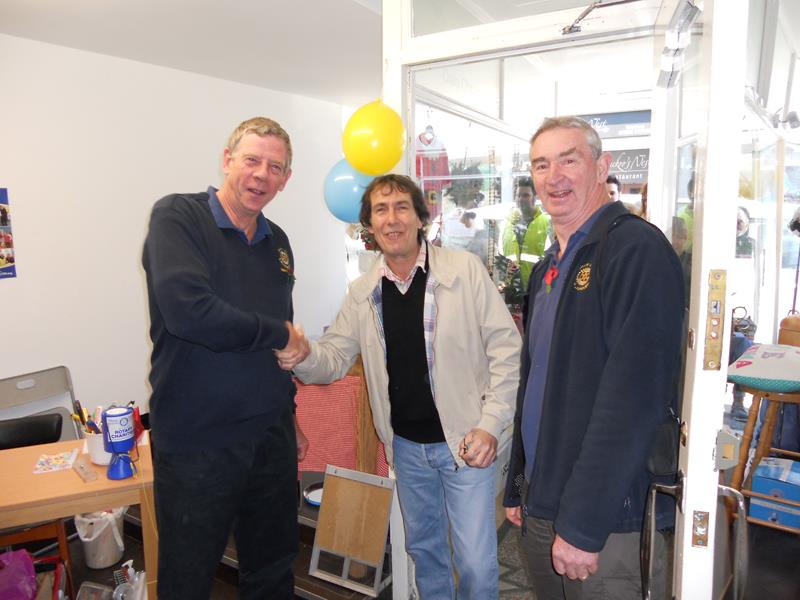 The shop and Tony (the first customer) being welcomed by Rtn Alan Rainsley and President Kim Kinvig.
The Rotary Community Shop re-opened in Southgate Street on Monday 4th November. It is open 10am to 3 pm Monday to Friday and 10am to 1pm on Saturdays. Come and have a browse, all profits stay in the local community. All staff are unpaid volunteers - would you like to help - call in. Have you any stock that you wish to donate - clothes, bric a brac, portable electrical equipment, small items of furniture. By helping us you are helping your local community.
Launceston Rotarian on Kosova convoy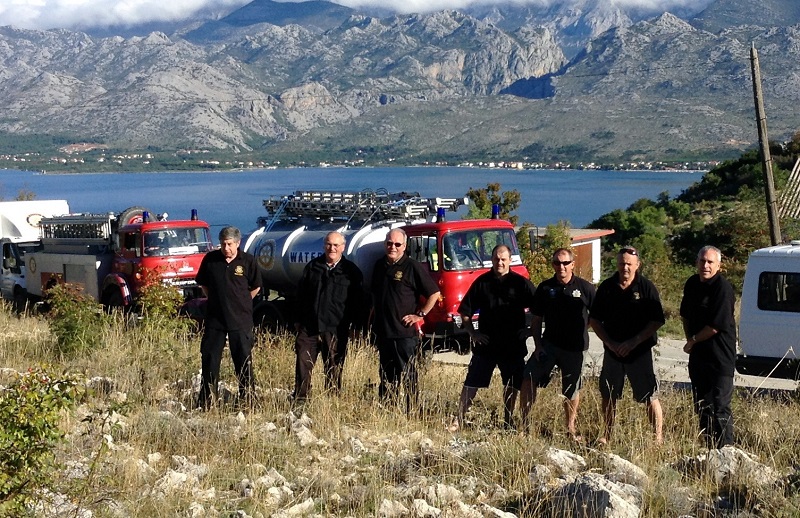 Launceston Rotarian Lawson Ham was recently part of a convoy to war ravaged Kosova...
Awards for 2 Launceston Rotarians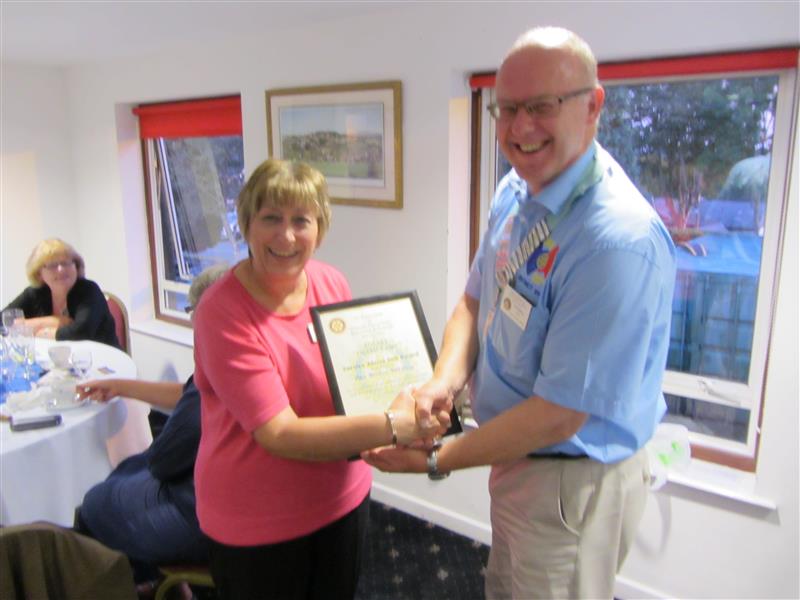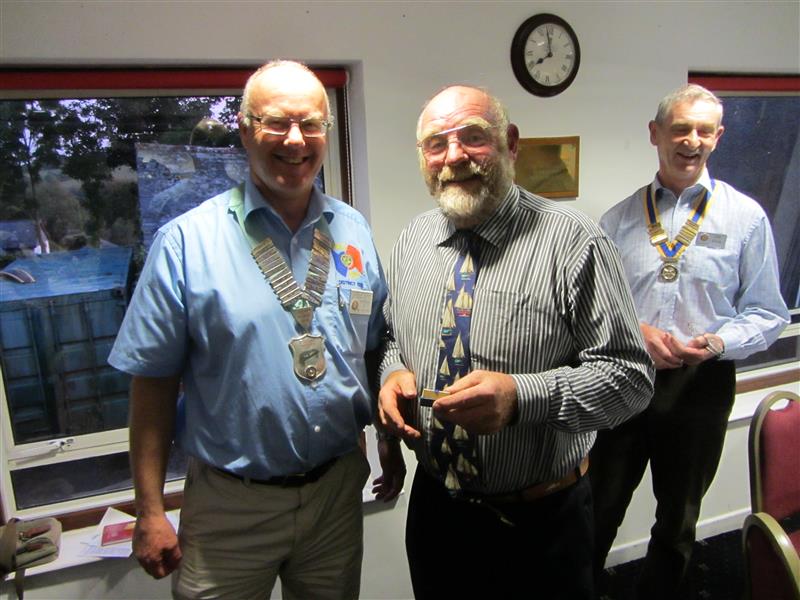 On Monday 9th September the Rotary District Governor of Cornwall and Plymouth, Stephen Lay with his wife Carol, visited the Launceston Rotary Club and talked to members about current issues.
During his visit he made presentations to two Launceston Rotarians...
more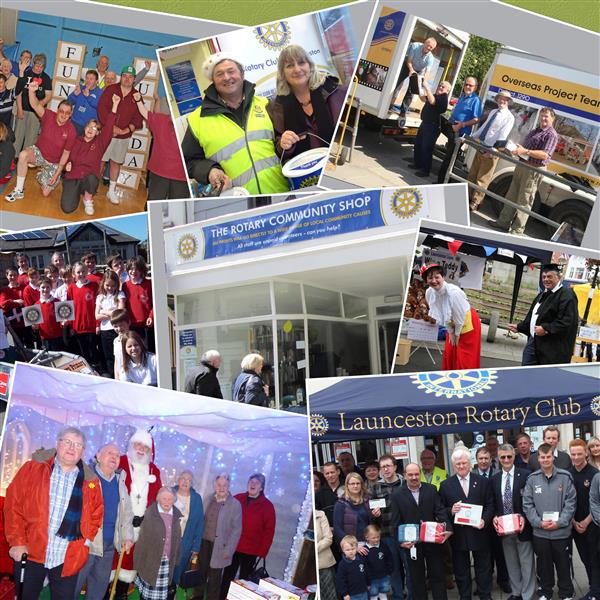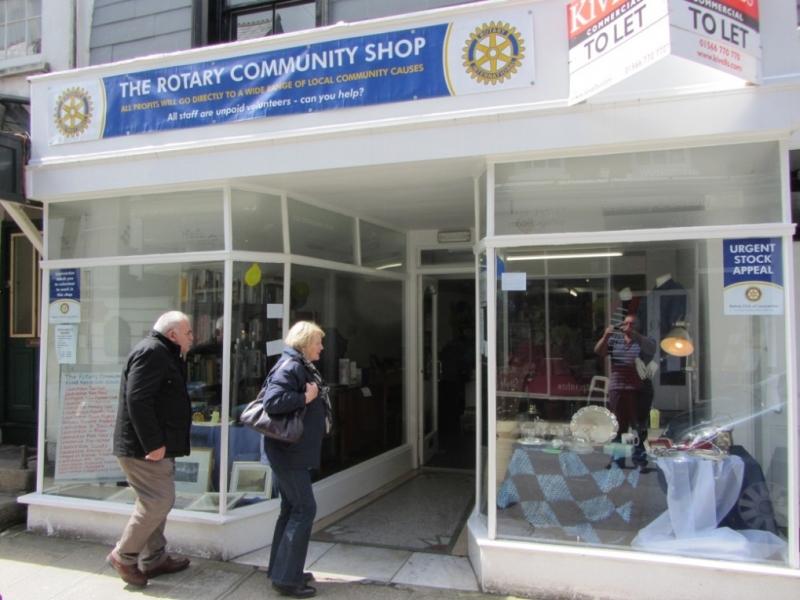 The Rotary Club of Launceston
was formed in 1947 and although relatively small it is particularly active and well respected for its local and international projects. We are a dual gender club and visiting Rotarians and their partners will receive a very warm welcome at any of our meetings - please advise the secretary via the contact form.
We alwa

ys welcome enquiries from prospective new members
Whilst membership of the club is by invitation only, at the discretion of the members, please don't let that put you off. If you are interested and would like to know more, please contact us.
ROTARIANS - people who care, people who make
a difference, people like YOU!
Rotary at Launceston Show
25/7/13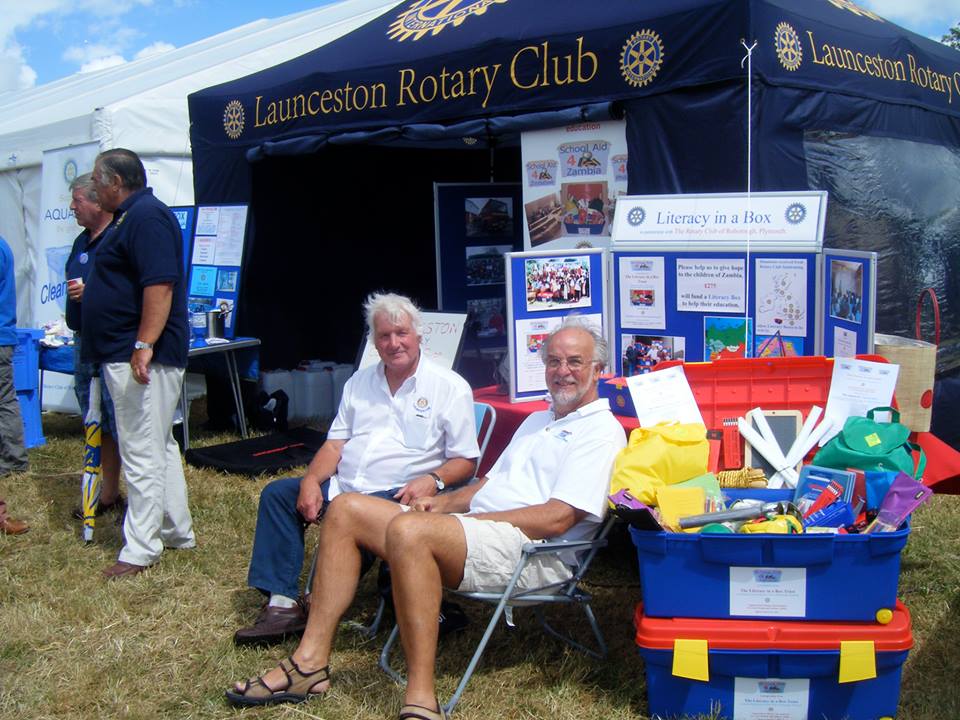 From Literacy in a Box Trust
Many thanks to Launceston Rotary Club for letting us share their pitch at the Launceston show yesterday. It rained on the way there and on the way back but stayed fine for the whole of the show. Aquabox, a project co-ordinated by the Rotary Club of Wirksworth, were also sharing the pitch and we all enjoyed a great day in great company. Thanks again to David Shrimpton for inviting us and everyone from Launceston and Wirksworth Rotary Clubs who made it such an enjoyable day.
Change at the top for Launceston Rotary Club

8/7/13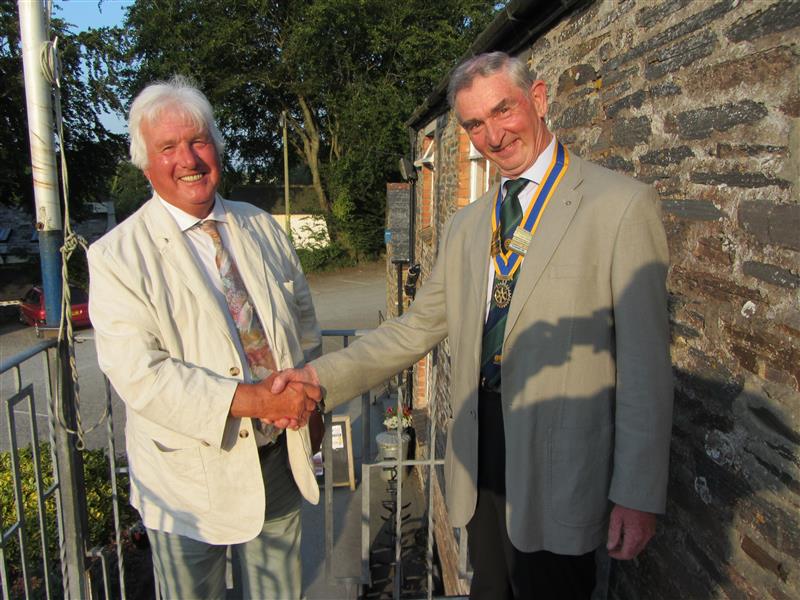 At the Launceston Rotary meeting on Monday 8th July 2013 President Dave Shrimpton thanked the members for their support and hard work during his year of office. He then handed over his chain of office to incoming President Kim Kinvig who thanked Dave for his work throughout the year and told members and guests that his priorities for the year would be increasing membership, continuing to support local and international projects and ensuring that Rotary continued to be good fun.
Update on Launceston Town Band instrument appeal
290613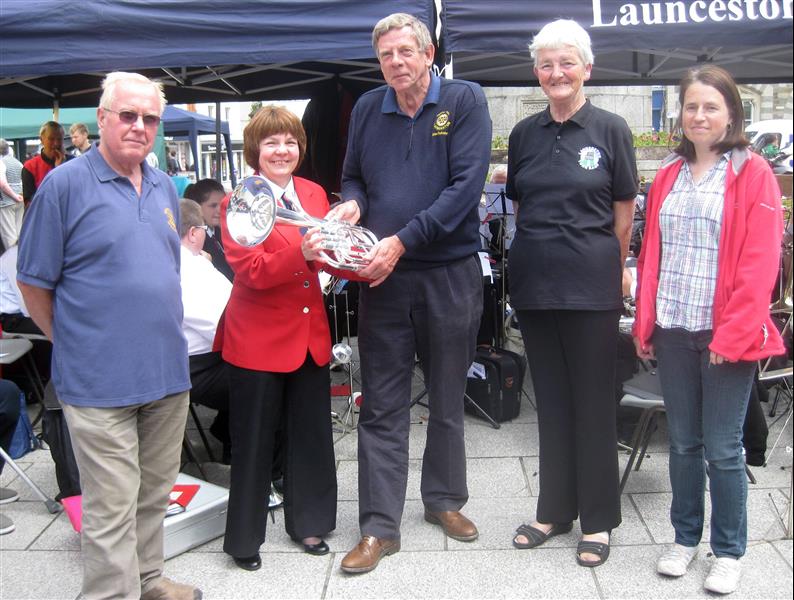 On the 1st June Rotarian Peter Casey, on behalf of the Rotary Community Shop, presented a cheque to Launceston Town Band.
At the Victorian Market on 29th June the Town Band showed off the new tenor horn that the band had purchased with that donation........
continued
Rotary Victorian Market 2013

290613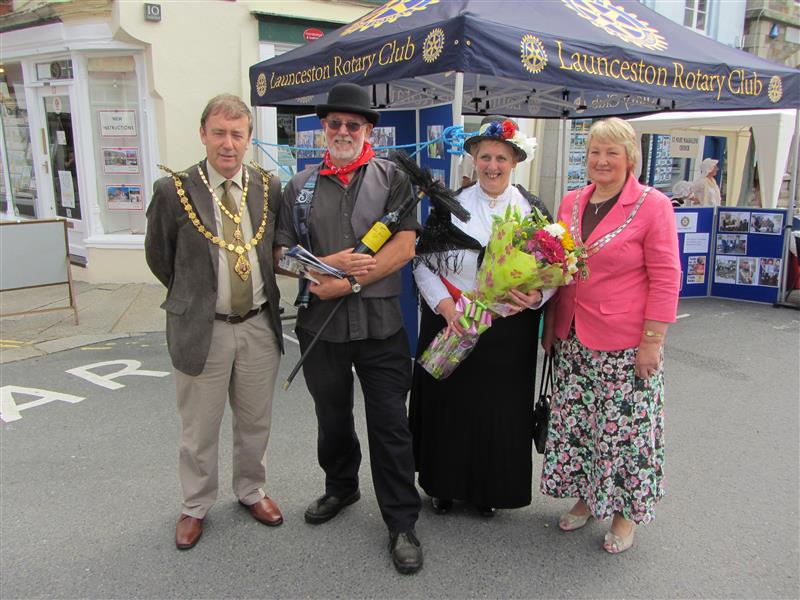 "The sun shines on the Righteous" said the Mayor Councillor Dave Gordon as he opened the Victorian Market 2013 on Saturday 29th June. The sun shone and crowds thronged around Launceston Square as the Local Charities and Organisations manned their stalls and sold their wares. The award winning Town Band played as magnificently as ever as the Twinners made their crepes and the Town Band volunteers filled the air with the aroma of bacon butties. A great day was had by all thanks to the organiser Rotarian Richard Ilsley.
The prize for the best dressed Victorian Lady was won by Cym Downing from the Launceston Memory Café stall and the best dressed Victorian man was local chimney sweep Bill Maddock.
More photos of the day
Award of Appreciation presented to Rotary Community Shop

26/6/13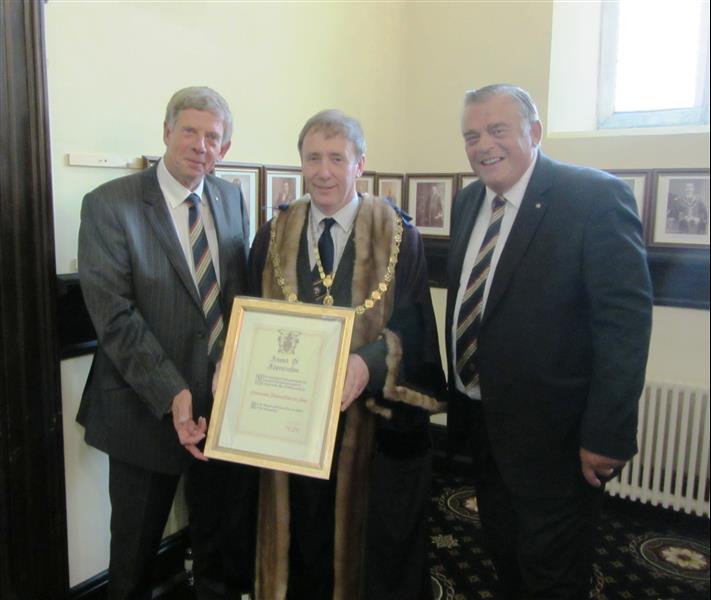 Rotarian Alan Rainsley (chair of the Rotary shop committee) and Rotarian Peter Casey (shop founder) were invited to the Town Hall on 26th June to receive an 'Award of Appreciation' from the Mayor and Councillors of Launceston Town Council for the work of the Rotary Community Shop and the monies raised for local community organisations. Alan and Peter were delighted to receive the award on behalf of all the Rotarians, wives, partners and volunteers without whom the shop would not be possible.
Rotary Shop cheque for Town Council to purchase bunting for the town
230613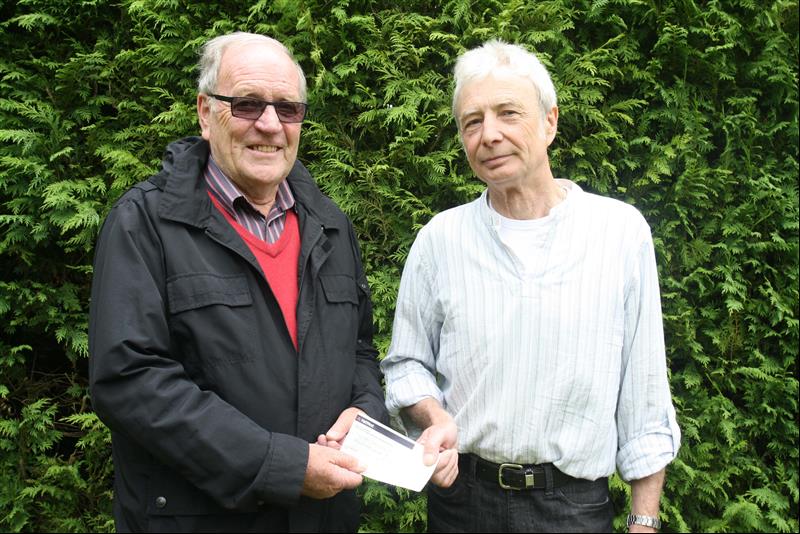 Rotarian Barrie Boundy recently presented Councillor Brian Hogan with a cheque for £300 to purchase bunting to be used to decorate the town for special events.
Rotary Shop cheque for League of Friends Launceston Hospital
210613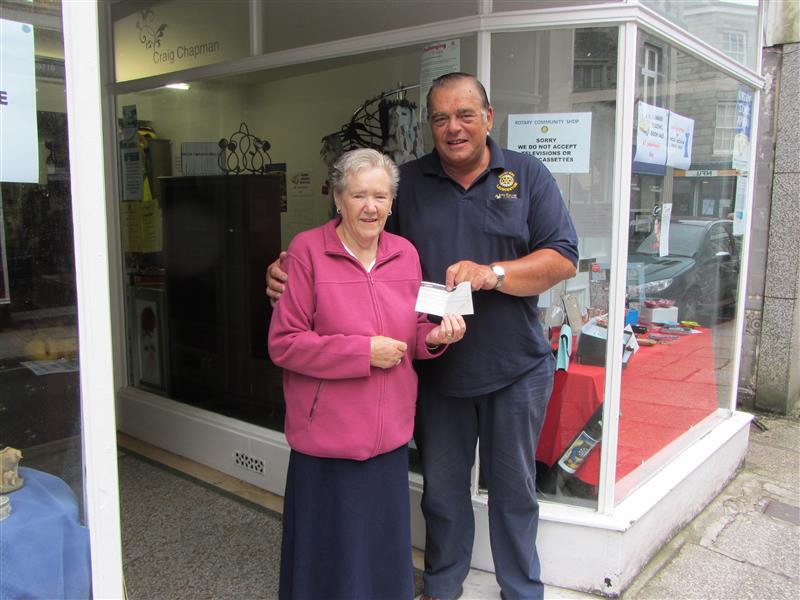 Rotarian Peter Casey recently presented a cheque for £500, from the Rotary Community Shop, to Pam Parnell Chair of the Friends of Launceston Hospital. Pam, who is also a community volunteer in the shop, said, "Thank you all very much, this is so generous. We will use the money to buy some clocks that we need for the recently re-vamped wards."
Rotary Shop cheque for the Dementia Action Alliance

.

130613
Rotarian Barrie Boundy recently presented a cheque to Jane Moore for her work with the Dementia Action Alliance in the Launceston area....continued
Shop cheque for Launceston County Primary School drummers

.
060613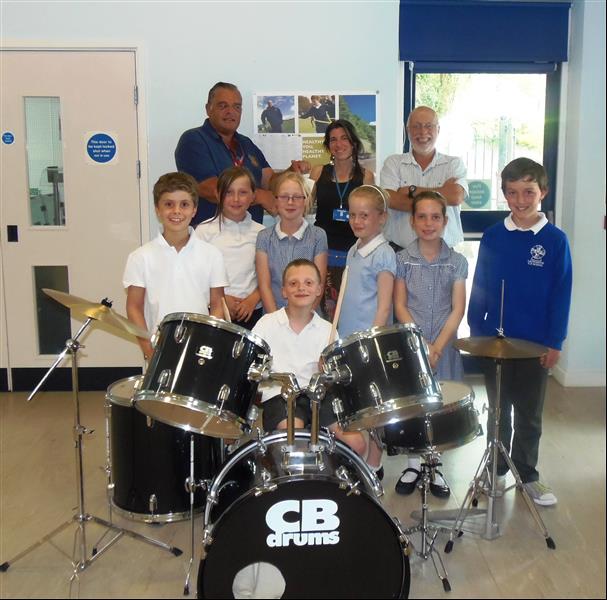 Rotarian Peter Casey visited Launceston County Primary School recently to present a cheque to the school so that they could purchase a new set of drums for the increasing number of students who want to learn to play the drums under the guidance of peripatetic music teacher Rob Parkyn. Peter explained, "It's good to encourage these young people to learn a musical instrument and, as one of our members remarked, 'It's better that they learn in the school than in a garage next door to me!' . We wish them well"....continued
Shop cheque for Cruse Bereavement Care in Cornwall

3/6/13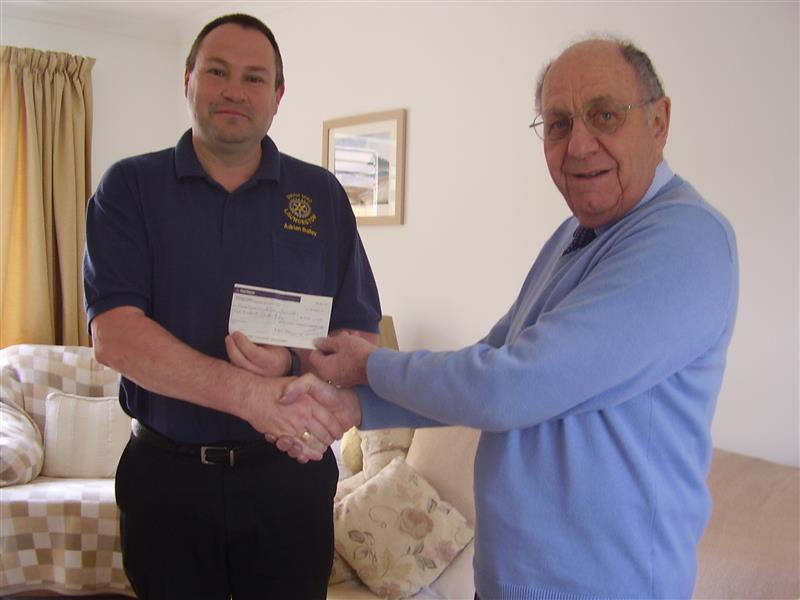 Rotarian Adrian Bailey recently presented a cheque for £500 from the Rotary Community Shop to Mr Ian Lindsey NE Cornwall Governor of the Cruse Bereavement Friendship Group.
Cruse Bereavement Care in Cornwall was established in Launceston 3 years ago, during this time the Friendship Group has helped many people cope with losing someone close. The group meet every Tuesday at 1100 in Launceston Town Hall for companionship, friendship and if required, to talk to trained volunteers.
Mr Lindsey said, "This donation will help provide some degree of normality to the lives of the people within our group, many thanks."
President's BBQ - a very enjoyable afternoon

1/6/13
President Dave and his wife Gillian hosted members and wives to a BBQ in their garden. A very enjoyable afternoon was had by all.
Shop cheque for Launceston Town Band's new instrument appeal

010613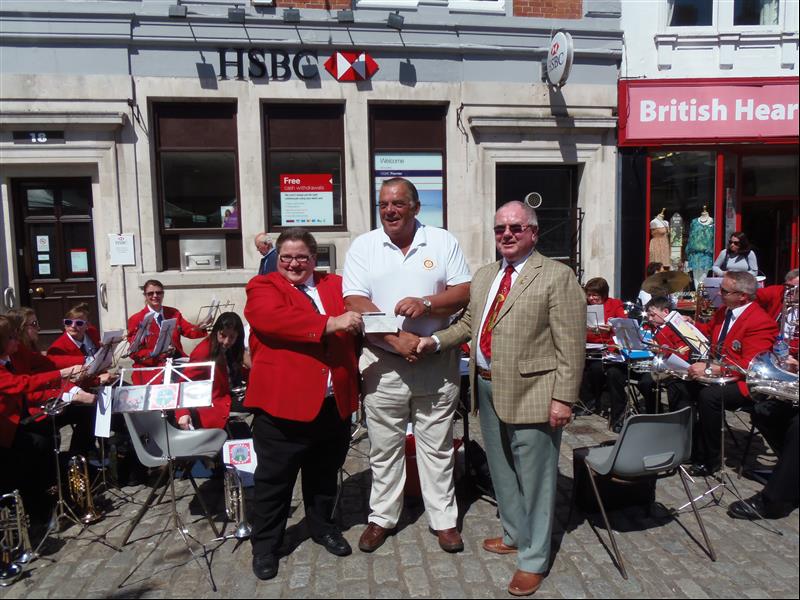 Rotarian Peter Casey interrupted the Launceston Town Band as they were playing in the Town Square at the Buttermarket on Saturday 1st June to present them with a cheque for £500, from the Rotary Shop, for their new instrument appeal. .... continued
President's Night 2013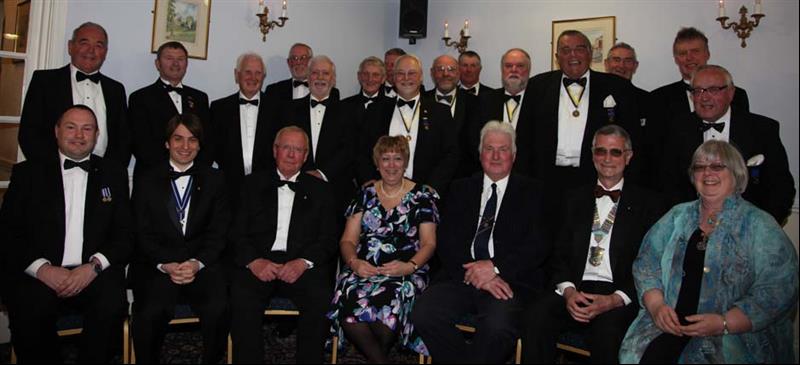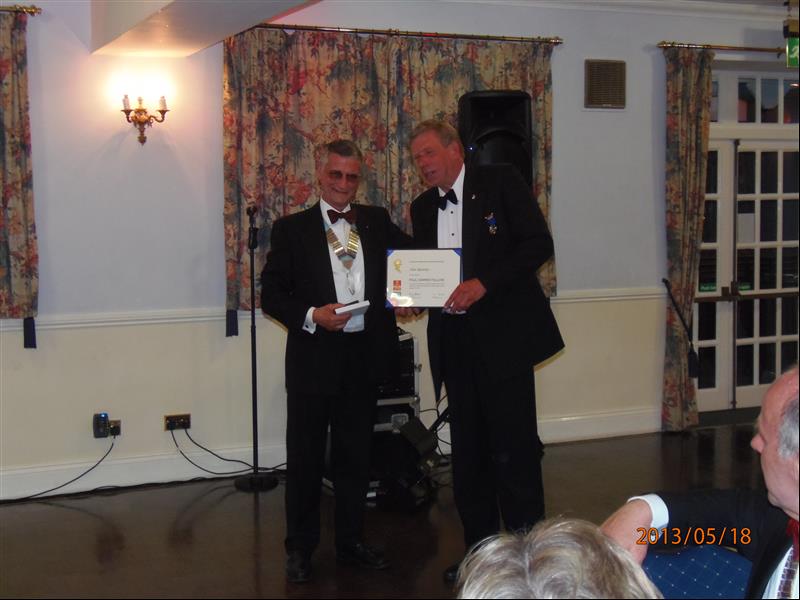 District Governor John James presents the Paul Harris award to Rtn Alan Rainsley
An evening of fun at President Dave Shrimpton's President Night was marked with the presentation of a Paul Harris Award to Rotarian Alan Rainsley, the gift of a 'thankyou' plate to Rotarian Moira Wilding and the vist of Elvis - well two actually! More photo's here
Happy Birthday to all our supporters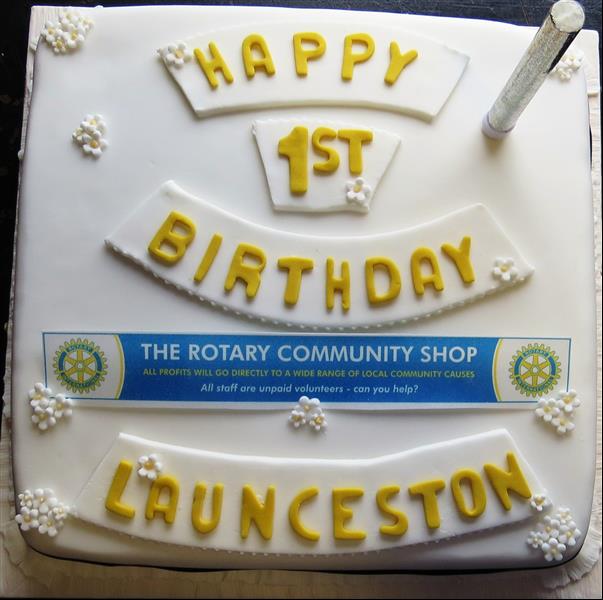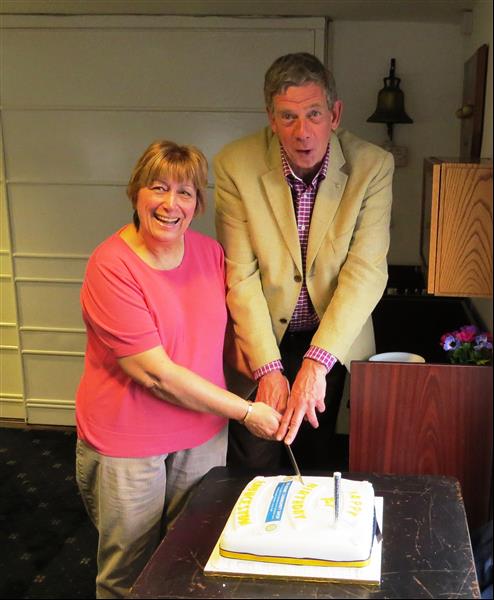 The Rotary Club of Launceston celebrated their first birthday in their Community Shop on Monday with a wonderful cake that had been baked by Cicily Bailey and iced by Alison Sleeman two of the shop supporters.

Rotary would like to thank them and everyone who has supported the shop as a volunteer in the shop, a donor of stock or as a customer. Happy birthday to you all!

Picture: Cake / Shop treasurer and rota lady Rotarian Moira Wilding and Chair of the shop committee Rotarian Alan Rainsley
Burns night celebrated - 21/1/13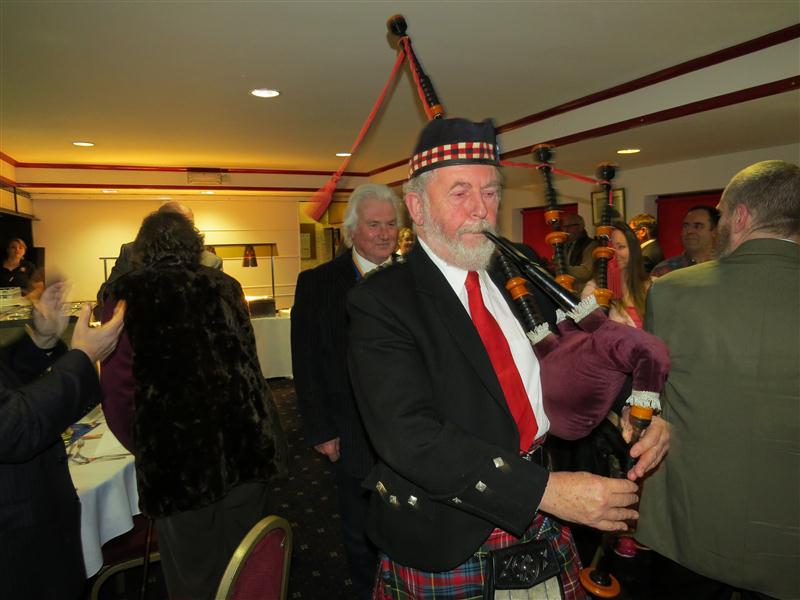 ShelterBox award – Thank you Launceston - 16/4/12
The Rotary Club of Launceston were delighted to receive a gold award from the ShelterBox organization for presenting over 100 ShelterBoxes housing over 1000 people over the past few years.
The ShelterBox organization have recently started making these awards and they present a bronze award for 25 boxes, a silver award for 50 boxes and a gold award for 100+ boxes.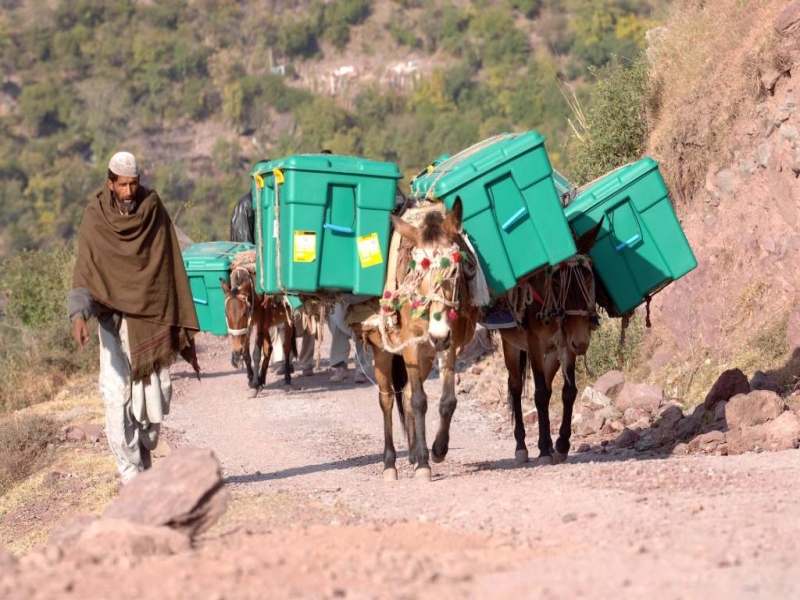 Launceston Rotary would like to emphasize that, as in most of their fund raising, this would not have been possible without the tremendous support they receive from schools, church groups, WI's, village committees and a host of other organizations and individuals in the Launceston area.
For more information on the work of ShelterBox please visit their website at http://www.shelterbox.org
To donate direct to ShelterBox please click on the boxes


In the next 30 days...
Social Media...
Rotary Club of Launceston
Promote your Page too