Follow us on Facebook....

Application for Community Shop funding- click here
The Rotary Club of Launceston
was formed in 1947 and although relatively small it is particularly active and well respected for its local and international projects. We are a dual gender club and visiting Rotarians and their partners will receive a very warm welcome at any of our meetings - please advise the secretary via the contact form.
Attracting new members to Rotary is absolutely vital to the continued success of the organization. We are always on the look out for men and women of all ages and backgrounds to join the network of Rotary clubs throughout Great Britain and Northern Ireland, to use their energy, humour and professional skills to make a real difference to others. Interested? Click on the Contact us button above.
Rotary Community Shop opens in new premises.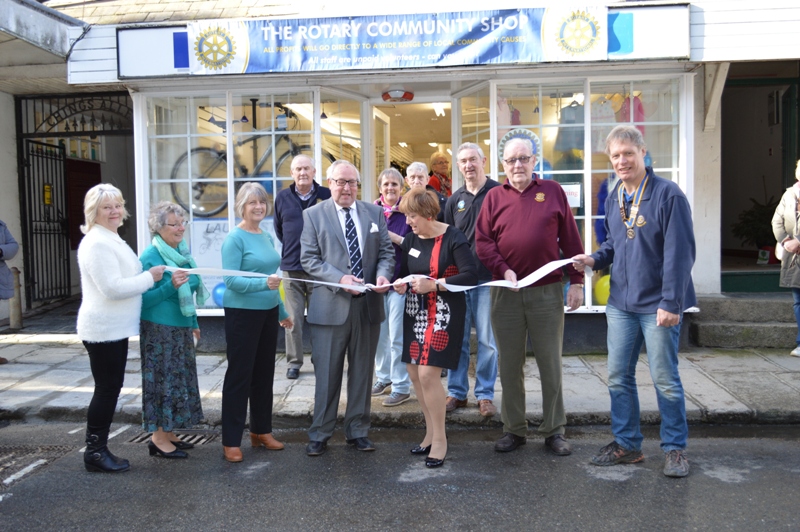 The Launceston Rotary Club has re-opened in new premises at Southgate Street, Launceston in what was the cycle shop (near Southgate Arch). Please support the shop as all proceeds go back to community organisations. The shop is run by unpaid volunteers and if you would like to help or donate goods for sale, please pop in. More photo's here
Launceston Rotary Club – Fun Day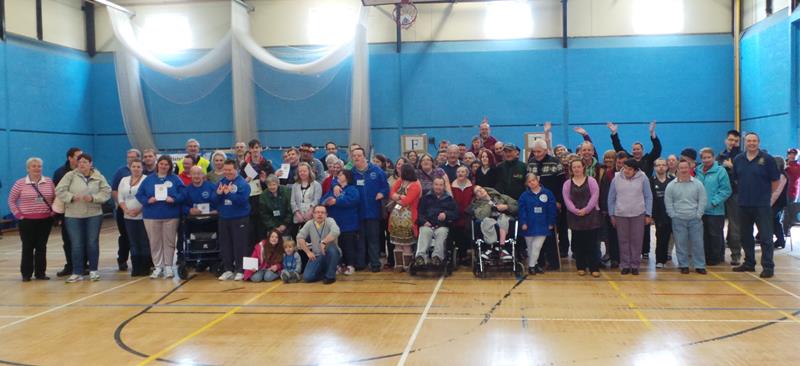 On Sunday 27th April 2014 members from Gateway and Monday clubs from around Cornwall attended Launceston Rotary Club annual FUN DAY. This is a joint event between..........continued and more photos of the day
National Award for Launceston Rotary Club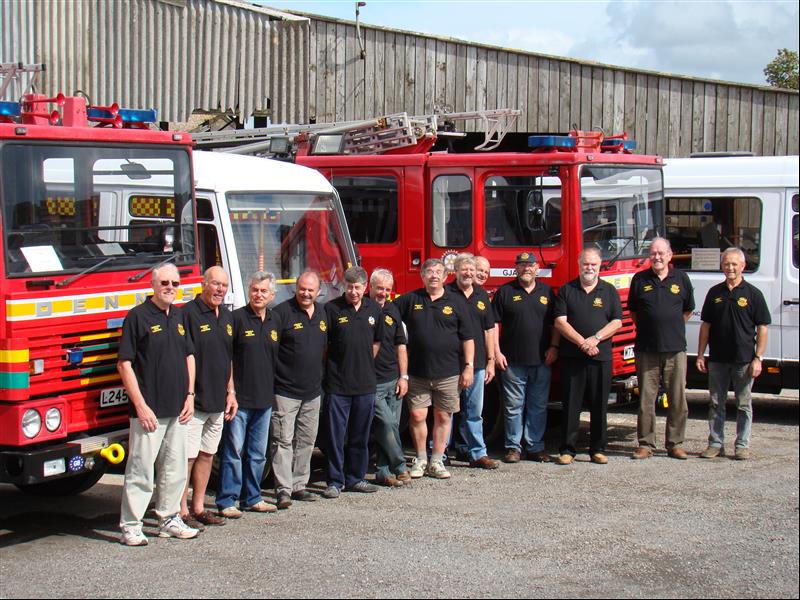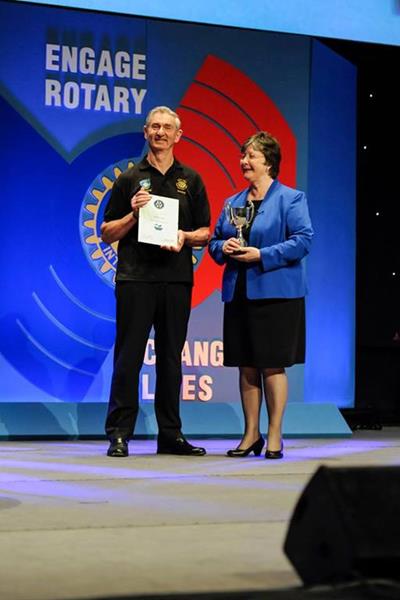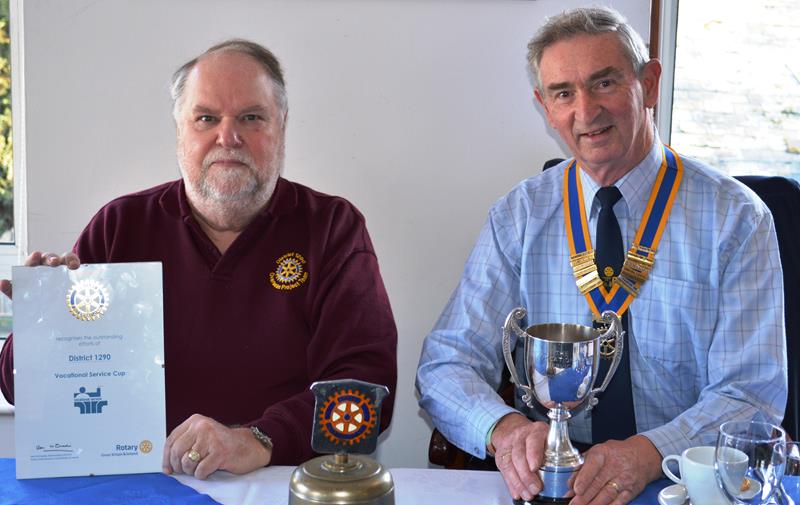 One of the convoys all ready to set off, Kim with National RIBI President Nan McCreadie and Barry Kressinger and Kim Kinvig with the awards.
The RIBI Len Smith Cup for Vocational Service is presented annually to a club whose vocational activity has encouraged and fostered vocational ideals.
Launceston Rotary Club is delighted to have won this cup for its role in creating and supporting the District's Overseas Project Team over the past eleven years...continued
Marathon Man gives talk to Club
(10.3.14)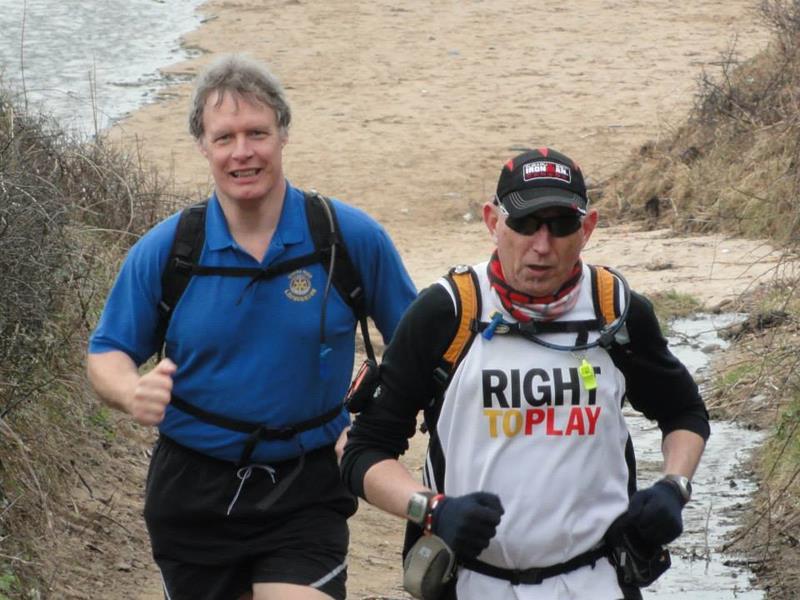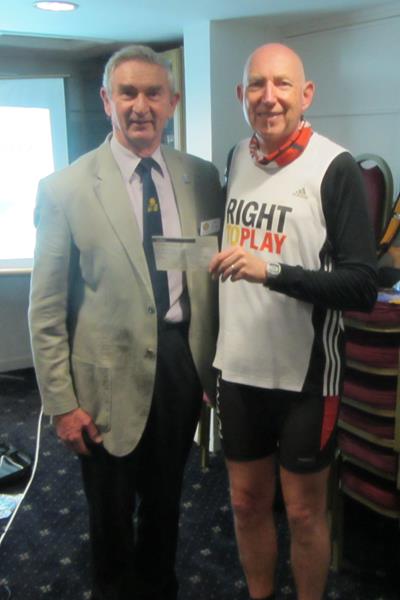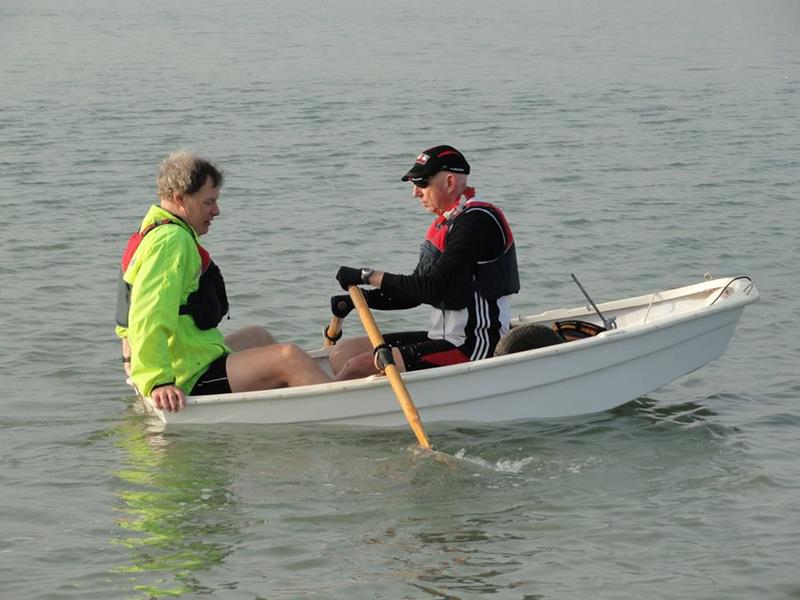 Rotarian Martin Parnell from Canada visited Launceston Rotary Club and gave the club and visitors a very interesting talk on his quests. more here
Top award for Launceston Rotarian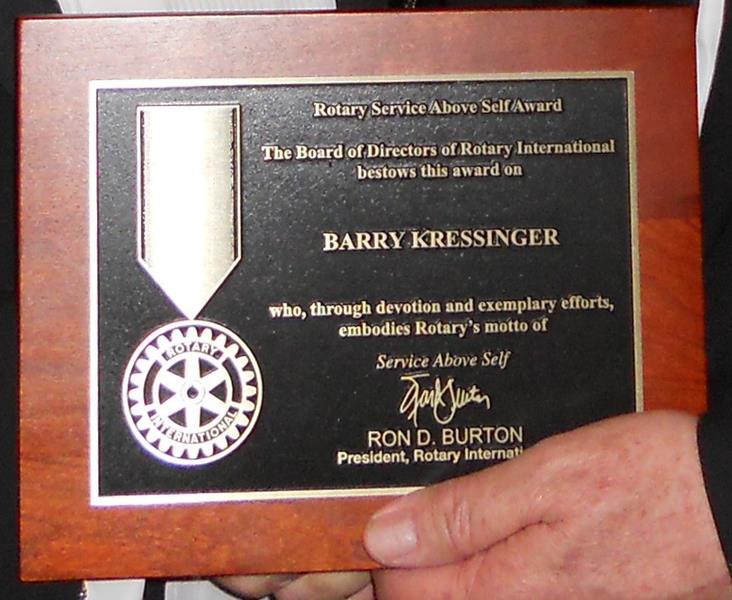 Launceston Rotarian Barry Kressinger was awarded the Rotary 'Service Above Self' Award at the Distict Conference on Saturday 1st March. There are only 150 of this award presented worldwide each year and with over 1.2 million Rotarians in the world, it is a great honour.
continued..........
Collection for Flood Victims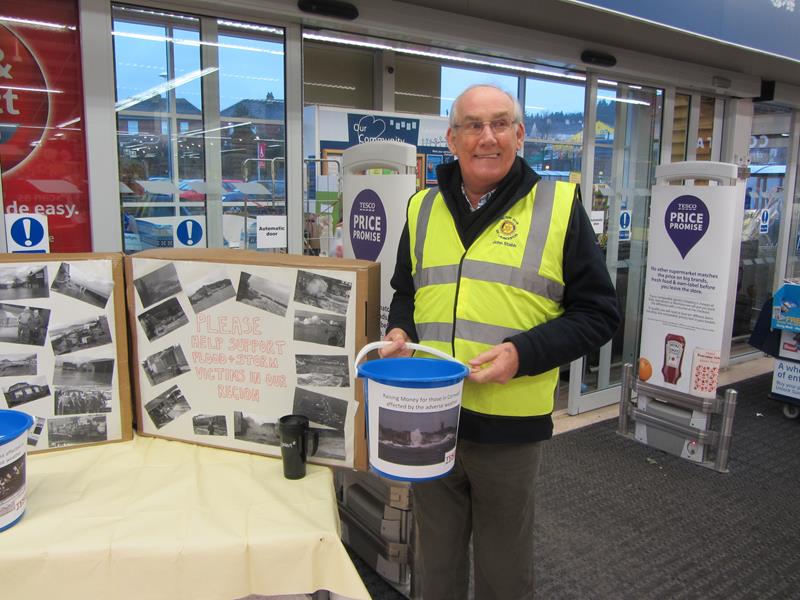 Tesco, Launceston, asked Launceston Rotary Club for their assistance in the Tesco collection for the victims of the floods in Devon and Cornwall. A series of Rotarians turned out on Valentine's Day and were delighted with the generosity of local shoppers. Pictured is Rotarian John Stabb, shaking his bucket.
Young Musician of the Year 2014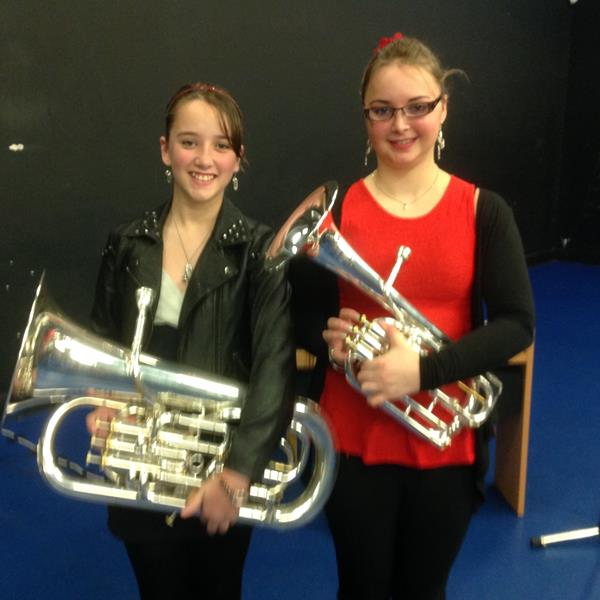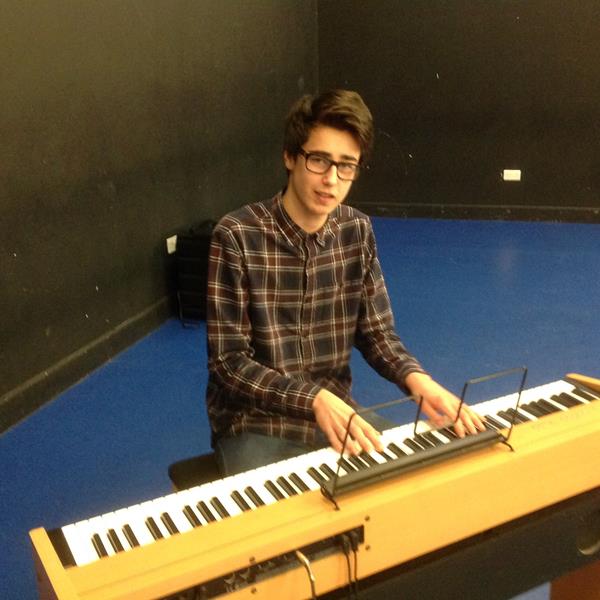 Holly and Josie Whale who attend St Joseph's College played the euphonium and the tenor horn and Thomas Sherman, who goes to Launceston College, played the piano.
Music is an international language and Great Britain and Ireland is home to some of the most talented young instrumentalists and vocalists in the world....continued
St Catherine's Primary School - winners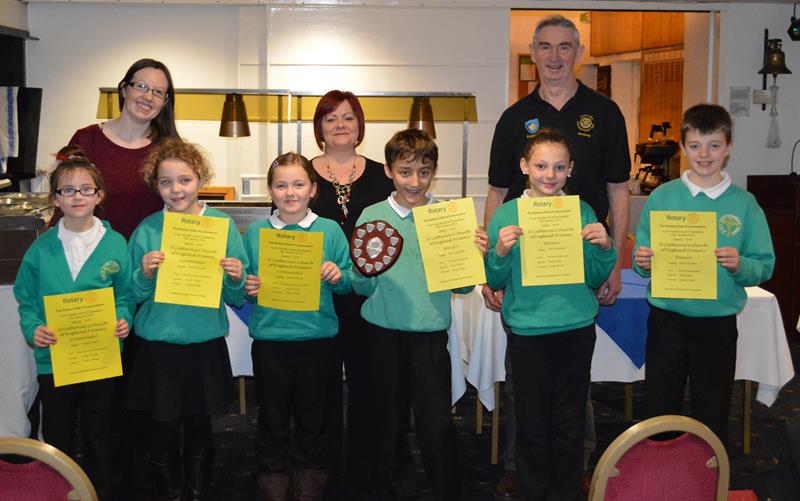 St Catherine's Primary School took first and second places in the Launceston Rotary Club's annual Youth Speaks competition. The Judges said the teams were a credit to their school and teacher. Public speaking is not easy and to face an audience at such a young age speaks volumes.

Picture - Charley-Anne Marshall, Leah Tucker, Millie Philp, Aaron Mostaeddi, Ellie Butler, Finley Moses.
Teacher Miss Allen, Head Judge Rachel Mc Queen, Rotary President Kim Kinvig.
Archbishop visits Rotary Shop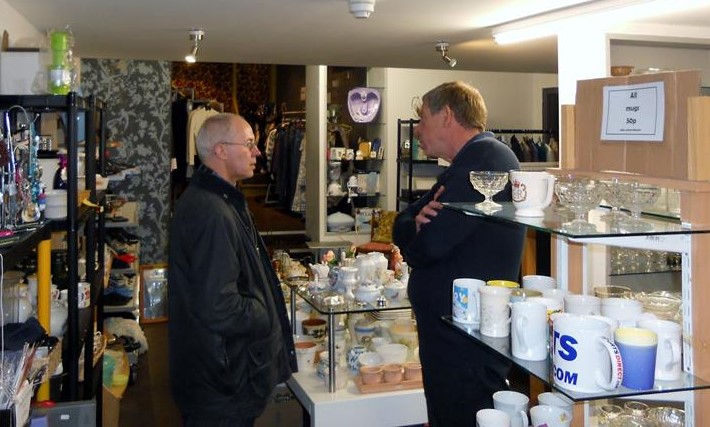 The Archbishop of Canterbury Justin Welby visited the Launceston Rotary Community Shop on 15th November where he chatted with the chair of the shop committee Rotarian Alan Rainsley. Alan said afterwards, "He seemed very impressed with the initiative and the help that the shop gives to the local community. He was a very pleasant man and seemed to be genuinly interested in what we were doing."
To donate direct to ShelterBox please click on the boxes

Meeting Details
Interested in joining Rotary?
Social Media...
Rotary Club of Launceston
Promote your Page too
Meeting Information...

We meet on Mondays at 18.00 for 18.30 (5th Monday or Bank Holidays check with secretary) Launceston Golf Club,
St Stephens,
Launceston, Cornwall, PL15 8HF tel: 01566 773442