Welcome to the Rotary Club of Padstow
Featured pages:
The Rotary Club of Padstow No.1262, District 1290 was elected to membership of Rotary International in 1976.
Padstow Rotary Club has always played an important part in the life of the local community,it is active in fundraising for charity, and has been very supportive of local causes, particularly those involving the young and the old. An a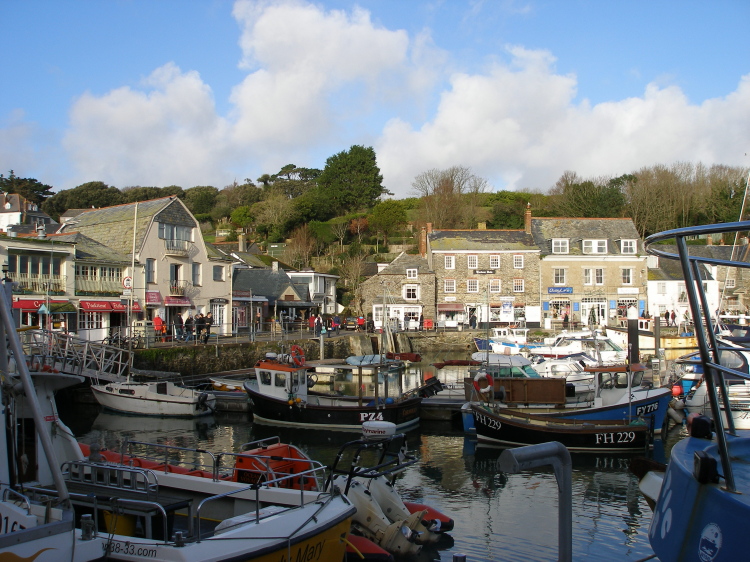 verage of £15,000 is distributed annually to local charities..
The Club has a full and varied social calendar with speakers attending club meetings, visits to places of interest and in the past had a special entente cordial with Rotary Club of Concarneau in Brittany. It is hoped that in the future a relationship might develop with Padstow NSW.
Previously, perhaps the most unusual (and time-consuming) activity of Padstow Rotary Club was its involvement with the Christmas lights that brighten up the town and harbour from Advent Sunday to Twelfth Night. Club members designed and made the animated illuminations at 6.30pmons, which give a remarkably festive feeling to the harbour. These, together with the strings of coloured lights around the town were erected and maintained by club members and their friends. In all, some 4,000 coloured bulbs were used. In 2011 the club handed over the lights together with funds which had been raised locally to a town committee.
Last year the club has had a busy summer. Apart from their usual Midsummer Music at Prideaux Place held on 21st July there have been several other activities involving the local community.
A local girl employed by the Metropole Hotel in Padstow joined for a week of intensive activity at the Rotary Youth Leadership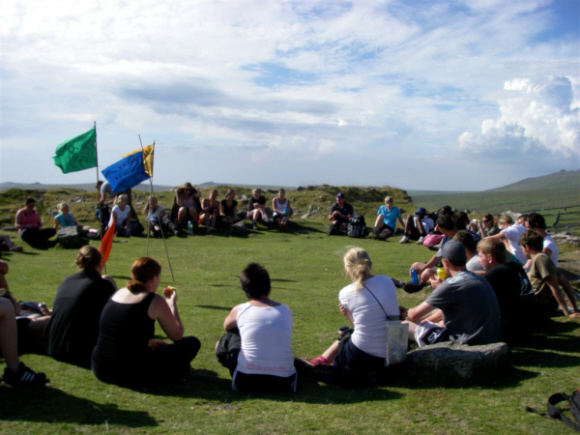 Awards course. This course develops the potential of young people by a series of physical activities and lectures during a week at a specialist training facility on Dartmoor.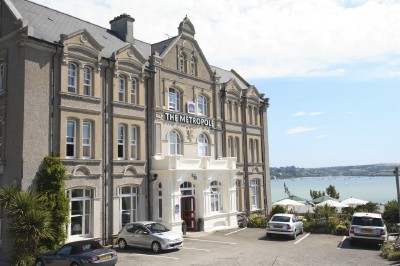 Jodie Briggs from Padstow was jointly funded by Padstow Rotary Club and the Richardson Hotel Group. The event took place early in July.
The club has also purchased sets of Dictionaries to be given to the four local primary schools (Padstow, St Issey, St Merryn and Trevisker) to provide a copy for each of the pupils in the top class of these schools.
PADSTOW IN BLOOM 2014
Padstow in Bloom has been organised by the Rotary Club of Padstow for over twenty years with both domestic and commercial classes. The colourful displays are judged annually in July.
The 2014 presentations were made at an open meeting at the Golden Lion, Padstow on Tuesday 25th November 2014.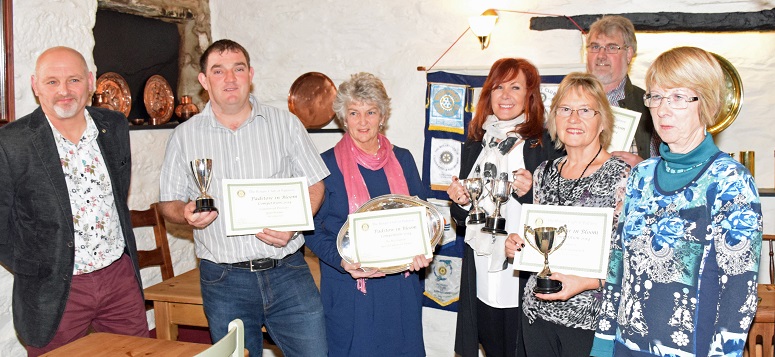 MIDSUMMER MUSIC 2014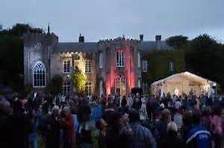 Midsummer Music 2014 took place at Prideaux Place Padstow on Friday 20th June 2014 starting at 6.30pm.
Three fine acts performed: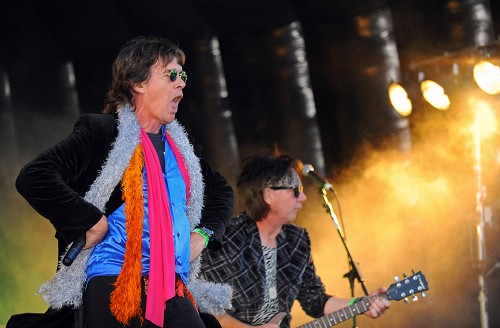 Mick Jogger and the Rolling Zones,
Johnny Cowling and Friends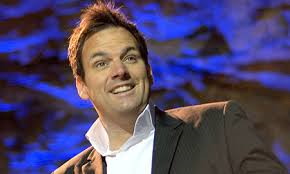 and the
Cornwall Youth Jazz Orchestra.

The proceeds from this event were donated to the Cornish Hospices, NSPCC and Rotary charities at a special meeting of the club on Tuesday 26th August 2014 held at Prideaux Place.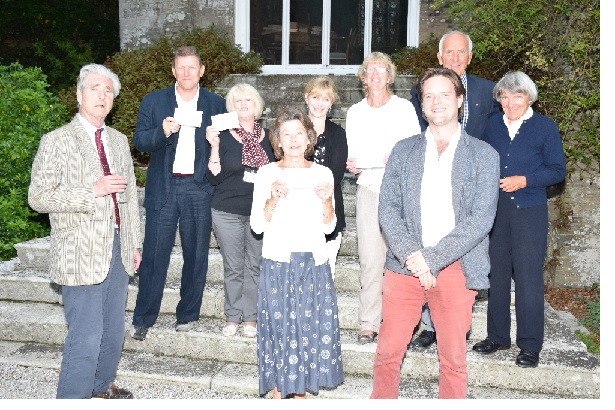 INTERCLUB BOWLS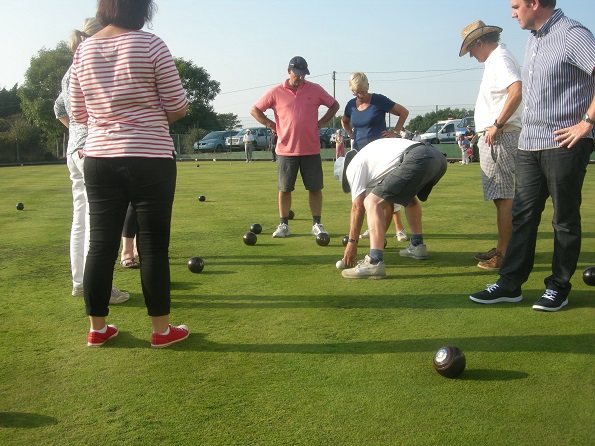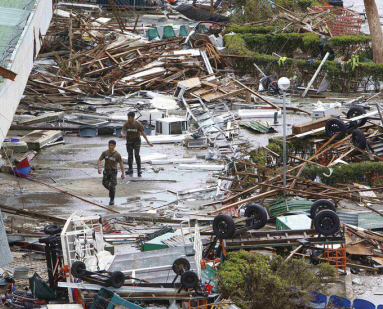 Over past years Padstow, St. Columb, Wadebridge, Bodmin, St. Austell Rotary Clubs have enjoyed inter club Fun Sporting events, but sadly over time they have become less popular, only Golf has survived. however, The Rotary Club of Padstow wished to test the water and challenged the Rotary Club of St.Columb's members and their wives to a Lawn Bowls match.

President Nick Brown of St Columb accepted President Graham's of Padstow challenge and the gloves were off. The Match was held at the St. Columb Bowling green on Tuesday, September 9th, 2014 on a warm sunny day.
The organiser of the day was Paul Spencer with kind support of past President Max Haughton of St. Columb. This was followed by a buffet meal at the 'Ring 'O' Bells' in St Columb.


The Four rinks were tightly matched and the thirty-two players had muchfun and the skill produced was outstanding, which at the close of play a great surprise, the result being a draw!


MIDSUMMER MUSIC 2013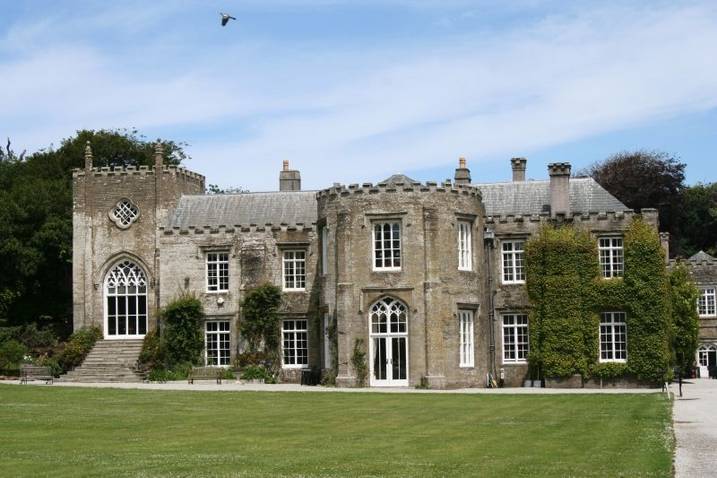 On the evening of Friday 21st June 2013 the grounds of Padstow's historic manor house Prideaux Place were transformed when our annual Midsummer Music took place.
For over ten years Mr & Mrs Peter Prideaux Brune have welcomed us to their 400 year old ancestral home and during that period over £100,000 has been raised most of which has been donated to local charities.
This year the three groups performing were Re Take That, leading tribute band, the Helston School Jazz Orchestra and a welcome return of singer Shane Solomon supported by local live band Rhythm Roulette .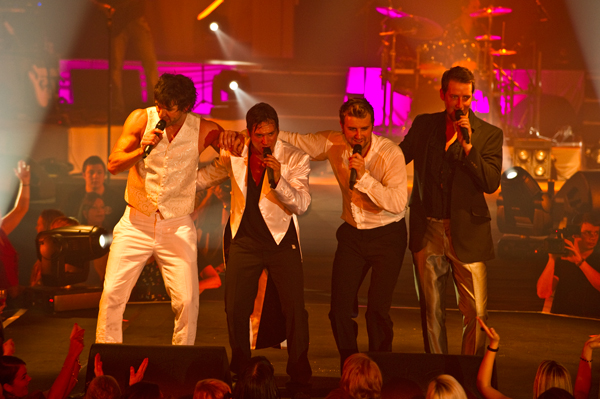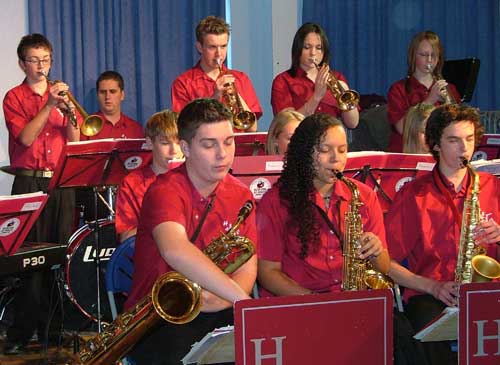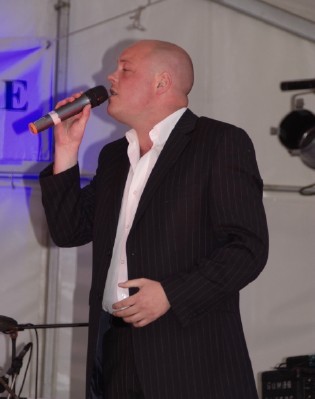 ROTARY YOUTH SPEAKS 2013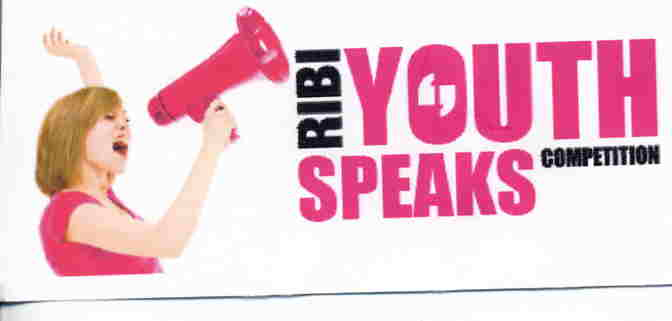 Padstow Rotary Club again held their annual Youth Speaks Competition in Padstow Social Club on Thursday 7th February.
This year only St Merryn and Padstow schools had teams in the competition but as usual the standard was astonishing. All the young people taking part spoke with real authority and conviction and provided excellent performances.
The judges had a real problem deciding which teams were the best. The final decision was that the two St Merryn teams came first and second. The winning team went forward to represent Padstow Rotary Club in the further stages of the competition.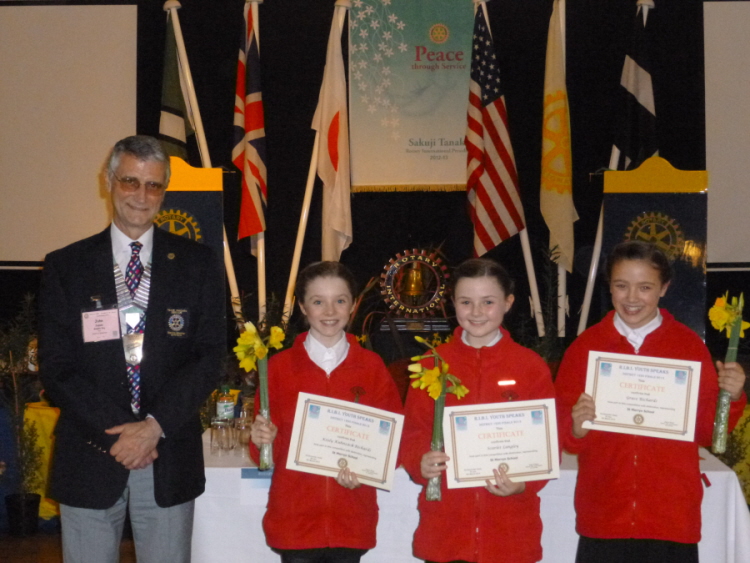 Book tokens were given to the winners and runners up and a donation will be made to the winning school to encourage children to develop communication skills.
Following on from this competition the winning team from St Merryn came second in the intermediate round and went on to the final for teams from all of Cornwall and Plymouth. The competition was held before a packed audience at the Rotary District 1290 Conference at St Ives. In an extremely closely competed final, in which all nine teams achieved a memorable standard, St Merryn triumphed and lifted the trophy – for the second time in 5 years. Our proud congratulations go to the successful team and all those who helped them to this great win.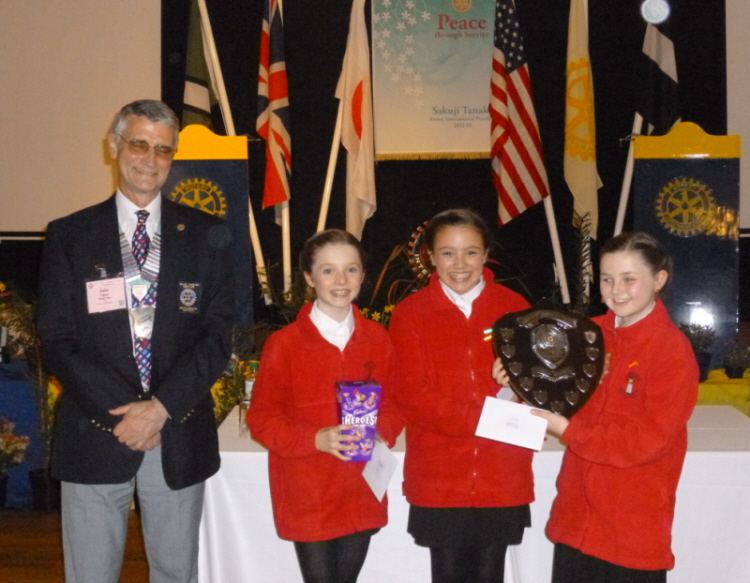 The winning team visited the club at their meeting on 26th March 2013 and are pictured with President Richard Sandry and New Generations Chairman Andrew Hamilton.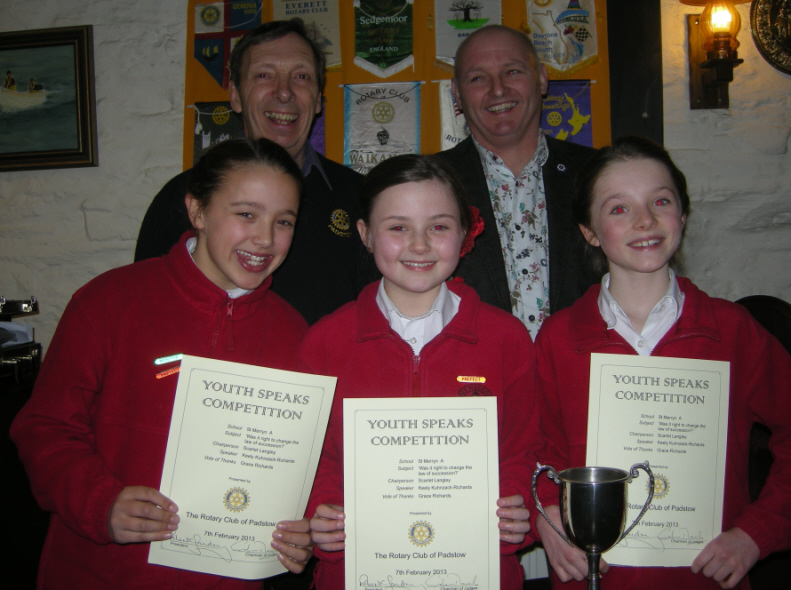 AN AWARD FOR PAUL
At the club's weekly meeting on March 19th President Richard Sandry surprised member Paul Spencer when on behalf of the club members he presented him with a Paul Harris Fellowship Award.
Paul has been an active member of Padstow Rotary Club since its formation in 1976.
He served as President in 1987/1988 and has since held various offices. At present he is Foundation Chairman.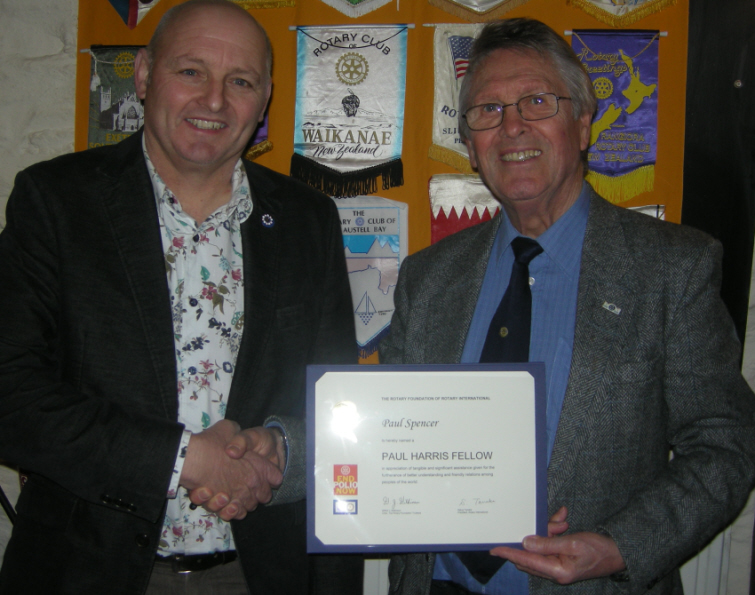 RICHARD'S FIREWALK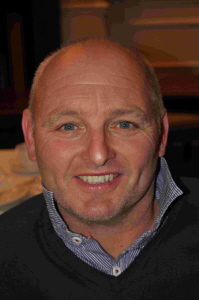 Part President Richard Sandry was one of thirty brave volunteers who took part in a sponsored firewalk on the harbour beach in Newquay on Friday October 12th.
The temperature of the red hot fire embers was measured by UK Firewalk Instructor and twice firewalking Guinness World Record Holder Scott Bell as a scorching 566˚c. He then led the way as the firewalkers lined up to courageously take their turn, cheered on by around two hundred spectators.
Over £6000 was raised for charities including Childrens' Hospice South West at the event.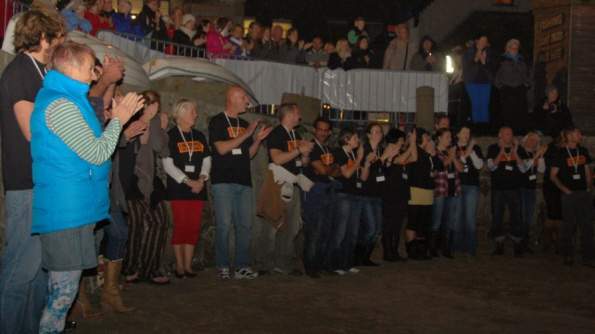 MIDSUMMER MUSIC 2012
The 2012 Midsummer Music took place place on Friday 22nd June.
We had booked some great entertainment.
First off we had not one but two Jazz Orchestras - Cornwall Youth Jazz Orchestras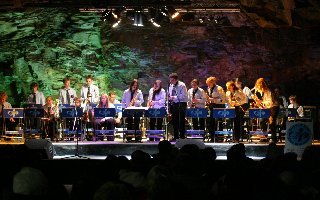 - made up of the cream of Cornish young talent.
Following them we had 'Company B' - a well-known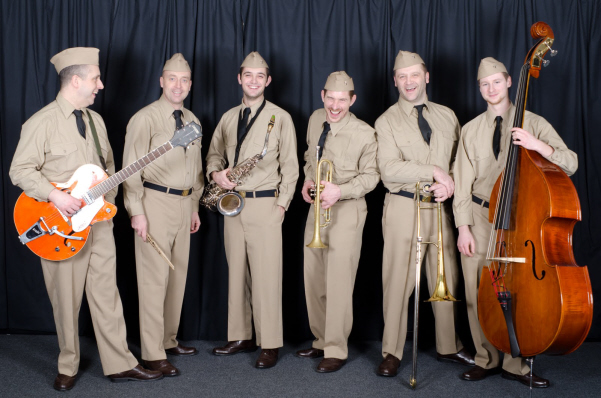 jump jive band from St Austell.
Finally we had Rhapsody, an excellent Queen tribute Band, who provided a Grand Finale.
All of this at the stunning location of Prideaux Place
lawns.
The surplus raised was presented to local charities at a club function held at Treglos Hotel on 20th November 2012. These included the NSPPC, Little Harbour, Cornwall Hospices and the Phoenix Stroke Appeal.
TheT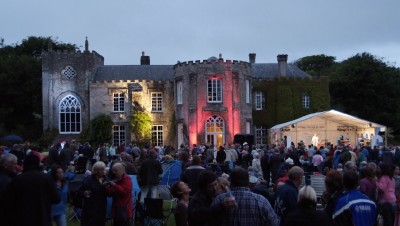 PRESENTATIONS
After another successful Midsummer Music at Prideaux Place and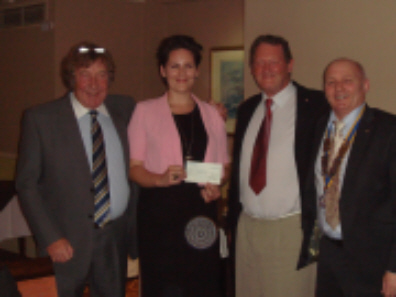 the 25th Annual Charity Golf Day at Merlin Golf Club, the club held a Ladies Evening at Treglos Hotel, Constantine Bay on 20th November 2012 when presentations were made to local good causes. These included the NSPCC, Little Harbour at St Austell and the Phoenix Stroke Appeal.
President Richard was interviewed by Daphne Skinnard for Radio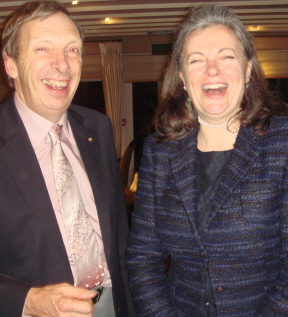 Cornwall when he emphasised the commitment the club had in continuing to support local good causes as well as Rotary International charities.
'
POLIO PLUS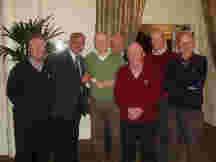 Since 1987 Padstow Rotary club has donated over £5,000 towards the Rotary International aid organization Polio Plus
When Assistant District Governor Ross Jerome visited the club in February, President Elect Richard Sandry handed him a further cheque for the charity of £500.
PADSTOW IN BLOOM
Judging of last year's Padstow in Bloom organised by the Rotary Club of Padstow took place during the third week of July .
The poor summer weather resulted in fewer entries than usual.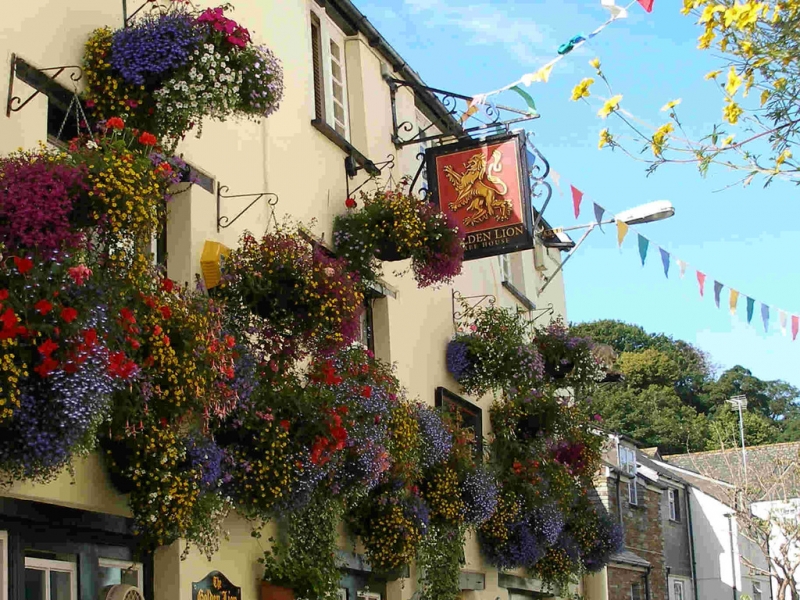 The overall winners in 2012 were the Golden Lion and the London Inn.
The presentation of awards took place at a meeting held by the club on Tuesday 13th November 2012 at the Golden Lion, Padstow to which all the award winners were invited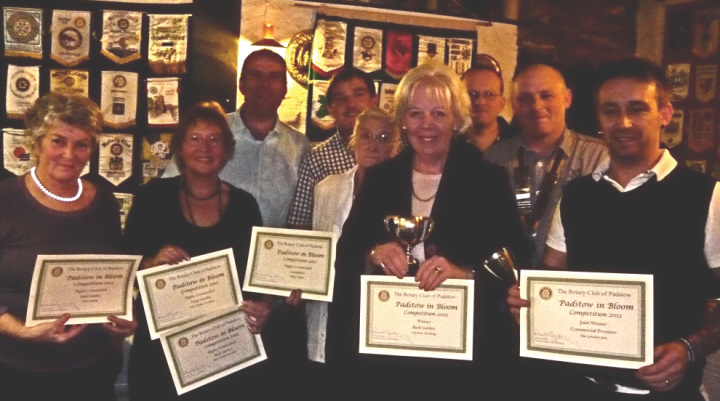 .