About us
Founded in 1973 in District 1290 and situated in Cornwall UK.
We are a small friendly and active club of 12 members who meet every Tuesday evening at 6.30 p.m.
at the Sea Cadet Centre, Commercial Road, Penryn, TR10 8AR
where visitors are always welcome.
If you are intending to visit us please contact our attendance officer
Maurice Burrow on 01326 317466 to book your meal
or by e-mail maurice.burrow@sky.com
***************
Latest Club Event
Enys 10K Charity Run 9th April 2017
After the outstanding success of our inaugral 2011 Enys 10K Charity Run - when we attracted over 150 runners and collected £2100 for our charities, we have decided to try and make it an annual event. Our start and finish areas provide a greatly improve spectator involvement and we look forward to seeing lots of local runners again.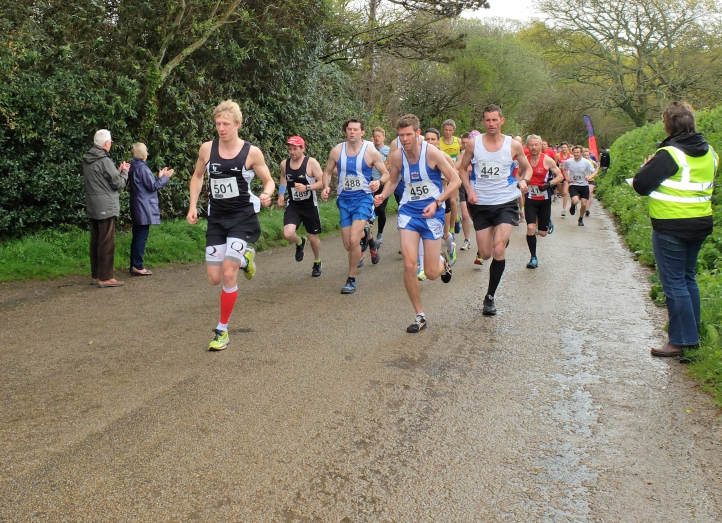 Penryn Interact pupils' purple push against polio



Members of Penryn College's Interact Club, a youth division of Penryn Rotary Club, are doing their bit to help eradicate a once widespread and potentially deadly disease from the face of the planet and have been selling and planting purple crocus bulbs to raise funds and awareness as part of Rotary's Purple4Polio campaign. Penryn Rotarian, and Youth chair Jim Henderson, who works very closely with Penryn College, said: "Every time doctors vaccinate a child against polio, they dye their finger purple, to show that they have been vaccinated, and that's why it's Purple4Polio."
The Interact Club campaign will officially launch on October 24, World Polio Day, but they have already started selling crocus bulbs to parents, raising around £100 in the process. Pots for planting the bulbs have been donated by Penryn B & Q after a visit by the Interact Club explaining the campaign. For every ten bulbs the group sells, another ten will be planted, either in the college garden or in the Penryn Memorial Gardens. For every pound raised by the campaign, another two will be donated to the cause by the Bill and Melinda Gates Foundation, trebling the amount of money that goes to eradicating polio. This has now been dubbed by the Interact members as "˜Bill"™s Bonus"™.
Penryn College student Daisy, who is the President of the Interact Club organising the campaign, said: "So far over the last two weeks we have raised just over £100, and we are going on until next February. "That money will be trebled by the Bill and Melinda Gates Foundation, so we have actually made £300 so far."
Another member of the club added: "They are trying to completely eradicate polio across the world."
While there have been only 30 new cases of polio this year, down from 72 last year, but, Daisy added, "with the refugee crisis moving across borders it could actually go back up again."
As well as selling crocus bulbs, the pupils have a purple polio bear they are using to raise funds, such as by asking for a small donation in return for a photo with the bear, and they will also be holding a day of wearing purple for polio at the school plus they plan to hold a cake sale where all the cakes will have a purple theme.
Polio is an infectious virus which can cause paralysis, and even death, and killed thousands of people a year in the early 20th century.
Since the 1950s a process of global immunisation has seen it eradicated in Europe and the Americas, and in 2015 only two countries were still reporting wild cases of polio.
Rotary International has been a key organisation in the fight against polio, and the World Health Organisation has stated its aim to have the disease eradicated by 2018, making it the second human disease to have been eradicated after smallpox.
Figure 01 Penryn Interact members show the packs of crocus bulbs and polio bear.
Rotary International Honours Penryn Rotarians
The highest honour that can be bestowed upon a Rotarian by Rotary is to make them Paul Harris Fellows within the International Organisation. Paul Harris, an American, was the founder of Rotary in 1922 and started with one club and now it is a worldwide organisation with over 200 clubs in the UK alone. The Rotary motto is "˜Service above Self"™
Both Ann Congdon and Jim Henderson of the Rotary Club of Penryn have received Paul Harris Fellowships at the end of the Rotary year on the 30th June 2016.
Ann Congdon has, for the second time, become President of the Penryn Club for the Rotary year from July 2016 to end of June 2017. Ann received the Paul Harris Fellowship for her charity work for both Rotary and other local organisations.
Jim Henderson, Penryn"™s Youth Chair, has worked tirelessly over the past five years with the local youth especially helping the Penryn College Interact Club, a club for young Rotarians between the ages of 12 and 16. This year the Interact Club, by its own efforts, has raised over £1000.00 for Local and International Charities.
Ann and Jim said that they were absolutely thrilled to receive these awards and proud that their work within Rotary has been recognised by their peers.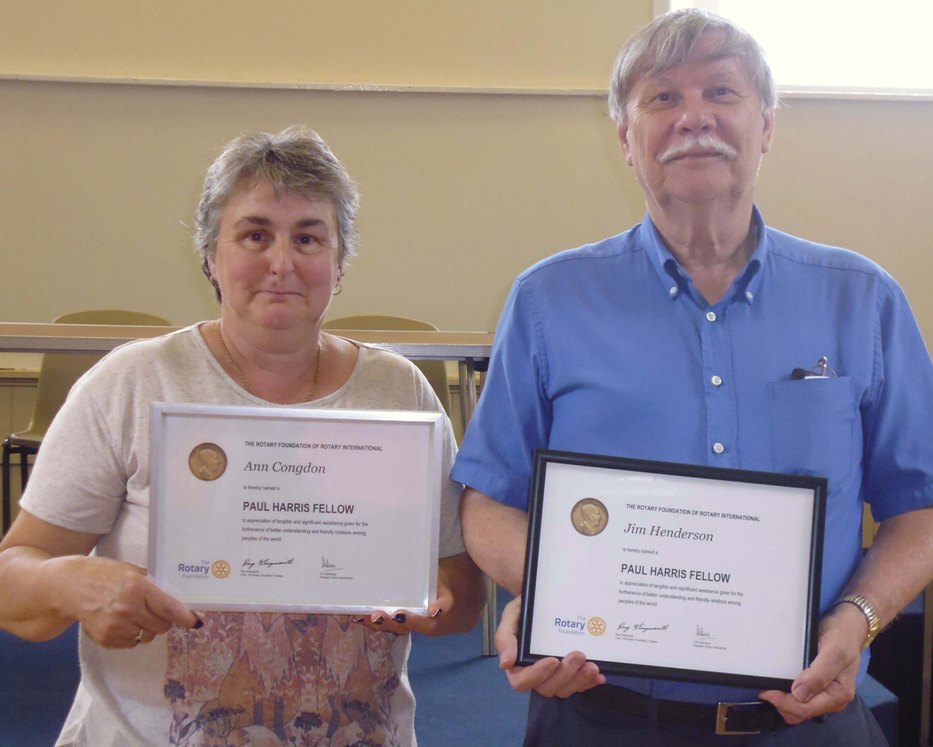 ------------------------------------------------------------------------------
Dementia planting project unites old and young at Gyllyngdune Gardens Falmouth
All ages came together at Gyllyngdune Gardens the other week to plant a special Memory Garden for people with dementia and their families.
Penryn College Interact Club and Jim Henderson, Youth Chair of Penryn Rotary Club, joined members from Penryn and Falmouth Memory Cafes, the towns' Mayors, and crew members of Falmouth Fire Station's Black Watch, to dig in and bed down a variety of plants for the garden. The plan is for all to return every six weeks afterwards to tend to the garden.
It is a project run in partnership between Falmouth Town Council and Cormac, and supported by £500 from the Royal Horticultural Society's initiative, Greening Grey Britain, which aims at promoting the health and wellbeing of older people through gardening.
Jacqui Owen, visitor and community engagement officer with Cormac, said: "I thought it was important to get Penryn Rotary club to involve their Interactors to assist in creating an intergenerational project.
"It's been a fantastic project and the whole design of the beds is based around the Memory Friends logo of a blue forget-me-not. The design is predominantly whites, blues and yellows."
Maryla Caddy of Falmouth Memory Cafe said: "I feel it's quite important for these sort of events to help get lonely and isolated people into the community."
Rotarian Jim Henderson of Penryn Memory Café said "It"™s great to get both young and old together with the planting and Jaqui Owen has donated an area in the Gardens for Penryn College Interact Club to plant Purple Crocuses in October for their Eradication of Polio Project"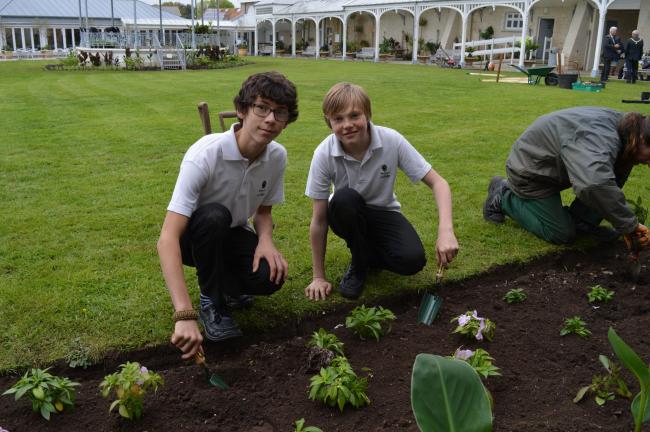 Finley and Louie of Penryn College Interact Club.
Lilly of Penryn College Interact Club with Pupils.
Assembly with Interact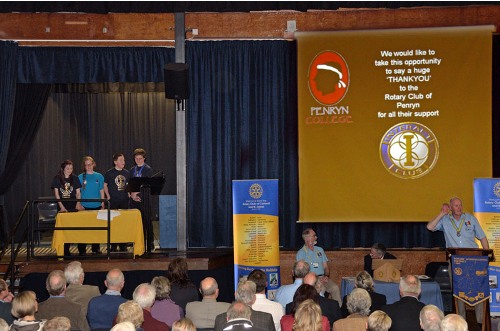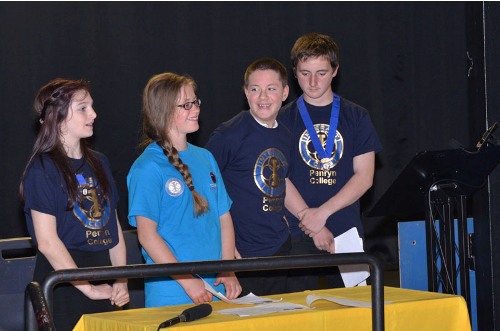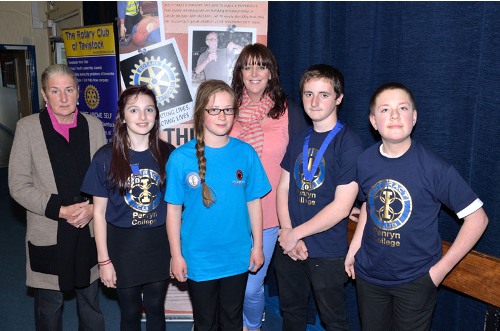 ---
Rotary News
Be part of a global network of volunteers, trying to make the world a better place. Please also see the 'links & news' page for information from the local district and live feeds from Rotary International and Rotary International in GB&I.
Rotary Young Citizen Awards
---
Watch coverage of the 2017 'Rotary Young Citizen Awards', highlighting outstanding young people.
Details on RotaryGBI.org
How Rotary is Funding Polio Immunization in 2017
---
Find out more about Rotary fighting disease
Details on Rotary.org
---
Meetings & Venue
Where and when:
We meet on Tuesdays at 18.30
Sea Cadet Centre
Commercial Road
Penryn
TR10 8AR
01326 312734