Tools with a Mission
We are currently collecting tools for "Tools With a Mission".
This is a Rotary supported charity established 27 years ago. It supports various projects in Northern Zambia including the Faith Orphanage at Kitwe. Could you help this worthwhile project by donating any old tools no longer needed? Details of what tools are wanted can be found on this link Please contact Hugh Baker by sending an e-mail using the form at the bottom of this link if you can help or need more information.
Our President

Our President for this year is Caroline Easton, seen taking over the reins from Maureen Dickerson at our meeting on 2nd July.
Caroline was born & brought up in Abergavenny, Wales and left to do Medical Biochemistry at Surrey University however she decided that a career in the Metropolitan Police was more enjoyable. She met her husband David Easton at Kingston Crown court, who is also a member of the Club. She is currently a self employed management trainer and consultant.
Caroline is focused on the fun and fellowship to deliver the message of service above self of Rotary and will continue the Club's established annual events, the Disabled Activity Day, Choir Festival & Sleigh collections while also increasing the service projects to help the community.
Through its recent activities the Club has forged close links with various local organisations and schools and helped to establish a RotaKids club which we would like to lead to more Rotary clubs for young people. She will continue to support the Plymouth based Rotary charity "

Literacy in a Box

" which is based on improving literacy in the third world. Her focus has always been on helping people to grow and develop and this year will be an opportunity to build on that goal
Recent Events
Summer BBQ

A total of £650 was made from the BBQ on June 29 2013 which will be divided between International Charities and the Rotary Foundation.
-----------------------------------------------------

Disabled Activity Day
June 1 2013
in conjunction with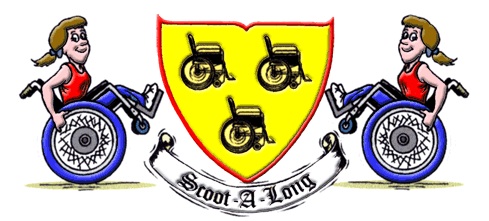 Highlight of the day was Attik Dance, a mixed group of able and disabled people, who performed their own Strictly Come Dancing style routine – Strictly 360.
Other attractions were the opportunity to take part in disabled games, a fairground, a teddy bear parachute jump and various charities running information stalls.
School Choirs Festival - February 9 2013

SINGERS from five Plymouth youth choirs sang their hearts out during our third annual Schools Choir Festival.
Youngsters from Oreston Community Academy, Goosewell Lads Singing , the Military Children's Choir, St Andrew's Primary School and Woodford Primary School all participated.
The event raised more than £400 for the Rotary Polio Eradication Project
Organiser Tony Adams said: "The schools put so much into it, the Goosewell Lads did a wonderful change of words on What Shall We Do With The Drunken Sailor, changing it to 'What shall we do with the grumpy teacher?', which brought a lot of smiles. At the end the five choirs all came together to sing Abba's Thank You For The Music."
---
Visit from Ambassadorial Scholar Monique Macfarlane - January 30 2013
After the autumn rugby I wasn't sure how our visitor from New Zealand would be.

No need to worry in the few months since arriving in September Monique had visited the Millennium Stadium and experienced the All Blacks overcoming Wales – sorry Vernon.
Miss Monique MacFarlane (no relation to our Macfarlanes) is one of the last of the Rotary Foundation Sponsored Ambassadorial Scholars and spoke of the history of this scheme.

She hails from the North Island and started her studies at Wellington and is now doing her Masters in Plymouth studying "Photography and Books".

She is an enthusiastic young woman – in everything she does.

Since arriving in the UK she has travelled north to Scotland and down into Cornwall.

If you want to learn more about Monique then she is a prolific blogger at http://moniquemacfarlane.com/blog/ which includes several photos, what a surprise!
When Monique visited for our last Tuesday evening meeting her approach was as professional as ever and fitted in with our timings.

She spoke eloquently and enthusiastically about her experiences with Rotary in New Zealand and explaining the many major fundraising schemes that the Clubs there undertake.

As to her photos and description of her home town – one wonders why she wanted to come to "sunny" Plymouth!
The "technical" part of her talk covered her studies on how digital

photography had changed home photography and wondered how much it had changed our memories.

Printed photos selected carefully because of cost to produce, were stored on paper in various locations and brought out to aid memories.

How has storage on a disk of thousands of images, quite possibly of the same scene, affected this.

And of course how easy it is to lose it all in a crash!

Some very interesting concepts and ideas considered and discussed.
Monique is very proud to be an Ambassadorial Scholar and really feels indebted to Rotary for the opportunity she now is experiencing and hopes that we will take advantage of the changes through Future Vision to encourage others.
Ron Dickerson
---
Burns Night January 26 2013

Thanks to everyone who supported our Burns night celebrations. Over £1,000 was made for the charities we support, in particular, Age UK Plymouth and RYLA (Rotary Youth Leadership Awards)
---
Christmas Sleigh
Despite the rain, wind and economic climate your generosity helped us to raise a total of £5135 for local charities.
On 27th Feb 2013 representatives of four of the charities joined club members and Lord Mayor Cllr Michael Wright in the Lord Mayor's Parlour.
For photos of individual presentations left mouse click on the recipients name(s) above and for more information about the charities left mouse click on the charity name.

Group photo below.

Pictured, along with those already mentioned, are Ron Dickerson, John Hanson, Jane Abdel-Salam, Peter Norton and Karen Walsh. Also present are Beryl Cole from ASK and Beryl Norton of Roborough Inner Wheel Club.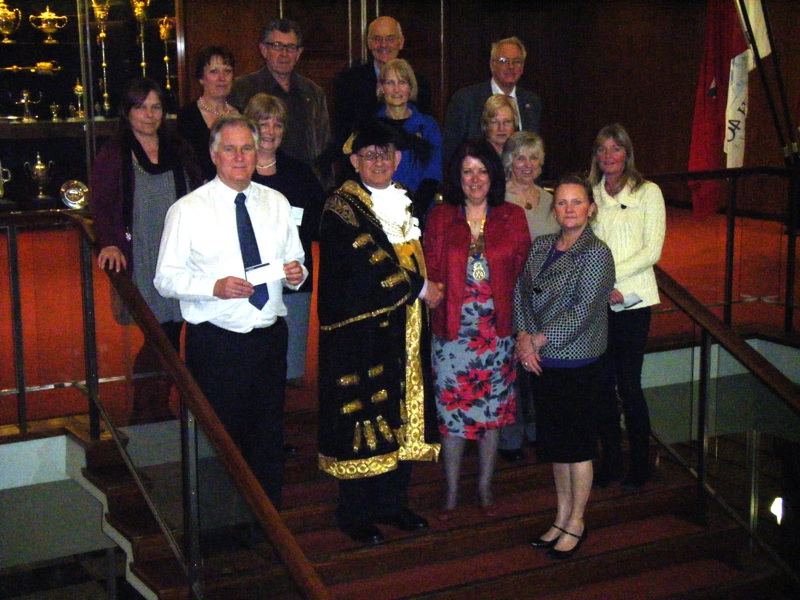 In the next 30 days...
Tuesday 17th December 19.00

Christmas Evening Meeting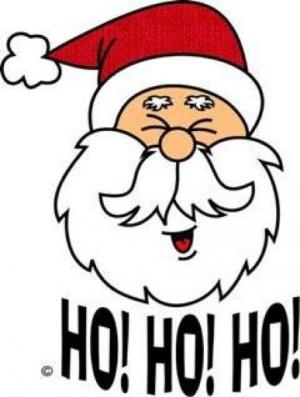 The club Christmas evening promises to be fun. Two short pantomimes (Rotary and Inner Wheel), carols and a lovely 3 course dinner at the Moorland Garden Hotel. All for £16.50. If you want to join us please let us know.
Social Media...
Rotary Club of Roborough Plymouth
Promote Your Page Too
Literacy in a Box Trust
Promote Your Page Too