Welcome to the Rotary Club of Roborough Plymouth
Featured pages:

Click on the image above below to learn more about membership including our Corporate Membership Scheme
Rotary's Santa just keeps on giving
(From the Plymouth Herald February 25th)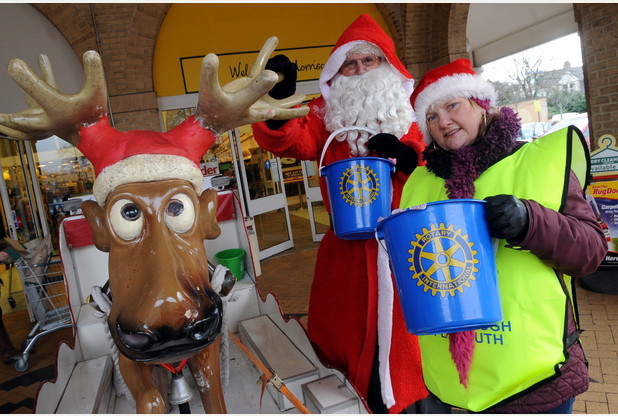 In the run-up to Christmas the team from Roborough Rotary Club and Roborough Inner Wheel Clubs spent their days collecting at Morrisons on Outland Road and ASDA at Estover, plus five evenings touring the north Plymouth area including Widewell, Fort Austin, Derriford and Manadon. Over £5,500 was raised for local charities.

On 25th February cheques were presenting to various causes at the Lord Mayor's Parlour
and representing Roborough Rotary Club Phil Chesters, President; Helen West, President Elect; Hugh Baker, President Nominee and Peter Norton, Treasurer
Phil Chesters, president of Roborough Rotary Club, said: "The cheques presented at the Lord Mayor's Parlour were just some of the donations we were able to make following our collection which, thanks to the generosity of the people of Plymouth raised over £5,500.
"All proceeds from the collection go towards charities with particular emphasis on those providing help and support to children and young people."
Michael Wallis from Derriford Children's Cancer Service said: "I have to say Roborough Rotary Club picked an impressive lineup of charities all of which I know are working so hard making a difference to people's lives in our local community.
"It is all too often that local projects miss out to the larger high profile charities so it is wonderful to see an organisation like this supporting on a local level; we are sincerely thankful for their donation."
---
Members of Roborough Rotary Club show they are good 'sports' in presidential handover
(From the Plymouth Herald July 29th)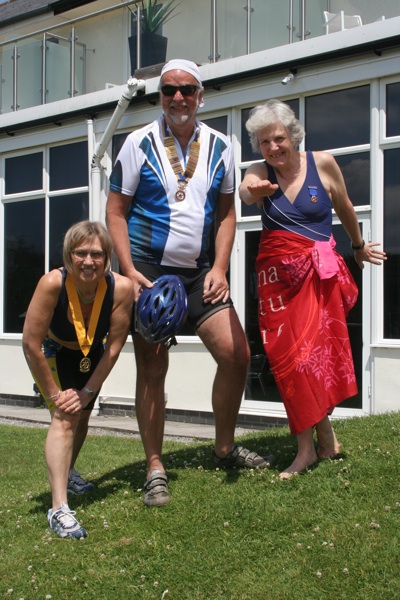 AN unusual handover at the Moorland Garden Hotel as swimmer Caroline Easton gives the presidential baton to cyclist Phil Chesters who will be followed next Rotary year by runner Helen West.
The triathlon trio will be participating in the annual Roadford Lake team triathlon on September 6, helping disadvantaged children worldwide by raising money for Right to Play and Literacy in a Box.
Caroline's presidential year ended on a high point when she was asked to open the Independence South West Summer Fete on June 28. Photos on our Facebook page via this link. Throughout her year Caroline, together with club members Phil Greenwood and Hugh Baker, have been heavily involved in the renovation of the sensory garden in the grounds of their respite centre, Rockville House.
President Phil will be continuing the club's involvement with local community projects. The annual Disability Activity Day, run in partnership with Scoot-A-Long, took place on Plymouth Hoe on August 2 (read all about it via this link) and the club will be working with Rotary Charity REPOD (Rotarians Easing the Problems of Dementia) to set up a memory cafe to help Dementia sufferers in the North Plymouth area.
With the club having established the first primary school RotaKids Club in Plymouth a couple of years ago, Phil is keen to get more young people involved with Rotary and particularly the Rotary charity Literacy in a Box (of which he is a trustee) which provides a brilliant way for children to learn about other cultures while helping children in need overseas.
Phil says: We went through a visioning process earlier this year to find out how club members wanted to help communities both here and overseas. I'm very fortunate to be supported by such a committed group of Rotarians who will be turning those ideas into reality over the next twelve months and beyond.