Welcome to the Rotary Club of Roborough Plymouth
Featured pages:

Click on the image above to learn more about membership including our Corporate Membership Scheme
DO MORE WITH ROBOROUGH ROTARY
So what do you think Rotary is?
Can we dispel a few myths.
Roborough is an open Club with women, men, younger and older working together, learning from each other and having fun. We reach out to other organisations and other Rotary Clubs to work together to achieve more than we could do on our own.
Yes we do help Santa in the community - which enable us to financially support many local organisation, especially with an emphasis on the young.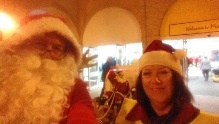 BUT this is more than a fundraiser! We hope that for the children we meet it is a positive experience. Thank you to all those who see us and make a donation.
Scotland has St Andrews (and Burns); the Welsh have St David; the Irish have St Patrick; the Cornish their St Piran; each has a special day. Working with several local organisations Roborough has now established a celebration of St Georges Day. See our diary for more details.

The charity Literacy in Box was set up from, and has the full support of Roborough Rotary.

They work with us, other Rotary Clubs and schools to raise funds for and awareness of the needs of children in other countries where education is less easy to obtain than in the UK. Follow the link above to find out more.
But more than this we have a lot of fun doing it. Our meetings provide an insight into ideas that we may not come across in our normal lives and a great opportunity to socialise and discuss 'network' in it's original and best sense.
Meeting Details
Interested in joining Rotary?
In the next 30 days...

Meet Devon House car park - short guided (5-10 mins) walk return to Woolwell Centre for tea/coffee and a chat. Bad weather will mean early visit to Woollwell Centre for the tea/coffee and a chat!! The aim is to make this a regular event

read more »
Social Media...
Rotary Club of Roborough Plymouth
Promote Your Page Too
Literacy in a Box Trust
Promote Your Page Too
Meeting Information...
We meet on Tuesdays at 1300 ((5th Tuesday 1900)) Moorland Garden Hotel, Roborough Down, Yelverton, Devon, PL20 6DA tel: 01822 852245