About us
WELCOME FROM THE PRESIDENT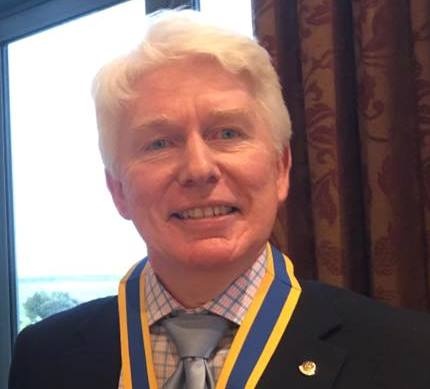 Hello! I'm Roy Symon Club President for 2017/18. Welcome to our website which tells you more about what Rotary is and does in North Berwick. We have just finished celebrating the 50th anniversary year of the Club. The year ahead is going to be busy and fun. We will also be continuing with our fundraising and more hands on activities to benefit our communities both here and those we support abroad. Club members meet weekly, on a Tuesday, at the Marine Hotel in North Berwick, between 7 pm and 9 pm for a two course meal, a blether and to hear a speaker or enjoy some entertainment.
However, we know that not everyone can make a weekly commitment. So, if you can come along a couple of times a month and get involved in some of our activities and are willing to have some fun at the same time, you are likely to be our sort of person. Oh yes! You should definitely have a sense of humour to be in this Club! Have a look and see what Rotary is about in North Berwick and have a look at our Membership Leaflet below. Have a look at some typical questions about us with our answers. After that why not click on "the email symbol " so a member can get in touch and have chat with you? It was one of the best decisions I ever made! I look forward to meeting you.
Should you wish to see how funds raised are distributed, please click below:-
Rotary Club of North Berwick, Distribution of Funds.
---
Read our Questions and Answers about Rotary,
Join us and make a difference video
Please click our 2016 Membership Information Leaflet below to read