Welcome to the Rotary Club of Frome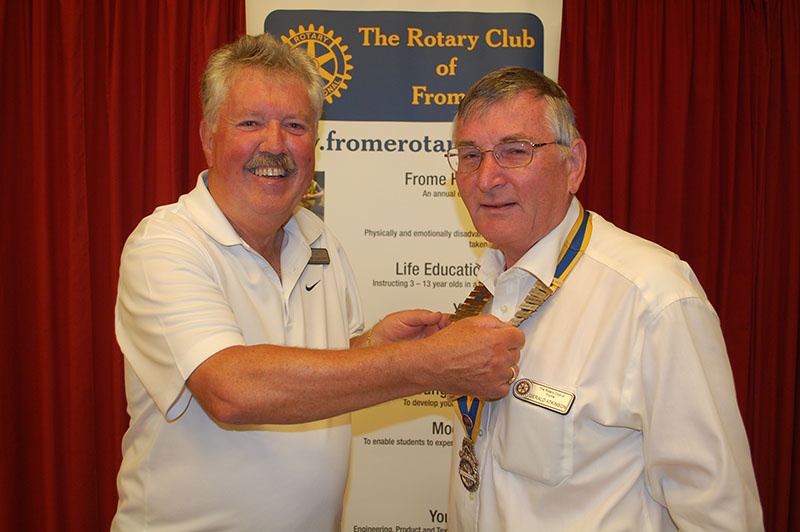 Welcome to Frome Rotary, of which I have the pleasure and honour to be president this year. Though we get a lot of community work done, our meetings are full of good humour and we enjoy plenty of social events. Please explore the website and learn about our club and activities and the great world-wide movement Rotary International. If what you learn makes you want to come to one of our meetings, you are most welcome. You might even decide to join us. Please feel free to view our library of newletters.
Gerry Atkinson
View our Club Newsletters by clicking on the logo
Have you wondered where / why Rotary started
You can make a difference with Rotary


If you wish to know more or join Rotary Club of Frome then please use the ontact us tab and you will be contacted by a local Rotarian.

Although Frome Rotary Club has been going since 1925 we like to keep up with the times. At present, we have 53 members and in our time have founded two daughter clubs Midsomer Norton & Radstock and Frome Selwood and also Frome Probus club. We have been twinned with the Rotary Club de Bayeux since 1964. We meet on alternate Mondays for Lunch at 12.30pm, the other Mondays at Breakfast at 7:30am and Twilight at 6:15pm. Occasionally we meet with our partners in the evenings at 7:15pm.This variation from the Rotary 'norm' has proved popular and has increased attendance from members who cannot make lunchtime. We are a friendly and informal lot and visitors are most welcome.
For more on the History of The Rotary Club of Frome select the following link History of The Rotary Club of Frome
For meeting details contact our Attendance Officer by using the contact us tab or visit our diary section
'Frome a Special Town'
Frome, the home of the Rotary Club of Fr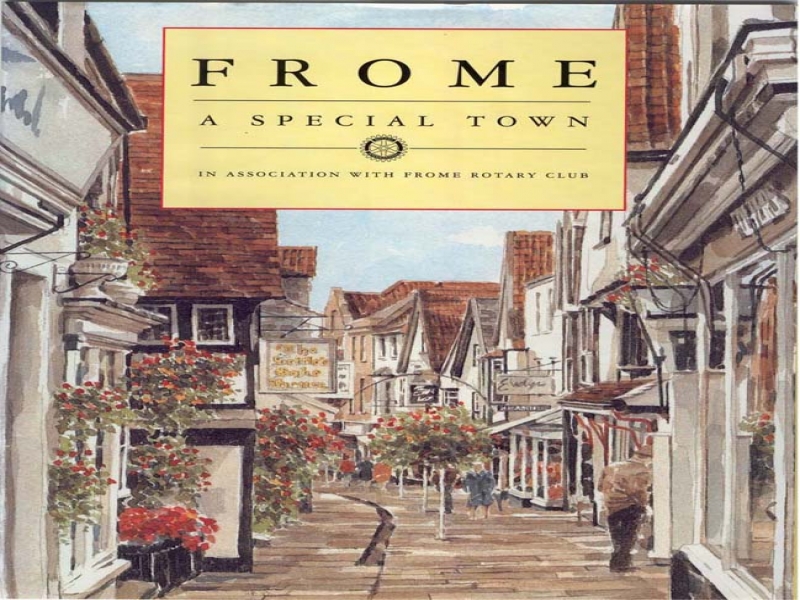 ome and the Rotary Club of Frome Selwood, is a remarkable town, having more listed buildings than any other town in Somerset,it has always been able to adapt effortlessly to the changing times. It values its past and much careful conservation work continues to be done to its old buildings, but it looks very much to the present and future. To read more about Frome click on this link.
To know what is happening in Frome visit Frome Times.
Frome Rotarian Celebrates 90years Young
Frome Rotarian Alan Sandall celebrated his 90th Birthday which fell on our weekly meeting date. Alan having written several books covering the events that he has experianced in his 90 years it was apt that his birthday cake represented two books. We wish Alan many more years of activity within Frome Rotary Club.

Purple for Polio

Well, they are in the ground now so it is up to mother nature. Yes, we planted approx 5000 purple crocus bulbs today with the help of pupils from Critchill school and Frome town ranger Mark Branson. To read more
Rotarians Honoured for 50 Years Service to Rotary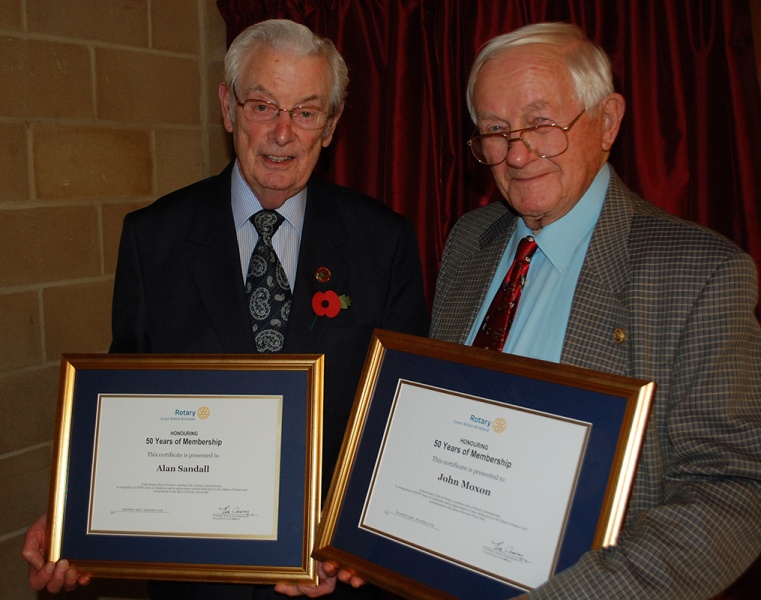 Rotarians Alan Sandall and Dr John Moxon were presented with certificate at the Rotary meeting on 30th September 2016 to mark the 50th year service in Rotary.


Rotary Youth Speaks Competition


The Semi-Finals of the above competition were held on 9th February at Standerwick Market, when six previous winning teams competed for the District Final.
By finishing as runners-up, the marvellous Selwood School team will be appearing again in this prestigious event, on 25th February at Kings of Wessex School Cheddar.
Schools came from Warminster, Chippenham, and as far away as Beaminster in Dorset.
The testing subject tackled by Selwood Academy was " Treating refugees as a problem is the problem ", and was presented confidently in a well-argued and articulate manner.
We wish them well in progressing to the next stage of this challenging event.
Frome Rotary Popup Shop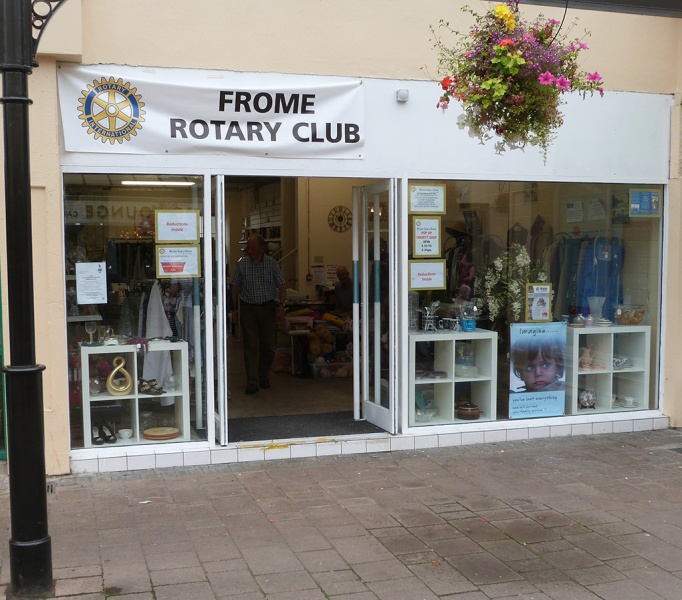 Four years ago Frome Rotary Club was offered an empty shop for two weeks for fundraising activity. This project has continued and grown. The shop is located in the precinct so why not pop in and have a chat and a good brows you may find something you are loking for. To read more click here.


New Books For Trinity School Library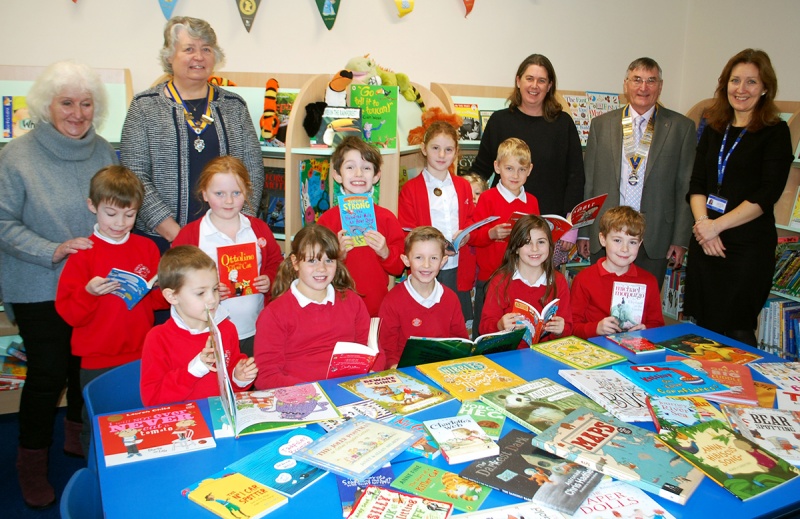 Trinity School have received an early Christmas present from Frome Rotary Club this week, with the arrival OVER 50 new books to complete their library. As part of a wider initiative in the town to inspire children and their families to read together, Frome Reads has come about from a rising concern over literacy levels in Frome. To read more click here.
Young Writer 2017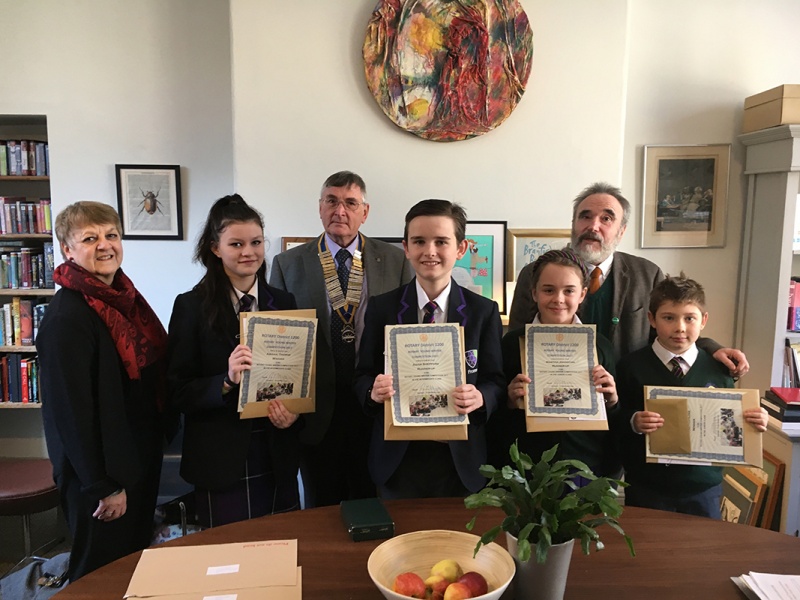 FROME ROTARY "YOUNG WRITER" COMPETITION
On Wednesday 8th February a very successful Competition was held with local schools to search for the best Young Writer in the area.The 500 Word entry was to be entitled "Reflections".
This National Competition supported by Rotary is held annually, with the prestigious Finals being held in a few months time.
"Chicken House Publications" along with "Huntingraven Books" jointly sponsored the event yet again.
In the Junior section the Winner was Daniel Hopkins (runner-up Martha Johnston), both from Springmead School in Beckington.
In the Intermediate section the Winner was Abigail Thorne (runner-up Adam Shepherd), both entrants from Frome College.
The Winners submissions now progress to the District Finals for judging later in the month, and if successful will move even closer to the National Final.
Frome College Mock Interviews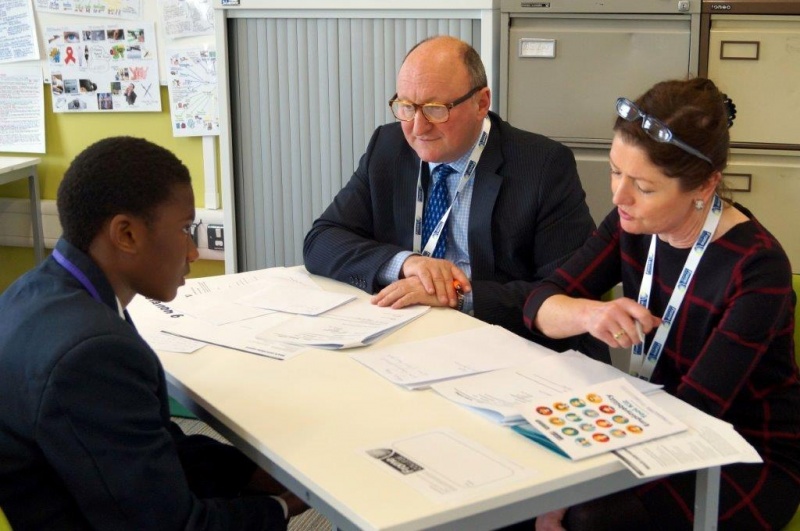 Back in 2009 the Club saw a need to train young people in presenting themselves to adults in an interview situation and to assist them with their career planning. It also recognised that there needed to be a closer relationship between Frome College and local employers. The Rotary Mock Interview Proramme for Year 10 students was designed to achieve this. It was set up by the Club in 2009 and has now been running for 7 years. Whilst for the first 5 years it was run by members of the Club it has now been taken on and further developed by the Next Steps organisation at the College with club members just providing interviewers where required. Over 250 students are now interviewed by around 70 representatives of local employers. This has proved to be a fine example of the role of Frome Rotary Club as an initiator. The 2017 mock interviews will take place on 15th and 16th March.

The Rotary Club of Frome is a Registered Charity No 1100424
Last Updated February 10th 2017

Meeting Details
Interested in joining Rotary
In the next 30 days...
Social Media...
The Rotary Club of Frome
Promote your Page too
Meeting Information...
We meet on Mondays at 07.30 ; 12.45 ; 18.15 : and 19.15. Phone Secretary (Meet lunchtimes, alternating with breakfast, twilight and occasional evening meetings with Partners.) The Standerwick Suite
Frome Market
Standerwick
Frome BA11 2QB tel: 01373 831105