Welcome to the Rotary Club of Frome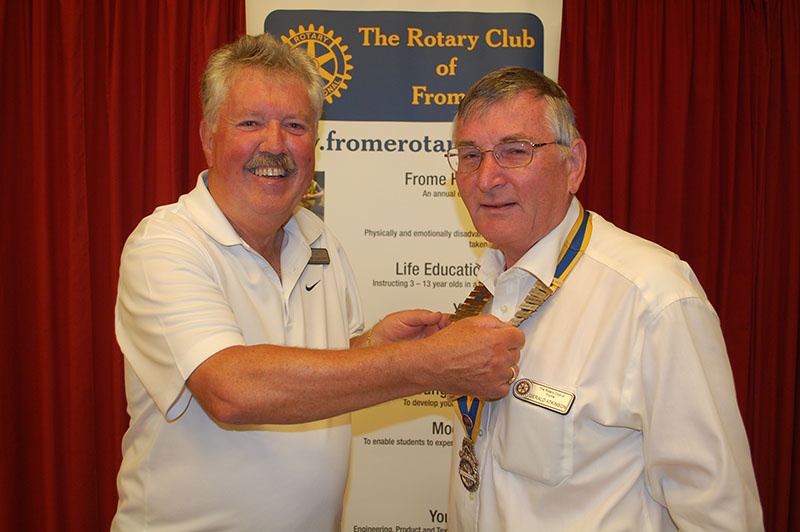 Welcome to Frome Rotary, of which I have the pleasure and honour to be president this year. Though we get a lot of community work done, our meetings are full of good humour and we enjoy plenty of social events. Please explore the website and learn about our club and activities and the great world-wide movement Rotary International. If what you learn makes you want to come to one of our meetings, you are most welcome. You might even decide to join us. Please feel free to view our library of newletters.
Gerry Atkinson
View our Club Newsletters by clicking on the logo
Have you wondered where / why Rotary started
You can make a difference with Rotary


If you wish to know more or join Rotary Club of Frome then please use the ontact us tab and you will be contacted by a local Rotarian.

Although Frome Rotary Club has been going since 1925 we like to keep up with the times. At present, we have 53 members and in our time have founded two daughter clubs Midsomer Norton & Radstock and Frome Selwood and also Frome Probus club. We have been twinned with the Rotary Club de Bayeux since 1964. We meet on alternate Mondays for Lunch at 12.30pm, the other Mondays at Breakfast at 7:30am and Twilight at 6:15pm. Occasionally we meet with our partners in the evenings at 7:15pm.This variation from the Rotary 'norm' has proved popular and has increased attendance from members who cannot make lunchtime. We are a friendly and informal lot and visitors are most welcome.
For more on the History of The Rotary Club of Frome select the following link History of The Rotary Club of Frome
For meeting details contact our Attendance Officer by using the contact us tab or visit our diary section
'Frome a Special Town'
Frome, the home of the Rotary Club of Fr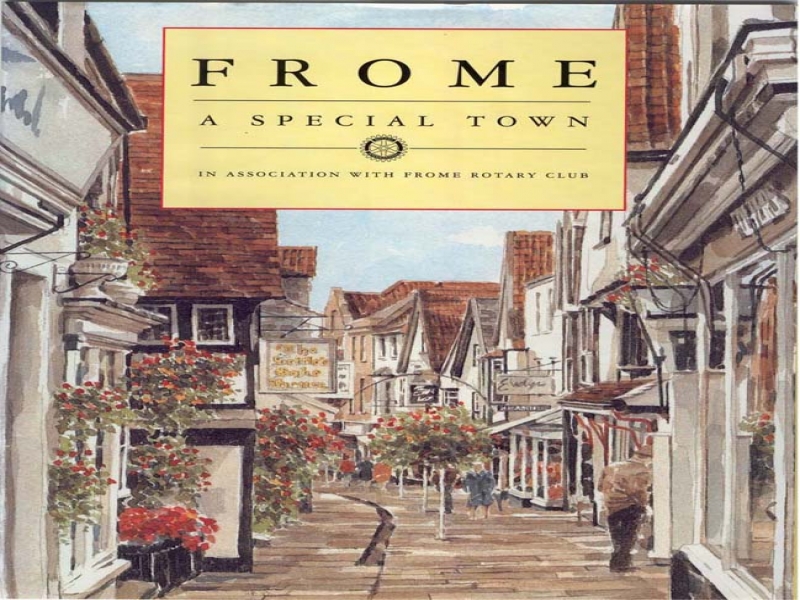 ome and the Rotary Club of Frome Selwood, is a remarkable town, having more listed buildings than any other town in Somerset,it has always been able to adapt effortlessly to the changing times. It values its past and much careful conservation work continues to be done to its old buildings, but it looks very much to the present and future. To read more about Frome click on this link.
To know what is happening in Frome visit Frome Times.


Frome Rotary Popup Shop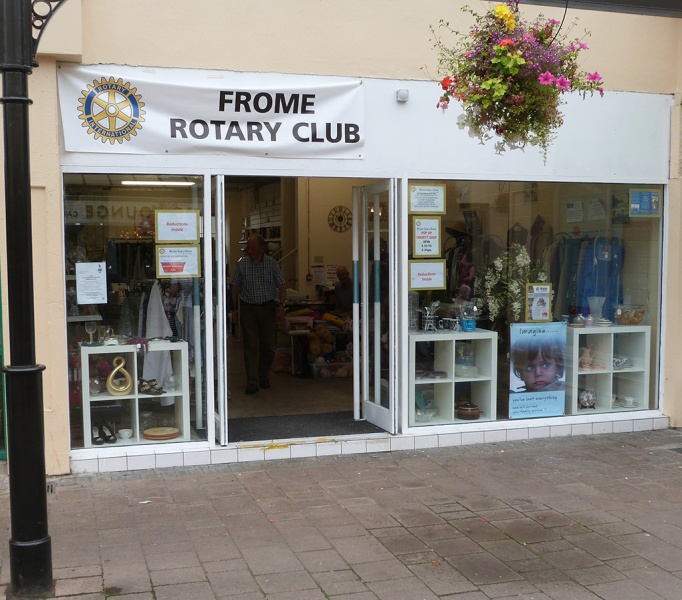 Four years ago Frome Rotary Club was offered an empty shop for two weeks for fundraising activity. This project has continued and grown. The shop is located in the precinct so why not pop in and have a chat and a good brows you may find something you are loking for. To read more click here.


The Rotary Club Celebrates 90 years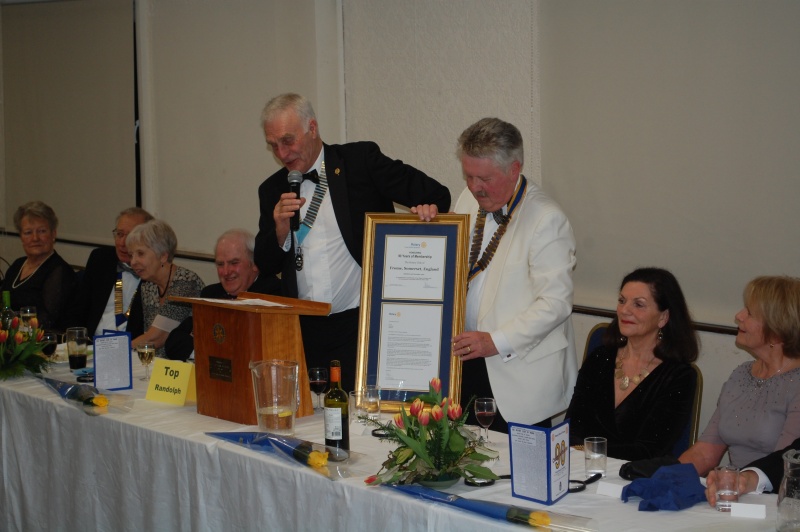 The Rotary Club of Frome celebrate its 90th Anniversary having received its charter and was founded on the 3rd December 1925, only twenty years after the Rotary Movement was started in Chicago by a young lawyer Paul P Harris. To read the full article on the History of Frome Rotary Club click here
Youth Speaks 2016
Once again the annual youth speaks event showed that Frome Intermediate Schools can produce tremendous talent. This year Oakfield Academy sent two teams, Selwood Academy sent one and Frome College two teams.
The competition was held at Standerwick Centre on January 28th. Miriam Cheal an experienced judge chaired the event and the other two judges were Fromes Mayor Kate Bielby and MP David Warburton.
The winners were Frome College Team college team two, Second was Frome College Team one and Holly Mc Phee-Clarke was voted the best speaker.
Winners
Runners Up

Best Speaker

Holly McPhee-Clarke
Young Chef 2015

To View a Video of this years competition click here
To view the full report on the young chef competition click here
Young Photographer 2015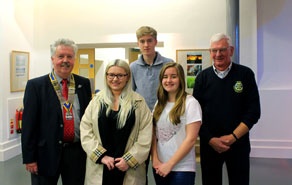 The competition this year saw some truly outstanding entries for Rotary Young Photographer of the Year. It was a really wonderful evening on Wednesday 9 December at Rook Lane Chapel with kind sponsorship from NVB Architects, who provided the use of the Chapel. There was a great atmosphere and lots of very beautiful photographs.
The submissions this year showed a huge variety of skill and talent, which was noticed by both the Rotarians who organised the event, as well as the other guests who attended. The judges remarked that the standard was the highest they had seen.
Young Writer 2016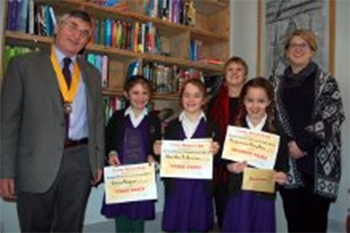 The presentation to prize winners for the rotary young writer competition took place at the premises of sponsors, chicken house publishing of Frome, on Monday 8th. A handsome trophy to age group winners and generous book tokens from Hunting Raven bookshop was handed out.
The winners were:- ages 7-10, 1 Anna Bagan
2 Primrose Boyden
3 Martha Johnston
ages 11-13 1st Ella Evans
Frome College Mock Interviews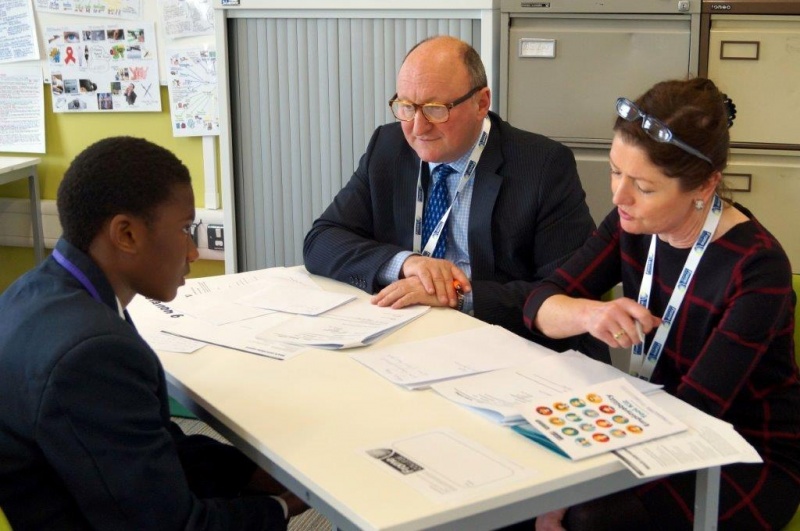 On 16th and 17th March each of the 250 students in Year 10 at Frome Community College were given a mock interview. The students presented a cv and were interviewed for 15 minutes by a panel of two employers. ...more...
The Rotary Club of Frome is a Registered Charity No 1100424
Last Updated 21st September 2016

meeting details

In the next 30 days...
Social Media...
The Rotary Club of Frome
Promote your Page too
Meeting Information...
We meet on Mondays at 07.30 ; 12.45 ; 18.15 : and 19.15. Phone Secretary (Meet lunchtimes, alternating with breakfast, twilight and occasional evening meetings with Partners.) The Standerwick Suite
Frome Market
Standerwick
Frome BA11 2QB tel: 01373 831105