WELCOME TO TAUNTON VALE
ROTARY CLUB
---
Taunton Vale Rotary Club has been in existence since its Charter was issued in 1981. Whilst the Club has a lively social calendar which promotes fellowship among members there is also a strong emphasis on Service for others.
During the time the Club has existed, members have raised over £500,000; been responsible for initiating the development of a local Abbeyfield Care Home (members continue to serve on the Trustee Committee); Taunton Opportunity Group (TOG) - another organisation where members are actively involved with the day to day management; and the It's Child's Play Project with the specific aim of raising funds for the Children's Hospice South West.
The Club continues to work to assist local and international charities.
All Club members are allocated to a committee responsible for a particular aspect of Club activity.
---
ROTARY IN ACTION
Rotarians from the Clubs of Taunton and Taunton Vale collected on Friday and Saturday to help ShelterBox provide for the homeless of Vanuatu in the South Pacific who experienced the world's worst Cyclone last week. Thanks to the generous people of Taunton, £1200 ( to buy two ShelterBoxes), will be forwarded to ShelterBox
When the Tsunami hit Japan, we watched it unfold on TV. Vanuatu is an archipelago of small islands at the other end of the planet, so the world wasn't watching when Cyclone Pam destroyed most of the houses and left the people desperate. Proportionately the devastation and the need are greater yet it's already disappeared from the news.
ShelterBox and Rotary are partners - global support from the Rotary network is the cornerstone that ShelterBox is built on. This link will tell you what ShelterBox are already doing for the people of Vanuatu. Emergency shelter and supplies are already on the way from pre-positioned stocks in Penang, and co-ordinators from Australia and New Zealand have gone to the islands.
http://www.ShelterBox.org/news.php?id=1548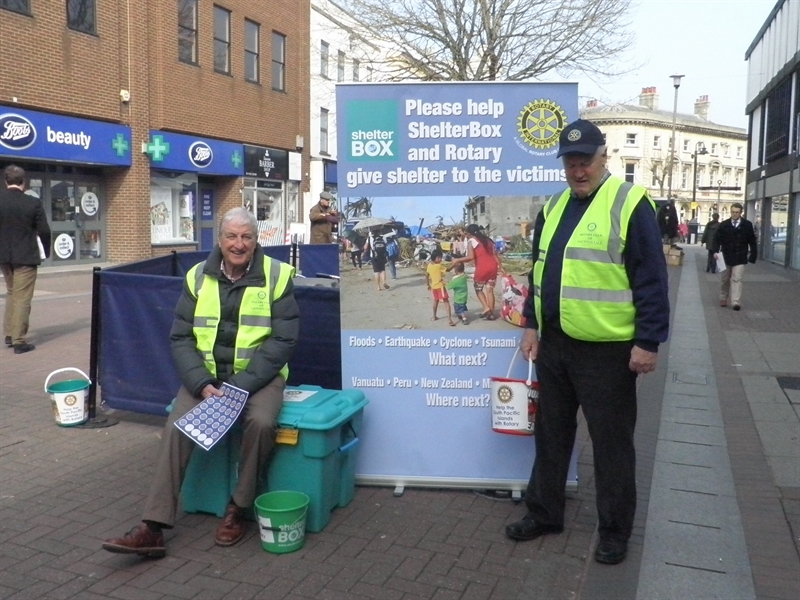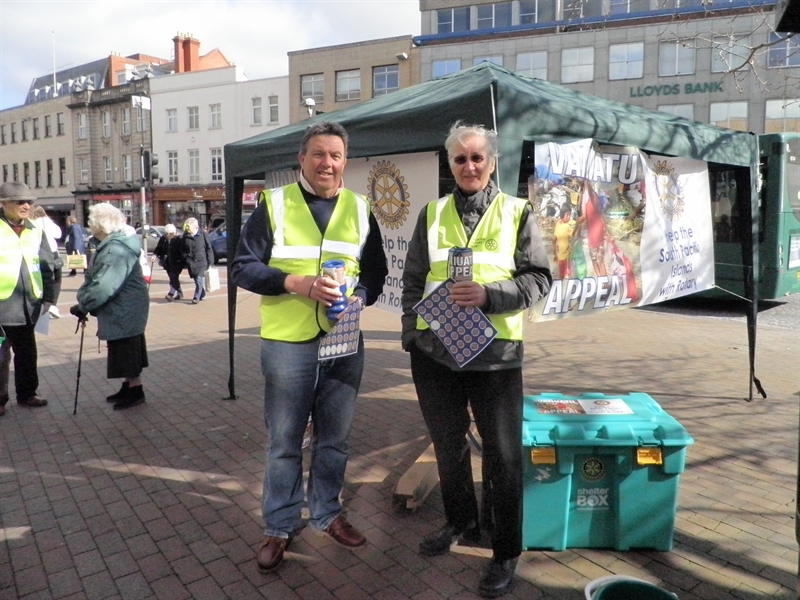 Pictured are Rotarians in the High Street and North Street, on Friday and Saturday.
---
ROTARY IN ACTION FLOOD RELIEF FUND APPEAL
Rotarian colleagues in Somerset are proud to be long term members of the Emergency Voluntary Agencies Group, under the wing of the Civil Contingencies Unit of Somerset County Council.
Groups of Taunton Vale Rotarians have been deployed in making visits to homes and businesses in high risk areas, to provide information and offer reassurance, to take inventory and gauge needs and to report all this back to the Civil Contingencies Unit. This enables those directing operations to build an accurate profile and to target responses.
Rotarian colleagues have been offering accommodation for those displaced, sourcing dry animal feed - a big issue now - recovering cars, helping with the shopping and many other little tasks to try to make life just a bit easier for those affected.
---