Featured pages
Rotary Club of Matlock - welcome! Please scroll/swipe down through this page to find out more about us, in addition to the pages linked in the menu, top-left.
---
About us
Matlock Rotary Club Community Grant
Matlock Rotary Club has launched a new community grant scheme.
Up to £500 may be awarded to a Matlock based organisation or community group, provided that the grant would be beneficial to the community.
An application form and terms of reference may be downloaded from this website
Preference will be given to projects with matched funding and applicants have to demonstrate their financial soundness.
Up to £2,500 has been made available and each application will be assessed on its merits.
The President of Matlock Rotary Club, Julian Hammond, said "I am very pleased to be introducing this community grant scheme. Helping the local community is a core principle of the Matlock Rotary Club. It is hoped, through the grant scheme, that the community will benefit in many different ways, depending on the type of applications received."
See link above for details
Rotary helps AGE UK
Matlock Rotary Club recently took part in a day's collecting at Matlock Sainsbury's on behalf of the local branch of AgeUK.
It took place on Sunday 14th of January, 2018 and Sainsbury's proved to be quite busy as £314 was collected from customers shopping at the store.
The funds raised were given to Shirley Shaw, Chair of the Matlock branch of AgeUK and will be used towards the cost of giving out food hampers over Christmas 2018.
AgeUK, with help from Matlock Rotary Club, every year arrange for food parcels to be given to elderly people in the Matlock area and last year 48 food parcels were distributed to those in greatest need.
The food parcels are greatly appreciated and it is also a way of keeping in touch with vulnerable elderly people over the Christmas period.
The President of Matlock Rotary Club, Julian Hammond said " It is very rewarding to be involved with helping elderly people in need over the Christmas period. Giving food parcels is a hands on way of looking after vulnerable elderly people in the community and the club is pleased to be helping AgeUK with this scheme. "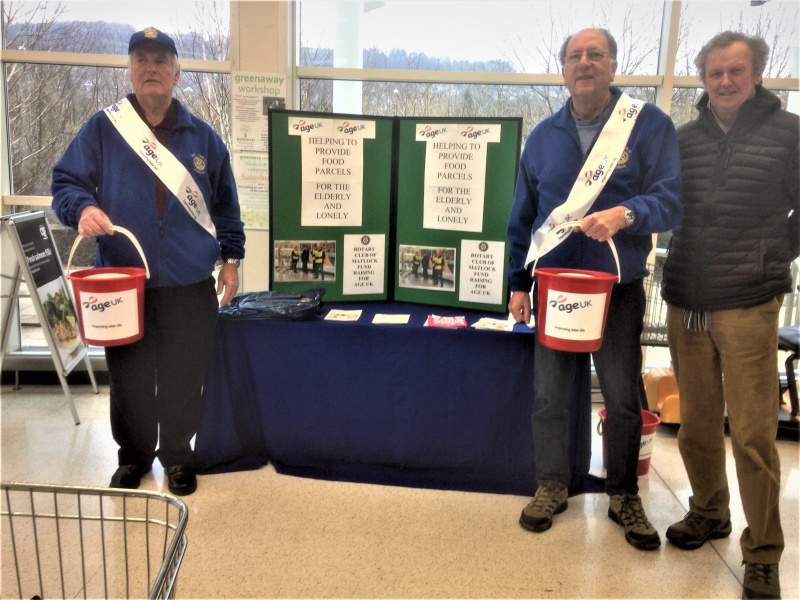 Mulled Wine Festive Fundraising
Since 1997, Matlock Rotary Club has been brewing mulled wine for the Matlock Victorian Christmas Market. It is made in to a secret recipe but includes wine (from France), cider, spices and orange juice. After all these years brewing, it is a drink of special perfection and is much enjoyed by visitors to the Victorian Christmas Market.
Matlock Rotary Club has a corner pitch in the same place every year and visitors from far and wide seek out a cup of mulled wine, before and after shopping in the market.
The regular customers and the Rotary Club helpers ensure that the stall is kept busy throughout the three days of the market.
All the profits from sales of the mulled wine, go to local good causes and worthwhile charities. This year a grand total of £2,800 was raised, which is a terrific figure.
Matlock Rotary Club will be back again next year, enjoying being part of the Matlock Victorian Christmas Market.
Julian Hammond, President of the Club said "I would like to thank the public for their great support and thank those who provided help. It has been another great success taking part in the Matlock Victorian Christmas Market and we look forward to returning in 2018. "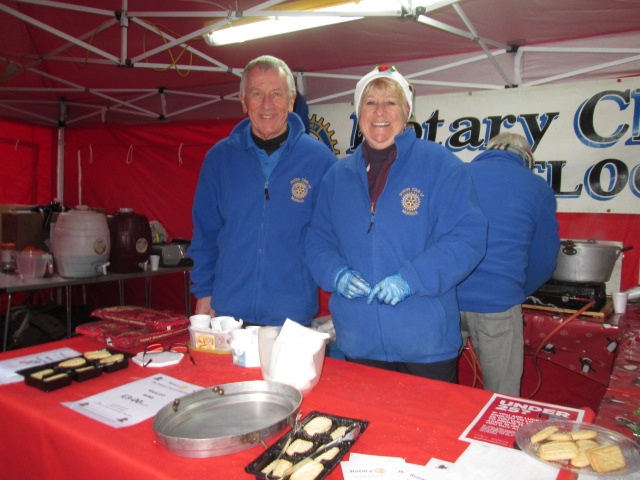 Rotarians enjoying their time at the mulled wine stall
LOOK WHAT WE HAVE ACHIEVED IN 5 YEARS
We offer our time, expertise and financial aid to deserving persons and causes locally,
nationally and internationally – we have raised and distributed £82,000 since July 2013.
Age Concern (Matlock) & Age UK 950
Aquabox 8286
Ashgate Hospice 1608
Bakewell Community Transport 500
Bloodwise (Blood Cancer Research) 100
Bluebell Wood Children's Hospice 1600
Breast Cancer Now 3902
Bridge2Aid 300
Cerebral Palsy 3000
Church in the Peak 500
Defibrillator for Matlock 1800
Derbyshire Cave Rescue Organisation 200
Derbys, Leics & Rutland Air Ambulance 2500
Dictionary 4 Life (Junior Schools) 1961
Dukes Barn 100
Ebola Appeal 500
Fairplay Children's Disability Support 300
First Taste Charity 2650
Flood appeals in the UK 600
Greenaway Workshop 5240
Helen's Trust 150
Highfields School & Student Bursaries 6200
Italian & New Zealand Earthquake Appeals 800
Kenyan Educational Support (KES) 4400
KidsAid 250
Limestone Way 2000
Local Children with Problems (Seven) 3100
Matlock Junior Football 100
Matlock Talking News 2250
Mercy Ships 500
NGS Macmillan 1250
Nepal Fishtail Project & Flood Appeal 1600
Pantomime Trip for Local Children 67
Photo Competition for Junior Schools 60
Prostate Cancer UK 4124
Rainbows Children's Hospice 1800
Riding for the Disabled (Tansley) 1000
Rotary Club of Guildford Eye Project 200
Rotary Foundation 6763
Rotary Polio Eradication 1821
Rotary Youth Leadership Awards (RYLA) 220
Royal National Lifeboat Institution (RNLI) 4000
Sand Dams in Africa 1500
ShelterBox Disaster Relief 600
Village Aid 250
If you like what we do, why don't you come and join us?
Treemendous
At a time when trees appear to be getting felled all over Matlock, to provide fuel for log burning stoves, to improve a view and to allow housing developments to take place, it is very important to encourage and take part in new tree planting.
Trees are great for the environment. They provide habitats for wildlife, soften the landscape and help reduce pollution by giving out oxygen.
In response to a National Tree Challenge, launched by Rotary International (Great Britain and Northern Ireland), in conjunction with the Woodland Trust, Matlock Rotary Club has carried out a local tree planting scheme.
Forty five trees have been planted at Rowsley South Station, on land owned by Peak Rail.
The trees are part of a nationwide Rotary initiative to plant a tree for every Rotary Club member, and there are 47,000 members.
If each member planted a tree, it would be the equivalent of a forest the size of one hundred football pitches.
The trees will enhance the environment of Rowsley South Station and were planted in conjunction with Peak Rail.
The President of Matlock Rotary Club, Julian Hammond said "It is great to be involved with planting trees in the Matlock area. I would like to thank our members for their efforts, thank Peak Rail for coming forward with a tree planting site and helping with the planting, and I look forward to seeing the trees improve the visitor experience and landscape of Rowsley South Station".
Photos
Rotarians enjoying tree planting at Rowsley South Station

Social Evening at Remarkable Hare
Fantastic Classical guitarist entertained Members and Guests at a splendid buffet evening at the Remarkable Har, Thanks to Richard Haslam for his music and of course Simon and the staff for the Remarkably good food.


Rotary Club of Matlock Supporting
World Polio Day
The Rotary Club of Matlock recently teamed up with McDonalds on Bakewell Road to plant 2000 crocus corms on the grass verge at the entrance to the restaurant. In spring there will be a colourful show of purple flowers for the travellers on the A6 and visitors to McDonalds to enjoy.
An additional 2000 bulbs have also been planted at the Whitworth Centre just below the terrace to provide another purple display.
Since 1954, when the vaccine developed by Dr Jonas Salk to immunise children came into common use, the number of children crippled by polio has been reduced from over 350,000 worldwide per year to under 10 this year to date and polio is now found in only three countries – Afghanistan, Nigeria and Pakistan
However, until polio has been completely eradicated, there will always be a risk that the disease will spread once more, especially to areas which are difficult for volunteer immunisation teams to go into due to wars and conflicts.
When a young child is immunised, their little finger is dipped into a purple dye so that the health workers can see who has been immunised from this terrible disease.
The purple crocus has been adopted by Rotary as the symbol for "The End Polio Now" initiative, each crocus representing one child that will not suffer a life-time of pain and suffering through polio.
The End Polio Now initiative started by Rotary International is fully supported by the World Health Organisation, The Bill and Melinda Gates Foundation and the UK Government and Rotary Clubs throughout the world.
Matlock Rotarians have also provided 1000 purple crocus bulbs to All Saints Junior School where their garden club team will undertake the planting in the school grounds. They have also been provided with an End Polio Now training pack that teachers at the school will use as part of the school curriculum and which will tell year six students all about the history of polio dating back in history to the time when Egypt was ruled by the Pharaohs.
The President of Matlock Rotary Club, Julian Hammond said "We would like to thank the management teams at McDonalds in Matlock and The Whitworth Centre for allowing us to do the planting and hope that users of those facilities will enjoy the flowers in the early spring"
If you are interested in joining Rotary in Matlock, please contact us through Facebook or on
www.matlockrotary.org
Photo – Matlock Rotarians enjoy crocus planting

GREENAWAY GIFT
Through fundraising at various local events, Matlock Rotary Club has donated £2,500 to the Greenaway Workshop at Darley Dale.
Originally set up by the Matlock Rotary Club in 1981, Greenaway Workshop provides employment opportunities for adults with long term health conditions, matching their abilities to the jobs available in the workshop, in chair repairs or printing. It
provides therapeutic work for up to 20 adults with varying needs, mainly living in the Derbyshire Dales area.
Chair repairs include re-seating to rush, cane, seagrass and Danish cord chairs.
For further information about Greenaway Workshop visit greenawayworkshop.org.uk
Julian Hammond, President of The Rotary Club of Matlock said "It is great to be giving financial assistance to Greenaway Workshop, as it provides such a valuable service to the community. Funding is always finely balanced and our contribution of £2,500 will help the Workshop buy new printing equipment. "
Below the President has a go at repairing a chair!

Dovedale Dipper Delight
On a beautiful day, 355 people, of all ages and abilities, took part in the 15th Dovedale Dipper Challenge, running or walking over the full 26 mile course or running or walking the shorter 15 mile option.
This year, a record 155 runners took part in the event (with a further 200 doing the walks) and the winning times were astonishing when the terrain of the route is considered. The first runner to complete the 26 mile run, Stephen Shanks, from Bingham, did it in 3 hours 48 minutes and the fastest walker of the 26 mile route, Miss F. Cooke, finished in 5 hours 6 minutes, with an average walking speed of over 5 miles an hour.
The fastest walker of the 15 mile route was John Griffin, who completed in 4 hours 31 minutes and the fastest runner, Maree Jesson, from Northampton, finished in 2 hours 29 minutes
All the funds raised through entrance fees and sponsorship will be donated to The Royal National Lifeboat Institute
The Dovedale Dipper is organized by the Rotary Club of Matlock, with help from Matlock Inner Wheel. This year the field used for car parking was kindly provided by a local farmer, Mr Richard Sherratt. First Aid was provided by St Johns and communication was provided by Raynet. Hartington Parish Council provided the Village Hall as the event headquarters. All are thanked for their help.
The President of Matlock Rotary Club, Julian Hammond, said "The Dovedale Dipper was another great success with much needed funds raised for the R.N.L.I. I thank all of the organisers and helpers who made this event a success, and I look forward to the 16th Dovedale Dipper next year."

Matlock Rotary Club Awards School Bursaries
The Rotary Club of Matlock provides a bursary scheme for students at Highfields School, Matlock, to help them with the costs of university life (or apprenticeship).
This year, the Rotary Club of Matlock has awarded three bursaries to students.
The students – Michael Crowfoot, Jodie Crooks and Saffron Hallam – are using their bursaries to purchase laptop computers and software supplied by the Real Computer Shop in Matlock.
Michael Crowfoot, will study mathematics at Warwick University, Jodie Crooks will study psychology at Newcastle University and Saffron Hallam will study civil and structural engineering at the University of Leeds.
Since the student bursary scheme was started in 2013, Matlock Rotary Club has awarded 11 bursaries to Highfields School students.
The President of Matlock Rotary Club, Julian Hammond said, "It is terrific to see the enthusiasm that the bursary students have for their university courses. The Rotary Club of Matlock is pleased to help local students in pursuit of their careers and we wish them every success in their studies ahead."

Saffron Hallam, Julian Hammond( President of Matlock Rotary Club), Jodie Crooks
July Social - Evening River Trip on the Trent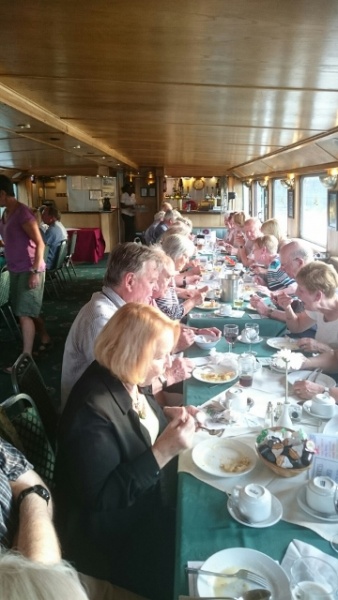 President Julian arranged a river trip with dinner and drinks on the River Trent - Glorious evening sunshine was an added bonus for the excellent turnout to this event.
















Ashover Classic Car and Bike Show
The seventh annual Ashover Classic Car and Bike Show, held on July 23rd, at Ashover Showground, was a roaring success. Nearly two thousand visitors tuned out to see a truly magnificent display of 511 classic cars and motorbikes, including a few American pick- up trucks and Series 1 Land-Rovers.
The car show was jointly arranged by the Rotary Clubs of Matlock, Chesterfield, Chesterfield Scarsdale and Clay Cross and the profits made are to be donated to local good causes, working in the community, supported by Rotary.
The award for the best classic car was given to John Wilkes, of Wingerworth, for his beautiful 1935 Bentley Park-Ward Drophead, which was built in Derby.
The award for the best motorbike was given to Peter Kirkman, from Matlock, for his immaculate 1937 Aerial Square Four.
As well as having a huge display of classic vehicles, the show also included entertainment, a good variety of food and drink stalls, children's rides, autojumble stalls, craft stalls, an Inner Wheel stall (selling cakes), model car stalls and tool stalls, and a display of new cars.
A great time was had by all and the event is now firmly on the classic car show calendar.
The President of Matlock Rotary Club, Julian Hammond, said "I am really pleased to see such a good turnout of cars and bikes, and people attending the show. Everyone enjoyed it and I look forward to the event next year. Thousands of pounds have been raised for local good causes, and the four Rotary Clubs who organised the event show how working together can be better than going it alone."
The winning car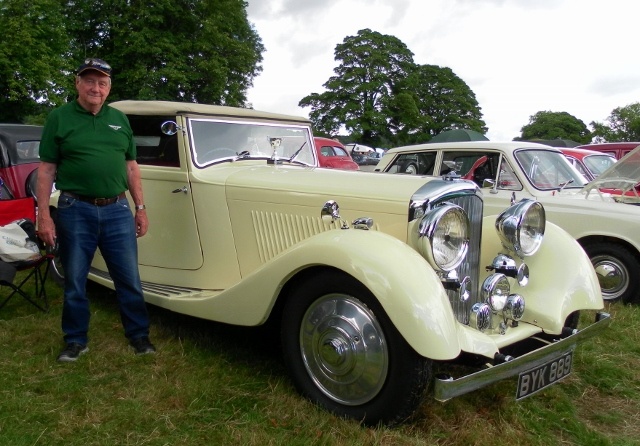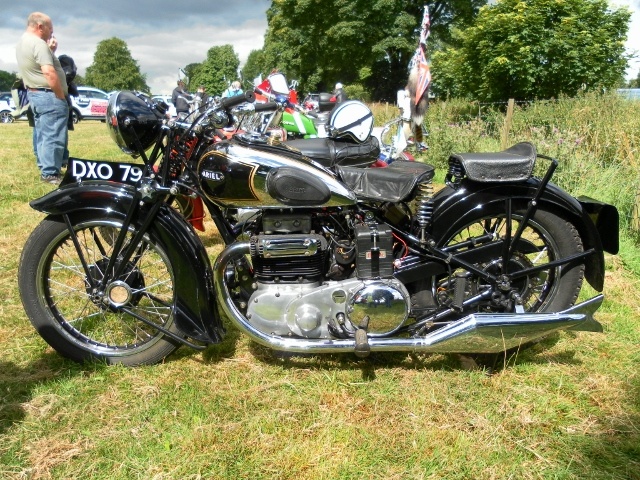 The winning motorbike
...and a classic car on display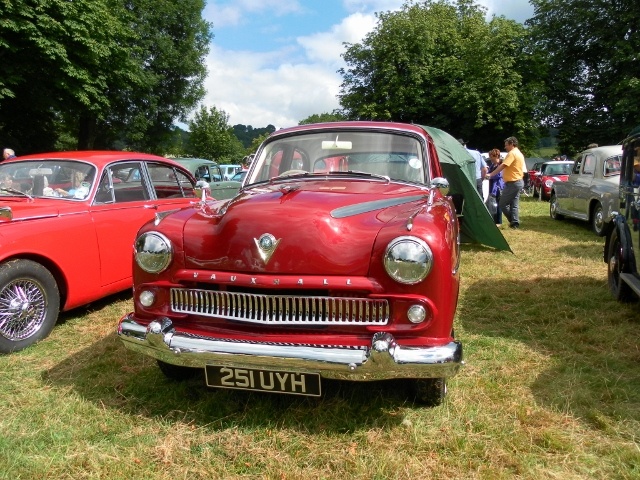 Julian Takes the Helm at Matlock Rotary Club
Julian Hammond, a retired solicitor and qualified ocean mariner, is the new President of Matlock Rotary Club.
Julian said "I am looking forward to steering the Rotary ship for the year ahead. We need new members and my aim for the year is to make being a member of the club a fun filled commitment to raising funds for local needs and charities, and for wider national and international good causes and responses to disasters. If anyone is interested in giving some time up for the community at large please visit our web site –
www.matlockrotary.com
to learn all about the club. "
Julian is supported by the new President Elect, Paul Edwards and the new Junior Vice President, Phil Pegg
Photo President Julian (in the middle) with President Elect, Paul Edwards (on the left) and Junior Vice President, Phil Pegg (on the right).


Happening soon...
Meetings and events happening soon
Monday 26th March 19.00
Speaker Meeting Danny Wells speaking on pubs and alcohol
---
Monday 2nd April 19.00
No Meeting - Bank Holiday
---
Monday 9th April 19.00
Committees
---
Monday 16th April 19.00
AGM
---
AGM
future events completed calendar district events local events
---
---
Rotary News
Be part of a global network of volunteers, trying to make the world a better place. Please also see the 'links & news' page for information from the local district and live feeds from Rotary International and Rotary International in GB&I.
Rotary supporting young people
---
Rotary on the brink of polio history
---
---
Meetings & Venue
Where and when: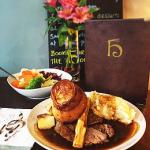 We meet on Mondays at 18:45
(
For the first 4 Mondays of the month - No meeting on any 5th Monday (the third meeting is a social or a visit)
)
We meet be at the Remarkable Hare at 77 Dale Road, Matlock DE4 3LT
01629 580850