Welcome to the Rotary Club of Swadlincote
"Meeting at the Heart of the National Forest"
The Rotary Club of Swadlincote has been benfitting the local and international community since 1947. As a service organisation, we beleive in the motto of 'Service Before Self' and the messages of the Rotary Four WayTest when serving our community. We have a diverse bank of members from a variety of professional background who are dedicated to furthering the messages of Rotary. As and organisation in the community, we have been up and running in the community for 67 years.
Our aims are:
To promote friendship and fellowship
Engage with society as a whole
Bridge the gap of all forms of diversificaion
Give back to our community
Promote the core Rotary value of 'Service Above Self'
We meet weekly to listen to facinating speakers. these speakers range from charitable organisations telling us about their own work and how we can contribute to furthering their own cause, to speakers talking about subjects varying from historical events to literature and from the hsitory of transportation to the history of our area. In our meetings, we also plan events which help charitable causes and further fellowship within the community.
Our contribution to society is shown in our Club Banner. We have created it to illustrates the area's past, predominantly coal mining, clay extraction, pipeworks, pottery and ceramics, and the area's present and future through the tree representing our location in the centre of the National Forest. The Analemmatic Sundial portrayed was our contribution to celebrate Rotary International's Centennial Year and was built by members of the club within the forest at Rosliston Forestry Centre, where it still remains to this day as a potent symbol of our hopes for the future of Swadlincote.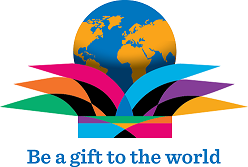 As part of RIBI and Rotary International, we are part of the world's largest service organisation. We are a member of Rotary District 1220 and we work side by side with other Rotary clubs on projects which we feel could benefit both the local and international communities as a whole. To this end, we are twinned with the Rotary Club of Kirstenbosch in Cape Town, South Africa and we cooperate with them on Projects which we hope should benefit the people of Cape Town (more details of which can be fount on our International page).
If your interested in being involved, you can contact us via:This Website, Facebook or Twitter
If you would like to know more about the work Rotary does, please take a look at this video.

In the next 30 days...
If you want further information on this week's meeting, please go to the Club News section of this website.
If you want further information on this week's meeting, please go to the Club News section of this website.
Social Media...
Swadlincote Rotary
Promote your Page too
Tweets by @SwadRotary