Rotary is about Communities. These are local, national and international. Wherever there is a need, Rotary is there, whether it is a disaster such as the Tsunami or the awful storm in the Philippines, or the earthquake in Nepal, rotary will be there in some form to help. Locally we help a large number of Charities and individuals who are in great need. How is this all achieved? We fundraise.The idea that Rotary is all about collecting in the High Street or outside a supermarket is far from the truth. We do this but it is a very small part of our fundraising efforts. It might be an idea to see some of our fundraising efforts this Rotary year.
This year may be seen as the year for women!! We already have Angela Merkel who is probably the most powerful woman in Europe and maybe after the election in the USA in November Mrs Clinton could be the most powerful woman in the world. In the last few days we have a new Prime Minister of the UK, Mrs T May who has been seen as a new broom sweeping clean the cabinet and appointing new ministers and the vast majority were new!
Nearer to home we are fortunate to add to these powerful and insightful women with the confirmation of our club President the Daredevil Pauline. Abseiling down the walls of tall buildings and free fall parachute jumps from 10,000 feet are just a couple of her recent acheivements. The latter was to raise money for the hospital that looked after her late brother-in-law.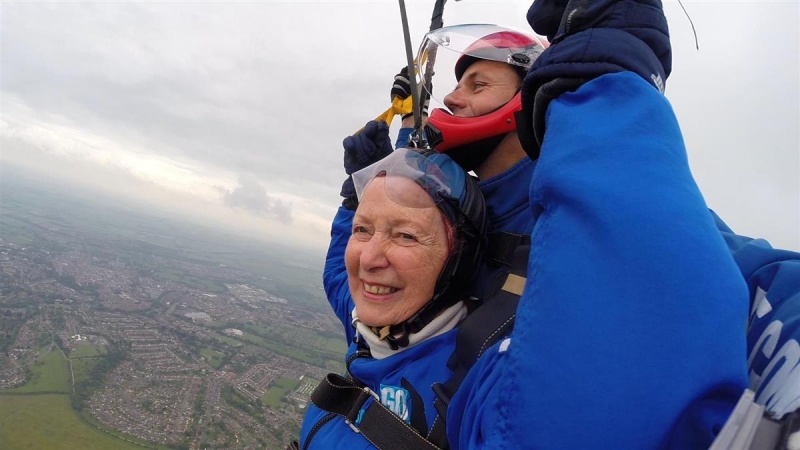 Pauline high above Salisbury and clearly enjoying every minute. We know who will be in charge for the next year. It will be and adventurous year!!!
What are we up to in the next Rotary Year. There follows a few events planned to date.

Static Bikeathon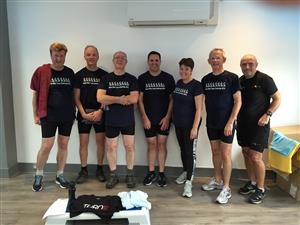 Last year for the first time the Breakast Group organised and took part in a staic Bikethon. This year we have a new format which will include events at the site where family and friends can be entertained whilst the cyclists pit their cycling skills against the other entrants. Last year "The Team" raised in excess of £3000 which was put to combatting Prostate Cancer and this year any money raised will be donated to Topic Of Cancer. The events takes place on Saturday 8th October at Turnfit Studio. To take part organise a team of 7 and contact Bikethon@Turnfit.co.uk. The event will take place at the Turnfit Studio.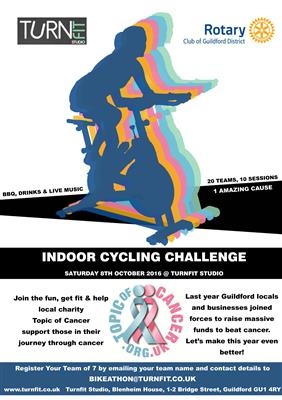 This could be a really fun day as there will be a BBQ and drinks available together with live music. Why not arrange to bring not only your friends but also the family to watch the fun and cheer on their chosen team. The events encourages the teams to get fit and to have some fun in competition. What about organising a team from your work place or if you belong to a cycling club compete against other teams in the area. Just use imagination and get as many people involved as you can for a day of fun and excercise it is a great way to spend a cold wet Saturday in October raising money for a good cause at the same time.
For detail Flyer CLICK HERE
Fish & Chip Supper & Quiz
The club has an evening of fun and fellowship in October when we held a Fish and Chip evening for club members and their guests. As well as the food there was a competion in the form of a quiz set by Don, and last year a raffle raised around a thousand pounds for our charity donations.
There will be some of the old favourites too.
Annual Boxing Evening & Charity Auction
On February Friday 24th there is another evening of Boxing with dinner and a auction in aid of our charities. This will be the 40th occasion this has been held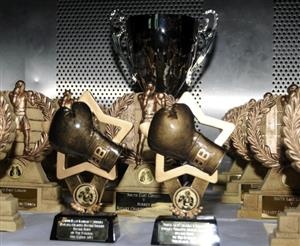 We are indebted to Spicer Haart for their very generous sponsorship. This is an important date in the social and sporting calendar. Yet again will be a special evening with many bouts. This is an evening to remember for the quality of the boxing. This special event is one not to be missed.
For Further information and an application form Click HERE
Annual Concert by Local Schools
In March 2017 there will be another concert at GLive given by children attending schools in the area. In 2014 ,2015 and 2016 this was a huge success and we are building on this in many ways. Guildford District Rotary Club is keen to further the interests of young people in as many ways as we are able. We already go to two large schools where we give those approaching their final years at school and idea of how to conduct a job interview or one to obtain a place at Univeristy. Leadership skills are encouraged and suitable youngsters are supported to go to a RYLA camp which most find extremely rewarding and help their leadership skills and make friends that will last in some cases for life. Together with the Mayor and his team efforts are being made to engage with industry locally to give pupils in their final years at school real work experience that really gives them a view of what life after school is all about. In addition to this there are many National competions such as Young Chef, Young Speaker, young writer and many more. These we encourage our youngsters to enter and broaden their horizens learning new skills.
Annual Charity Walk
A Sunday in May is the date for the Charity Walk where Charities can get their supporters into action and raise money. There are no charges made by us and your organisation keeps all the money you raise. Some of the smaller organisations exist for the entire year on the money they raise at the walk.
Spring will be upon us and the weather beginning to warm up and the great outdoors will be more inviting. What could be nicer than a good walk through our lovely local countryside enjoying the company of friends or if you are a loner your dog. Dogs are welcome and children especially so. Cub and Scout Groups have been very prominent in the past as have schools and PTA raising money for their projects. May is not the time to laze in bed on a Sunday morning, it is time to get up and get going and really achieve something for your local charity or club. Get that piece of equipment you have been dreaming about all winter or just get to know fellow members of your group better. Make a day of it - go for a walk and then have a hearty pub lunch at one of the many excellent hostelries we are fortunate to have. We look forward to seeing you in May.
There are other projects which are still at the planning stage.
For more details and aMap and Registration forms Click HERE
Collaboration with other Guildford Rotary Clubs
What have we done with regard to the eartquake in Nepal? First of all we sent £1000 to Shelterbox to get some immediate relief where it was needed. This organisation produces a box in which there is a sturdy tent, cooking utensils, water purification material and a stove to cook with. This first donation came from club funds.
This was an oportunity for the three Rotary Clubs in Guildford to get together and raise some money. A street collection was arranged rapidly and all three club participated and together with one or two businesses who took collecting tins we were able to send a further £1500 for the rebuilding process.
Now we are into the most important phase. So much will need to be done to establish a new Nepal. There will need to be huge efforts with regard to the infrastructure and new homes for larger numbers of people. Shahid a member of the club and a local businessman held a dinner in Woking for the local business people. Some of our members attended and the club gave a further £1000 towards the funds for redevelopment. Fundraising will continue.
The other disaster to hit parts of Africa and in particular Sierra Leone was Ebola. This is an extremely contagious virus disease which spreads by bodily fluid contact. Some will no doubt remember that not only were the local population dying at a great rate this was all compouded by the fact
that fear of the condition led to people hiding the fact that they were desparately ill and not seaking advice. So contagious was the condition that even when strict measure were taken to avoid contact two British nurses contracted the disease ad were treated with a new and experimental vacine which may hold promise for the future. Thankfully the disease is coming under control and most countries are now in the last stages of being declared free of Ebola for which we can all be extremely grateful. This emergency medical situation called for money and the street collection came back to the fore.
In addition to emergency medical conditions the battle against Polio continues. It is only 40 years ago that there were aircraft hanger size wards full of iron lungs and a huge number of children who recovered from the first ravages of the disease had to wear leg irons for the rest of their lives. This is again a viral disease but one for which there is an excellent vaccine. The problem here is getting the vaccine to the children of the entire world. Many governments together with Rotary which is a world wide organisation and the fantastically genous Bill Gates and his wife of microsoft fame have worked tirelessly to eradicate the disease and slowly we are winning. There are at the present time only three countries where Polio has been diagnosed in the last year. Those countries are Pakistan Nigeria and Afghanistan. Regretably the Taliban rumoured that the vaccine was a way of making the boys sterile and tried to stop vaccination. Slowly however common sense is prevailing and the battle slowly being won. Until the world has been free of the disease for some time we cannot stop or it could all return quite quickly.
Watch this space for further news and hear how we are able to help both locally and abroad.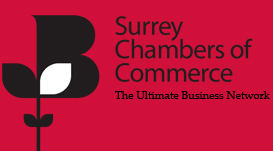 As recommended by
Meeting Information...
We meet on Wednesdays at 12.30 for 12.45 (Please keep an eye on this site for any variations) The Club House of Guildford Golf Club, High Path Road, Merrow, Guildford. GU1 2HL
The Breakfast Group meet on the second Thursday in the month at Bill's in the crypt at Angel Hotel, High Street. Guildford, Surrey. GU1 at 7.45 for 8.00. tel: Golf Club 01483 563941