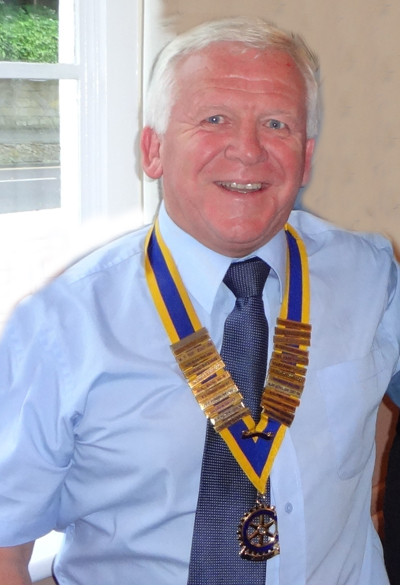 I am Ron Hart and I am the president of our Rotary Club for the year 2014-2015.
Welcome to our Website
Please browse and look at some of the projects we have carried out this year, both in the community and internationally. I hope you will find it interesting, and if you do and would like to know more, or would like to visit us please contact our secretary at
On their visit to the Mayor's Parlour this evening, The Mayor of Gateshead, Councillor Neil Weatherley, presented the Swalwell Swifts with a cheque for £200 on behalf of the Rotary Club of Whickham. The Swalwell Swifts supported Rotary with bag packing at Morrison's, Blaydon on the last weekend before Christmas.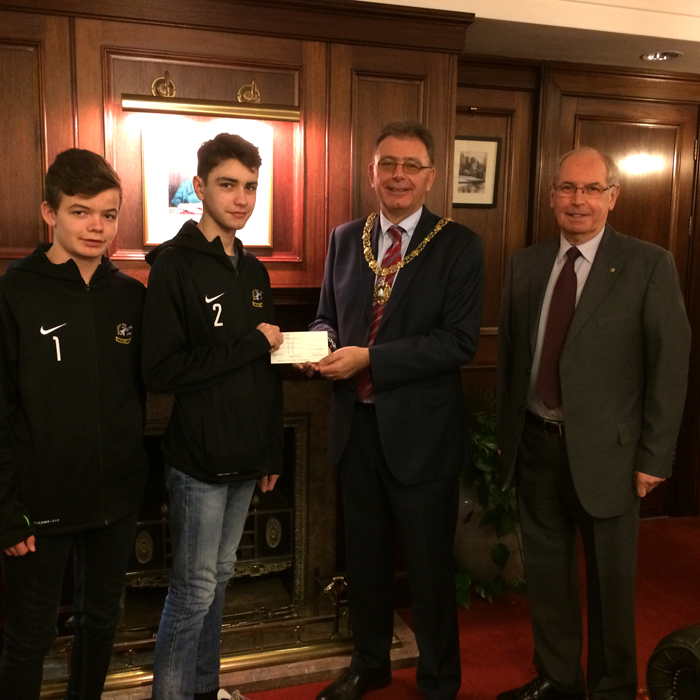 Last year the Rotary Club of Whickham was approached by a Whickham resident who informed us that her friend, the mother of two young children, had recently suffered a stroke and was now confined to a wheelchair. Owing to her mobility problems she had been rehoused into a bungalow in Whickham, however the gardens were overgrown, strewn with litter and the fences were dangerous. Consequently she could not access the gardens or allow her children to play there.The lady asked if the members of the Rotary club could help. We visited the bungalow and were initially able to make the fences safe. However the footpaths and garden were beyond our capabilities; therefore, we organised a fundraising event at the Coachman pub and secured the assistance of a local gardening firm, Paul Kelly Driveways and Landscaping Servicing, the owner of which provided hours of work in his spare time and useful recycled material.
The result is that following the neighbours plea for assistance the fences are mended, the gardens are neat and tidy with safe wheelchair friendly footpaths. The children are free to play in their garden watched over by their mother who now has safe access to the footpaths.
The concern of a friend, the interest of local Rotarians who were greatly assisted by the wonderful generosity of a caring local businessman, Paul Kelly, has resulted in joy for the children and peace of mind for their mother.
A job well done.
BEFORE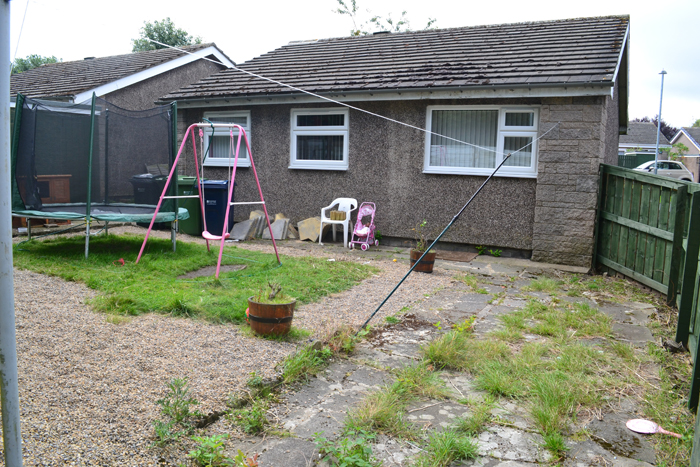 AFTER ALL WORK FINISHED.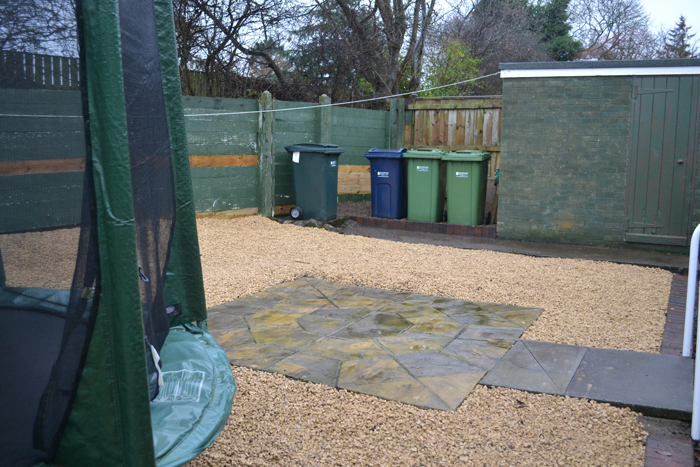 Paul Kelly Driveways and Landscaping Servicing.Thank you Paul for a job well done.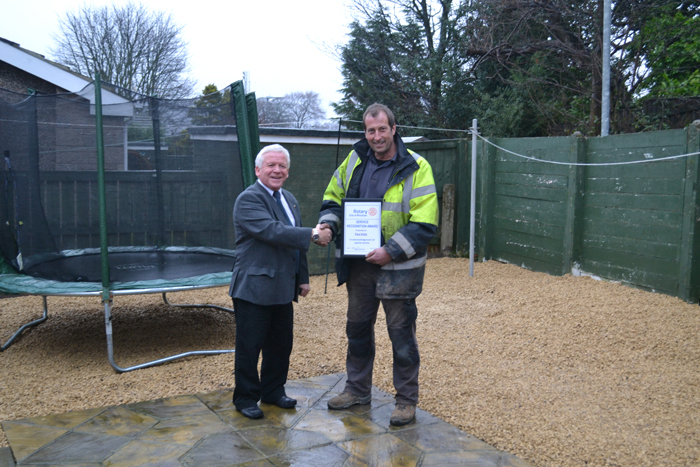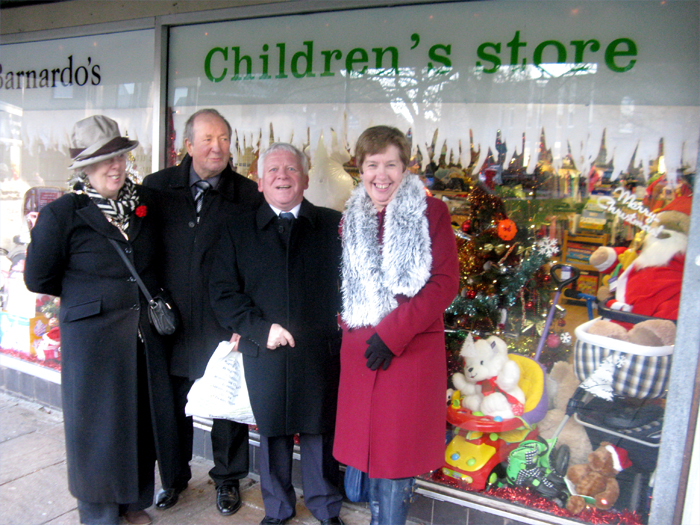 WINDOW COMPETITION.
The members of the Rotary Club of Whickham were honoured to host the Worshipful the Deputy Mayor of Gateshead Alex Geddes and the Deputy Mayoress to judge the Whickham Front Street Christmas Window Competition on Saturday 13th December 2014. The Deputy Mayor and his wife were escorted along the length of Front Street on a fine but cold day by President Ron Hart and his wife Yvonne.
Once again the competition was close as many of our Whickham business people had made a sterling effort to decorate their windows.
The winner this year is the Oxfam Charity shop with a lovely display that includes a Christmas music theme. The runner up is - once again – Linda's Coffee Shop. Well done to them and everyone else who has so beautifully decorated their business windows.
George Craig.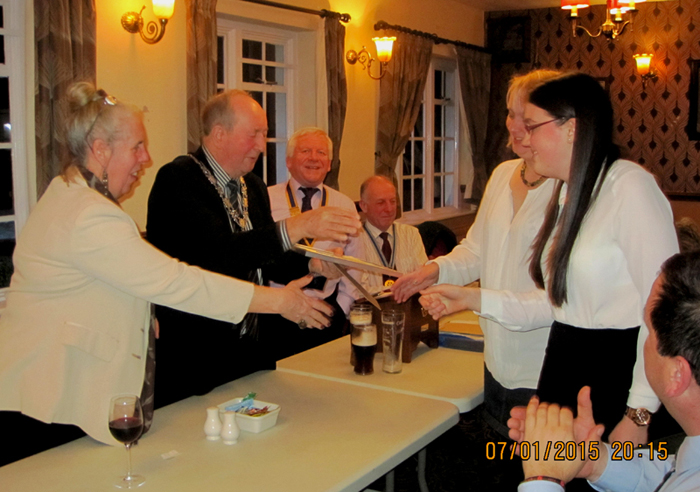 Wednesday 7th. January 2015. Christmas Window Display Results.
The winners of the best window display this year is Oxfam,
Gillian Humble and Molly Cochrane the representatives of Oxfam where presented with a cheque for £100.00 by the Deputy Mayor Alex Geddes and Freda his wife the Deputy Mayoress.
Gillian told us the money will be used to buy four goats for poor families in Africa. What a wonderful and generous thing to do.
The second prize £50.00 went to Linda's Coffee House.
A wonderful night of entertainment was had by all the members and guests. We are all looking forward to next year's displays.
Tree Planting at the Methold Houses Beamish on Saturday 29th November 2014.
Rotary District Governor Jean Thompson. President Ron Hart and members of Whickham Rotary Club. President Alan Hobbs and members of Stanley Rotary Club met to plant an Oak tree which Whickham and Stanley Rotary Clubs had generously donated.
Mr Graham Knight of Master Glaze also planted the Purple Beech tree which he also had kindly donated. Four trustees some residents and friends were also present. Trustee chairman David Coxon thanked everyone for coming and the two rotary clubs and Mr. Knight for the donation of the trees. Everyone then adjourned to the Shepherd & Shepherdess for tea coffee and biscuits where good fellowship was enjoyed . David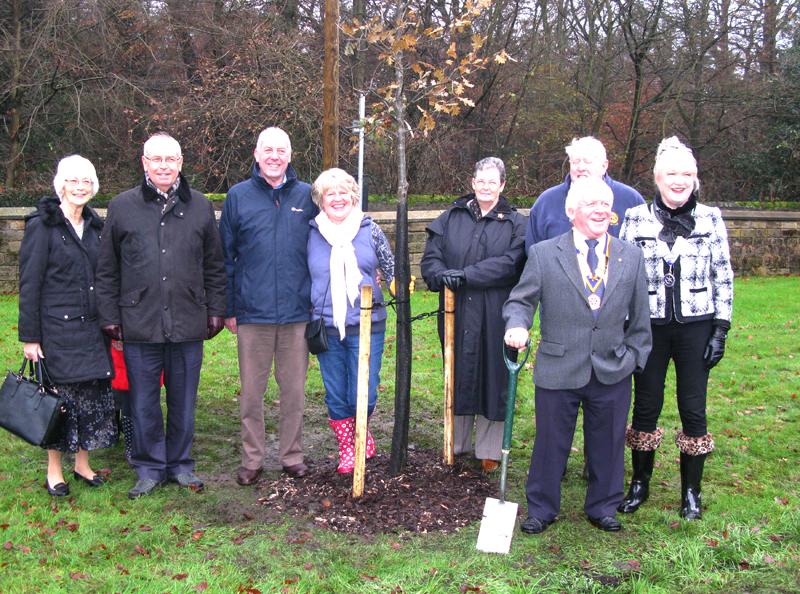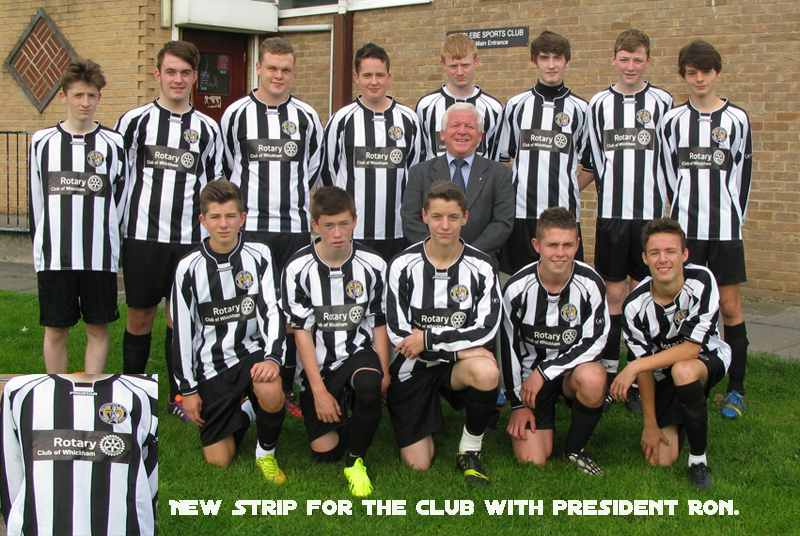 The Rotary Club of Whickham where delighted to sponsor the new shirts for the Whickham AFC under 17 years. President Ron is having a great time with the boys. We wish them a happy season with plenty of wins.
ROTARY BOWLS COMPETITION. 23rd July. 2014 .at 6pm.
24 members and guests had a fantastic night at the bowling club. The weather was amazing, very warm, with no breeze at all. We played 18 ends and the winner was David Coxon with a very high score of 14 shots. Well done David, the cup is yours for another year!
We then retired to 24a for a meal and drink, all donated by Trysha, ( one of the members daughters)
A raffle and donations from the members and guests, plus a keyboard recital by Marius.
raised £165.00 for our Foundation Charity.
Thank you to members of the Whickham Bowling Club who set up the bowls for us and made sure that the Rotarians did not cheat!!!!!!!!!!!!!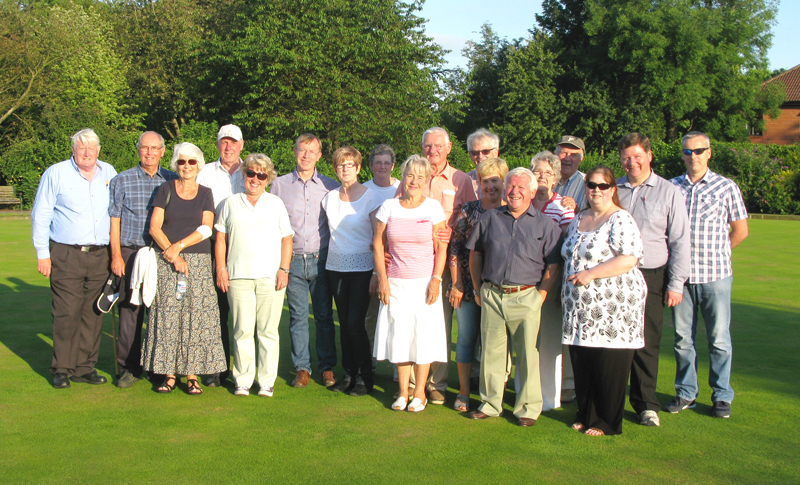 President's Night. Saturday 10th. May. 2014
Last night we all had a wonderful time at the Beamish Park Golf Club. A visit from our District Governor David Sadler and Anne was much appreciated by the members and guests.
Good food, great company, and a lovely singer called Fayley entertained us and we all danced the night away.
More pictures here. presidents night 2014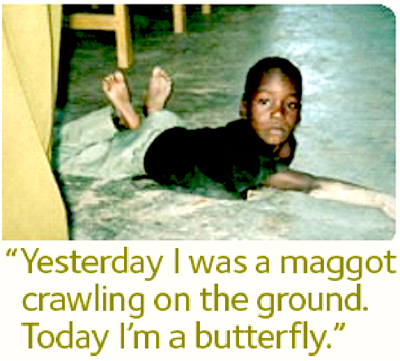 A Gateshead Trio of Rotary Clubs serving together to provide wheel chairs to the Developing World
The Rotary Club of Whickham together with the Rotary Clubs of Gateshead and Felling is part of a trio of Rotary Clubs that has raised USD $14,850 to work with The Wheelchair Foundation UK to provide specially designed sturdy wheelchairs for those in the Developing World who would otherwise be confined to a life of immobility.
We form only a small part of the efforts of Rotary Clubs throughout the World that together with the Wheel Chair Foundation and their local communities raise funds to provide wheel chairs to many countries. To date Rotary clubs in the UK and Ireland have enabled in excess of 24,000 wheelchairs to be sent to 21 countries.
We Whickham Rotarians are immensely proud to be part of this immense ongoing project that has had an immediate effect on so many people across the Globe.
Great news.................https://twitter.com/rotary

Rotary releases $35.9 million in funding to fight polio in Africa and Asia.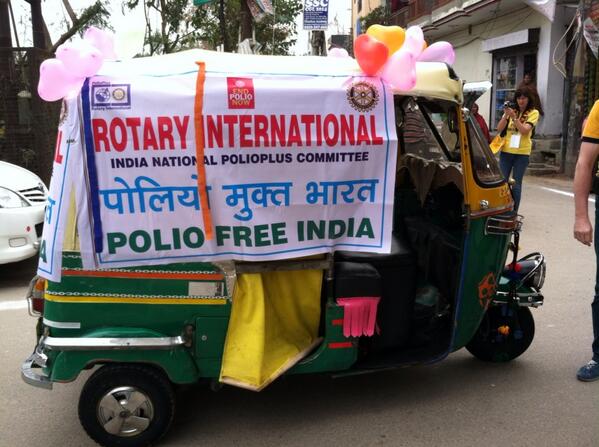 WINDOW COMPETITION 2013.
Worshipful the Mayor of Gateshead, Councillor Jack Graham and the Mayoress Helen, accompanied by President David Coxon and his wife Cynthia, and Ron Hart and his wife Yvonne, who are representing the Rotary Club of Whickham, looked at all of the window displays.
What a fantastic display this year with 12 businesses taking part.
The winner of this year's Window display to Brighten up Whickham is No5 Hairdressing and 2nd place is Linda's coffee shop.
All pictures of the winners and all the entrants here.
This year they also called in to see the fund raising event in the marquee on the village green. This was held inside the Rotary Marquee and funds raised are going to the Lighting up Whickham Group to help with next year's Christmas lights.
Pictures here. http://www.rotary.
Santa and his sleigh pictures, http://www.rotary.
11th. November. 2013. St Marys Church. Whickham. Armistice Parade.
All of the pictures here. more here rotary
What a wonderful turnout this year. Very cold weather but it did not seem to put anyone off from being there. More wreaths were placed than ever before.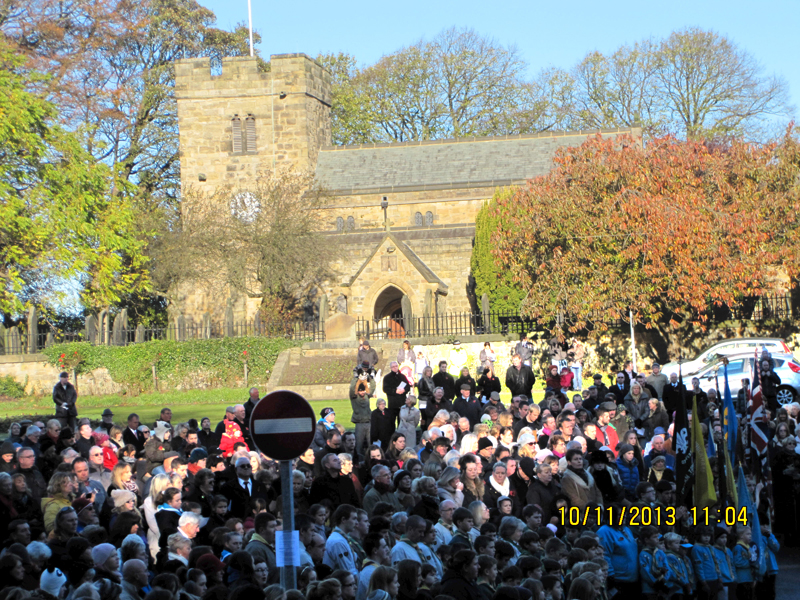 ---
The club received an E mail via this website asking if we could possibly help a lady who needed her garden made safe for the children to play in.
The problem was there were two large concrete post with metal pins protruding from them, in one section of her garden and the children could come into contact with them and injure themselves.
Representatives from the clubs community and vocation committee arranged to meet the lady to see what could be done.
As you can see for the pictures the pins were removed and the posts suitably covered by a new timber , screen fence which was erected by members of the Whickham club.
We are ever present in the community and " Can we fix. it Yes we can .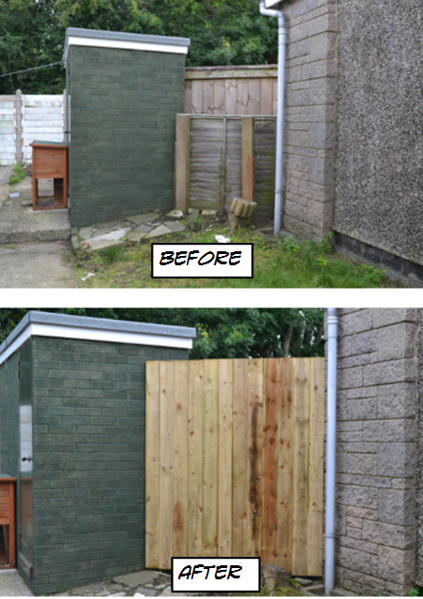 ---
---
---
---
---
---
---
---