An introduction to the Rotary Club of Bristol Breakfast
Welcome to our club, we meet for breakfast every Wednesday morning from 7.00 am to 8.30 am at Bakers Hall above the Brasserie Blanc Restaurant at Cabot Circus Bristol. We get the day off to a great start with our mixture of humour, discussion, interesting speakers and, of course, a full English breakfast, and we welcome visits from other Rotarians or those who haven't yet decided to join Rotary.
We are a friendly club with a membership of 45 people, and growing strongly each year. Our members range in age from their twenties up to retirees. This means that the Club's members can enjoy a choice of exciting activities - social, fund-raising & business networking.
(The details of our meeting venue can be found by clicking on the Meeting Information button on the right).
To get a flavour of this club's activities click through to more details via the What we do button above. This will take you to Social which will bring up some images of the last couple of years' fun events while Fundraising will explain how we raise money and where it's spent.
Our new Rotary year started on 1st July, 2015 when we elected a new Club President, Andy Cavanna.
Our Club knows how to take some things seriously and we raise funds throughout the year for International and local projects however we place having fun very near the top of the agenda!
Motorcycle Ride across India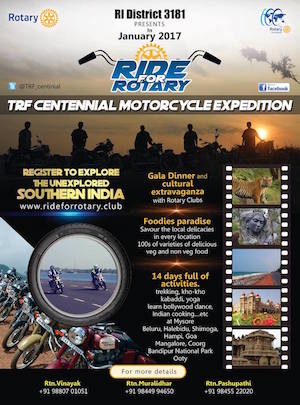 Rotarian Paul Spaven has taken up the challenge on a 2000km motorcycle expedition across central/western India in January 2017…
He will stay with Rotarians and visit a different Rotary Club each day.
The ride will fundraise to support the Usha Kiran Eye Hospital. Every £ that you donate will be tripled by Rotary Foundation (God bless Bill Gates!).
https://mydonate.bt.com/fundraisers/paulspaven1
More details of the trip can be found at: http://www.rideforrotary.club
But don't keep this a secret – please inform and encourage your fellow Rotarians, friends, neighbours, to support this effort.
Meeting Information...
We meet on Wednesdays at 07:00 for 07:30 Bakers' Hall, Brasserie Blanc, Cabot Circus, Bristol BS1 3DF tel: +44-(0)117-910-2410