Welcome to the Rotary Club of Bristol Breakfast
Featured pages:
An introduction to the Rotary Club of Bristol Breakfast
We are a mixed gender club with a membership of nearly 60, one of the largest in the area, growing strongly each year. Our members range in age from their twenties up to retirees. This means that the Club's members can enjoy a choice of exciting activities - social, fund-raising & business networking.
We meet each week for breakfast at Bakers' Hall, Brasserie Blanc, near Cabot Circus in the centre of Bristol. (The details of our meeting venue can be found by clicking on the Meeting Information button on the right).
To get a flavour of this club's activities click through to more details via the What we do button above. This will take you to Social which will bring up some images of the last couple of years' fun events while Fundraising will explain how we raise money and where it's spent. (Note especially the up-coming Dragon Boat Festival - huge fun, good for team-building and supporting good causes, see the poster above).
The button Programme will show you some details of our up-coming meetings.
And we have a Networking group for the very many members who aren't retired & want an opportunity to discuss business opportunities - a proportion of the Club that is increasing quite quickly!
Click on the Networking button for more details and on Contact for ways to make contact with our Club.
Our new Rotary year started on 1st July, 2014. We elected a new Club President, Ms Mary Whittington. Taken at our recent Drgaon Boat Festival, Mary's photi is below.
No, she hasn't got a tattoo but being a good sport she let the lady at the face painting booth attempt to embelish her face with a Rotary Rondel! It did wash off in time for her to resume her work on Monday morning.
You may have guessed that although our Club knows how to take some things seriously, we put having fun very near the top of the agenda!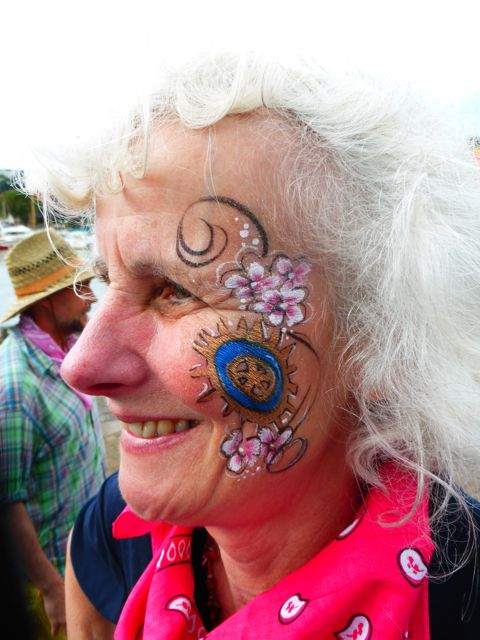 Team Photo - April 2014