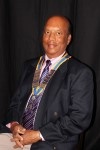 I joined Rotary to learn and to share its aims and to give something back to a community which has given me so much. I wanted to help Rotary in whatever small way I could to change the world.
Our club with 48 enthusiastic members will continue organising Summerfest and Christmas Market, stage a quiz evening, share in carol singing at The Colby's and much more. Money raised will go to big international projects like ending polio and small ones like the send-a-cow scheme boosting farming prospects for African families. At home we will support good causes like BOSP and individuals like a locally-based international fencer.
Some prospective members seek a different Rotary with flexibility, less personal costs, fewer meals and meetings. We aim to address that with a priority to form a satellite or new club in Billericay.
If you are interested in finding out more about our club, why not drop me a line to president@mayflowerrotary.org or better still, join us at the Burstead Golf Club. I can promise you a very warm welcome.
V N 'Sri' Srivastava, President, Rotary Club of Billericay Mayflower.
Our major activities include
Billericay Summerfest - a family event with a central arena and lots of stalls providing entertainment and allowing local organisations to publicise themselves and raise funds. For more information, see www.billericaysummerfest.co.uk
Billericay Christmas Market - a day when the High Street is closed to traffic and filled with a myriad of stalls selling anything and everything needed for Christmas. Most shops are open, youngsters can give their orders to Santa Claus and there is lots of entertainment for all. For more information, see www.billericaychristmasmarket.com
International Service Projects have included:
Raising funds to equip a Mayflower School in a deprived area of India
Providing facilities for a much-needed eye hospital in the same region
Providing means to bring clean water to primitive villages in Africa
Helping disadvantaged young people in an area of South Africa.
Do you wish to know more about us? Would you like to join us in sharing our aim to put something back into the community and sharing an enjoyable social life as a result
We Support

Contact Us
For further information contact our honorary secretary Ian Miller by email: secretary@mayflowerrotary.org
Meeting Details
Interested in joining Rotary
In the next 30 days...
Meeting Information...
We meet on Thursdays at 8pm (5th Thursdays at 7.30pm including partners) The Burstead Golf Club,
Tye Common Road,
Little Burstead,
Essex CM12 9SS tel: 01277 631171