You are viewing the Rotary International template site set-up for all clubs. However, Borderland has its own award winning site that is far more "club specific" . Please go to www.borderlandrotary.co.uk for more information ...
President's Message 2016/17
President John writes ...
Welcome to the website of Oswestry Borderland Rotary Club.
I didn't know very much at all about Rotary when I first joined this club, but like many other people I anted to find a way of making my own small contribution to individual, local, national and international good causes. At my very first meeting I was made to feel extremely welcome, but what struck me in particular as not just the good-natured and easy-going atmosphere amongst the membership, but also the tremendous amout of hard work and dedication that clearly underpinned all of the club's achievements. Raising money and having fun doing it still seems to be a great formula for success.

Currently our club has almost 50 members, but we're always wanting to attract more. Each and every member is valued for their input, all of which helps to continue the success of the Club and maintain the fellowship that has developed over the twenty-six years since our formation.

We pride ourselves on the substantial amount of money we raise each year through the many and varied events that we organise and in which we participate. Our Club meetings have informative speakers on a regular basis and we provide a programme that provides fun and enjoyment.

You would be most welcometo attend our Club on Wednesday evenings to see for yourself what we are all about, and we are sure that you would find being a member of out Club most rewarding. All we ask is that you contact our Attendance Officer (Jennifer Holderness) by telephoning 01691 839096 or emailing jenni.holderness@btinternet.com before 09.30 on the Wednesday in question.
Borderland Rotary ...
Borderland Rotary was founded in 1990 to satisfy a need for an evening Club in the Oswestry area. and we meet at Sweeney Hall Hotel at Morda on a Wednesday evening at 19.30 for 19.45.
Our members are drawn both from the town of Oswestry and the surrounding areas of Shropshire
and Montgomeryshire.
We are a dual gender club of close to 50 members and actively support the inclusion of lady Rotarians. We have no corresponding Inner Wheel Club although partners have formed themselves into an ad-hoc group known as the 'Inner Tube' which arranges its own social programme.
Guest speakers are invited to most of our meetings although the first Wednesday in each month is reserved to discuss the business affairs of the Club.
There is a strong sporting bias with members participating in golf, cycling, football, rugby, water polo and wheelchair basketball together with the odd excursions into clay pigeon shooting, bowls and archery.
To contact us: email David Kendall
Meeting Details
Interested in joining Rotary?
In the next 30 days...
Meeting Information...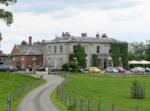 We meet on Wednesdays at 19.45 The Sweeney Hall Hotel
Morda
Oswestry SY10 9EU tel: 01691 652450