Rotary has over 1.1 million members in 55 countries, and through this wide network promotes world peace and understanding by local and international service projects

Welcome to our website. The Rotary Club of Irvine Seagate is a mixed club formed in 1992. We have been twinned with the Rotary Club of Beauce Solonge in Orleans since 1993, meeting up every two years.
Our motto is "Seagate Rotary makes a difference." We do this by providing service and support to international and local communities, including our local schools. This year, we will focus especially on Rotary International's campaign to End Polio Now, which is "this close" to achieving a world without polio.
We enjoy the fellowship of Rotary through our fundraising activities and social events, such as walks, our annual Safari Supper, our highly successful Sportsmen's Dinner and our Marymass Hot Dog stall in August. Each Christmas, we provide food hampers to one hundred elderly people in the locality, and we sponsor local school children in Rotary competitions such as Youth Speaks.
We ran a zip slide over the River Irvine to raise funds for boreholes in Malawi; we organised our District Conference in 2009; and we refurbished a local Memorial Garden with the Irvine Rotary Club in 2005 to commemorate the Centenary of Rotary.
We meet on a Monday night at the Menzies Hotel in Irvine - our meetings are relaxed and congenial.
---
Backpack Project - Like to help ?
This year, Seagate Rotary are planning to participate in Mary's Meals Backpack Project. We will be filling a number of backpacks with basic educational materials to send to children receiving Mary's Meals.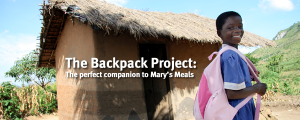 Most of the children who benefit from Mary's Meals and the Backpack Project have suffered war, poverty, famine, or natural disaster. Very often families cannot afford to buy basic things like pencils and copy books, or even suitable clothes for their children to wear to school. And so their children miss out on school and an education.
A simple backpack with educational materials can be a lifeline to these children as studies show that an education is the best way a chronically poor child can escape poverty in later life.
If you would like to donate a Backpack then simply send an email using our "Contact Form" page or call us on 07449216247
STOP PRESS
On 17th September, Pupils from Glebe Primary School along with Seagate Rotary passed over 120 back packs to Mary's Meals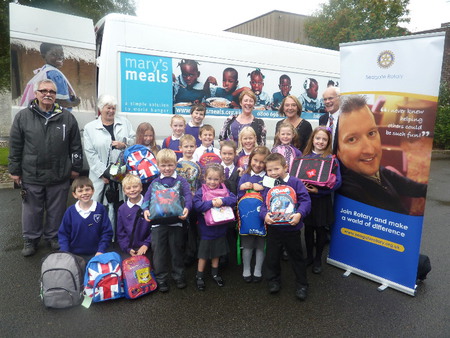 ---
If Rotary sounds like the organisation for you, we'd like to hear from you! Simply send an email using our "Contact Form" page or click on the "Join Rotary" button on our Home page, telling us how you found out about Rotary and giving your name, address and postcode so that we can contact you and invite you along to one of our meetings.
Rotary - We're for Communities
meeting details

In the next 30 days...
Meeting Information...
We meet on Mondays at 7:15 pm for 7:30 pm Hallmark Hotel Irvine
46 Annick Road
IRVINE KA11 4LD tel: 01294 274272