About us
A VERY WARM WELCOME FROM


PRESIDENT




PAUL TABINER 2017/2018




AND ALL THE MEMBERS OF THE ROTARY CLUB




OF

LOWESTOFT EAST POINT




(New Club Website under Construction late November 2017

)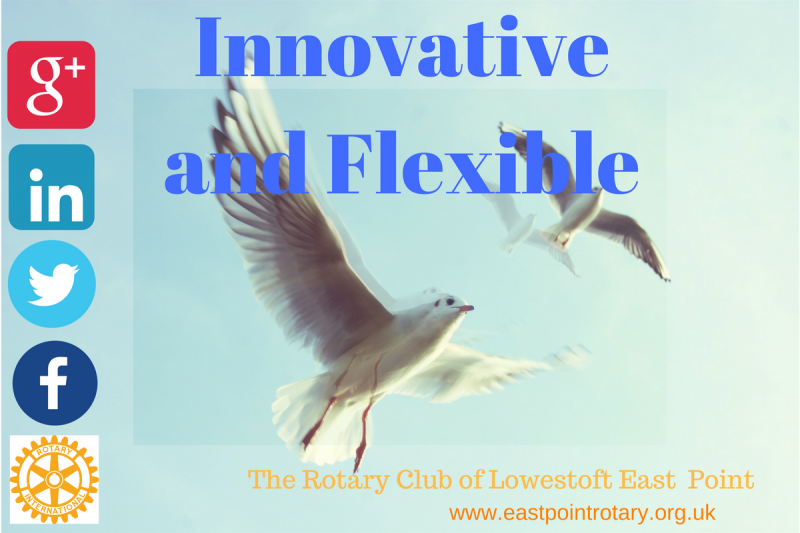 Welcome to the

Rotary Club of Lowestoft East Point
We are a dual gender club with 35 members. (23 men and 12 Women) We meet at The Hotel Victoria in Lowestoft every Tuesdays at 6.00 pm for 6.30pm. http://www.thehotelvictoria.co.uk. We welcome new members of all ages . So what is Rotary you may ask? Find out more by watching this short clip https://youtu.be/LlN6k0dLZF4
We are part of District 1080 - "Rotary in East Anglia" - Most of East Anglia, including Norfolk, Suffolk, and parts of Cambridgeshire, Essex and Hertfordshire. There are 73 Clubs in District 1080. Rotary International District 1080 comprises about 1929 men and women, in 73 Rotary Clubs spanning the counties of Norfolk, Suffolk, a large part of Cambridgeshire and a small part of Essex. We are very much a local club but we are part of a very large global organisation. Rotary is an international organisation with over 1.3 million members worldwide (July 2015) . We have over 30,000 clubs in more than 200 countries. With over 50,000 members in the UK alone. All Rotary Clubs are different but we are all a group of people wanting to do good work in the community by volunteering. Our Club is a Charity Registered Club. Charity Registration No. 1073198 District 180 news april2017.pdf may2017.pdf 1080Oct17
President Paul Tabiner 2017/2018 eastpointrotary@gmail.com

We would love to hear from you if you'd like to get involved or have a project you'd like our Club members to help with. If you are interested in finding out more or would like to attend a Meeting contact Secretary Martin Lott eastpointrotary@gmail.com
Service above Self
The Rotary motto is 'Service above Self' so it is not just about fundraising. There are various local projects in which our members are involved - such as Waveney Sailability , a sailing group for disabled people, and Kids Day Out for children from Warren School. A very successful project which has been running of a number of years is Dictionaries for Life. Along with the other Lowestoft Clubs, we provide an illustrated dictionary for every year 3 child in the town, supporting the schools' drive to improve literacy rates. Many Lowestoft residents probably know us best for our Santa Sleigh's ride through the streets of Lowestoft to meet the town's children and to raise money for our good causes. (These are just a few examples of the good causes that the club supports.)
Who becomes a Rotarian?
The club is a very active with a good mixture of men and women (23 men 12 females ) from a variety of professional and social backgrounds. Many have retired from work or find themselves in a position to put the skills learned through their professional and working lives to work to the benefit of others. The main thing we look for in members is a commitment to help others as part of a community of like-minded people. Not just hard work! To become a member of our Club you need to be a person of good character who has a good reputation in their business or community and is willing to serve the community. Rotary offers something for everyone. Rotary International is a diverse and flexible group of people who work in a variety of ways to support our communities.

The Rotary Club of Lowestoft East Point 'Friends of Rotary' Scheme is planned to provide an opportunity for people who are not able, or may not wish to, join the Club as a Rotarian at the present time. These people may like to assist the local Community by getting involved in the Club's activities, and may become a Member in the future. Friends of Rotary are volunteers supporting the work of Rotarians in the community. 'A Friend of Rotary' will be invited to participate in Club activities 1) invited to selected meetings of the Club 2) invited to selected Social activities of the Club 3) invited to assist in Fund Raising activities and Service Projects organised by the Club for the benefit of the local Community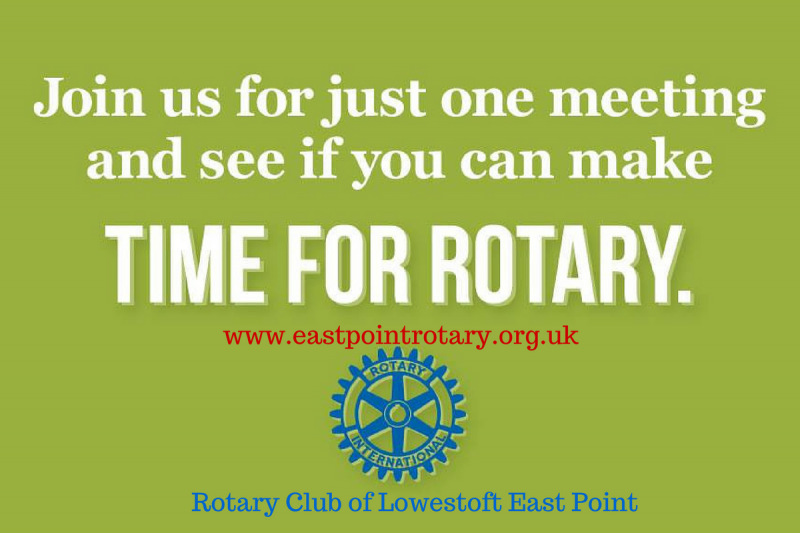 Cost of being a Member
Membership £122 per annum (2017) plus a meal £10 and drink when attending meetings . There is no cost to be
'Friend of Rotary'
Please email if you would like to become a Friend of Rotary. So what next ? If you are interested in membership or just being a Friend of Rotary we are very keen to welcome new members who feel they want to make a difference. So if you feel you might like to join us, or if would like more information, please contact our secretary, Martin Lott at
eastpointrotary@gmail.com
Evan Burrell - Rotarian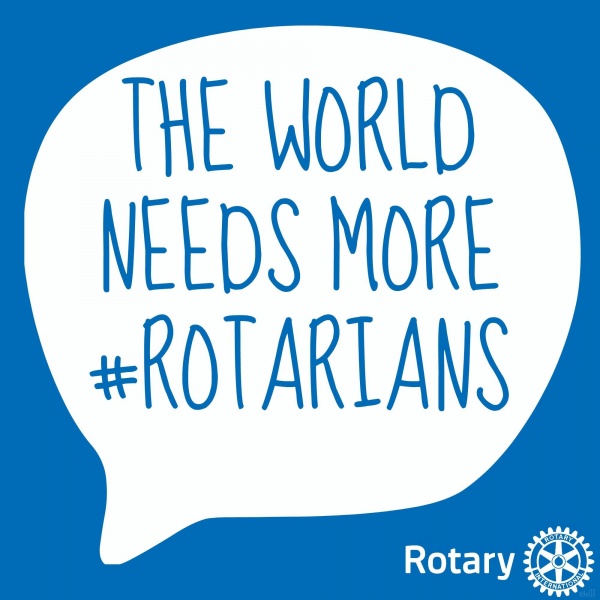 Donate Through our Bt MyDonate WebPage for Santa Sleigh Project
So we have added an easy way to donate to the Santa Sleigh Project. All money raised will go to the Rotary Charitable Trust Fund and then the donations will be distributed to Charities in the Community. You can donate on the night or by using the Donate tab or link

http://mydonate.bt.com/events/santasleighlowestoft/450904
Santa Sleigh is about to arrive in Lowestoft
The Routes are out now! Santa and Rudolph will hit the streets in Lowestoft from 4th December 2017 from 5.05 pm
Don't forget to bring your letters for Santa. Santa has a postbox for anyone to post a letter to Santa which Santa will look at after each run. Santa can't guarantee to answer them all but he will definitely read them.
MONDAY 4TH DECEMBER 2017
MEET AT CO-OP ASHBURNHAM WAY - CARLTON COLVILLE - 5.05 P.M
Left into Ashburnham Way
Right into Cowslip Crescent
Left into Ashburnham Way
Right into Arundel Way
Right into Kingswood Avenue
Left into Chislehurst Road
Right onto Framfield Road
Left into Mayfield Road
Left into Uplands Close
Right into Elmdale Drive
Right into Ninfield Close
Turn round at end
Right into Robertsbridge turn round at end
Rejoin Ninfield
Right into Elmdale
Left at Appledore
Left at Copper Beech
Right at unmarked
Return to Appledore
Left up Ashburnham Way (no door knocking)
Right into Long Meadow Way
Left into Wheatfield (turn at end)
Park at end of Rye Close
Left into Long Meadow Way
Right into Seddlescombe Road (turn at end)
Right into Long Meadow Way
Left into Thistledown (turn at end)
Left into Long Meadow Way (stop door knocking at top)
Round right hand corner,
Left into Plovers Way
Right into Rowan Way
Left into Conrad Road
Left into Chichester Drive (turn on conc. hard standing on left towards the top)
Left into Conrad Road
Left into Burnt Hill Way
Finish at top
THURSDAY 7TH DECEMBER 2017
MEET IN LAYBY OPPOSITE SPAR SHOP IN HALL ROAD - 5.05 P.M
Down Hall Road
Right into Broad Road
Right into Clarkson Road
Right into Rock Road
Left into Hall Road
Left into Moyes Road
Right into Clarkson Road
Through into Gilpin Road
Left into Hall Road
Left into Chestnut Avenue
Left into Grange Road
Left into Sands Lane
Left into Longfield Way
Through into Herons Close
Right into Edendale
Right into Sands Lane
Left into Cheviots Road
Left into Grampion Way to End & Retrace
Left into Sands Lane
Left into Cambrian Crescent to End & Retrace
Left into Sands Lane
Left into Mendip Road
Reverse into Brendon Close & Retrace
Right into Sands Lane Return to Start via Chestnut
SUNDAY 10th DECEMBER 2017
MEET MITCHELLS GARAGE – 3.35pm
Suggest one car full of collectors is taken and parked near junction of London Rd Sth and Lorne Park Road
Start at top of Southwell Road
Right into Beaconsfield Road
Right into Lovewell Road
Left into Anchor Street
Left into Lorne Road
Right into Beaconsfield Road
Left into John Street
Right into Bruce Street onto Salisbury Road
Straight across to Lawson Road
Left into Lorne Park Road
Fill towing car and spare car
and take collectors to entrance
Waveney Crescent
Left into Waveney Crescent
Left into Waveney Drive
Left into Kimberley Road
Right into Durban Road onto Notley Road
Left into Kirkley Run
Right into Edgerton Road
Right into Maple Road
Right into Hawthorn Avenue
Left into Ashfield Crescent
Right into Hawthorn Avenue
Left into Pinewood Avenue which becomes Egerton Road
Right into Beechwood Gardens
Right into Britten Road
Left into Pinewood Avenue
Left into Homefield Avenue
Left into Southfield Gardens
Right into Eastwood Avenue
Left then right into Briarwood Road
Right into Westwood Avenue
Right into Greenfield Road
Left into Homefield Avenue
Left into Oakwood Road
Right into Westwood Avenue
Left into Broadwaters Road
FINISH AT BOTTOM
TUESDAY 12th DECEMBER 2017
MEET AT ONE STOP SHOP CAR PARK ( HOLLINGSWORTH ROAD) 5.05 P.M
Leave Pub, turn left into Hollingsworth Road
Right into Europa Road
Right into Harris Avenue
Right into Minos Road
Left into Mylodon Road
Left into Hollingsworth Road
Right into Montgomery Avenue
Right into Normandy Road
Left into Spashett Road
Right into Westhall Road
Right into Wisset Way
Left into Rumburgh Road
Right into Spexhall Way, Turn at bottom and retrace
Right into Rumburgh Road
Left into Weston Road
Right into Blyford Road
At Reyden Mews Turn round and retrace
Right into Weston Road
Left into Westhall Road
Right into Spashett Road
Left into El Alamein Road
Left into Tedder Road
Right into Mountbatten Road
STOP COLLECTING AT TOP
Fill tow car with collectors and go
Left into Montgomery Avenue
Right into Hollingsworth Road
Left into Ashley Downs
START AGAIN
Right into Somerton Avenue
Right into Mount Pleasant
FINISH AT TOP

THURSDAY 14th DECEMBER 2017 BLOODMOOR ESTATE
MEET AT TURNBERRY WAY/ALDWYCK WAY, OFF LONG ROAD - 5.05 P.M
Collect on Turnberry Wy
Wentworth Wy
Aldwyck Wy
Aspinall Cl
Velda Cl
Collectors and sleigh go to Bloodmoor Rdbt
Left into Ribblesdale off Bloodmoor rdbt
Left into Deepdale
PLEASE take your time stopping at
all junctions with cul-de-sacs to allow
collectors to knock on doors down
each cul-de-sac
Right into Colsterdale
Left into Swallowfields
Left into Long Beach Drive
Right into Deepdale
Right into Ranville
Left into Wharfedale
Right into Ribblesdale
Left into Fortress Rd
Turn at Portsch Cl
FINISH
SUNDAY 17th DECEMBER 2017
MEET AT LOWESTOFT STORAGE CAR PARK - DENMARK ROAD - 3.35 P.M
Trafalgar Street
Left into Harvey Street
Right into Steven's Street
Right into Norwich Road
Right into Clemence Street
Left into Harvey Street
Left into Selby Street
Right into Maidstone Road
Left into Trafalgar Street
Left into Norwich Road
Right into Avondale Road
Right into Sandringham Road
Left into Beckham Road
Left into Stanford Street
Right into Ethel Road
Contact Caterers to get to
Love Rd
Right into Haward Street
Left into Norwich Road
Continue onto Stanley Street
Left into Wollaston Road
Left into Love Road
Right into Yeovil Road
Right into St. Peters Street
Left into Winnipeg Road
Right into Church Road
Left into Ipswich Road
Right into St Margarets Road
Left into Sussex Road
Right into Yarmouth Road
Right into Royal Avenue
Right into St Margarets Road
Left into Queens Road to bottom
Right then right into Cambridge Road
Left then left into Oxford Road
Right into Church Road
Left into Burton Street
Right into St Peters Street
Left into Beresford Road
Left into Love Road
Right into Raglan Street
FINISH
MONDAY 18th DECEMBER 2017
MEET AT CAR PARK ON PAKEFIELD ROAD SOUTH OF CEFAS LAB – 5.05pm
(Suggest one car is taken and left at sea end of Grand Avenue to bring collectors back to start)
Right into Pakefield Rd
Left into Morton Rd
Left into All Saints Rd
Left into St George's Rd
Stop near turn
Left into Rochester Rd.
Right into Kendal Rd.
Right into Wilson Rd
Right into Pakefield St
At bottom of Pakefield St go
past Tramways,
Left into Florence Rd,
Left into Saxon Rd
Left into Sunningdale
Turn at end of Cunningham Ave
Allow collectors time to do Cunningham
and Gunningdale
Back down Saxon Rd
Left into Florence Rd
Park at end to do Oddfellows Pub and Street.
Alternatively reverse to front of Oddfellows
Onto Nightingale Rd
Right into Grand Avenue
Left into London Road
Left into Grayson Drive
Right into Cliftonville Road
Left into Nightingale Road
FINISH AT JUNCTION WITH GRAND AVENUE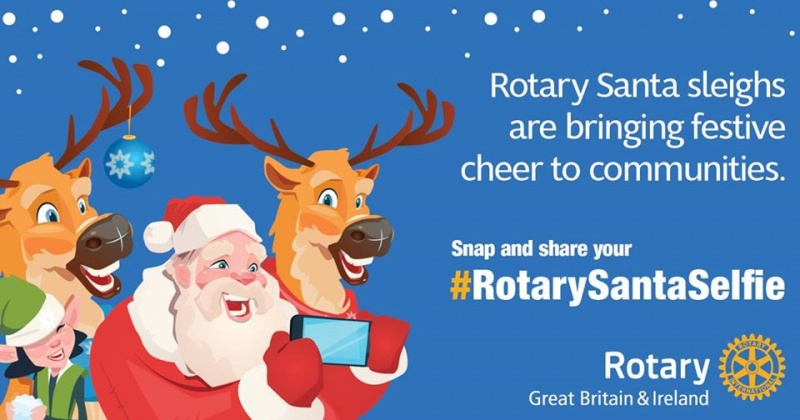 http://mydonate.bt.com/events/santasleighlowestoft/450904 To Donate to this Fundraising event
EasyFunding- Raising money the easy way

- Try this for Christmas!
It is just so easy and we need more supporters . So far we have raised £1,220.74 . Just with a little reminder you too can make a difference when you are buying something online. Please don't forget EasyFunding . Its FREE and so easy to do. You don't pay anymore and you will be helping someone.
Top Supporters

1

Claire Guppy

£572.97

2

Richard Fox

£182.68

3

Lee Martin

£96.80

4

Sarah James

£80.77

5

Steve James

£68.71




Rotary International Presidential Citation 2017/18
President Paul Tabiner would like us to embrace this year's Rotary Theme of "Making a Difference". With this in mind and because we will be celebrating our 20th Anniversary at the end of this coming year, I would like us to commit to going for a Rotary International Presidential Citation.

These Citations have been around for a few years and I think it would be a fitting part of our 20th celebrations if we were to be awarded such recognition. To achieve a citation we will have to achieve a range of goals which cover strengthening the Club, humanitarian service and public image and awareness. So far the Club is performing well in achieving the goals.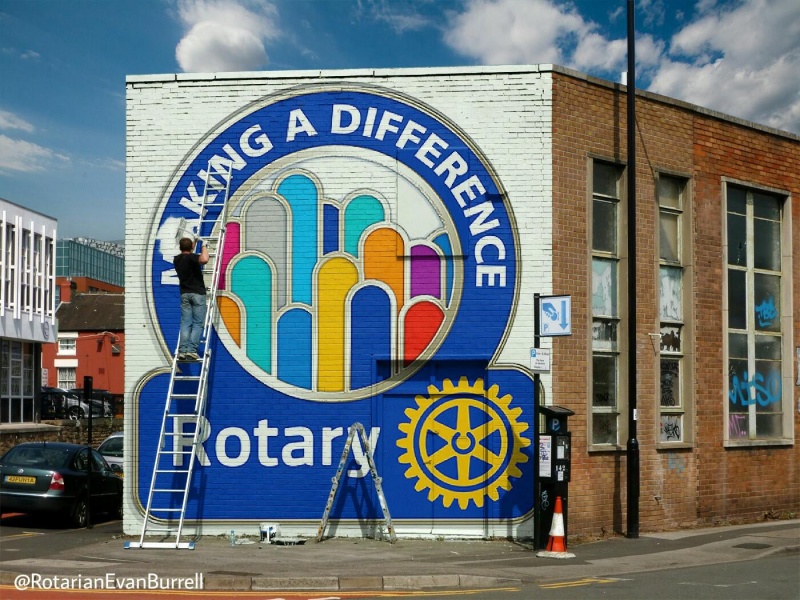 Well Done Rotarian Annette Stringer
Rotarian Annette Stringer from the Rotary Club of Lowestoft submitted two photos for a local photographic competition. As a result two of Annette's photographs were chosen for the Lowestoft calendar. If you would like a copy of the Lowestoft calendar they are £5 each. To date, Annette has sold 52 calendars, which is great. There is still more calendars for sale .
The money raised to date £110 will be donated to the Rotary Charitable trust and a charity will benefit from Annette's achievements. Well Done Rotarian Annette Stringer

Crucial Crew Three Lowestoft Club event
This year runs from the 14th November through to 24th November (excluding weekends) starting at 09:30 through to 15:00hrs. The sessions are held at Lowestoft Community Church 8 Hadenham Road South Lowestoft Industrial Estate
Lowestoft NR337NF. Rotarian Phil Meaden leading from our Club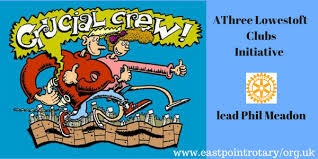 Join the 100 Club Club Lead Ian Davies


You are invited to join the Rotary Club of Lowestoft East Point 100 Club.
This is the longest running fund fundraiser within the Club. Monies raised will be added to our Charity Trust Fund for allocation by our Club.
You can join in units of £10, and entry is open to all Rotarians, families and friends over the age of 16. (This is to confirm with our registration under the Gambling Act). Each unit of £10 is ten numbers in the draw.
When you have decided to join Decide on how many units of £10 you wish to take up.
If you want to, complete the 100 Club Standing Order request form and forward to your bank. Ensure Club contact is informed. Rotary contact is: ianrdavies@talktalk.net
Or you can pay in cash or by cheque (Lowestoft East Point Rotary Club 100 Club) to Ian at any Club meeting.
Entry is £10 or multiples of £10. Top draw prize is £50! Club lead on this project is Rotarian Ian Davies
The Rotary Club of Lowestoft East Point 100 - Club fund has now reached £350 which means that £175 will be available for the draw presentation at the Club Christmas Dinner on the 19th December 2017 and £175 available to our Charity Trust Fund.
You still have the opportunity to join in as I will not close the draw until the week before the dinner.
If you don't know what this is all about, come and talk to Rotarian Ian Davies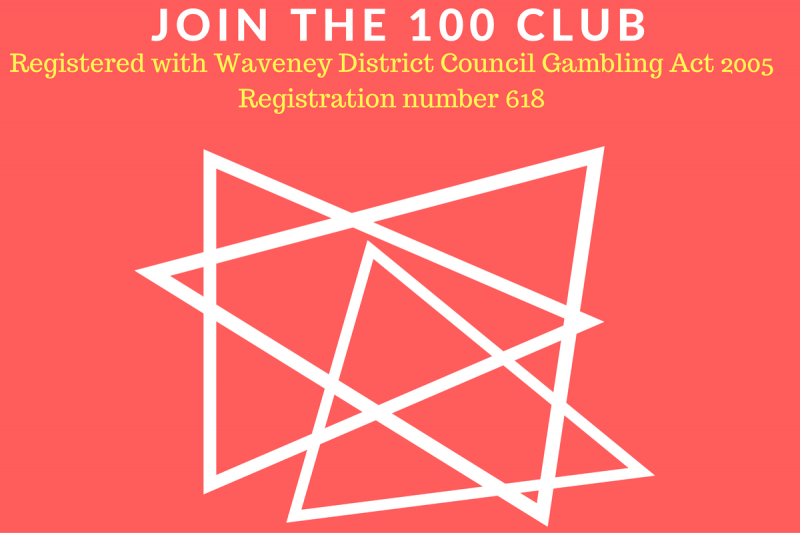 Christmas Carol Service 5th December 2017 7pm
Carol Concert – Alan Zipfel leading. Tickets £6 includes refreshments. Donation for wine of £3. Everyone welcome to join the festive occasion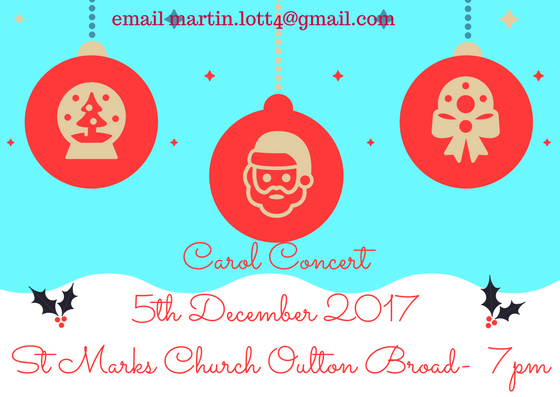 Christmas Party 19 th December –
Rotarians and friends of Rotary Welcome to join members of Rotary Club of Lowestoft East Point. We would encourage visiting Rotarians and their partners to join us. - Contact
Tony Kemp
or
Lee Pullum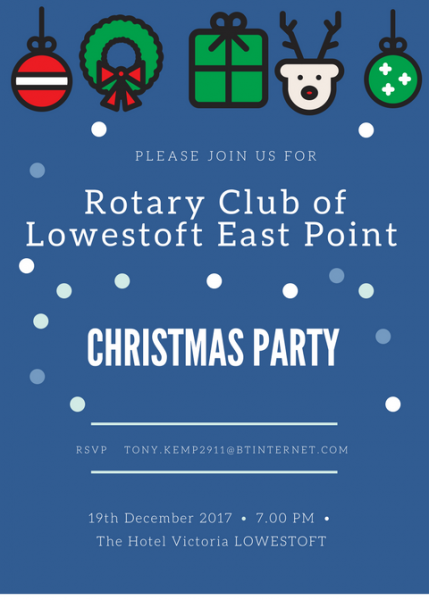 District 1080 Conference October 2017
District Governor, Rotarian Robert Lovick, welcoming all the delegates to the District 1080 Conference.
The Showcase included Lowestoft East Point's stands giving information about Dictionaries for Life (D4L) which is supported by the three Rotary Clubs in Lowestoft, and the Jamie Oliver's Cookery Course for Young Carers run by Rotarian Nanna Lay and Rotarian Bev Sampson. Lowestoft East Point Showcase some of the Club's projects.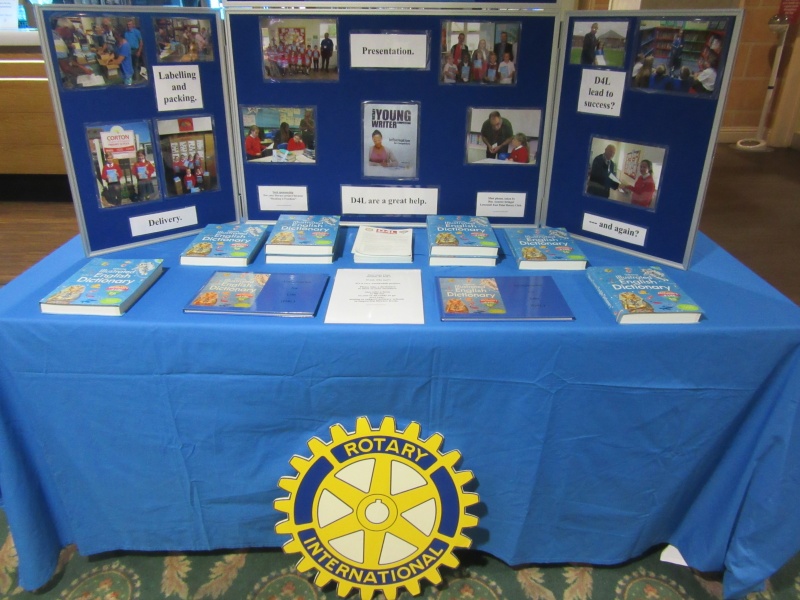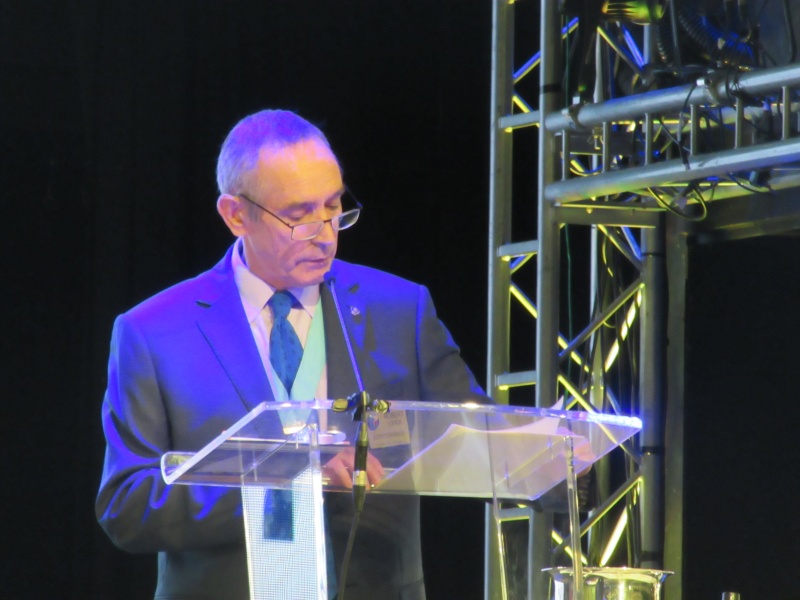 Photo District
Governor, Rotarian Robert Lovick. R
otarian Nanna Lay addressed the District 1080 Rotary Conference this weekend to talk about the Jamie Oliver Course run in conjunction with the Suffolk Young carers. Rotarian Beverley Sampson - ably assisted by the Latter's grandsons! – This demonstrates an example of the type of cooking they taught young carers last year on a Jamie Oliver Course. The Lowestoft East Point Club members engage in assisting Nanna and Bev with this amazing project.
Norfolk Paralympic tennis ace, Alfie Hewett from Norwich was presented with a specially adapted sports wheelchair through Rotary's "Wheelie Good Idea" project in 2012. This launched him on his spectacular tennis career in Singles and Doubles, made him an International Tennis Star and Britain's No.1 in the sport.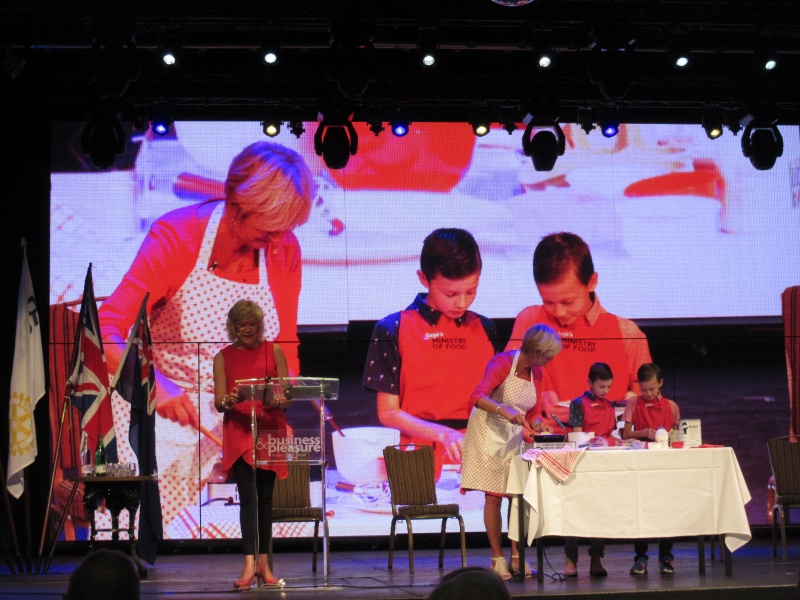 Rotarian Les Davies - Ron Sampson Annual Charity Cycle Ride

On Sunday 24th September Les Davies was persuaded to get back on his bike and take part in the Rotary Club of Lowestoft East Point's Annual Charity Cycle Ride...so far Les has raosed over £1105


Now the bike hasn't been out of the garage since last year but Les managed the 20 miles even after attending a 60th birthday party the night before.


If you feel that you can support Les Davies with some sponsorship, he has set up a My Donate page at the following address - . You may need to copy and paste the link into your browser to access the right page.

https://mydonate.bt.com/fundraisers/lesdavies5


As in previous years Barclays will match £ for £ what Les manages to raise and all monies will go into the Rotary Club's Charitable Trust Fund for distribution to local, national and international good causes. So far Les Davies has raised over

£1,075.00

and he would like to improve on that figure with a little help from others.


You will probably get many requests of this nature so please do not feel obliged to sponsor Les, but any contributions will be gratefully received and doubled up!
The Annual Ron Sampson Charity Cycle Ride 2017



Sincere thanks to Steve James and Jon Doran for organising everything. Thanks to all those members and partners who marshalled, registered, catered or helped in any way at all. They are Lee Pullum, Nanna Lay ,Hazel Johnson , Annette Stringer, Claire Guppy ,John Tremaine ,Ian Davies ,Phil Meaden , Richard Fox, Paul Tabiner ,Martin Lott , Tony Kemp ,Richard Hodgson , Clive Robinson and Yvonne Robinson, Andy Deal . Bev Sampson, Les Davies , Tonia Baker, Sarah James and Andrea Pullum cycled the route. Huge thanks also to the cyclists who seemed to really enjoy their outing in the country
Great British Beach Clean 18th September 2017
The Club will be supporting the Marine Conservation Society. Lowestoft East Point Club members joined with the Marine Conservation Society (Charity #1004005) to assist with their Beachwatch event on the Lowestoft South beach this morning. Eight members volunteered for the project and spent the best part of two hours assisting with this national survey. We didn't find anything more exciting than a half house brick and a small plastic giraffe.
The beach is in fact very clean. Photos by Annette Stringer
Thanks to Tony Kemp, Paul Tabiner, Paul Wilkinson, Annette Stringer, Claire Guppy, Sally Green, and Andy Deal, and Ian Davies

The Young Carers Stage 2 cooking got underway at Ormiston Denes Academy
We were amazed at the chili and chive scrambled eggs produced by one of the Young Carers.Nanna Lay , Bev Sampson, Hazel Johnson, Paul Wilkinson, and Sheila Davies .Lesson one "Eggs" at Ormiston Denes. We were amazed at the chili and chive scrambled eggs produced by one of the Young Carers. Lead on this project is Ian Davies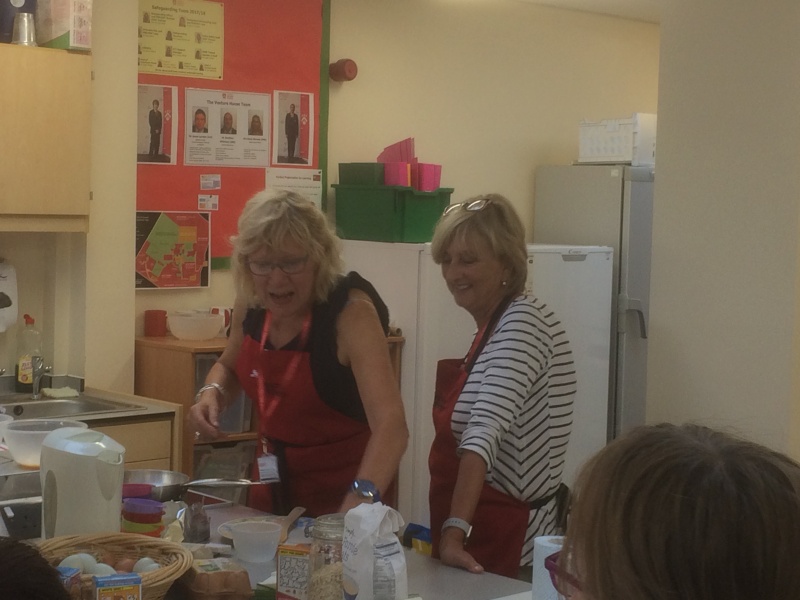 Dictionaries For Life Project D4L- Three Lowestoft Club Initiative
- A few photos from the project so far . Waveney MP, Peter Aldous, Rtn. Andy Deal from Lowestoft East Point Rotary Club and Rtn. John Beavor, a member of the Lowestoft Club, presented dictionaries to 60 Yr. 3 children at Carlton Colville Primary School. It's Rotary's aim to support schools in improving literacy levels and these excellent books were very well received by the pupils who couldn't wait to start reading them! Photos by Annette Stringer

RYLA Presentation September 2017
Rotary Club of Lowestoft East Point welcomed a number of guests to the weekly meeting. Three young people, Kimberley Lester-Clements, James Gerrish and Callum Newson, had taken part in a week's RYLA (Rotary Youth Leadership Award) course at Graffam Water Centre earlier this month.Kimberley and James had been sponsored by the Club and were presented with their certificates by President, Rtn. Paul Tabiner. Callum's week had been funded by Tim Passmore, Suffolk Police and Crime Commissioner, who presented him with his certificate.
All the students said that they had greatly enjoyed and benefitted from their experiences and would be encouraging their friends to take part next year.
Rtn. Ian Davies had primarily been responsible for organising RYLA for the Club this year whilst Rtn. Robin Wraight("Mr. RYLA"!)is responsible for the whole project in District 1080.
The group photograph shows from left to right – Ian Davies , Paul Tabiner , Callum, Tim, Kimberley, James and Robin Wright . Photos by Annette Stringer

Tuesday 22nd August 2017 Meeting at the Hotel Vivtoria Lowestoft
Dr. Karen Hester JP visited the Rotary Club Lowestoft East Point and talked about her life and work. It was entitled "From Mop to Top" . Karen's talk was interesting, amusing and truly inspirational.
Following a career in the Army, Karen joined Adnams as a part-time cleaner. Gradually she rose through the ranks of Adnams to become Operations Director in 2007 and in 2015 became a member of Adnams board. Karen is a magistrate, was made East of England Business Woman of the Year in 2008 and has a number of other awards to her name. She's in the process of writing her autobiography. Her talk prompted a number of questions from the assembled audience of about 50 Rotarians from East Point and other local Clubs, their partners and guests who were fascinated by what she had to say. The President, Paul Tabiner, presented Karen with a cheque for £100 to go to the Adnams Community Trust which supports various charities and worthy causes in the Southwold area. Photos by Annette Stringer

Handover June 30th June - Welcome President Paul Tabiner
The Rotary Club of Lowestoft East Point enjoyed their annual handover meetingon Friday 30 th June at The Hotel Victoria.Incoming President, Paul Tabiner, had arranged an evening with a Lancashire
them
e
in homage to his county of birth.
Traditional Lancashire fayre was on the menu along with entertainment
reflecting the wit of the North West.
Pictured is outgoing President Paul Wilkinson ( left) presenting the Chain of
Office to Paul Tabiner.
The members of the Rotary Club of Lowestoft East Point were also joined by
representatives of the Rotary Clubs of Beccles, Lowestoft, Rotary E Club and
Gorleston including the District Governor Elect, Robert Lovick .
It was an evening to remember for Robert's wife, Roberta Lovick who was
presented with a Paul Harris Fellowship.
This prestigious award, established in 1957 is presented to Rotarians and others
in recognition of outstanding service to their community.
Roberta
Lovick
and her team were instrumental in raising £1.5m to build the Louise
Hamilton Centre for Palliative Care located in the grounds of the James Paget
Hospital, which opened in 2013.
The Centre is named after Roberta's daughter who died of cancer in 1998 aged
just 28 years old, two years after being diagnosed with breast cancer.
Roberta continues to campaign for better support for family and friends in end of
life care and is richly deserving of this accolade.
Roberta Lovick is pictured receiving the award from outgoing President Paul Wilkinson.
The evening concluded with dancing to the sound of Leon
.
Past President Paul Wilkinson has had an outstanding year and is with doubt a hard 'act' to folow.
.
District Award 2017 -Citation
At the District 1080 Council Meeting held on 30 th March 2016 it was agreed to award a prize of £1000 to the club that achieves the most goals set out in John Germ's Presidential Citation. To be eligible for entry, the goals must be recorded in Rotary Club Central and shown as complete by 30 th May 2017. The goals must include achievements in the following categories, and the total number of goals must be 7 or greater. Membership Attraction and Engagement: 1 goal Foundation Giving: 1 goal Online Tool Adoption: 1 goal Humanitarian Service: 1 goal New Generations: No minimum requirement Public Image: 1 goal Entries must be sent to the District Governor 2016-17 by 1 June 2017. In the event of a tie, the money will be split.

Incoming President Paul Tabiner's message to Club Members for 2017/18
Paul Tabiner wants the members to embrace this year's Rotary Theme of "Making a Difference". With this in mind and because the Club will be celebrating our 20th Anniversary at the end of this coming year, Paul Tabiner would like Members to commit to going for a Rotary International Presidential Citation
Link : Citation.
javascript:void(1495188341256);
These Citations have been around for a few years and Paul thinks it would be a fitting part of our 20th celebrations if The Club were to be awarded such recognition. To achieve a citation the Club will have to achieve a range of goals which cover strengthening the Club, humanitarian service and public image and awareness.
Paul reminds us that goals are always daunting then from the long list the Club will have to choose from, these are the ones Paul Tabiner is thinking of setting the Club Members:
Paying our July 2017 and January 2018 Club invoices on time.

Reporting all our volunteer hours and service project contributions in Rotary Club Central ( a new worldwide database to record our service, achievements and funds raised).

Further develop our Club Development Plan.

Achieve a net gain in membership.

Achieve a net gain in female members.

Engage members in activities outside regular Club Meetings.

Sponsor or have Club members participate in a polio related fund raising or awareness event.

Partner with The Rotary Foundation by sponsoring at least one project funded by a global or district grant.

Carry out at least one project focused on the environment.

Collaborate with other Rotary Clubs to increase a project's scope and visibility.

Use Rotary's brand guidelines, templates and other resources in all your communications to strengthen Rotary's image.

Regularly update our Club's website and social media accounts.

Have local media cover a Club project, event or fund raiser.

Promote peace and develop future leaders by sponsoring at least one participant in a RYLA event.
These have been discussed by Shadow Council, because they will involve all our Committees, and we are committed to taking on the challenge of achieving a Presidential Citation. It will be a challenge but one we think our Club is more than capable of.
So Paul Tabiner hopes that the Members are all looking forward to another great year for our Club and I invite every member to join me and the Shadow Council in making it a memorable year at the end of which we not only celebrate our 20th Anniversary, but we celebrate the Award of a Presidential Citation and, most importantly …........... THAT WE MADE A DIFFERENCE.
RI states 'Clubs that are strong and making a positive difference in our communities achieve goals related to Rotary's three strategic priorities: to support and strengthen clubs, focus and increase humanitarian service, and enhance Rotary's public image and awareness.'
District 1080 - Incoming District Govenor 2017/18 Robert Lovick is keen to Enhance Rotary's Public Image and Awareness ... Utilise Rotary Club Central. • Encourage Activities. It will be the intentions of the Club to follow this lead from Robert Lovick. The message is that we can make a difference and the key theme is Homelessness and Loneliness www.rotary1080.co.uk
We have a Linkedin Group page , Google + , Twitter Page for each Facebook Page, Facebook Lowestoft Santa Sleigh, Facebook Lowestoft Cycle Ride, Facebook Young Careers , Facebook Group Young Carers Pages and Pinterest - Lowestoft East Point Rotary . Our Club is a member of the The Suffolk Chamber of Commerce and our news is always reported to the businesses of Suffolk including Events. Our BT My Donate Charity Page and the EasyFunding WebPage are just a snap of the webmasters role for the club . The members of Lowestoft East Point want to tell our Rotary Story and encourage the public to engage with our news.


Message from the Rotary International President Elect 2017/18 - Making a Difference
In 2017-18, we'll answer the question "What is Rotary?" with RI President-elect Ian H.S. Riseley's theme, Rotary: Making a Difference. "Whether we're building a new playground or a new school, improving medical care or sanitation, training conflict mediators or midwives, we know that the work we do will change people's lives — in ways large and small — for the better."
Rotary International has been working with its partner
ShelterBox
to provide relief to flood victims in Peru, just to name one disaster area that has been supported by Rotary International
Young Carers Project
- Dates and Venue for Ormiston Denes School Lowestoft - Lead Ian Davies
Dates : 28/9; 5/10; 12/10; 19/10; 2/11; 9/11; 16/11; 23/11 (all 2017)
Scheme was initiated by the Rotary Club of Colchester Forum . Our Club thought it was a terrific project so now The Rotary Club of
Lowestoft East Point is on board .

Volunteers (Club Members) will be required to assist Nanna Lay and Bev Sampson deliver the Course to Young Carers. Nanna and Bev undertook a week course to learn about Jamie's Method and beliefs paid for by Rotary. Its is the intention that Nanna and Bev can train further Rotarians to help deliver the course over time.
Club Bottle Draw Lead Annette Stringer
Members donate a bottle to celebrate their birthdays and a raffle ticket is purchsed by fellow members or guests. All funds raised go to the Club Charity Trust Fund to be used for Community projects or Charities.

New Members 2017
The Rotary Club of Lowestoft East Point continues to increase its membership with the induction of 2 new members , Steve Fordham & Tonia Baker. Both known to a number of Rotarians. Well Done Steve James for introducing Steve and Tonia to the Rotary Club of Lowestoft East Point . Photos by Annette Stringer





Young Writers Competition 2017 - Lead Annette Stringer
Over 60 entries for the Lowestoft Schools. The chosen entries have now been sent to District thank you to Paul Wilkinson, Annette Stringer and Alan Zipfell
Some people wonder what we do with the money in our charitable trust
£17748 was raised by Club members in 2015/2016 . £3332 Donated to Dictionaries4Life, £1500 To Rotary Foundation, £100 to R.EM.I.T. , £756 Young Carers Project , £200 to Cumbria Flood Disaster Fund , £350 to Romania Childrens Fund, £250 Crucial Crew Project , £241 To Pakefield Childrens Home, £476 to Kids Day Out (Warren School) , £538 to Norfolk SERV, £245 St Johns Ambulance, £168 Flagship Young Peoples Service, £1200 R.Y.L.A and £200 other minor grants


D4L – (Dictionaries for Life ) - Lead Paul Tabiner (Three Lowestoft Clubs Initiative)

The Three Lowestoft Rotary Clubs join together to ensure that this project has outstanding results -Dates for your diary - dictionaries will be delivered to schools on Tuesday 12th September. Presentations on Monday and Tuesday 25th and 26th September. More details nearer the time. Paul Tabiner is the lead for our Club District Annual Conference 2017. The Three Clubs raised £5355 for the Project.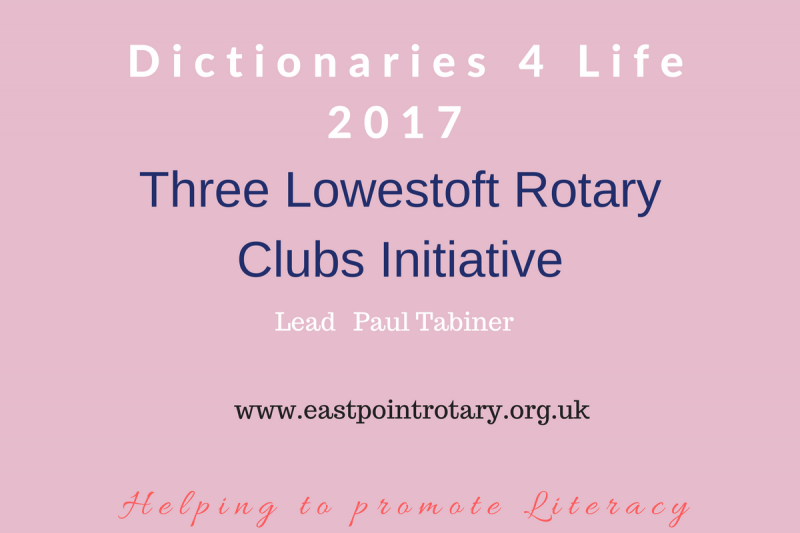 PURPLE 4 POLIO 2017 - End Polio Campaign Lead Rotarian Ian Davies
During the first week of November 2016, 30000 crocus corms were planted on a site within Kensington Gardens, Kirkley Cliff Road, Lowestoft. All 30000 corms are PURPLE.The project was launched by Rotary International in Great Britain and Ireland and is being supported by Rotary Clubs of Lowestoft.Rotary Clubs throughout the world are helping to rid the world of POLIO by supporting the nationwide project Purple4Polio. Rotary are trying to encourage everyone to join together in the final push to eradicate polio worldwide. To make a polio free world a reality, Rotary, who started the campaign to eradicate polio more than 30 years ago and has spearheaded this major health initiative ever since, is determined to raise awareness and funds to finish the job. The Rotary Clubs of Lowestoft have teamed up with Waveney Norse, Lowestoft in Bloom, and other local community groups to transform public spaces and brighten up the local community by planting PURPLE crocus corms across the town. The colour PURPLE has been chosen as it represents the colour of the dye which is placed on the little finger of a child on mass immunisation days when literally millions of children in entire countries are protected against the disease.The campaign ties in with the 100th Anniversary of the Rotary Foundation, Rotary's own and only charity. More information visit www.rotarygbi.org and see the Purple4Polio information Photos by Rotarian Ian Davies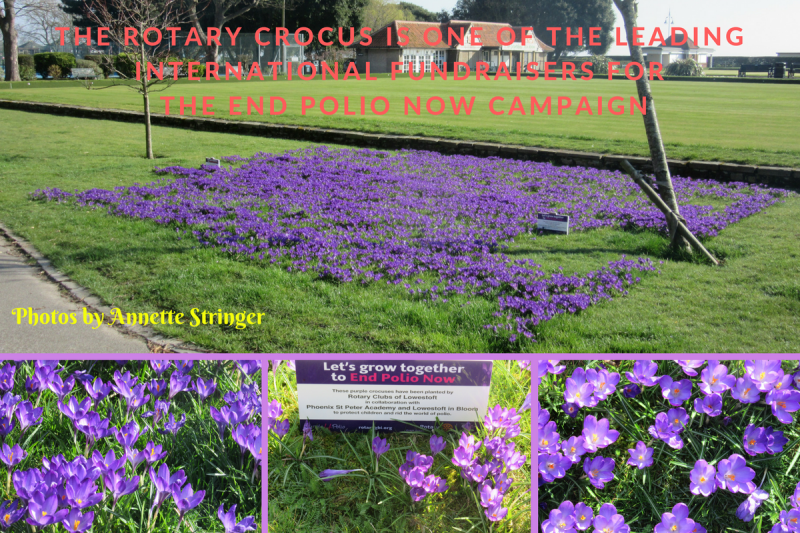 Lend with Care Project - Lead Les Davies
Why Lowestoft East Point Rotary Club lends
In the spirit of Rotary International we aim to help those less fortunate than ourselves and by helping this cause we are giving these people a chance to help themselves improve their circumstances with dignity. So far we have lent 57 loans to the Entrepreneurs since December 2012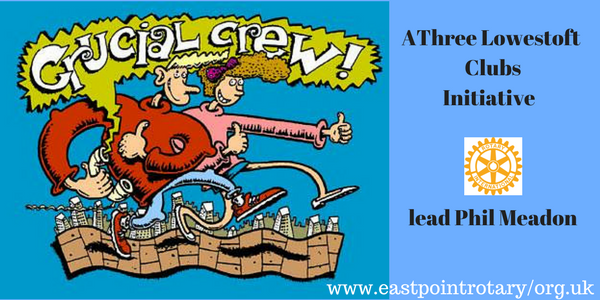 Waveney Sailability- Report from Rotarian Sally Green PHF 2017
Around 100 people attended the Waveney Sailability Party celebrating the end of another very successful year. With the weather on our side, we sailed almost every Tuesday between April and October with nearly 1000 sails. Forty badges were awarded at the party, ranging from Entry to Platinum level which challenge members to learn new skills and become independent sailors. Racing takes place every week and 11 sailors have achieved the Platinum award which involves learning racing and collision rules and this enables them to race against able-bodied sailors during Oulton Week. Trophies were also awarded for a variety of achievements including most improved sailor and, of course, the ; Wooden Spoon; awarded to the mostnotorious sailor! With a new season on the horizon, plans are being made and boats are being prepared keeping the Directors and Committees busy during the winter months. Chance conversations with members make it clear that we are all looking forward to getting back onto the water in April. We always welcome support and visitors - please pay us a visit in 2017. For more information, visit our website http://www.waveneysailability.co.uk . Huge appreciation for Rotarian Chris Addison and Rotarian Sally Green PHF for their stoic work and dedication to Sailability
The Lowestoft Santa Sleigh 2016 (Lead Paul Tabiner and Lee Pullum)
has been incredibly rewarding and raised in excess of £5920 from the generous donations of the Lowestoft residents. With Gift Aid a further £1250 has been added to the fundraising. All the money raised from the fundraising will go to charities in the community. Santa Sleigh and his helpers are all voluntary folk, who try and cover as many streets as possible each night. Traffic and weather determine how many streets Santa visits. We are not able to give definite times for the same reason . The local council licence determines the time we are able to be out on the street. Please share this wonderful news with all the people of Lowestoft , our Rotarian members and Friends. A tremendous effort from everyone and should send us all into the Festive period in good cheer. I wish all the public, members, partners and friends a great Christmas and New Year. Looking forward to seeing you all again in 2017. The Lowestoft Santa Sleigh has raised in excess of £6500 in 2016, thanks to the generosity of the pubic , which will be boosted by Gift Aid. All the Money raised will be donated to Charities in the Community. President Paul Wilkinson The Rotary Club of Lowestoft East Point Thank you Lowestoft College for your generous Donation towards the Lowestoft Santa Sleigh

MAF(WWW.MAF-UK.ORG) (Lead Annette Springer)
Rotarian Annette Stringer is collecting Post Cards for an extremely worthy cause.

MAF is an aviation charity operating more than 130 light aircraft in around 25 developing countries bringing doctors, medicines, food, aid workers, teachers and school supplies to the most remote communities. Please email Annette Stringer for more details. eastpointrotary@gmail.com. Annette also collects Ink toners, Old mobile phones, stamps for

For more details please contact:
The District Governor Elect – Robert Lovick 01692 670076 or by email rlovick2000@btinternet.com
or
Conference Director – Diane Harber 01692 630746 or by email dianeharber@btinternet.com
International Partnership with Bill and Melinda Gates Foundation



BT MyDonate - Lead Claire Guppy
We use BT MyDonate for Fundraising Activities. The Fees and Set up Fees are one of the lowest https://mydonate.bt.com/charities/therotarycluboflowestofteastpointcharitabletrustfund
We meet at the Hotel Victoria Lowestoft
http://www.thehotelvictoria.co.uk email info@thehotelvictoria.co.uk Telephone +44 (0) 1502 574433.

If you have any articles please forward them to the PR Committee . The website relies on members participating and providing good quality photography. Rotary is all about a team effort. Please feel free to make suggestions and ideas to make the site more interesting .

We are unable to change the software but most of the content can be updated. Rotary Club Of Lowestoft East Point Charity Trust Fund Charity Registration No. 1073198

Photos by Rotarian Annette Stringer, Rotarian Claire Guppy , Rotarian Ian Davies , Rotarian Paul Wilkinson, Rotarian Alan O'Neill, David Collins
Disclaimer Rotary Club of Lowestoft East Point
Links Disclaimer - Rotary Club of Lowestoft East Point Lowestoft On our Club site you will find links to external websites. Although we make every effort to ensure that these links are accurate, up to date and relevant, Rotary Club of Lowestoft East Point cannot take responsibility for pages maintained by external providers.

Through these links, you may also encounter views expressed by individuals on their own webpages/blogs (or on external sites to which they link) which are not necessarily those of the Club itself.
Happening soon...
Meetings and events happening soon
Tuesday 28th November 18.00
Santa Sleigh Briefing - Open Meeting to discuss this major Project
---
Santa Sleigh
Monday 4th December 17.05
Lowestoft Santa Sleigh
---
Santa , Rudolph and Elves take to the streets of Lowestoft - Routes to be disclosed
Tuesday 5th December 19.00
Carol Concert at St Marks Church Oulton Broad
---
Led by Rotarian Alan Zipfel and assisted by Lee Pullum and the fellowship team
Tuesday 19th December 19.00
Christmas Party
---
Christmas Party for Rotarians, Partners, Friends and Colleagues
future events completed calendar district events local events
---
---