Welcome to the Rotary Club of Haworth & Worth Valley
Featured pages: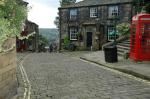 The Black Bull and Haworth Main StreetRead more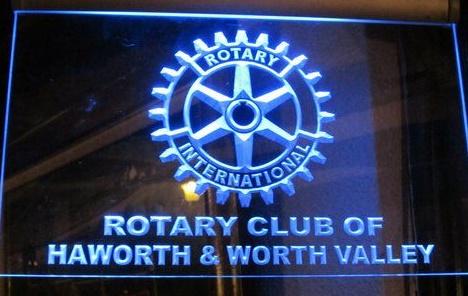 HOT OFF THE PRESS !!! Our latest quarterly newsletter is now available, click here for details
About Us

This was the week that was...

Welcome to the website of the Rotary Club of Haworth & Worth Valley. Our Rotary Club started in 1999 and since that time has become a major contributor to local, national and international communities.

We are situated high in the moors of West Yorkshire. Haworth is famous as the home of the Bronte sisters who lived at the Bronte Parsonage just behind the church at the top of the cobbled main street.

The area is renowned for its outstanding beauty, with the walks across the Penistone Hill and across the moors to Top Withens via the Bronte Bridge and Falls together with scenic rides on the Keighley and Worth Valley Railway there are plenty of things for all the family.

The area is regularly used for film locations, especially period settings such as 1969/70 EMI Production "The Railway Children" centered on Oakworth station and more recently the BBC TV production ' To Walk Invisible' was filmed in and around the Haworth area with many scenes taken in Haworth Main Street and on the moors above Haworth

The Rotary Club actively support the local community through projects such as:

Local schools writing and photographic competitions,

Hosting tea parties for the elderly,

Supporting local charities such as the Salvation Army,

Managing a Community Garden

Taking children on Kids Out days.

We regularly take part in local events, such as the extremely popular Haworth 40's Weekend where we "Pluck the Duck" and "Shear the Sheep", whioch gives a great opportunity to discuss and promote the values of Rotary within our community.

Haworth is a fabulous place to visit and we will always welcome prospective new members and visiting Rotarians.

If you wish to know more about our Rotary Club please contact Club Secretary Peter Wharton by e-mail or call 07771 890966

Dateline 28th February 2017

Paul Barrett from the Airedale & Bradford Local RSPB group gave a talk on how the group's aim is to support actively the work of the RSPB in the local community and to involve RSPB members and the wider public in the Society's conservation, public affairs, education, fundraising and other activities.

He went on to explain that they have monthly indoor meetings locally from September through to April and have occasional walks around local nature reserves.

So, if you would like find out more about their work and help make a difference for birds and wildlife.

Click here to go to their website
Website managed by Les Bown email
For more views of Haworth and the surrounding area follow this link Visiting Haworth
Meeting Details
Interested in joining Rotary
In the next 30 days...
Social Media...
The Rotary Club of Haworth & Worth Valley
Promote your Page too
Meeting Information...
We meet on Tuesdays at 19:00 for 19:30 (Check our programme or with the Secretary especially for venues in August and after Bank Holidays) Newsholme Manor, Slack Lane, Oakworth, Keighley, West Yorkshire BD22 0RQ tel: 01535 642964