THE ROTARY CLUB OF LYMM, serves the picturesque Cheshire village of Lymm, with its ancient market cross, idyllic dam and lake, and colourful canal barges. The club is part of Rotary International, which provides help where needed, internationally and within local
communities.
VOLUNTEERS REQUIRED WITHIN THE LYMM COMMUNITY
Are you interested in helping to improve our local community here in Lymm and having fun at the same time?
Can you spare a little bit of your valuable time occasionally to help with projects and fund raising activities?
Are you aware of the work that Lymm Rotary Club does locally to help those in need?
The Rotary Club needs more help with current projects and for projects being planned for the future. Volunteers who come forward with offers to help will be invited to become "Friends of Rotary", a new category of membership that is being formed for those who are not able to commit to full membership for whatever reason. Help can be offered by volunteers for projects as and when available rather than making any continuous commitments. This is part of our drive to try to adapt Rotary aims and objects to the busy lives that everyone leads today.
If you think that might be able to help please contact President Mike Boothman 01925 754343.
---
Cyril Bell Memorial Trophy

This year the Rotary president John Beard presented the trophy to Mike Shaw who had been nominated by the Lymm Festivities Group.

Over the years he has voluntarily and without charge provided transport and assistance in decorating the village with Christmas trees, banners, flags and bunting. In addition he and his wife Lynn have helped run the Lymm Youth Club, the Dickensian Day and the May Queen.

He received the cut glass Rose Bowl Trophy which he retains for a year, a certificate and £500 for the charity of his choice, The Wirral Limb Centre.
Eradicating Polio
Shelter Box

To find out more about

watch these videos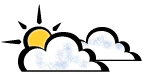 Lymm Weather