Cliff Dochterman - When did Rotary really start?:- http://vimeo.com/25486711
www.facebook.co
m/rotaryclubofnantwich
Latest Bulletin:- /upimages/clubfiles/305//Bulletin July 2014.pdf
http://www.redshiftradio.co.uk/
Join Rotary and make a world of difference to your own community, to the lives of those less fortunate around the world, to your fellow club members - like-minded men and women of all ages - and, just as important, to yourself! The projects Rotarians get involved in are incredibly fulfilling, worthwhile and rewarding - and there's plenty of fun.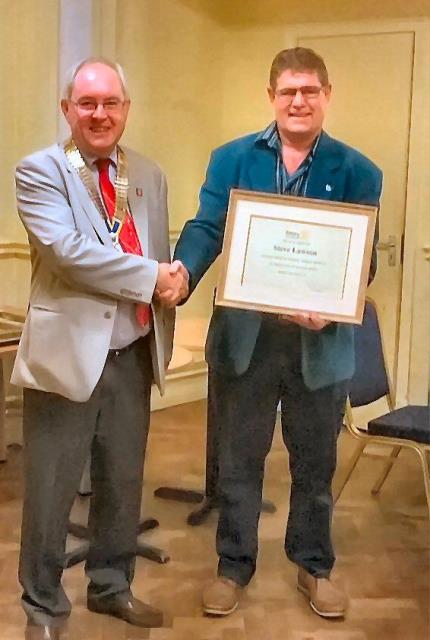 President Tony presenting Steve Lawson of Nantwich Bookshop with an Honorary Membership of the Club, in recognition of his genorosity in providing facilities and gifts for the children at Santa's Grotto for the past five years. Steve and his wife Denise were invited as guests at an evening meeting of the Club, in appreciation of the several thousand pounds raised for Rotary Foundation from running the Grotto at the Bookshop.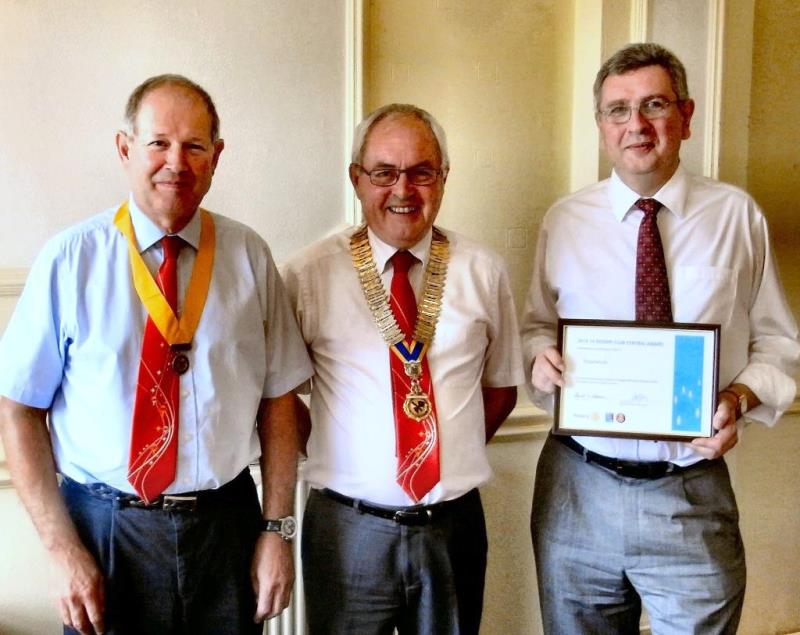 President Elect Rod Stokes,President Tony Coxhill & Immediate Past President Ashley Weaver
---------------------------------------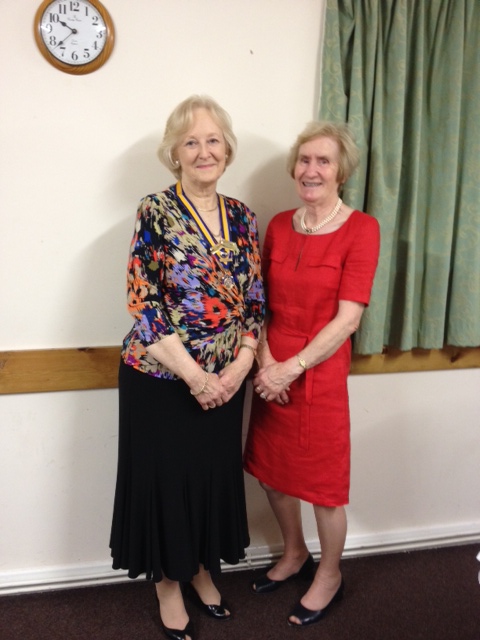 2014 -2015 Inner Wheel President Ann Jones with Past President Barbara Densem
at the Handover Meeting of Nantwich Inner Wheel
-------------------------------------------------------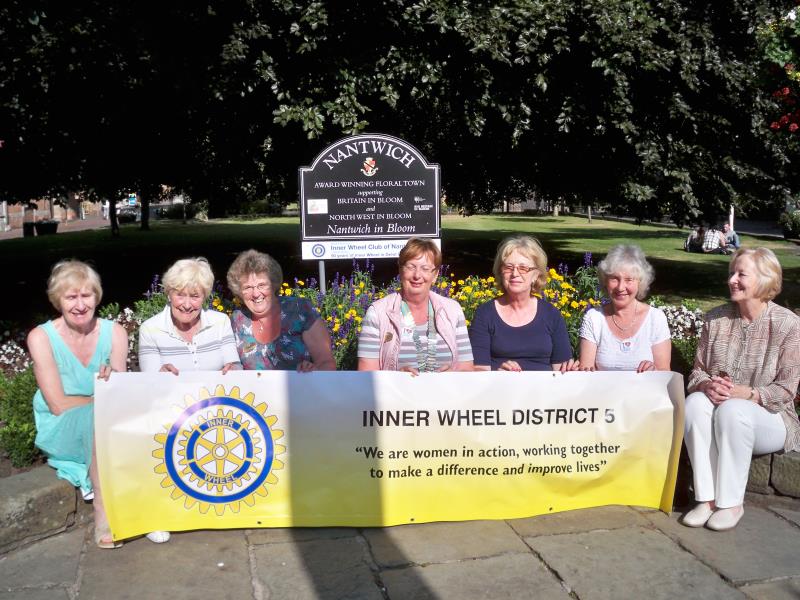 Nantwich Town Floral Display celebrating 90 years of Inner Wheel
---------------------------------------------
A celebration and thanksgiving for eighty years
of Rotary in Nantwich
St Mary's Church Nantwich was held on Sunday 18th May 2014
Choral Evensong at 6.00 pm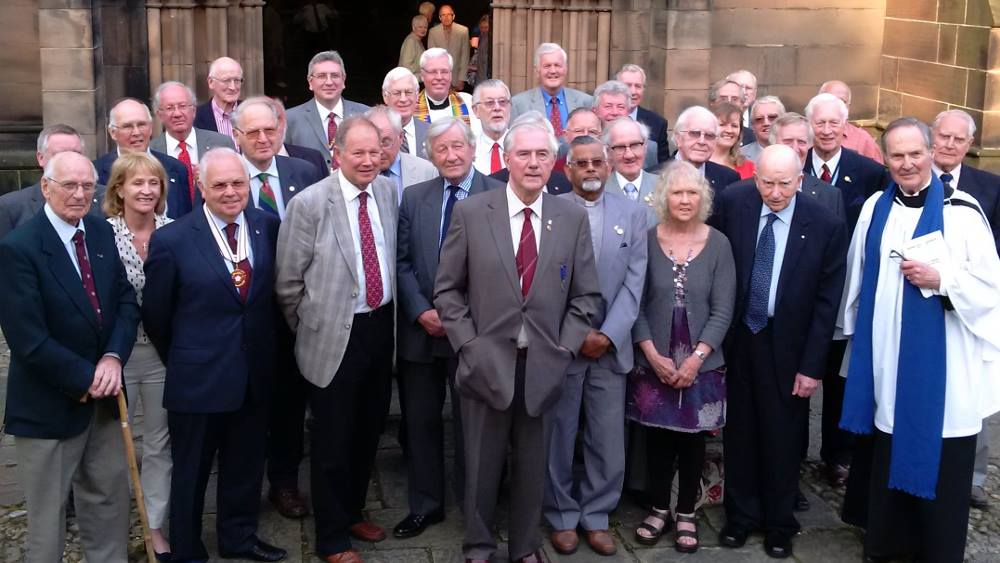 -----------------------------------------------------------------------------------------------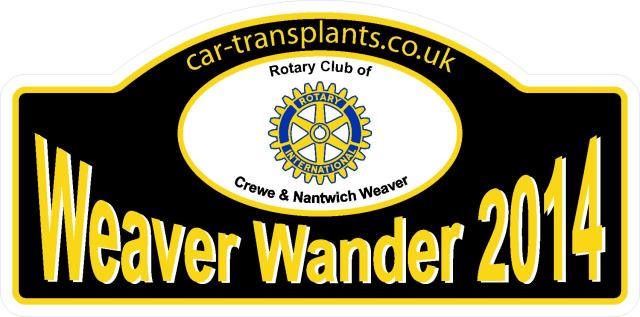 Weaver Wander Saturday 5th July 2014
for more details :-www.weaverwander.com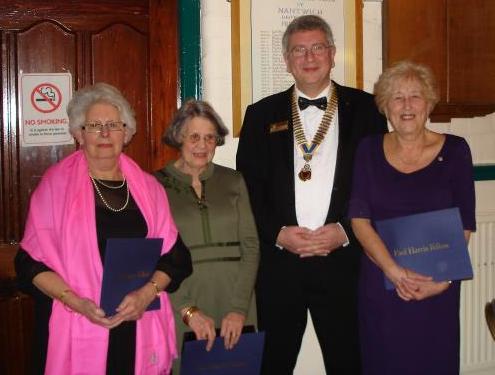 President Ashley presenting Jane Rowsell, Peggy Ward and Vera Burbidge with their Paul Harris Fellowships for exceptional work in the Nantwich community and the Inner Wheel
Nantwich Rotary Club Serving the Community
Santa with the Brine Leas School Choir at Sainsburys bringing Christmas Cheer to it's customers.
Santa was visited by childen in his grotto at the Nantwich Bookshop again this year and a total of £936 was raised for the 'End Polio Now' Campaign.
Thanks are due to Steve Lawson for providing the facilities once again.
The Rotary Float toured the streets of Nantwich and Sainburys Supermarket during December and the collections raised £4387, which will be distributed to local charities.
About Us
The Rotary Club of Nantwich was chartered on 1934 and currently (March 2014) has 41 members plus 2 honorary members.
It is one of three clubs in the old Borough of Crewe and Nantwich. The others are RC Crewe (1932), and RC Crewe and Nantwich Weaver (1985) .
The club is one of 41 in Rotary International District 1050 which covers South Manchester and Cheshire and includes enclaves within Derbyshire and Staffordshire. The 'Nantwich' club is a 'lunch time' Club meeting on a Tuesday and with the 'Weaver Club' covers the southern extremity of the district, bordering North Shropshire.
Visiting Rotarians are most welcome as are ladies and gentlemen wishing to know more about the Rotary organisation or become members.
What We Do
* Meet for lunch every week and enjoy the Fellowship
* Arrange fund raising events .
* Collect about £10,000 each year for charities & good causes
* Encourage International understanding, by twinning & sponsoring exchanges
* Support Local Schools by running annual 'mock interviews'
* Invite speakers to attend our meetings to help spread understanding of their interests & projects
* Organise trips out to theatres, concerts, restaurants, foreign countries
* Recognise vocational service and support of the community
---
---
Contact:-Secretary David Fishburne
email:- david@fishburne.co.uk