Featured pages
Rotary Nantwich - welcome! Please scroll/swipe down through this page to find out more about us, in addition to the pages linked in the menu, top-left.
---
About us
Cliff Dochterman - When did Rotary really start?:- http://vimeo.com/25486711
www.facebook.co
m/rotaryclubofnantwich
Join Rotary and make a world of difference to your own community, to the lives of those less fortunate around the world, to your fellow club members - like-minded men and women of all ages - and, just as important, to yourself! The projects Rotarians get involved in are incredibly fulfilling, worthwhile and rewarding - and there's plenty of fun.
-------------------------------------------
Nantwich representatives at the District Conference in Liverpool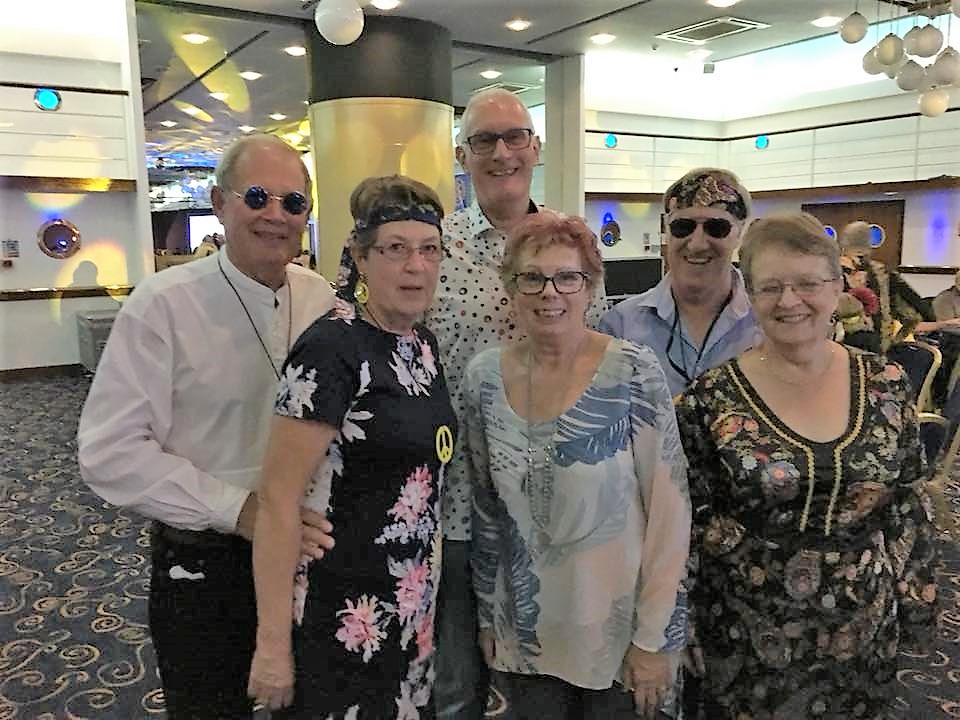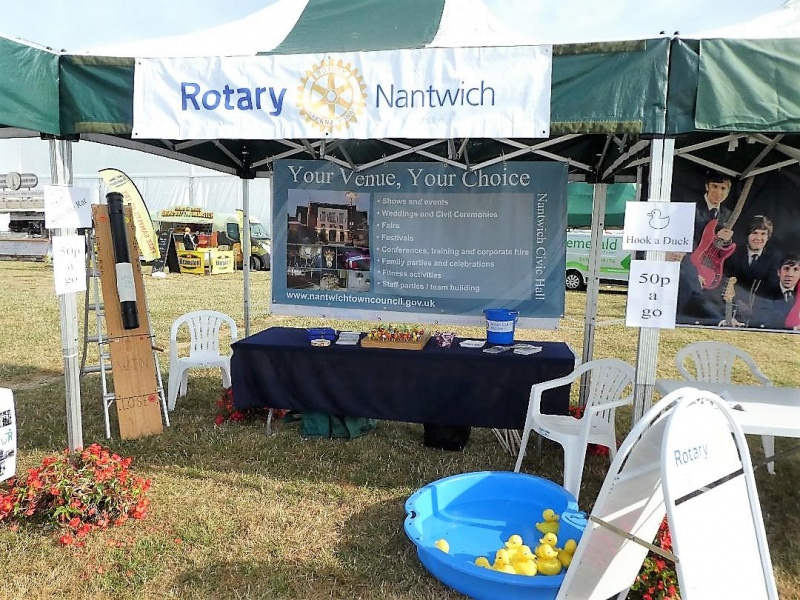 The Rotary Stand at the Nantwich Show
--------------------------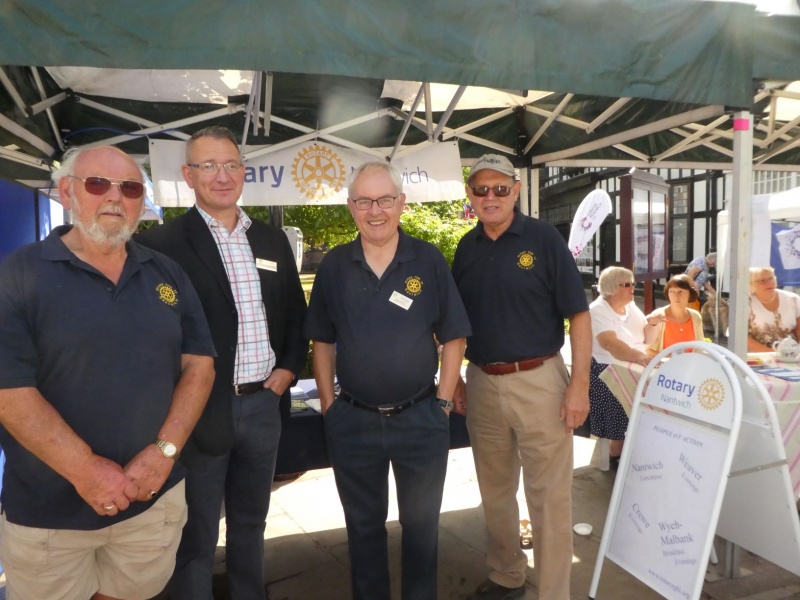 Rotary Stand at Nantwich Society's Day July 2018
----------------------------
Winners from Nantwich Primary Schools Gather for Rotary Art & Handwriting Competition Award-Giving April 2018
Laura Smith MP and Mayor Arthur Moran Presented Prizes to Winners
Nantwich Saturday April 28th 2018: On Saturday April 28th Laura Smith MP and Cheshire East Mayor, Arthur Moran presented prizes at the Nantwich Museum to winners and runners up of the 10th Rotary Club of Nantwich Primary Schools Art and Handwriting Competition. Nine local primary schools submitted almost 800 entries competing for total prize money of £600.
The theme for the competition was "My Favourite Place", which was interpreted in many different and creative ways by the children. The judges were local artist and architect Martin Greenwood and calligraphy expert Frances Passmore who had the tough challenge of choosing the winners.
Teachers, friends and family members of the children waited with eager anticipation to hear what they had won as they knew only that they were winners. The gifted winners were awarded their prizes as follows:
Gold Medal Winners (£50 gift voucher plus a medal each)
· Key Stage 1 Art: Lillie Mogridge, Acton School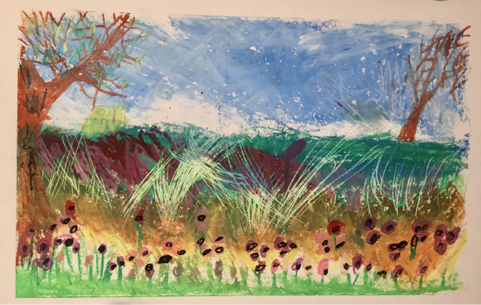 · Key Stage 2 Art: Lola Hilton, Acton School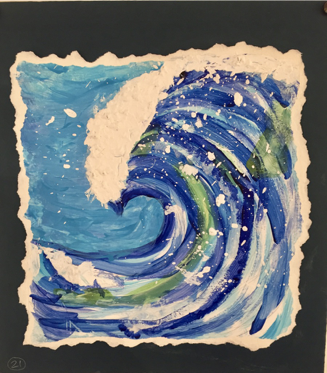 · Key Stage 1 Handwriting: Aimee Lindop, Pear Tree School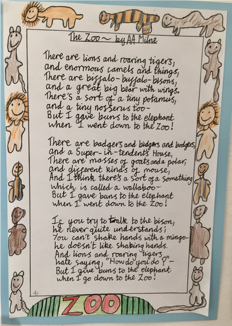 · Key Stage 2 Handwriting: Louise Hayer, Stapeley Broad Lane School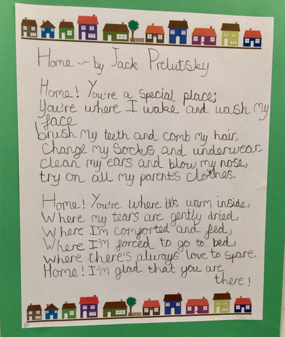 The school judged to have the highest overall standard of entries in both art and handwriting was Stapeley Broad Lane. Kathryn Acklam from the school was thrilled to receive a cheque for £250 which is to be used to further enhance the school's facilities.
In addition, sixteen Silver Medal prizes of £25 in the form of gift vouchers plus a medal were awarded to the children judged to be runners up for artwork and handwriting in each Key Stage group.
Said Rotarian Ashley Weaver: "This year is the tenth anniversary of the competition and I am delighted to see that it continues to shine a light on so much local talent. Many congratulations to all our wonderful winners and our sincere thanks to our generous sponsors - the William Hodgkin Trust and Lyon Griffiths, Chartered Accountants."
The children's work will be on display in the Museum until 2nd June 2018.
Further details and photo's are shown on 'What We Do' Pages
--------------------------------------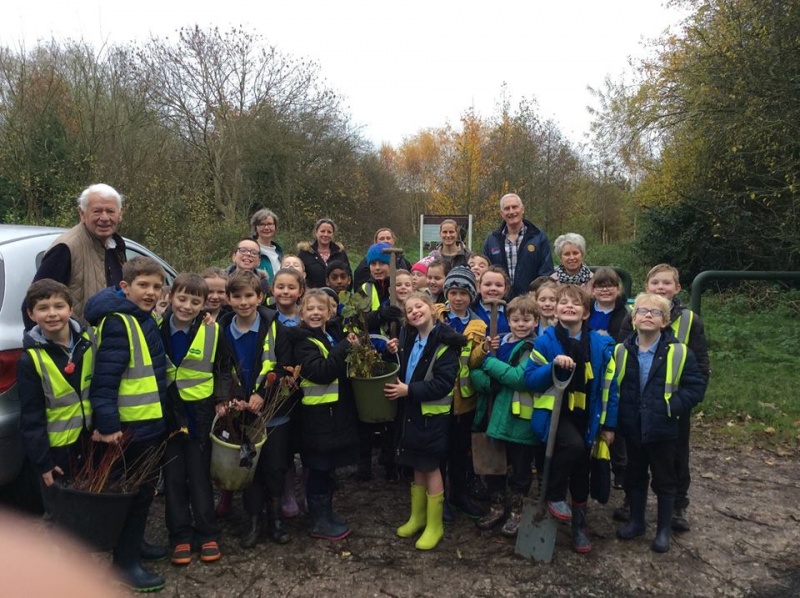 RC Nantwich successfully planted 105 trees in Coed Wen with the help of Doug Butterill and 27 pupils from year 4 at Millfields Primary School, All the children enjoyed themselves, and Doug gave them a short lesson about each of the 6 species of tree they planted. Over the next 6 months it is hoped that, worldwide, every Rotarian will plant a tree in their local environment, meaning a global increase in tree numbers of 1.2 million."
----------------------
Lend with Care
In the past four years The Rotary Club of Nantwich has supported 1,521 entrepreneurs, created 381 jobs and helped 5,200 family members in some of the poorest parts of the world. They have managed this through Lendwithcare, a revolutionary way to help some of the world's poorest people work their way out of poverty with dignity.
"Lendwithcare allows organisations or individuals to lend as little as £15 to fund a small business, and once the money is repaid, investors can choose to recycle their loan to support another poor entrepreneur, or to withdraw the money. The Rotary Club of Nantwich and individual members have invested £2,900. This has been re-invested as entrepreneurs repay their loans and £6,665 has been invested in total over the past four years making 118 loans, 100% of which goes to the entrepreneur. The difference we can make to thousands of desperately poor people for a relatively small investment is amazing!"
" This is an example of an entrepreneur group we've supported is in Zambia:
"Nyangu Sakala runs a very interesting business, grinding maize into flour and sunflower seeds into oil. With the help of her Lendwithcare loans Nyangu has managed to purchase four grinding mills – two for the flour and two for the oil. She keeps one of each in a garage next to her home where people visit either have their maize ground, or to purchase the maize flour or oil already processed. Nyangu now employs six people to help in her business and she and her husband also have a small shop where they sell the oil they press. She charges 15 kwacha (just over £1) to press 50kg of sunflower seeds and 13 kwacha (about £1) for 50kg of maize! Not only have the loans have been very useful in helping her business to grow, but with the profits she has been able to send her children to school and cover all of their household expenses. Nyangu has four children but she looks after a total of 9 people, including two orphans and her younger sister."
The Rotary Club of Nantwich continues to raise funds to support good causes both very close to home, and in very remote corners of the world. New members to our club are always made most welcome.
--------------------------------------------
Nantwich Rotary Club Supports 120 Mile Walk in Aid of PolioPlus
£2,000 raised to be tripled by Bill & Melinda Gates Foundation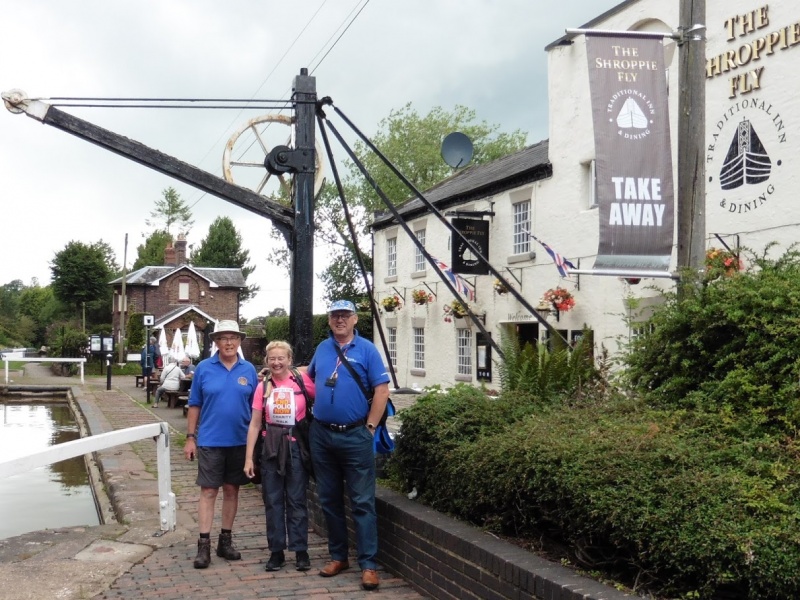 John Meadows with Sylvia Kerris at The Shroppie Fly Audlem
Nantwich, August 22, 2017: The Rotary Club of Nantwich is supporting Sylvia Kerris, President of the Rotary Club of Eccleshall Mercia, on her 120 mile walk around the Four Counties Canal Ring. Sylvia, who is now over half way round her walk is thrilled to be blister-free and enjoying the company of other Rotarians, including John Meadows from the Nantwich Club who have joined her along the way.
Sylvia's goal is to raised £2,000 for Rotary's PolioPlus campaign, which will be tripled by a donation from the Bill & Melinda Gates Foundation.
Polio is a paralysing and potential fatal disease which is spread person to person, typically through contaminated water - and one that still threatens children in some countries. The poliovirus invades the nervous system and can cause total paralysis in a matter of hours. It can strike at any age, but but mainly affects children under five. Although there is no cure, there is a safe and effective vaccine – one which Rotary and partners such as the Bill & Melinda Gates Foundation - use to immunise over 2.5 billion children worldwide.
In 1985, Rotary launched its
PolioPlus
programme, the first initiative to tackle global polio eradication through the mass vaccination of children. Rotary worldwide has contributed more than
$1.7 billion
and countless volunteer hours to immunise more than
2.5 billion children in 122 countries
. In addition, Rotary's advocacy efforts have played a role in decisions by donor governments to contribute more than $7.2 billion to the effort.
-------------------------------------
Rotary Club of Nantwich Gives Primary School Zoo Trip Treat
Nantwich Primary Academy Year 1 pupils on first ever school visit to Chester Zoo
In return for the Rotary Club of Nantwich's sponsorship of their 'Living with Tigers' programme, Chester Zoo donated entry tickets for a local school of the Club's choice. An additional donation from the Club to the school, paid for travel costs so that 25 Year One pupils, teachers and carers from Nantwich Primary Academy could enjoy a wonderful day at the Zoo at no cost to the families or school. The sunshine was an added bonus!
"In the last 20 years the population in the Terai, Nepal, has increased by 81% to over seven million people. This has led to habitat loss and fragmentation, but despite this the area is viewed as one of the worlds' best remaining tiger habitats. Across the Terai lowlands, effective conservation action has resulted in an increase in tiger populations; while this is great news, more tigers need more space and as a result are venturing into villages and killing livestock and, too often, people! Local villagers then retaliate through resentment and fear by hunting the tigers. This is cancelling out the hard work of those who have successfully protected tigers from poachers, so our on-going work is critical." said Chester Zoo.
Said Year One Teacher, Julia McGhie: "Nantwich Primary Academy is very grateful to the Rotary Club of Nantwich for the funding that allowed our Year One children to visit Chester Zoo. It was a fantastic opportunity, which was both educational and fun for the children, many of whom had never been to a zoo before. We saw just about every animal and the highlight had to be the beautiful tigers in the new Islands exhibit which came right up close as if to pose for our photographs!
"The children have been excited ever since and have written all about their favourite animals, from the tropical butterflies to the spider monkeys, lions and tigers. This experience will be something they will remember for a long time to come."
"Our continued support of our local community as well as environmental causes around the world is one of the main reasons we exist. We were thrilled to be able to support both tigers in Nepal and our local primary school children - a great day was had by all." said Rotarian, John Crowe.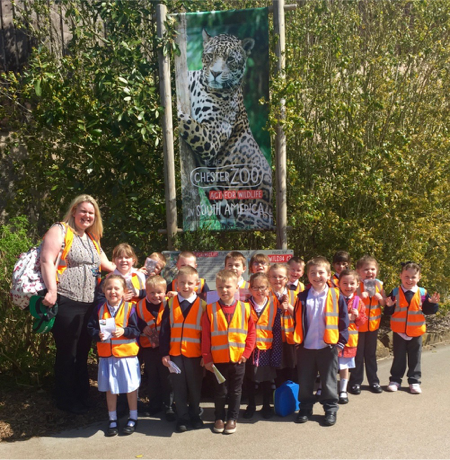 -------------------------------------------------
Santa doing his rounds on the streets of Nantwich Christmas 2018
The Rotary Float toured the streets of Nantwich, Morrisons and Simply Food Supermarkets during December and the collections raised nearly £4924 which will be distributed to the following local charities:-
Brine Leas School
Nantwich Primary Academy
Nantwich First Responders
Nantwich Museum
RC Wych Malbank Charities
St Lukes (Cheshire) Hospice
Guy Harvey Youth Club
Nantwich Almshouses
Nantwich in Bloom
Wingate Centre Wrenbury
Inner Wheel Charities
Senior Citizens Events
Youth Projects
About Us
The Rotary Club of Nantwich was chartered on 1934 and currently has 36 members, and 3 honorary members.
It is one of four clubs in the old Borough of Crewe and Nantwich. The others are RC Crewe (1932), RC Crewe and Nantwich Weaver (1985) and Wych-Malbank Nantwich Club (2018) .
Thhe club is one of 79 in Rotary International District 1180, a district that covers the whole of North Wales, Merseyside and parts of Cheshire, Shropshire and Lancashire and embraces a variety of communities ranging from the pastoral peacefulness and tranquillity of rural areas to the hustle and bustle and vibrancy of the City of Liverpool. Indeed there are a total of four cities within the District, the others being Chester, Bangor, and the newly-designated St Asaph - each of which has at least one Rotary club presence. In addition there is also The Royal Town of Caernarfon.
The 'Nantwich' club is a 'lunch time' Club meeting on a Tuesday and with the 'Crewe and Nantwich Weaver Club' ,which meets on a Wednesday evening, covers the southern extremity of the district,
Visiting Rotarians are most welcome as are ladies and gentlemen wishing to know more about the Rotary organisation or become members.
What We Do
* Meet for lunch every week and enjoy the Fellowship
* Arrange fund raising events .
* Collect about £10,000 each year for charities & good causes
* Encourage International understanding, by twinning & sponsoring exchanges
* Support Local Schools by running annual 'mock interviews'
* Invite speakers to attend our meetings to help spread understanding of their interests & projects
* Organise trips out to theatres, concerts, restaurants, foreign countries
* Recognise vocational service and support of the community
---
Happening soon...
Meetings and events happening soon
Tuesday 30th April 12.45
Speaker:- Richard Morgan -Wynne
---
Speaker:- Richard Morgan -Wynne
Desk:- Robin Latham
Vote of Thanks:- Keith Burton
Raffle:- Herbert Rowsell
Tuesday 7th May 12.45
No Club Meeting after Bank Holiday
---
No Club Meeting after Bank Holiday
Tuesday 14th May 12.45
Club Meeting Speaker :- Tim Marsden
---
Club Meeting Speaker :- Tim Marsden
Desk:- Mike Houlston
Vote of Thanks:- Keith Chesters
Sunday 19th May 10.00
Reaseheath Family Day Sunday 19th May
---
Reaseheath Family Day Sunday 19th May is fast approaching and we urgently need help on the Rotary stand.
The time slots are ;
10a,m, -12noon
12noon - 2.30p.m.
2.30p.m. - 5p.m.

Ideally we need four people per slot. Could you let me know ASAP if you
Tuesday 21st May 12.45
Business
---
Business
Desk:- David Fishburne
future events Past Events calendar district events local events
---
---
Rotary News
Be part of a global network of volunteers, trying to make the world a better place. Please also see the 'links & news' page for information from the local district and live feeds from Rotary International and Rotary International in GB&I.
Family Rotary club use skills to kick-start local charities
---
Rotary members unite to tackle world hunger
---
---
Meetings & Venue
Where and when:
We meet on Tuesdays at 1245
(
(Occ Evening)
)
Civic Hall, Market Street, Nantwich, CW5 5DG
01270 628633