IT'S QUACKERS!
Stratford Rotary launches its first Shakespeare Duck Race
Stratford upon Avon Rotary Club is delighted to announce that its first Shakespeare Duck Race will take place on Saturday 27th August, at 2pm, when around 1000 rubber ducks will be launched below the weir at Lucy's Mill (opposite Holy Trinity Church, on the rec side). There will be a cash prize of £150 for the winning duck, £100 for the second duck to cross the finish line and £50 for the third winning duck. A fourth prize of a family ticket has been kindly donated by Stratford upon Avon Butterfly Farm.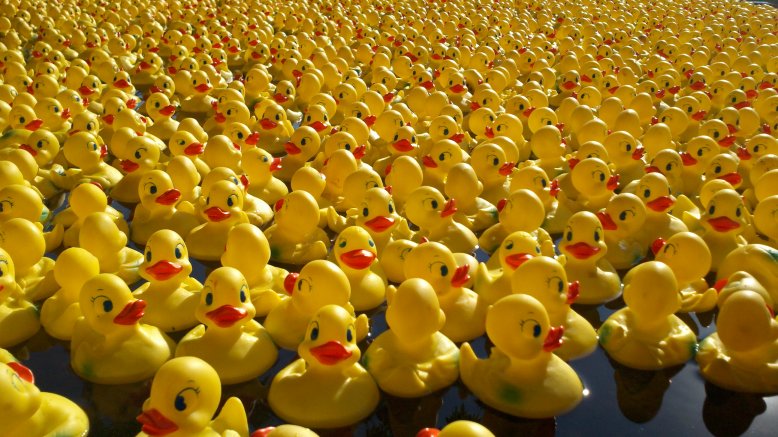 To enter, people are asked to pay £2 per duck – they will then be allocated a number which co-ordinates with a numbered duck. This can be done on-line at campaign.justgiving.com/charity/stratford-rotary/shakespeareduckrace. Tickets are also on sale at Shakespeare Hospice shops in Stratford upon Avon (Avenue Farm Furniture Stop, the bookshop Rother Street) and Alcester, Henley in Arden and Wellesbourne.

Corporate ducks are also for sale for £30, so that companies are also able to contribute to the fundraising effort for Shakespeare Hospice. There are plenty of themed ducks to choose from, including doctor ducks, waitress ducks, hairdresser ducks. All companies will receive a certificate and the winning corporate duck will receive a duck trophy! Corporate ducks can be bought at: www.justgiving.com/fundraising/corporateshakespeareduckrace
Shakespeare Marathon and Half Marathon
The highly regarded Shakespeare Marathon and Half Marathon, organised by our Club for over 30 years, will take place on Sunday 7th May 2017 - Start time 9.00am.
Entry now open - Raising money for charity!
Meeting Information...
We meet on Mondays at 12.45 Check Weekly Meetings The Falcon Hotel, Chapel Street, Stratford upon Avon

Note: We also have a satellite group meeting on the 2nd and 4th Monday evenings at the Bear (Swans Nest Hotel 7:30pm) but anyone planning to come along should Contact Us first as the venue may vary.
meeting details