Featured pages
Rotary Club of The Deepings - welcome! Please scroll/swipe down through this page to find out more about us, in addition to the pages linked in the menu, top-left.
---
About us

WEBSITE & P.R. e-mail: peter.hibbins@talk21.com
TO VIEW PAST EVENTS.
CLICK ON " WHAT WE DO" and "ARCHIVES" ABOVE................


DEEPINGS ROTARY RUNS...
Results
10k Results (opens in new window)

3k Fun Run results (Opens in a new window)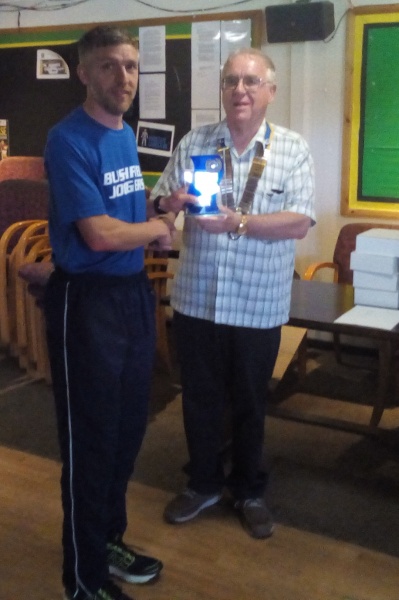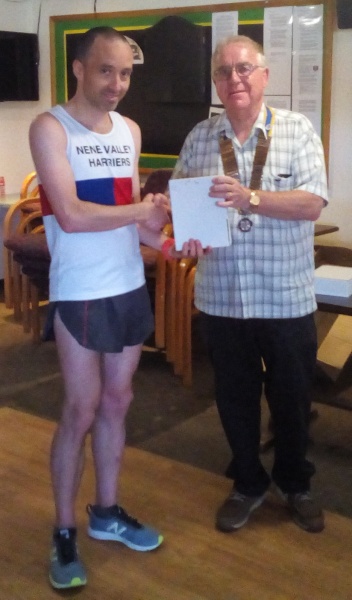 10K WINNER: Brian Corleys 2nd Place: Robert Brownlee
both receiving awards from Rotary President Alan Kendrick.




Deepings Rotary School Art Competition
SHOPPERS IMPRESSED BY WORK OF YOUNG ARTISTS
Young artists in the Deepings area have once again been impressing supermarket shoppers with their creative work. The youngsters have been taking part in the annual Young Art Competition run by the Rotary Club of the Deepings.
Entries were invited from primary schools in and around the Deepings area, with the competition divided into two sections – Key Stage One and Key Stage Two. All the submitted artwork was displayed at the Tesco store in Market Deeping.
The competition attracted a record entry of 120 pieces of work from nine different schools and a panel of three independent judges had the difficult task of selecting the winners in each section. Such was the standard of the work that the judges additionally awarded two Highly Commended prizes for two young artists who just missed out on a place in the first three of their respective section.
The results of the competition were:
Key Stage One:
1. Olive Wight (Deeping St James Primary School);
2. Ezmae Clark (Market Deeping Primary School);
3. Austin Elliott (Langtoft Primary School);
Highly commended: Zara Wright (Baston Primary School)
Key Stage Two:
1. Isobel Mitchell (Kirkstone House School);
2. Joshua Seelig (Northborough Primary School);
3. Tiffany Robinson (Market Deeping Primary School);
Highly Commended: Emily Vachkov (Deeping St James Primary School)
School prize: Northborough Primary School
A prize of £50 was awarded to each of the individual winners, with £25 going to the runners-up and £15 for the third placed entries. There was a £10 prize for each of the highly commended entries and the winning school received £50. The prizes were presented by Mayor of Market Deeping Councillor Pauline Redshaw and Rotary Club President Alan Kendrick, with Tesco providing chocolate goodies for all the prizewinners.
Competition organiser John Lavery said: "The standard of entries this year was the highest it has ever been, which is a tribute to all the young artists and the schools.
"We have been grateful once again for the continued support of the local schools and, of course, to Martin Reece, manager of Market Deeping Tesco, who has been a good friend to the competition over the years."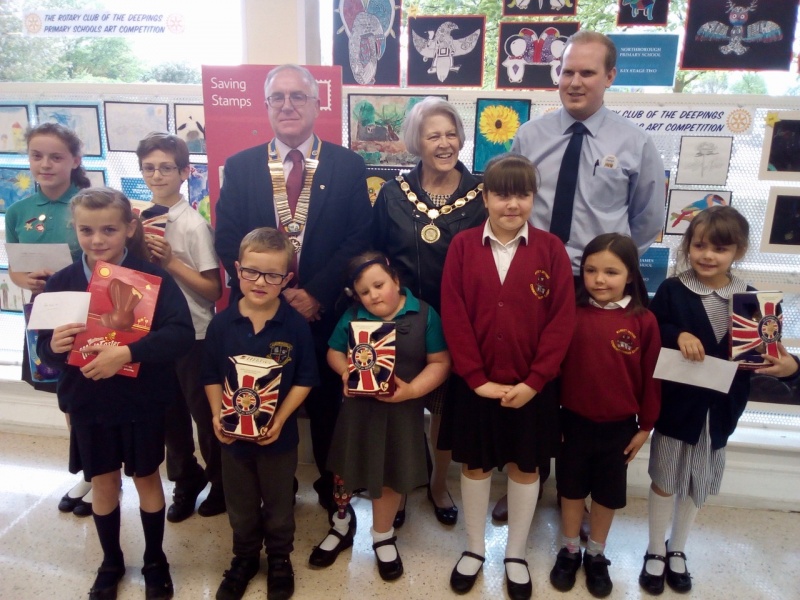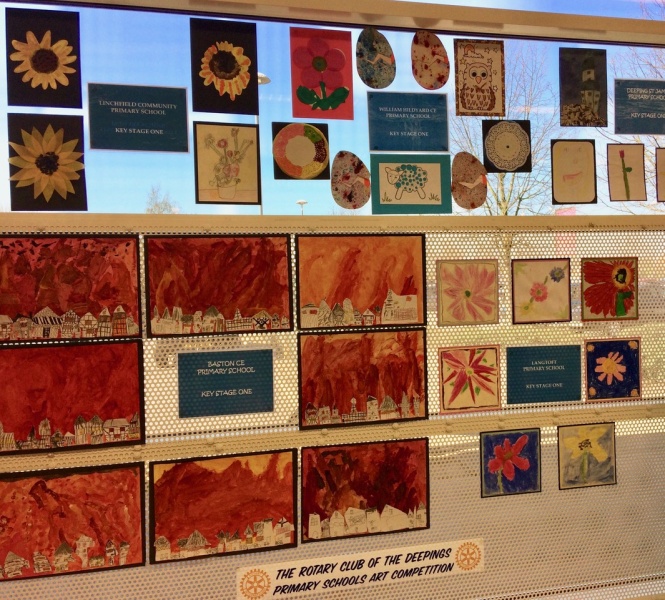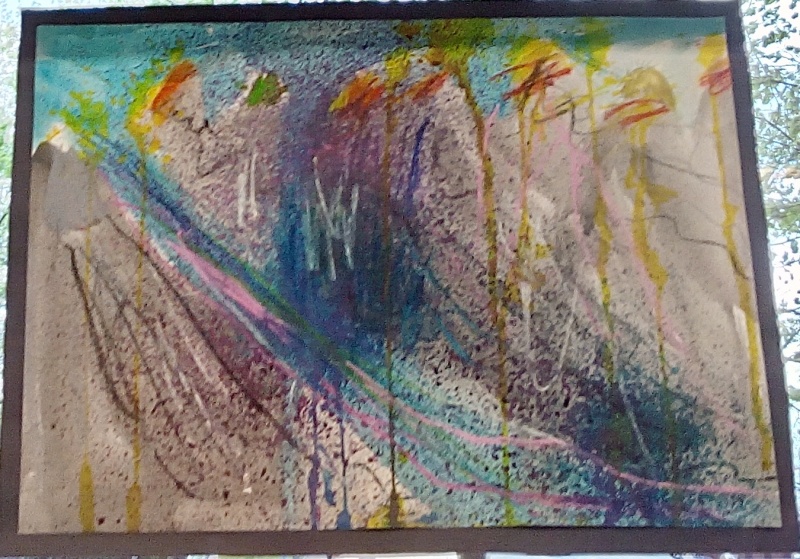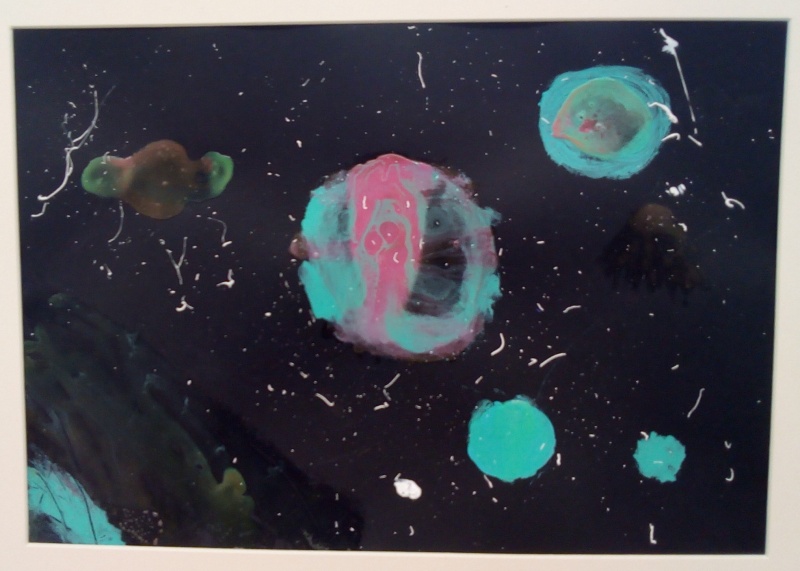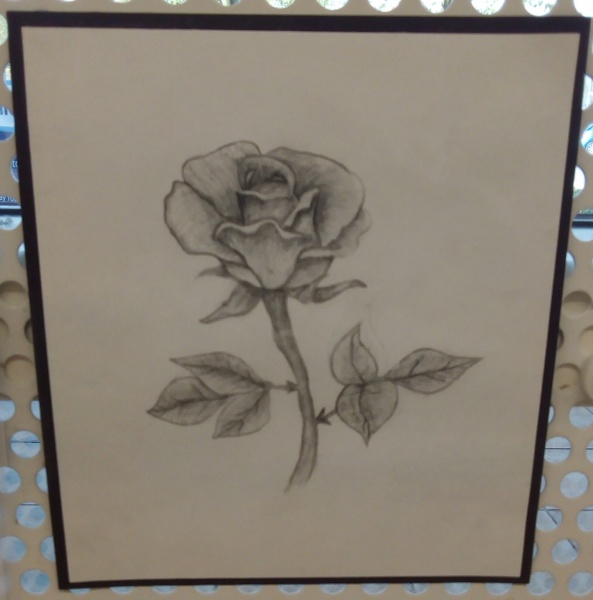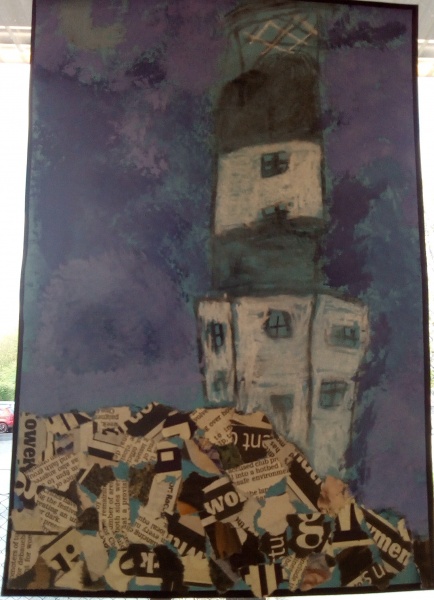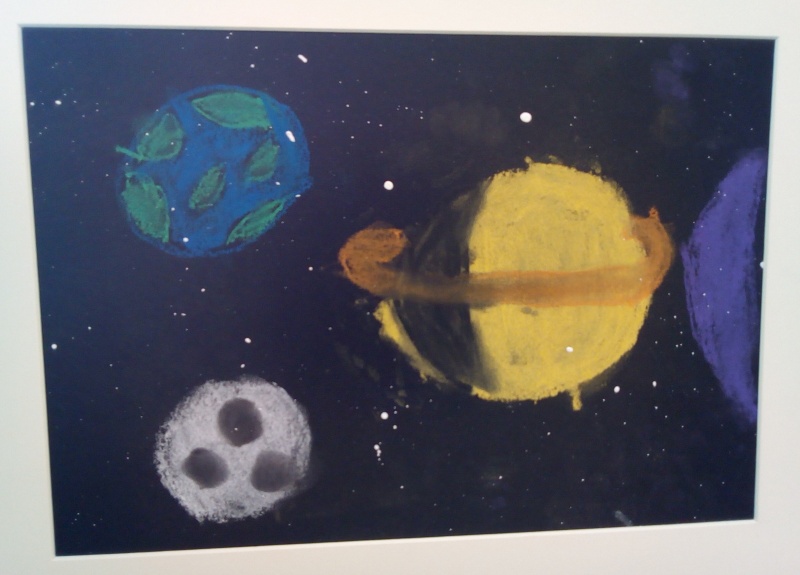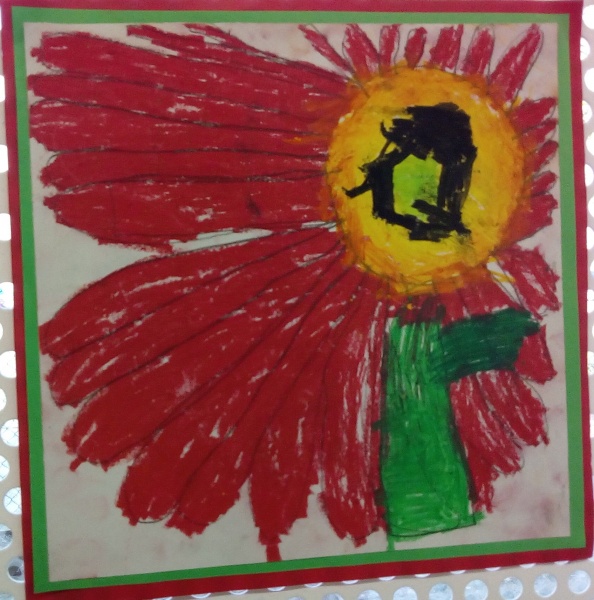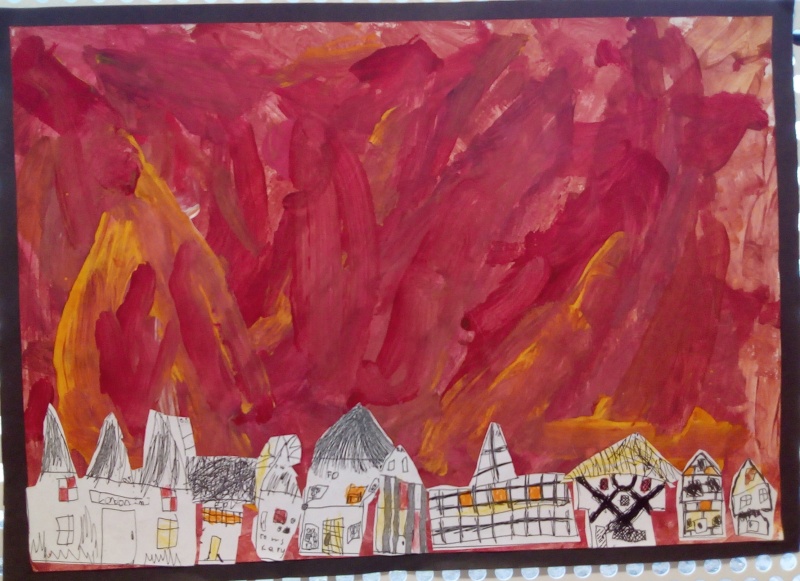 Charity Runs.. Entry form - click on the link below (opens in new window).
The Rotary Club of the Deepings Charity Runs

will take place, this year, on Sunday 20th May 2018.

As usual there will be a 3K "FUN RUN" followed by a 10K "ROAD RACE".
Both races will start and finish from the playing field of the Deepings Rugby Club.
The Clubhouse on the field provides Toilets and Changing Rooms, also a Bar and hot snacks will be available.
There are more car parking facilities, toilets, showers, and changing rooms at the

Deeping Leisure Centre, situated just over the road from the Rugby Club.

The 3K "FUN RUN" WILL START @ 10am and will be followed by the 10K "ROAD RACE WHICH WILL START @11am.
There will be a Commemorative Medal for ALL finishers.

Joe Piercy, Organiser.
Joseph.piercy727@btinternet.com


Neurofibromatosis
Past President Geoff Card recently invited Author & Speaker Emily Owen to speak to the Club about her condition and her life as a NF2 sufferer.
It was an intersting and informative story of Emily`s journey, whilst heart wrenching it was lively and a smiling Emily held her audience, who listened with amazement to such a brave and determined young lady.

( Emily, after numerous operations is Deaf, She signs but lip reads excellently)....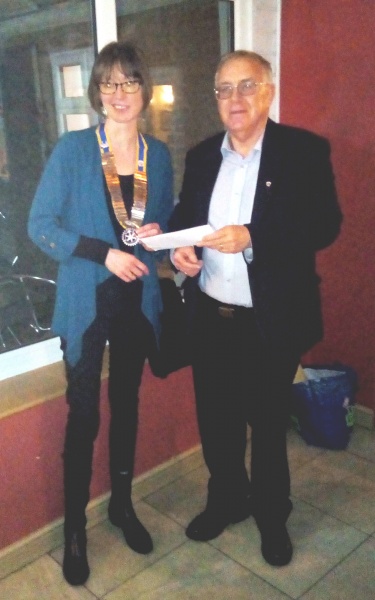 President Alan presents a cheque to Emily.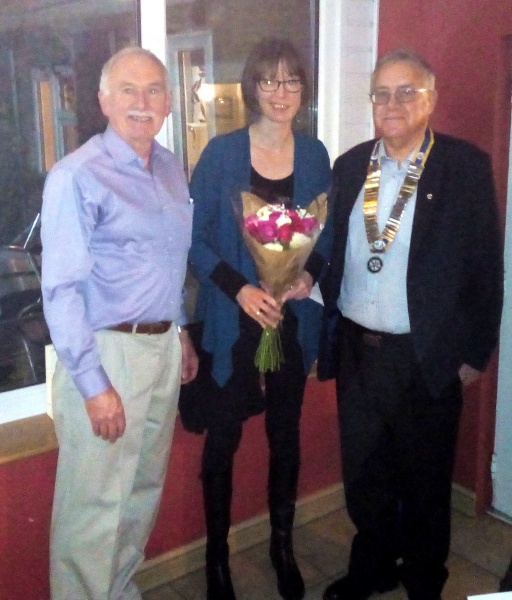 Flowers for Emily from Geoff Card...
Emily Owen was a multi talented teenager with the world at her feet. Highly intelligent, athletic and a gifted musician, she was destined to excel in whichever field she chose to pursue. At the age of 16, Emily was diagnosed with Neurofibromatosis Type 2 (NF2) and less than a month later, she was in hospital and fighting for her life. Over the coming years, NF2 would steal her education, her smile, her hearing, her ability to walk. With her life plans in ruins, Emily struggled to find meaning and identity. Good things in her life weren't good any more. Because they were no longer there. With gentle humour and heart-breaking honesty, Emily shares her story. Slowly and painfully, she discovers value in new places, seeing the rainbows in the silence.
Click on Link to find out more....
http://www.emily-owen.co.uk/still-emily/

The Neuro Foundation is the lead organisation for this disease and provides Specialists in 4 centres in the UK. Their Home Page gives you a lot more information about Neurofibromatosis, should you wish to explore further:
On the Home Page hover over - "News & Events"
Click on - "World Neurofibromatosis Day 2018

Please can I first ask you to JOIN THE THUNDERCLAP This will ask you to share a one-time message on your social media page about NF Awareness Day. This will be displayed on your Page at 10am on 17th May 2018. The Thunderclap Goal is to get 250 Supporters to spread the message by May 17th. They currently have reached 62% of the target with 21 days left. Currently there is a potential outreach of 75,174 people through this social media route. Please jump on board! The whole point of this is to raise the profile of Neurofibromatosis, which is very important for my family right now.

Geoff Card Past President
https://www.nfauk.org/news-and-events/world-neurofibromatosis-day-2018/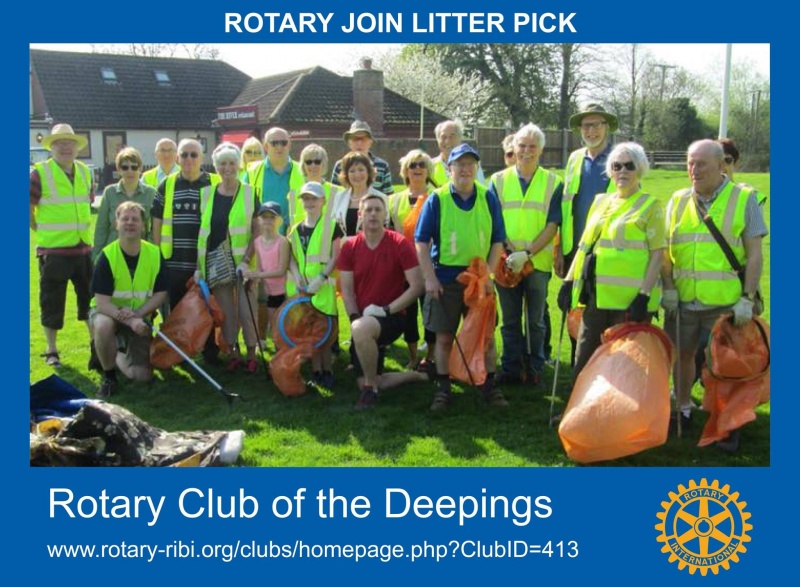 Rotary Disability Games a Big Success
Members of the Rotary Club of the Deepings were actively involved in the Rotary Disability Games which took place in Stamford last weekend. The Games attracted entries from across the district and were co-ordinated by members of several Rotary clubs, with the emphasis on encouraging participation in sport. The Deepings club organised the table tennis competition as part of the programme of sports on offer, with each competitor given the opportunity to enter up to three different sports. Other events on the programme included archery, swimming, weightlifting, boccia, kurling, darts, dash and slalom. The table tennis competition attracted an overall entry of 40 players, with 21 in the men's singles and 19 in the ladies' singles. The men's singles was won by Jack Johnson of Lutterworth and the ladies singles by Millie Holland, also of Lutterworth. The Games, which were staged at the Stamford Endowed Schools Sports Centre were hailed a big success and it is hoped the event will be held again next year.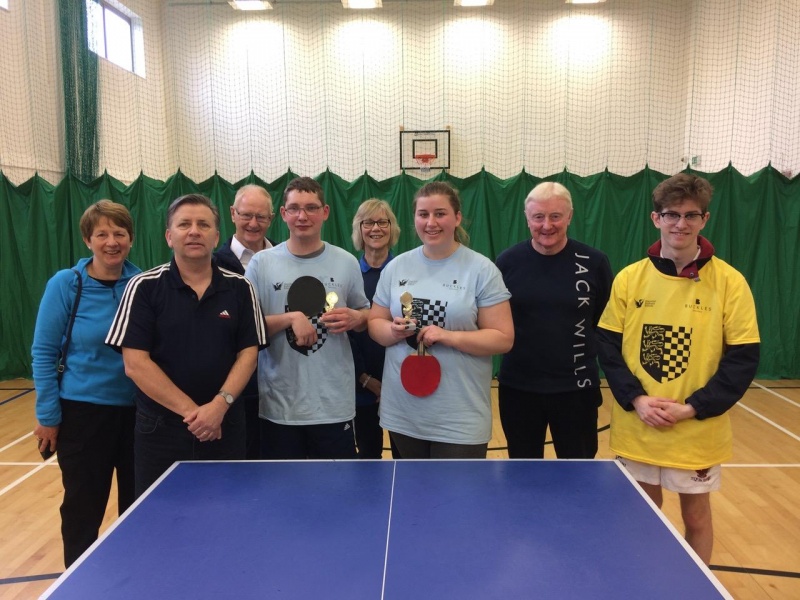 John`s SLIM for NEPAL..... He weighs in @ 18st.3lbs. (17-04-2018)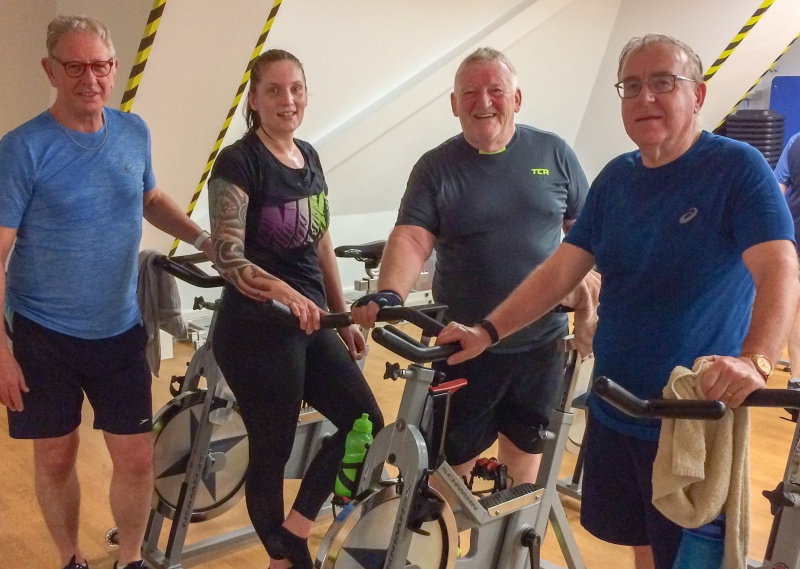 SPINNING WITH CARL & ALAN..............................
Deeping Rotary support Nepal School Project
Ever wondered what it would be like to go to school and not have access to the internet? Well one or two of us remember those days but few if any of us would remember having no electricity for simple lighting not just for a while but not having it full stop. To get an idea of what it is like turn your electricity off tonight. However, you know that with a simple flip of the switch you can turn it back on, some of the schools in Nepal which are so remote and deprived have no switch they can turn on.
We are helping to do something about this and with the aid of a grant of £500 from the Rotary Foundation our club is making a total contributing £1,000 to the installation of solar panels in a school in the Jaleshwari region of Khotang Nepal. When done not only will there be light in the school but it allows dvd's to be installed giving pupils access to e-books and then a whole new world of learning opens up to the children.
Education is a way out of poverty so we are delighted to be able to implement this project not only with the grant from the Rotary Foundation but in partnership with the Nepal Remote Villages Trust a charity dedicated to helping the schools in this region.
We think this is such a marvelous thing to do and having started the project we will let you know how things progress.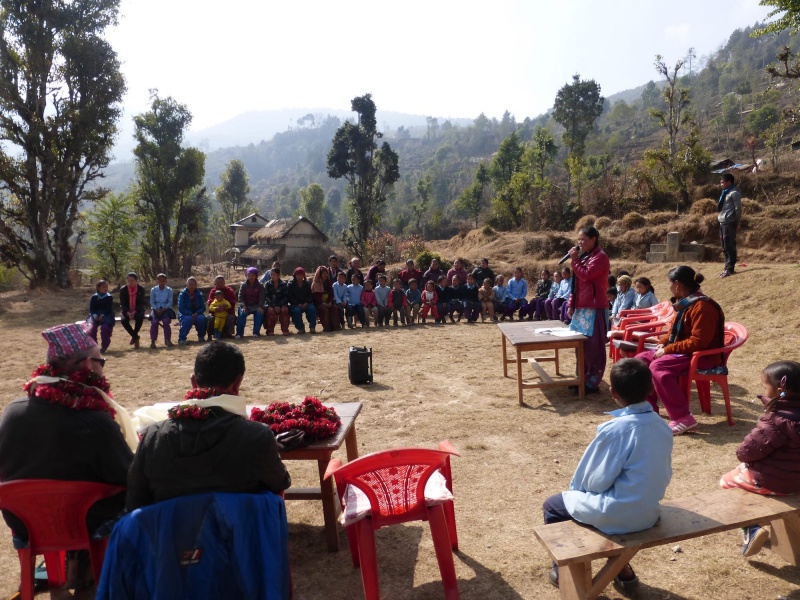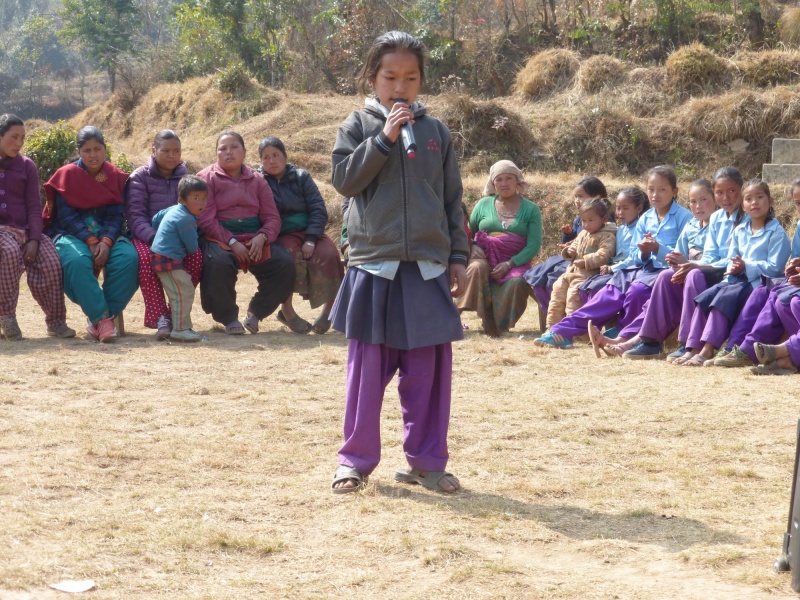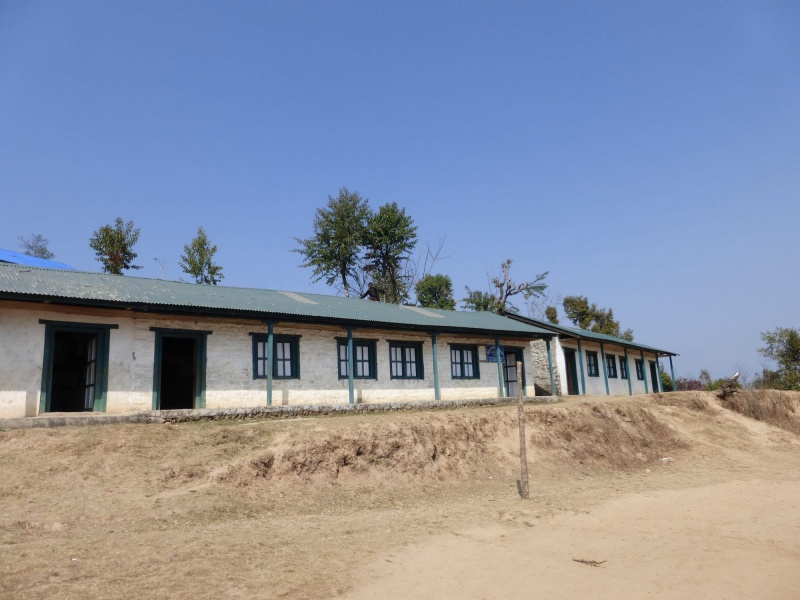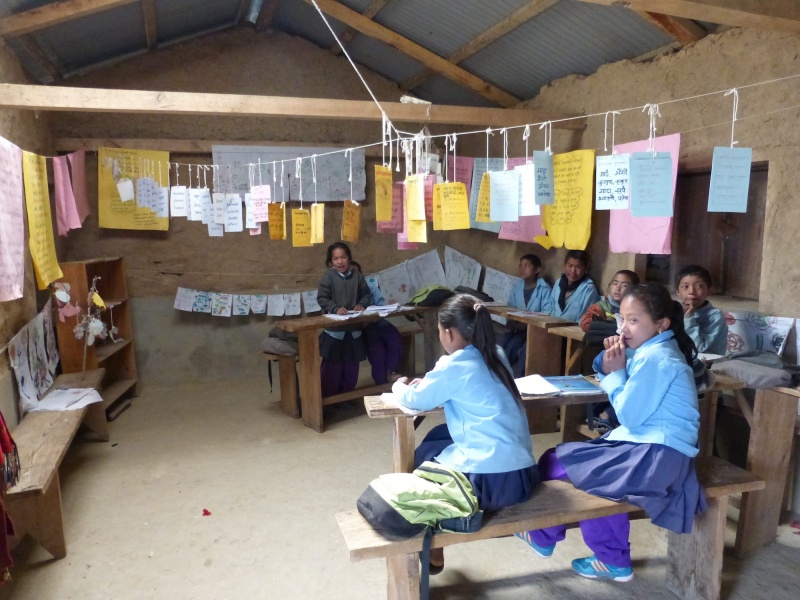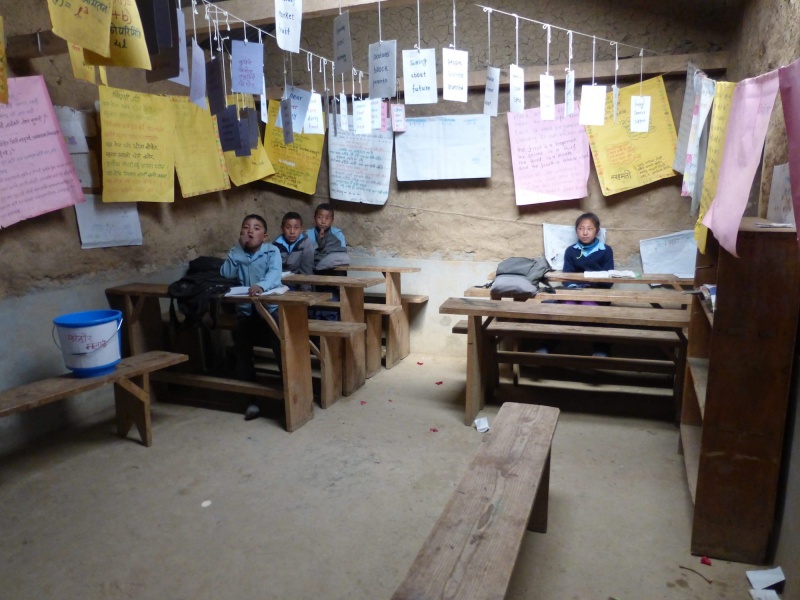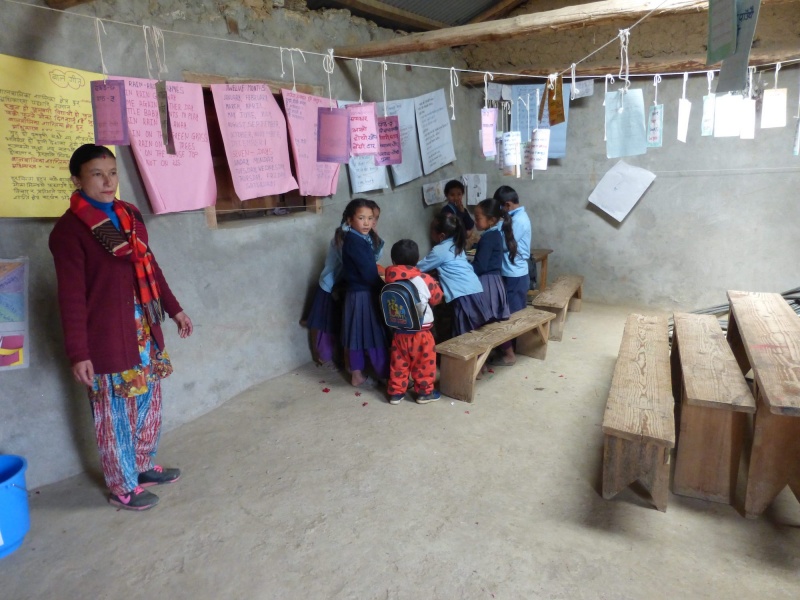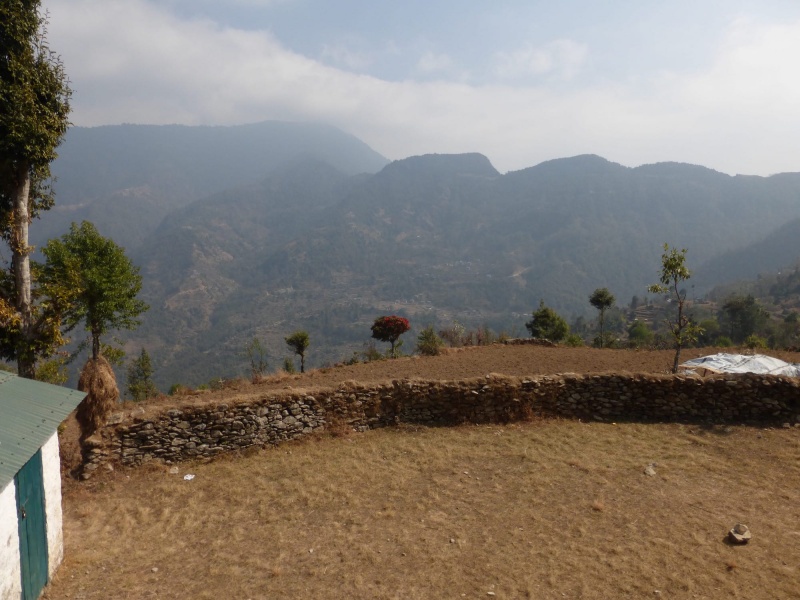 Deepings Interact Quiz Night
As a final event of the academic year, the Deepings Interact Club held a quiz night in support of Sue Ryder, Thorpe Hall. The event was a success, raising nearly £800.
The money raised was due to the hard work of our team, the very generous donations of the local communities for the raffle and the cod and chips as supplied from The Boundary.
It was an amazing night which received some really positive feedback, we hope that the coming year will bring as much success as this one.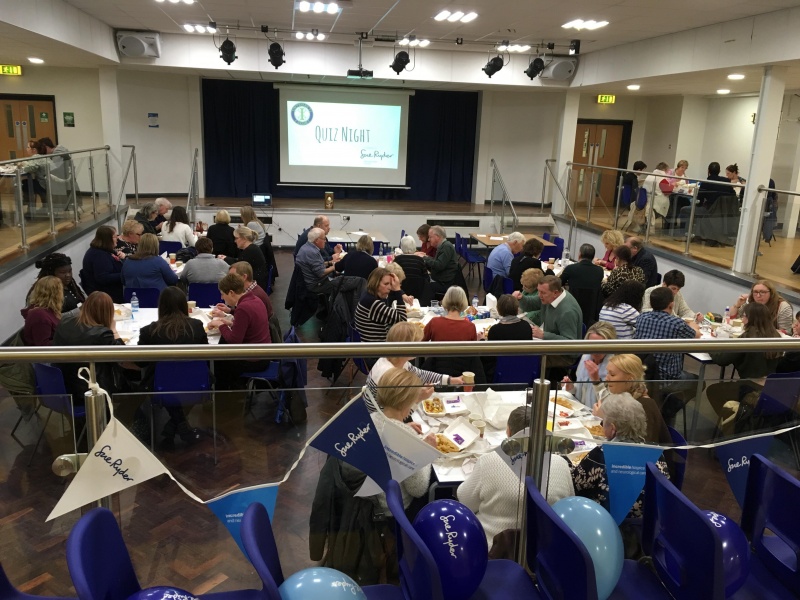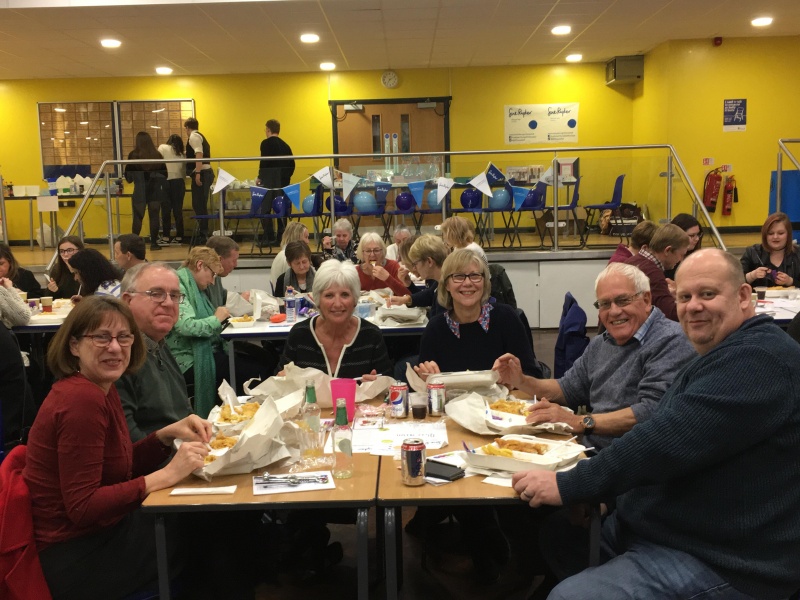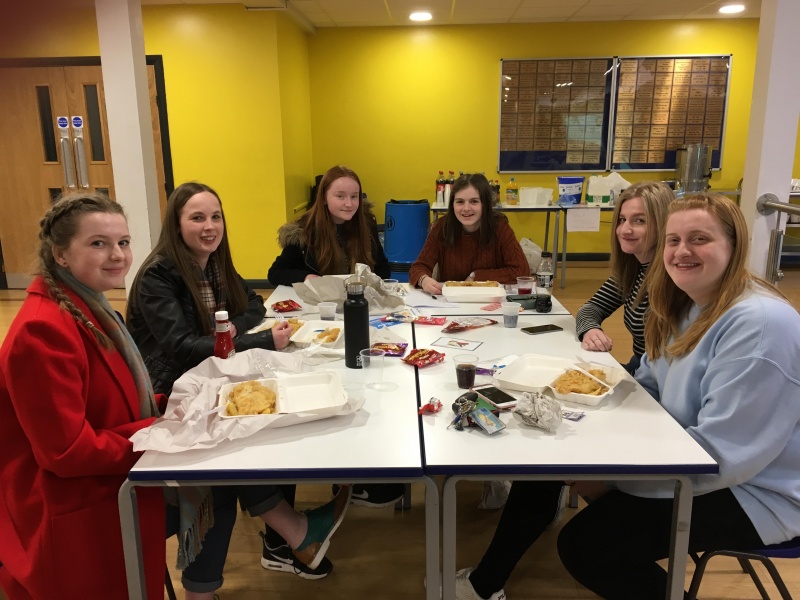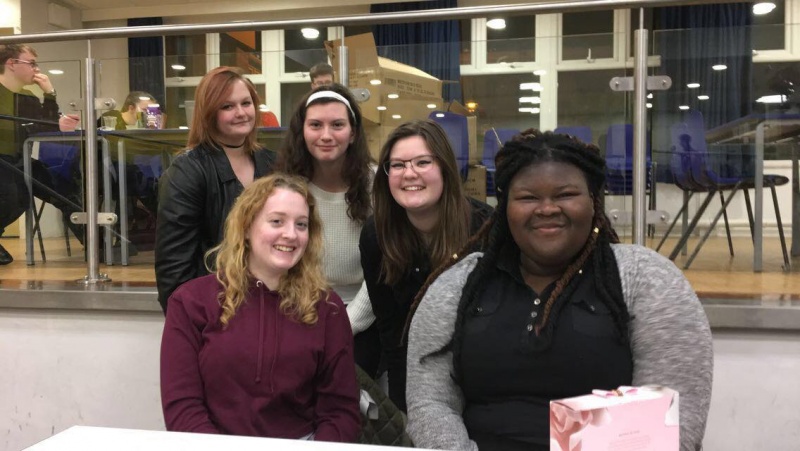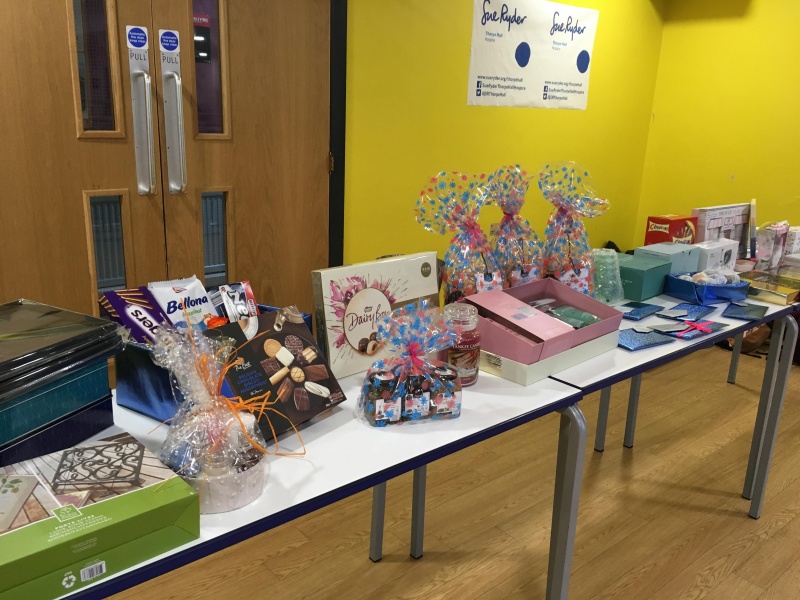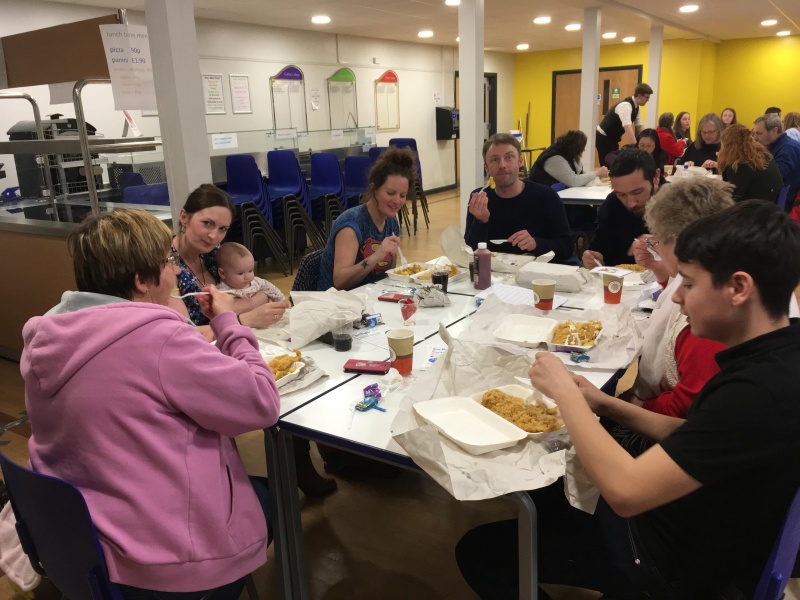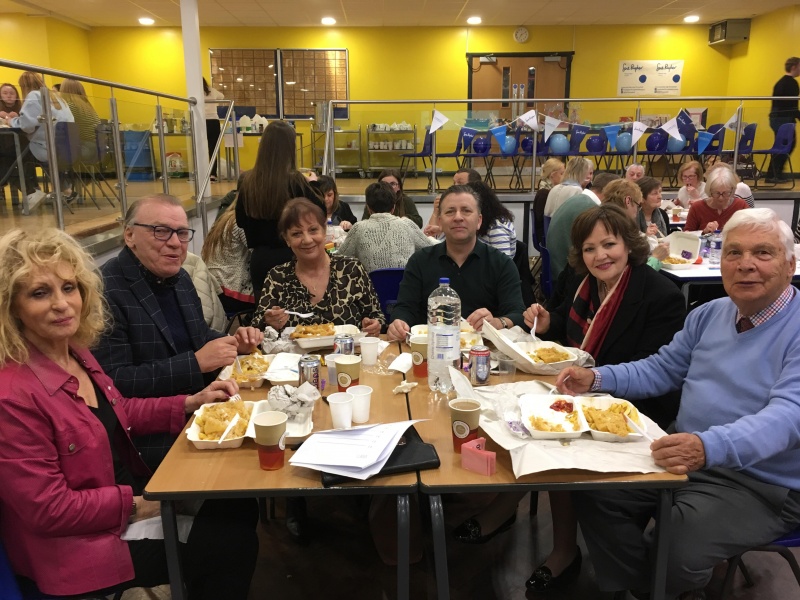 ROTARY present SHELTERBOX with a cheque..

President Alan along with Rotarian Bob hand over a cheque to Alan Jones (Shelterbox) after his talk to the Club.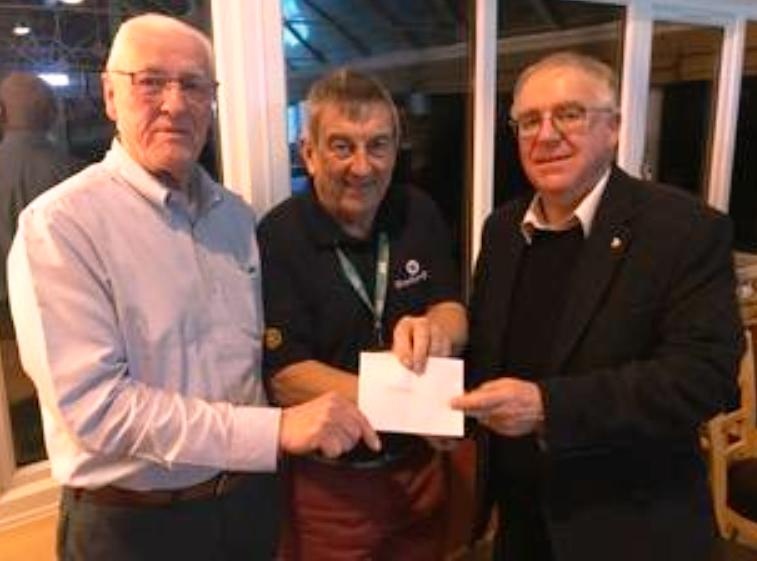 This last week we had a guest speaker at the club who talked to us about Shelter Box.
Rtn Alan Jones our 1070 district speaker for Shelter Box, gave a very interesting and informative talk about Shelter Box, this is one of our club's international projects. We have been a Shelter Box supporter for many years.
Each box is filled with items that will provide shelter for 10 persons, the items consist of; tent, cooking equipment, mugs, plates and cutlery, wood burning stove, blankets, tools, solar light, mosquito nets, a water filter, even pencils and paper. The weight of the box when filled is well over 50kgs. The box also has its use when empty, water, storage food, it also been suggested that you bath in it. The cost of each box is £590.
Since Shelter Box was set up in 2000 by the Rotary club of Helpston-Lizard they have packed and supplied well over, (up to 2014) 300,000 boxes, they then changed the figures as to how many families helped, up to the present time that figure is more than 700,000.
These boxes have been sent to well over 70 countries worldwide being transported by DHL and many airlines free of charge, even the UK has in some way been helped. All distribution and allocation of boxes are always overseen by members of Rotary Clubs in that local area of disaster.
These figures do not include other items sent out by the Rotary club of Helpston-Lizard, i.e. shelter kits, family tents, Water filtration kit, solar lights, blankets and even school kits. Over the years our club, and personal donation by club members, has help supply well over 80 boxes, not many when you look at the overall figures, but as Alan said, none of this would have happened if it had not been for Rotary International support.
If you are interested in Shelter Box you can find more information on their website; www.shelterbox.org or if you are visiting Cornwall the have a visitor's centre in Truro.


A New Oven for "Sense" @ Manor Court, Market Deeping, purchased with the help of monies raised by the Rotary Club of the Deepings


President Alan Kendrick with Melaine Barr, Deputy House Manager and Rotarian John Lavery

Cooking up a Treat at Sense
Residents and staff at Manor Court, Market Deeping have a fabulous new cooker with which to prepare their meals thanks to a generous donation from the Rotary Club of the Deepings.
Manor Court, on Church Street, is run by Sense, a national charity that supports people with complex communication needs, including those who are deaf-blind. On hearing they were looking to replace their existing cooker, the Rotary Club was more than happy to contribute £200 towards the cost of purchasing a new one, which has been installed and is already being well used.
The importance of the cooker was underlined by Deputy House Manager Melanie Barr, who said: "It is our ethos that we all cook and eat together. "Cooking and preparing food together is an essential activity in the house. It brings us together, develops independence and confidence in those we support and at the end of the process we all sit down together to enjoy a family meal. "We are very grateful for the continued support of Rotary."
Rotarian Mike White worked closely on the project.


Jez Dubber receives his Service to the Community Award from Rotary President Alan Kendrick, watched by, from left, Viv Gayle, Debbie Hedley and Joan McCormack of the Community Centre


Rotary Award for Unsung Hero
The work of an unsung community hero has been recognised by the Rotary Club of the Deepings. Jez Dubber has worked at the Deepings Community Centre for 13 years. He is building manager and one of the directors of the centre and is responsible for the running of this well used facility.
He goes about his work in a quiet unassuming way but his efforts are always much appreciated by everyone who uses the centre. So much so that Rotarian Mary Martin nominated him for a Rotary Service to the Community Award.
He was formally presented with a framed certificate by President of Deepings Rotary Alan Kendrick at the Community Centre on Friday. In presenting the award Alan described Jez as someone 'who goes the extra mile' and for whom nothing is too much trouble. Alan referred to Jez as one of the unsung heroes who works tirelessly behind the scenes so that everything runs smoothly and efficiently.
Jez said: "It's so kind of Rotary to think of me for such an honour. "It's a team effort really, the award is for everyone involved with the Community Centre."




Santa visits The Deepings Christmas Market...
Ho! Ho! Ho!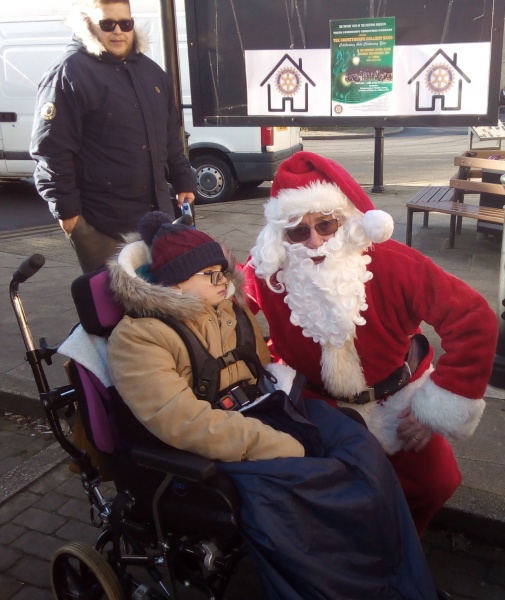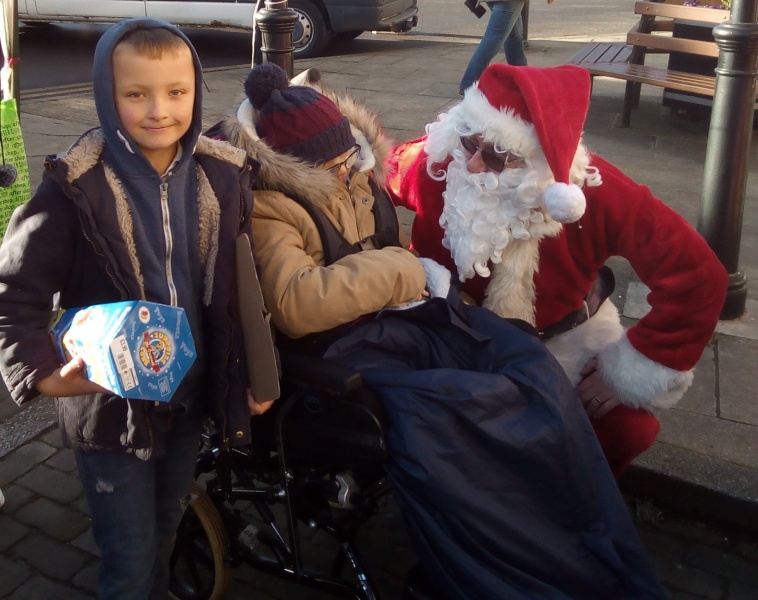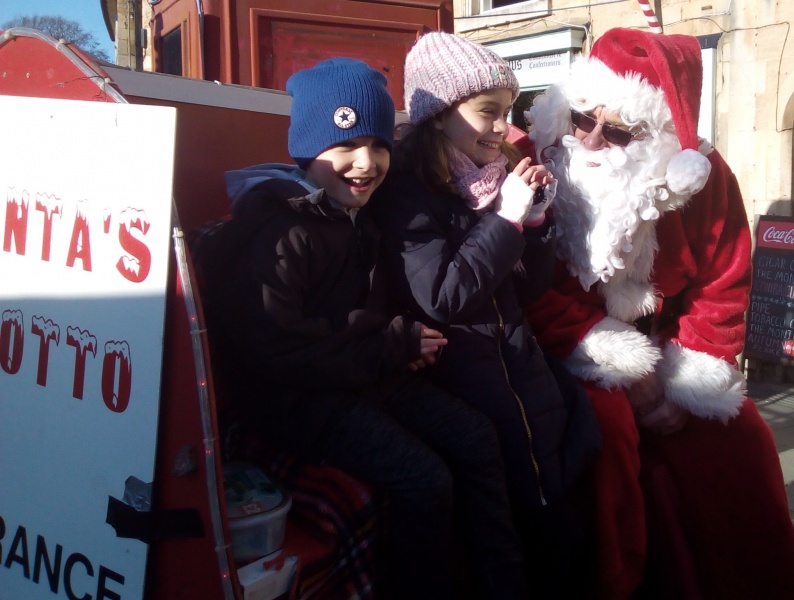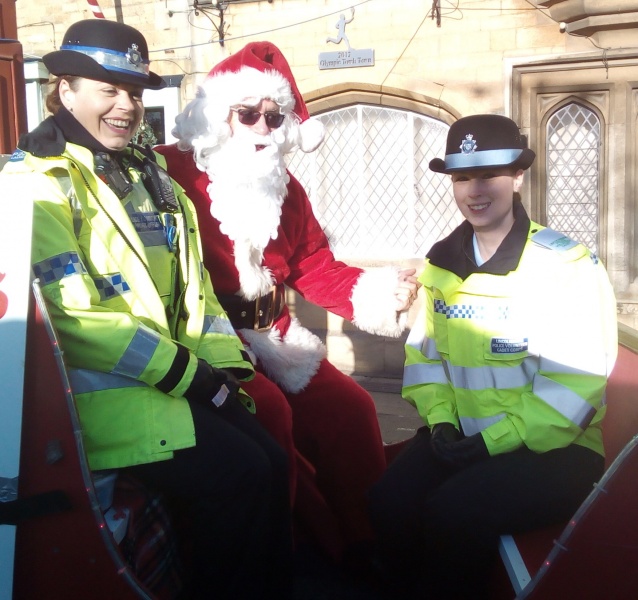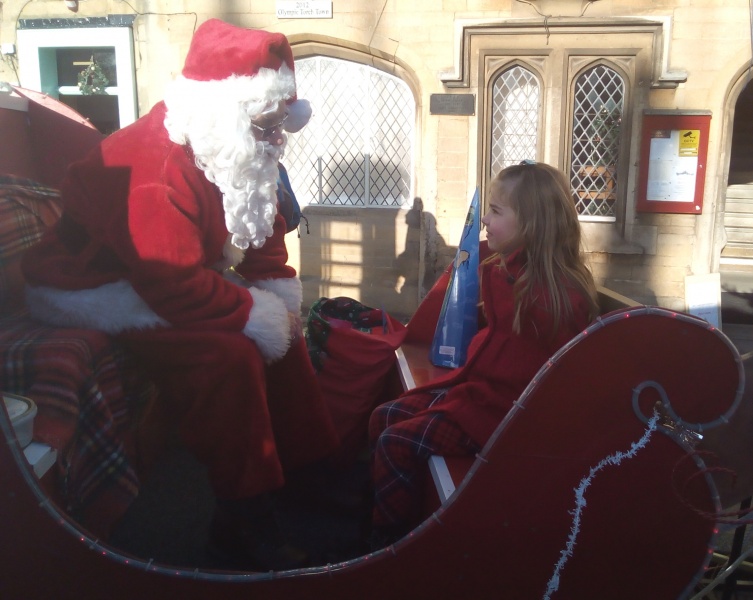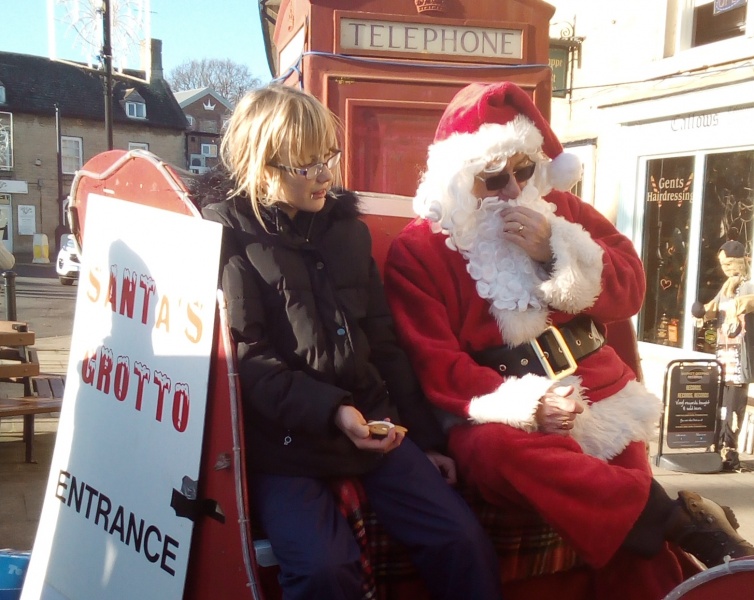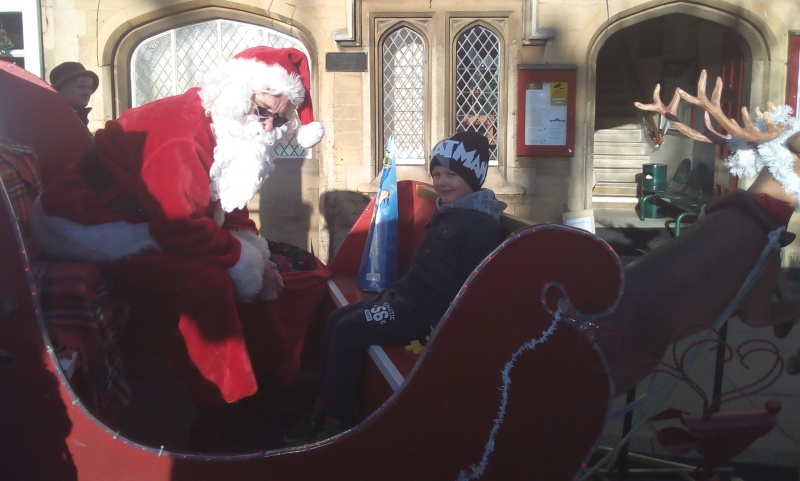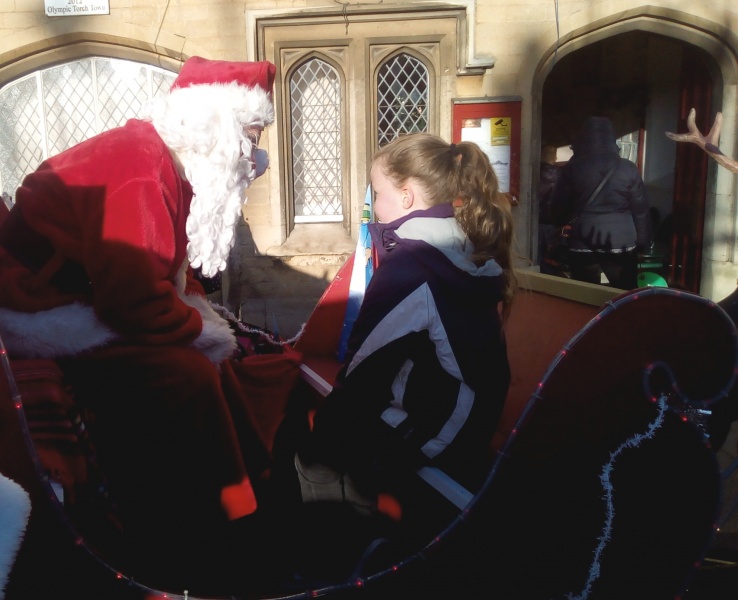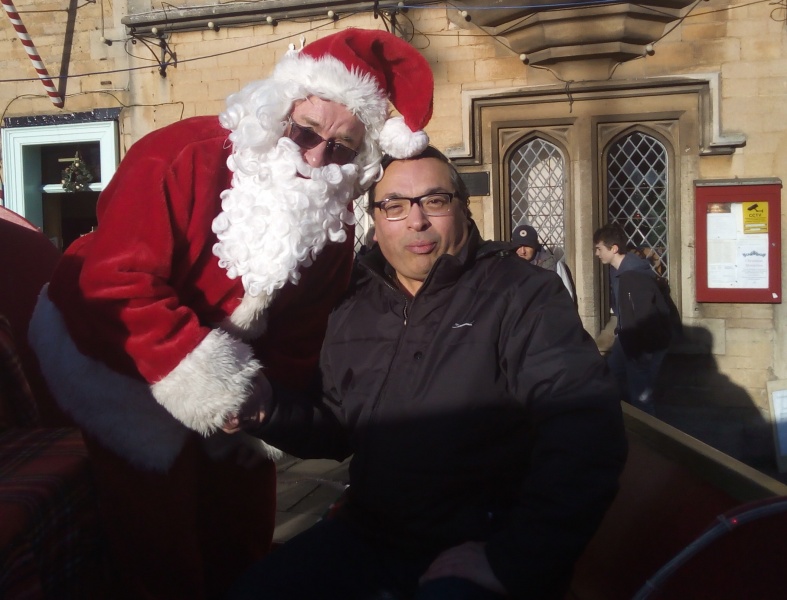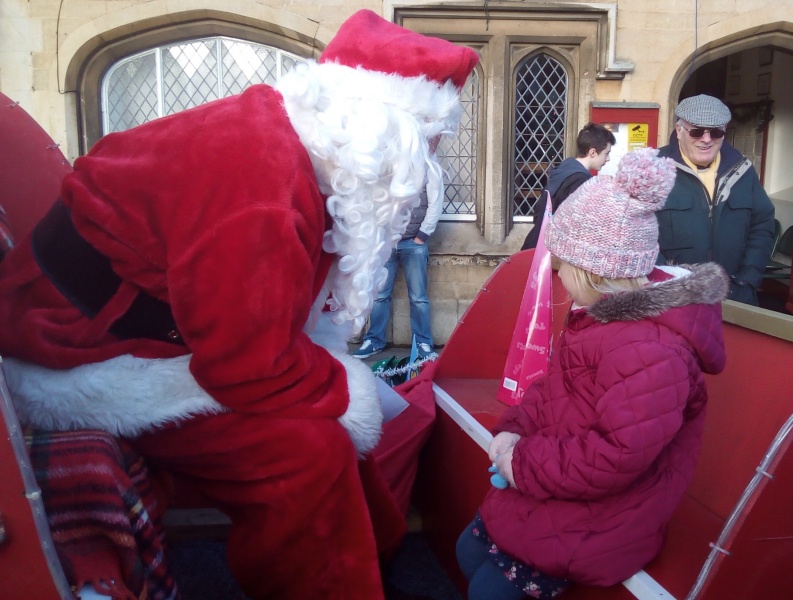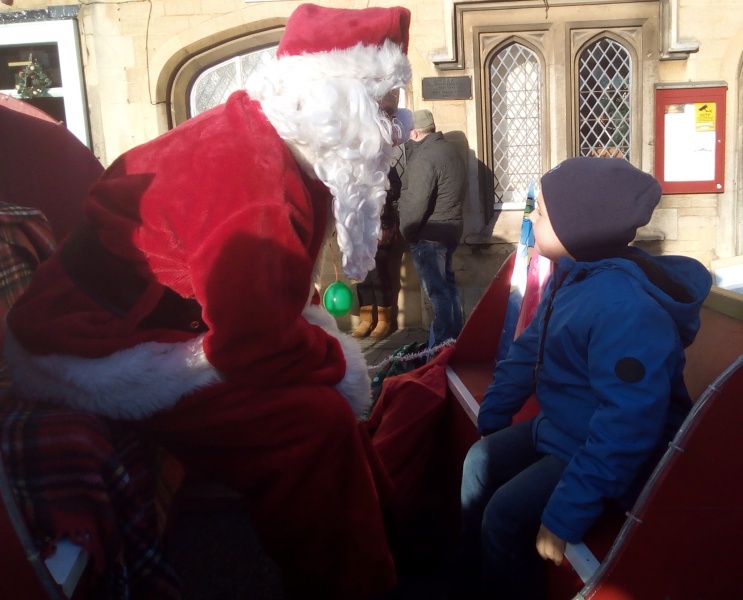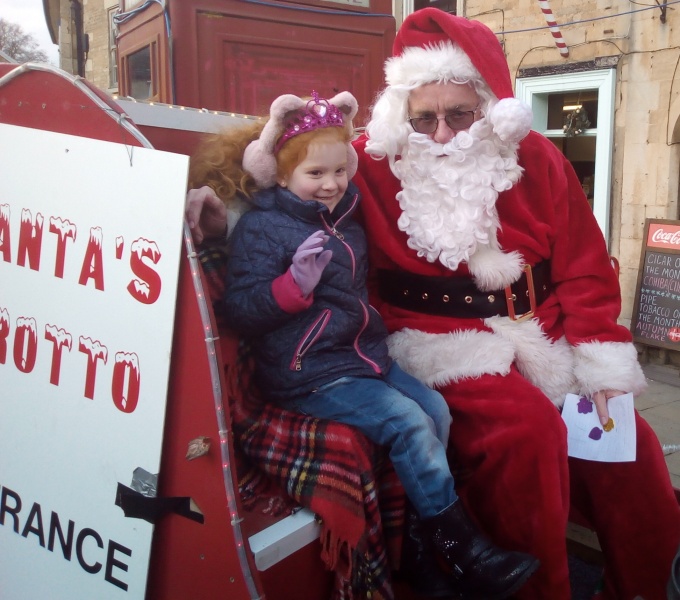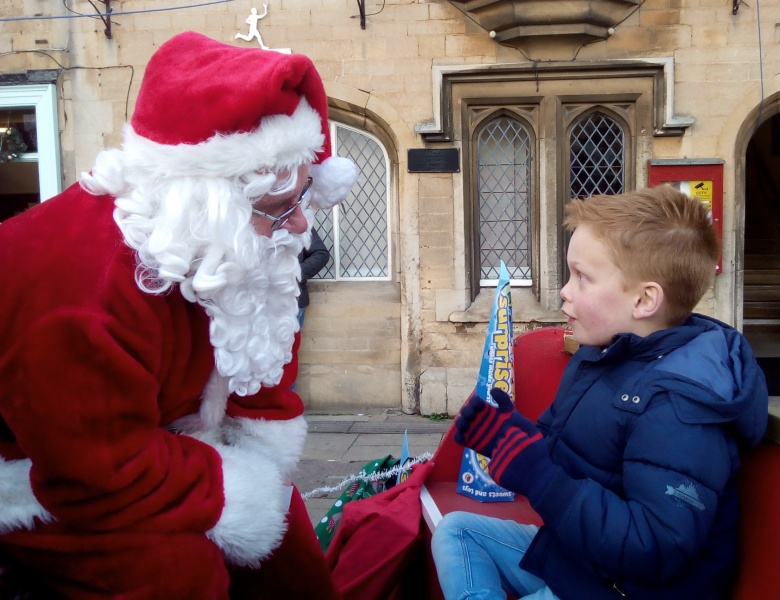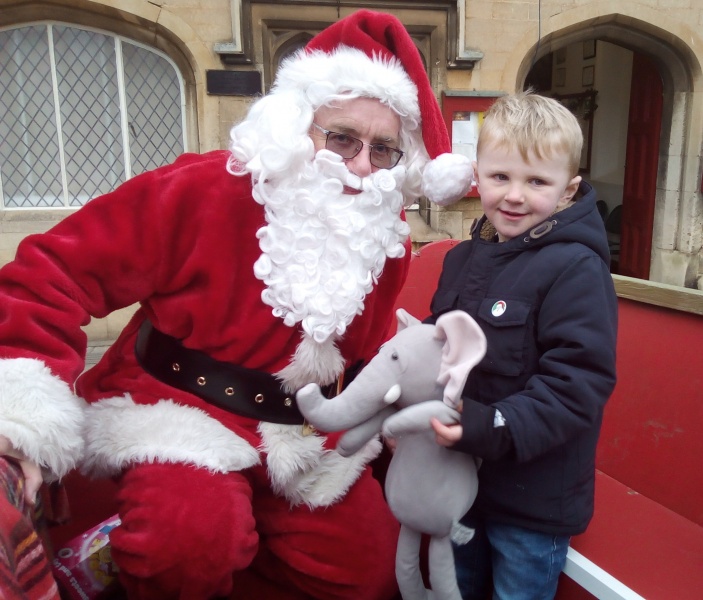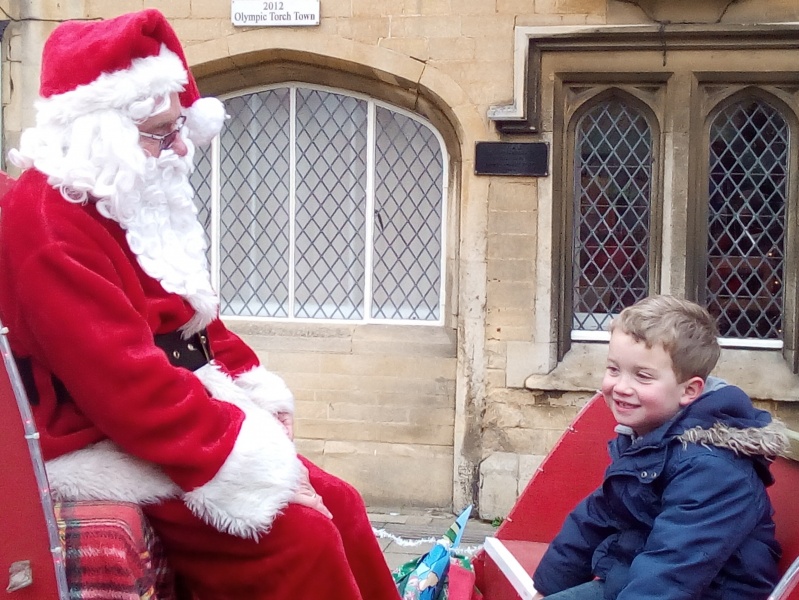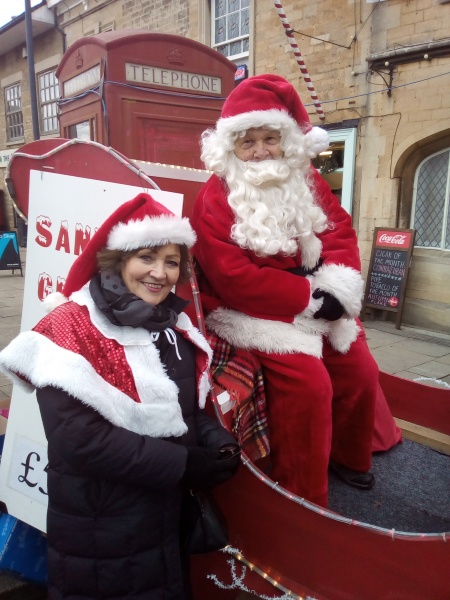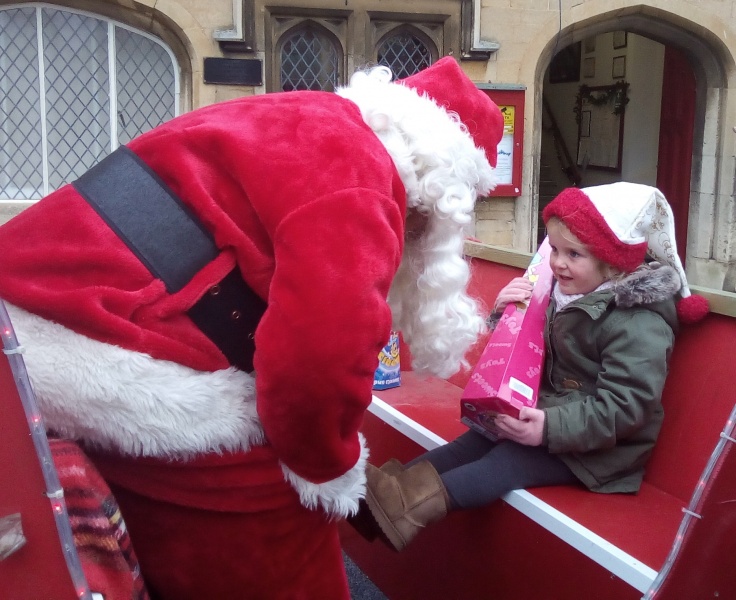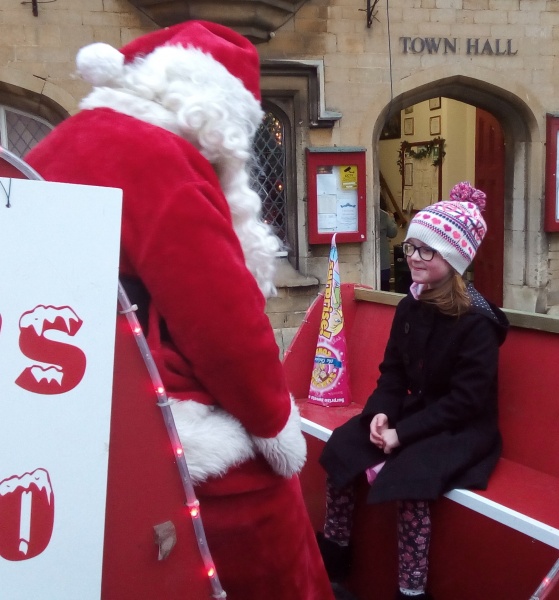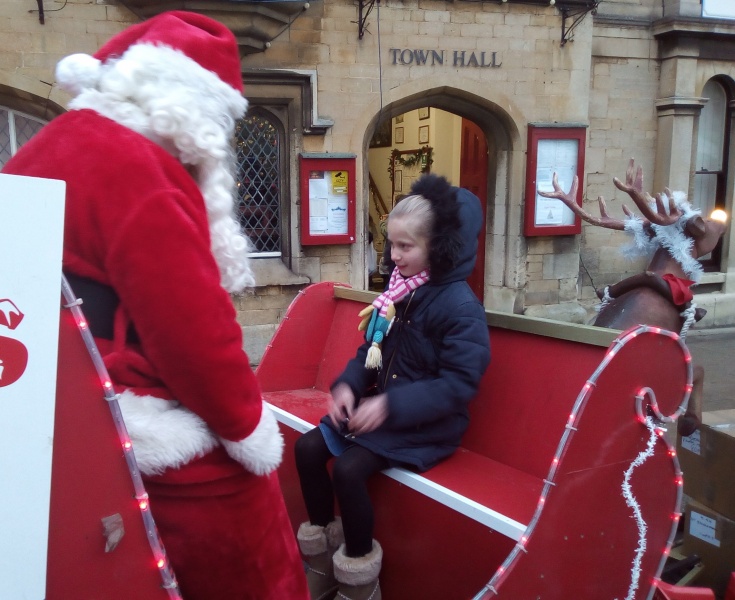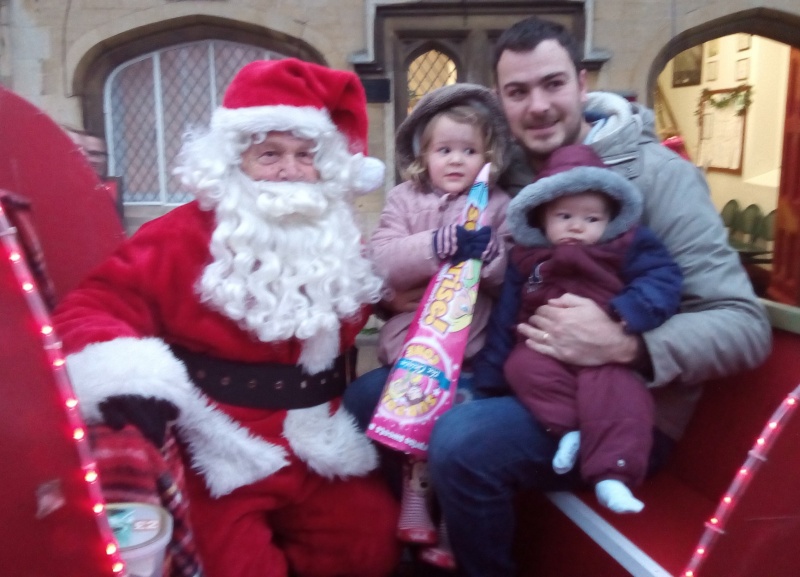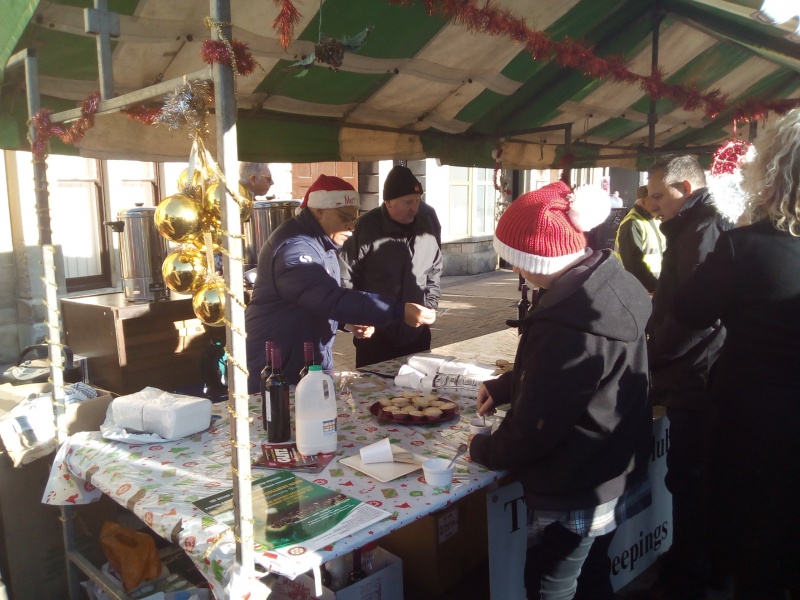 The Grimethorpe Colliery Band`s Centenary Performance in The Deepings..
A Wonderful start to our Christmas Celebrations and a great Musical Programme.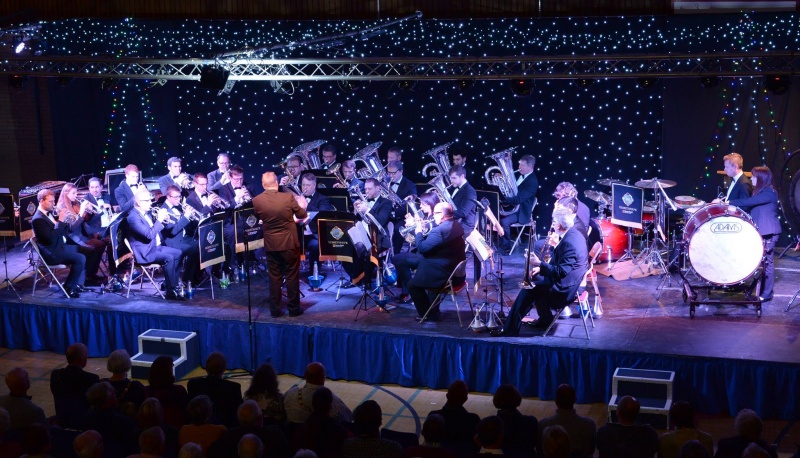 Photo courtesy of I`d rather be in Deeping


Schools Surprise
There was an end of term surprise for the choir at Linchfield Primary School in Deeping St James.
The Rotary Club of the Deepings presented the choir, known as the Mini Gs, with a cheque for £50 as a 'thank you' for their performance during the recent Grimethorpe Colliery Band Concert at Deepings Leisure Centre earlier this month.
After the interval at the concert the choir, accompanied by their musical co-ordinator Richard Gombault, sang three numbers, including a John Lewis Christmas medley and a song the choir had written themselves. Their performance was enthusiastically received by the packed hall of 500 people and even earned a standing ovation from the musicians in the band.

The cheque was formally presented to headmaster Andy Fawkes by Rotary President Alan Kendrick at Friday's school assembly.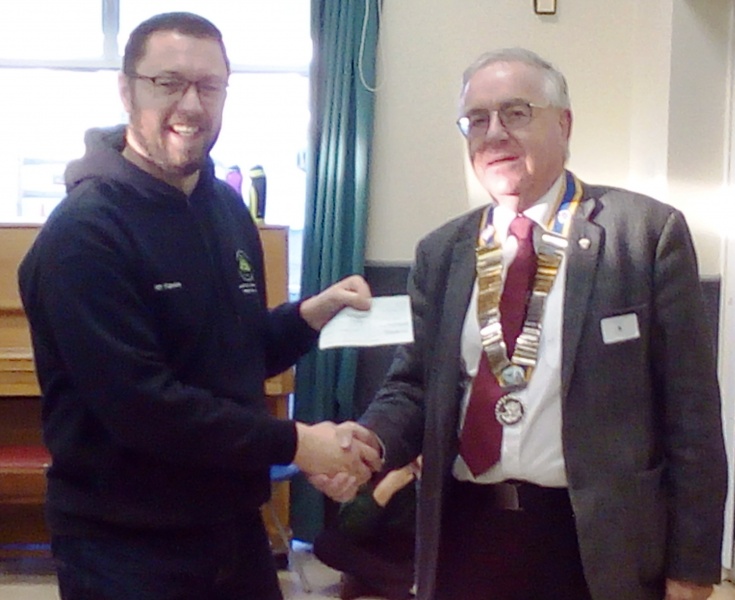 The Christmas Tree from the Grimethorpe Concert has again been erected in the waiting area at The Health Centre.......
MERRY CHRISTMAS from The Rotary Club of the Deepings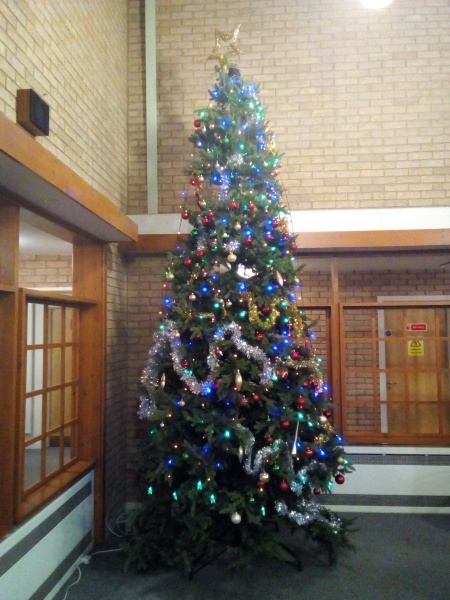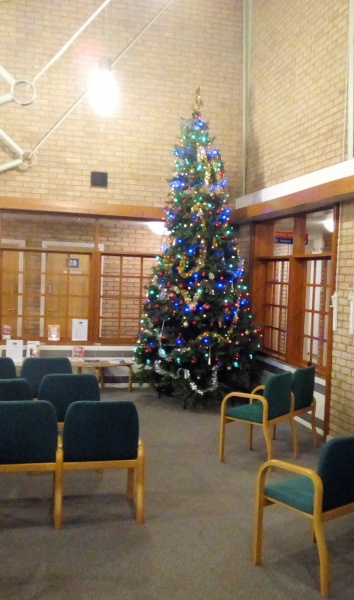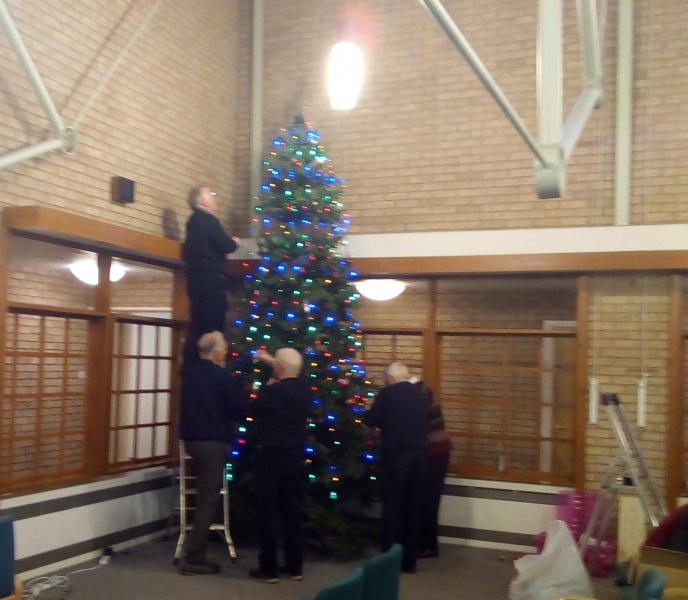 Carl & Christine at Deepings Inner Wheel Christmas Coffee Morning...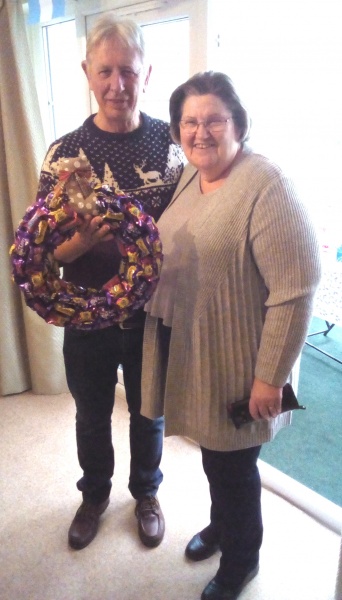 Guess who eventually ended up with the Chocolate Ring....

Thanks Christine, he would have been sad, all day


Christmas Comes Early for Faith
Christmas came a little early for six-year-old Faith McLennan of Maxey.
Faith suffers from cerebral palsy, which affects all four limbs, and her parents Caroline Brewster and Lee McLennan wanted her to have an iJoy Ride, a hi tech exercise machine designed for indoor rider training but also, most significantly from Faith's point of view, designed to improve core balance and tone and condition leg muscles. It is all the more important for her as, next summer, Faith is set to undergo a major operation - Selective Dorsal Rhizotomy - at Bristol Children's Hospital to improve the muscle stiffness in her limbs which will help make walking easier for her, with the iJoy Ride seen as an excellent way for her to prepare for the operation and beyond.
On hearing Faith's story, the Rotary Club of the Deepings and the Deepings Lions Club were keen to get involved and pooled together to purchase an iJoy ride (cost £499) for her.
It has now been delivered to the family home and mum Caroline said that Faith was so excited when it arrived. Rotarian John Lavery, who co-ordinated the project, said: "We were only too pleased to help such a deserving cause and it was so good that both we and the Lions could work together on this project. "We hope Faith will have many years of enjoyment from her iJoy Ride machine and we also hope it will help her achieve greater mobility to enable her to have greater freedom and independence."
Vince Sterland, treasurer of Deepings Lions, said: "These are the sort of projects we like to help out with. We were pleased to support such a worthy cause to help Faith to improve her mobility. To see the expression on Faith's face and share her excitement when opening the box makes our fundraising all worthwhile."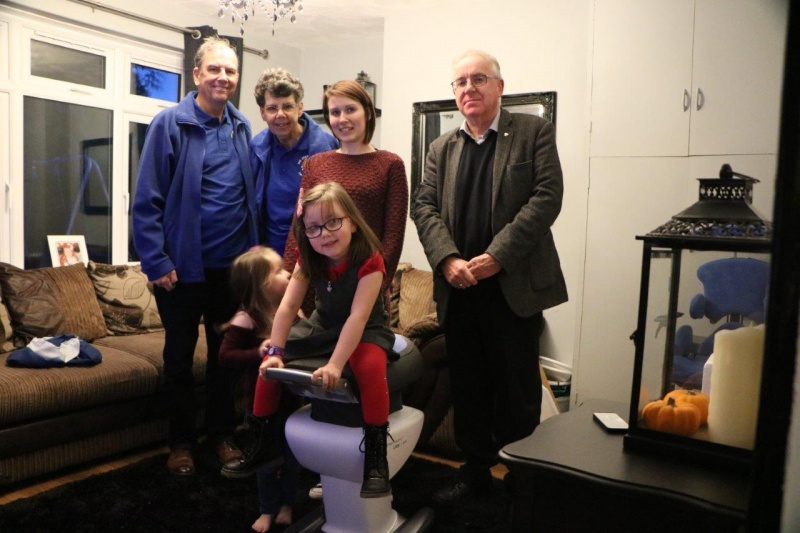 Faith McLennan on her iJoy Ride with, from left, Lions Vince and Carol Sterland, sister Tayla , mum Caroline Brewster and Rotary President Alan Kendrick
Shoeboxes
Again the Rotary Club of The Deepings have carried out there annual Shoe Box collection, these boxes are than distributed through out Eastern Europe to needy families.
The boxes can be filled with, Toys, Teenager requirements, Household goods, or Baby requirements, they must not contain, sweets, food, anything that requires batteries, seeds, or aerosols.
We were a little late in starting our collection this year, but still manage to collect 144 boxes, all the boxes being filled by Deeping Rotary members and our Deeping School Interact members, who collected 96 boxes, that's more than the 48 by Rotary members. Well done Interactors.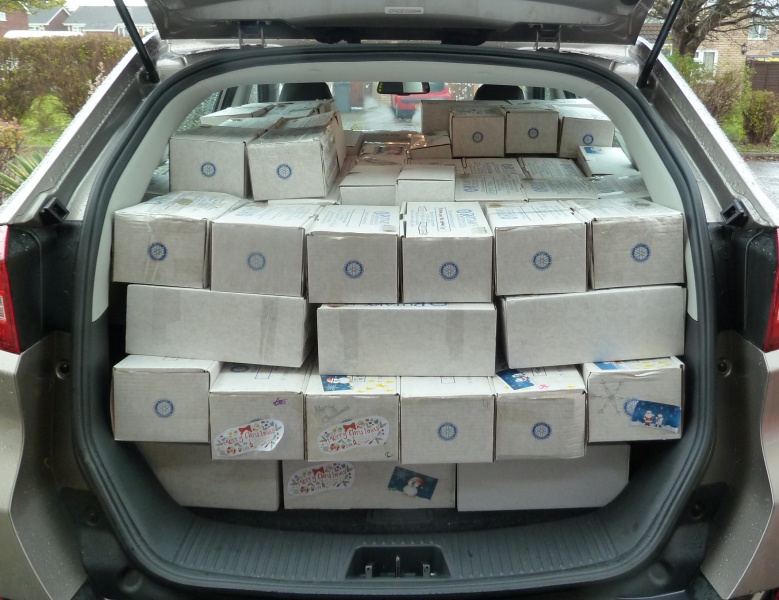 Tenth Anniversary of Deepings Interact Club

The current school year is a very special one for the Interact Club at The Deepings School as it marks the club's tenth anniversary. Established by the Rotary Club of the Deepings in 2007, it is one of the most successful Interact groups in the region.
Interact is a Rotary-sponsored service club for young people aged from 12 to 18 that gives them the opportunity to participate in a variety of fun, meaningful service projects while at the same time developing leadership skills and encouraging greater involvement in the local community.
There are currently 20 members of the Deepings Interact Club, with Tayla-Mai Tomlinson this year's president. Tayla-Mai said: "Being president of Interact and taking part last year has increased my ability to communicate with others and take leadership. "I have developed skills that have made me a better person. "The most rewarding event we have been involved with is the trip to Wickstead Park with the children of Chernobyl. "Helping those in need has been so rewarding, I am so grateful for this opportunity."
Other leading officers of the club are vice president - Louise Sturman; treasurer - Megan Burkitt; secretary - Bradley Harrington and press secretary - Avni Dosa.
The club organises a number of fundraising activities during the year, the most recent of which was a successful quiz night last week. They are also proposing an Era Night, Colour Run and bake sales.
Over the 10 years the club has been in existence it has raised many thousands of pounds for good causes. Members regularly help out at various community events, including the Deepings Rugby Club bonfire night and Market Deeping Christmas Market, and some of the members have been out with the Rotary-Lions Santa sleigh which began its annual tour of the Deepings area on Thursday, November 30 and will be visiting communities in that area on week nights until Friday, 22 December.
Interact co-ordinator Tom Johnson, of Deepings Rotary, said: "Interact has been part of my life for the last 10 years and the young people who become Interactors are a great credit to Rotary, the Deepings School and our community. They are conscientious, caring and excellent fund raisers. "They are wonderful ambassadors for our young adults and teenagers, and I wish them well for the future." The Interact Club meets in the Sixth Form Centre at The Deepings School every Tuesday after school during term time.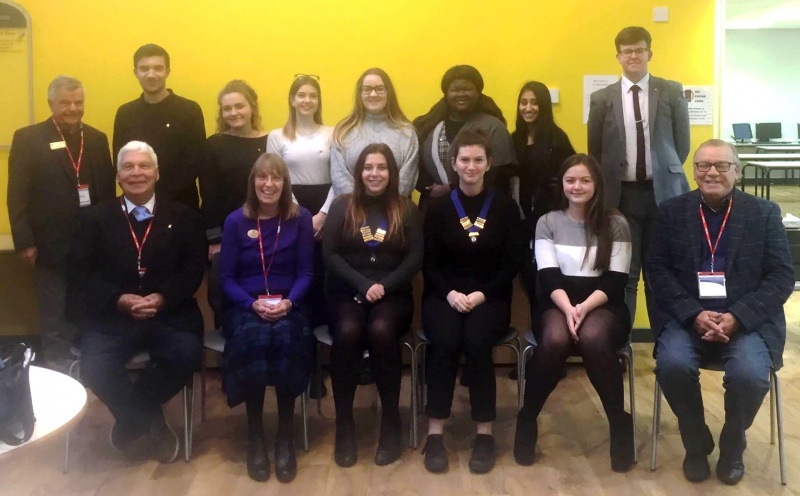 Rotarians Tom Johnson, front left, and Bill Shaw, front right, with members of the Deepings Interact Club.


ROTARY VISIT THE ALPACAS in Maxey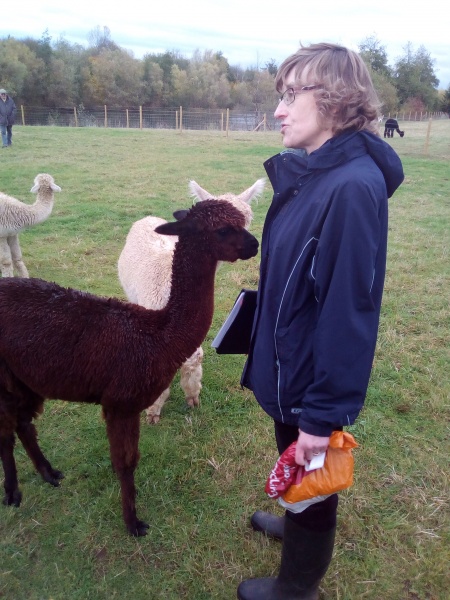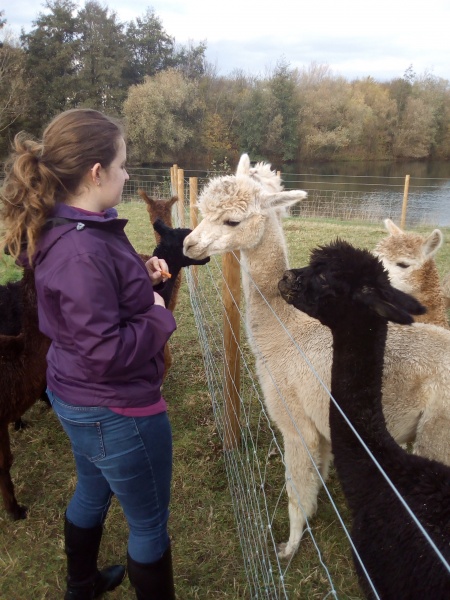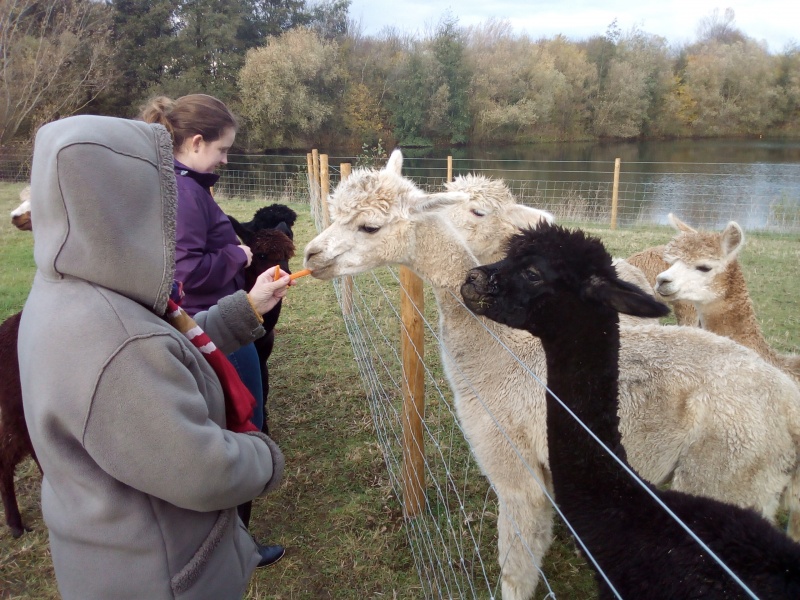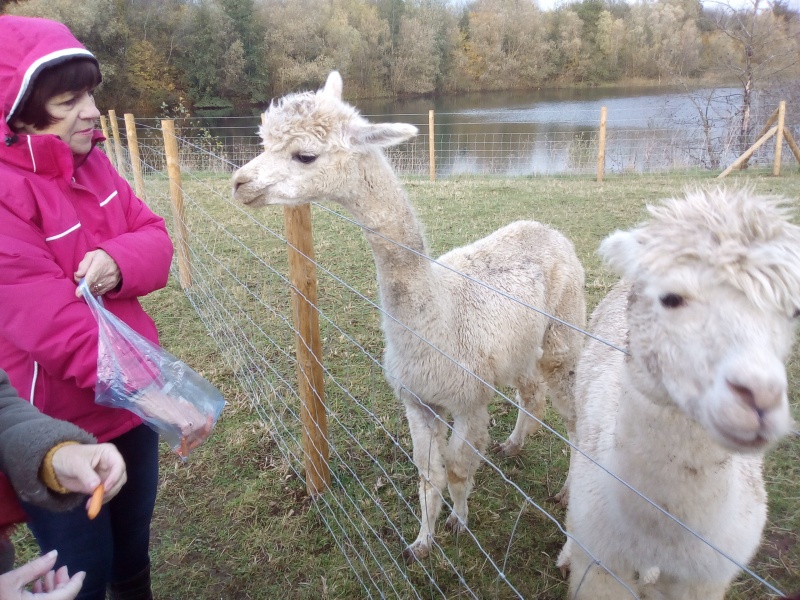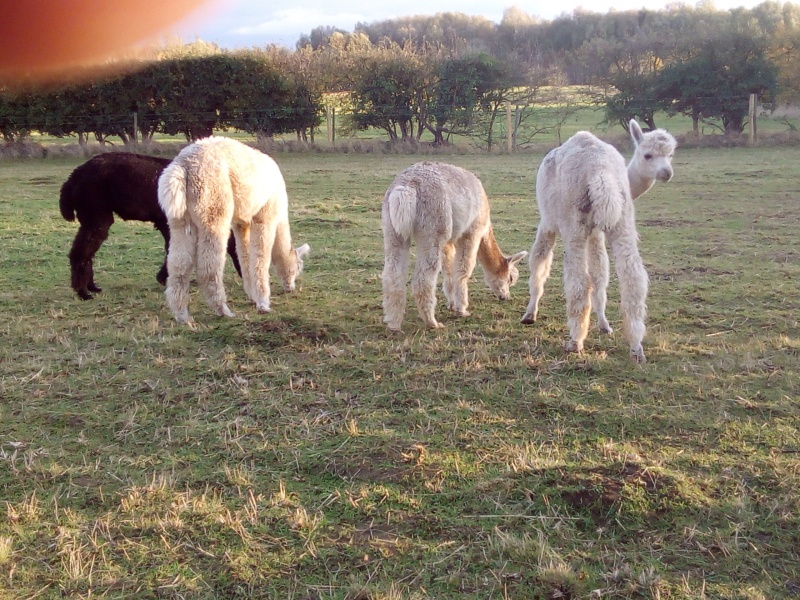 ROTARY DISTRICT QUIZ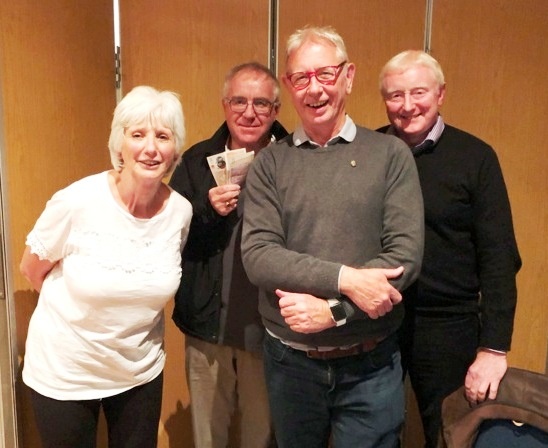 The first round of the District Quiz was held at Milton Golf Club last Wednesday evening, our Team, Alan, Carl, Mary, and John was ready and raring to go.
The first surprise was that there were only five teams from our area and that one team only had three players so we thought "we might be in with a chance here". The second surprise was that there was a £40 prize for the winning team to be donated to a charity of their choice.
After a dinner of Chicken Chasseur, we settled down to the first round which was Geography and just to say that if John had not been there our score would have been dismal! However that did not prevent our President from having a go at John when he got one question wrong.
At the halfway stage we were one point ahead of Uppingham. Sadly we did not win the chocolate bar that was on offer as we could not guess the height at which the high jump Olympic gold medal was won. Carl was distraught and the Ortons did not share it!
It was an interesting quiz with a whole round of questions on Bruce Forsyth – only 6 marks that round, but we did well on the History round, but if only we had known the date of the French Revolution. It all hinged on the final round, General Knowledge – who knew that the town of Boring in America was twinned with Dull in Scotland, NOT US, but Alan did know that the Addicks was the name for Charlton Athletic FC..... WE managed to get 8 and WIN.
Alan chose Polio as the charity that we wanted to support with our winnings and we now progress onto the District final which is being held in Corby on the 9th November. It was a good night and a good quiz. Our team gelled well and we all had our moments. BRING ON THE FINAL!!


Rotary and ShelterBox help to the Caribbean
Deepings Rotary Club send off two SHELTERBOXES

Whole islands devastated After suffering the wrath of Hurricane Irma, the Caribbean is once again being pummelled.
The arrival of Category 5 Hurricane Maria makes this one of the most ferocious hurricane seasons ever recorded. We are currently coordinating the provision of aid across five countries, including Antigua and Barbuda, the British Virgin Islands.
A team is also on its way to the island of Dominica, which has seen massive devastation from Hurricane Maria.
We have a variety of aid in the Caribbean, so we can tailor our response to best support different communities. On some islands, there will be the natural resources available to quickly rebuild homes with the help of a ShelterKit. Elsewhere, our tents will be the best option – creating a warm, safe home while the long clean-up process takes place.
But it's not just the Caribbean that has been affected by extreme weather. Torrential flooding in Nepal and Bangladesh has left communities in urgent need of aid. Our teams are on the ground in both countries now, but the need is overwhelming. We're impatient to respond – wherever we're needed in the world – but we need your help.
Jenny Bullivant - Voluntary work in Malaysia with Project Trust
Rotary Youth & Community Committee approved a donation of £100 to Jenny Bullivant towards the cost of her gap year in Malaysia.
Jenny is 18 and has just finished her A-level studies at Deepings School. She has been accepted to do voluntary work with Project Trust in Malaysia, where she will live and work within a local community, learning about the culture and helping to teach English to Malaysian children.
In order to take up this opportunity, Jenny personally had to raise £6,200 to cover the cost of flights, insurance, training, accommodation, food etc. She organised a number of fundraisers but also had to use some of her own savings to ensure her place.
Jenny came along to The Goat on Monday 4th September to accept the money and to thank Rotary for the contribution, two days before she flew to Malaysia.



Purple 4 Polio

Source. The Telegraph. Friday September 15th
Rotary tackled polio long before Bill Gates
SIR - In 1985, Rotary launched its PolioPlus programme - the first initiative to tackle global polio through the mass vaccination of children.. Since then, Rotary has contributed more than 1.28 billion and countless volunteer hours to immunize more than 2.5 billion children in 122 countries. Its advocacy efforts have also played a role in decisions by donor governments to contribute more than 5.4 billion to the effort. It was in 2013 that the Bill and Melinda Gates Foundation teamed up with what was already a well-funded and well-coordinated effort to rid the world of this dreadful disease. The Gates Foundation has assisted immensely in the final push to tackle polio, but it would be good to see Rotary receive recognition for its 32-year effort.
Mike Cowan Cowes, Isle of Wight
Deepings Rotary decorate " The Lionel Beck Room" in the Community Centre

Rotarians in the Deepings area took up the challenge when the call came for help to decorate one of the rooms at their local community centre.
The much used Lionel Beck Room at the Deepings Community Centre was in need of a facelift and, as Lionel Beck was one of the founding members of the Rotary Club of the Deepings, club members were only too willing to lend a hand.
Seven Rotarians, ably assisted by Liz Noble, one of the centre's volunteer board of directors, went to work to completely redecorate the room.
That work is now finished and the room has been given a new, brighter look. The centre has also had new blinds fitted and will shortly be installing new flooring to complete the room's total makeover.
Rotarian John Lavery, who co-ordinated the decorating, said: "When the community centre approached us, we were only too happy to help. "The centre is an important focal point for the Deepings community and the fact that the Lionel Beck Room is dedicated to a founder member of our Rotary club gave us an added incentive."
Sue Harris, chairman of the Deepings Community Trust, the volunteer body that runs the centre, said: "The donation of time and effort by Rotary members to redecorate the room has made a welcome and significant contribution to this project. "We feel that refurbishment of this room will increase the range of groups that can make use of the room and will significantly improve the appearance and comfort level in general."
PHOTO...LEFT TO RIGHT Rotarians: JENNY SPRATT...JUSTIN GRAY... JOHN LAVERY...DAVID KETTERINGHAM...CARL MIDGLEY Inset: SUE TITMAN... GEOFF FOWLER.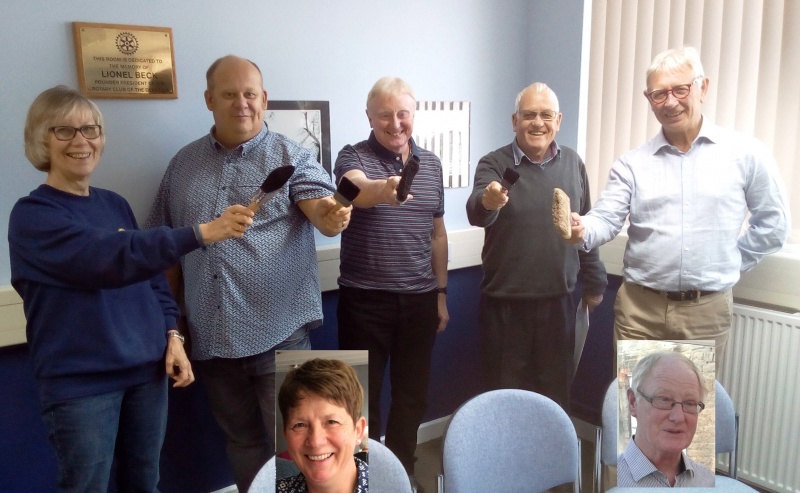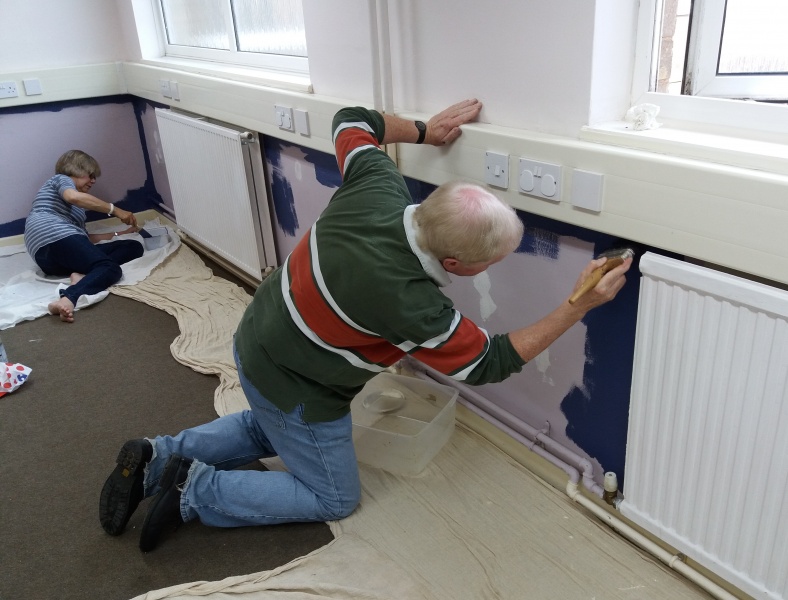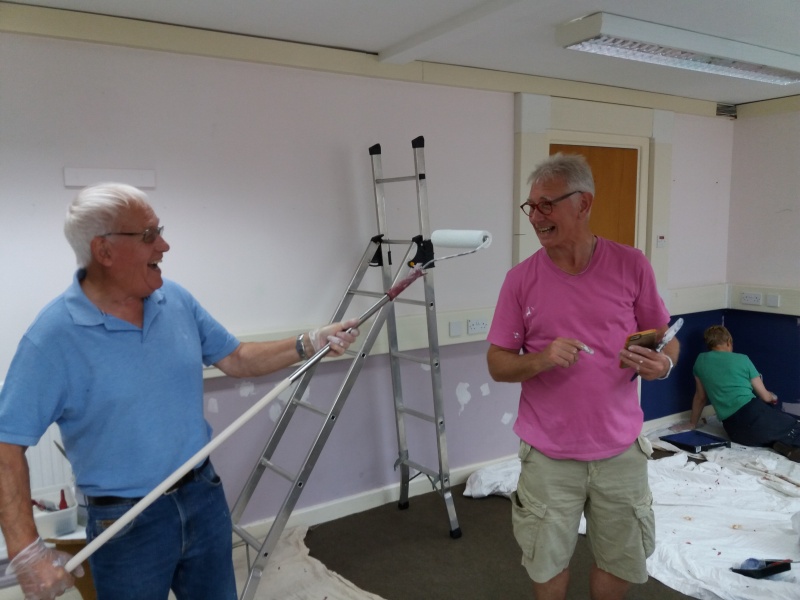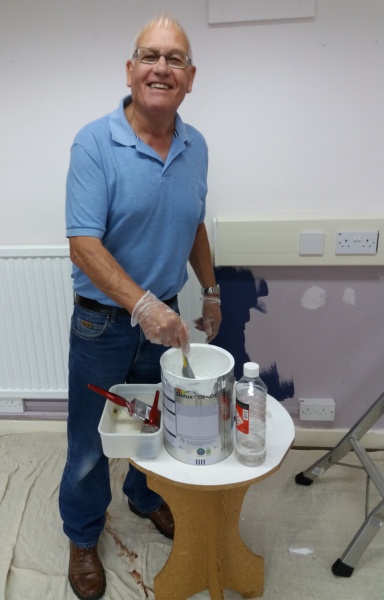 Rotary working in the Community
Members of the Club have again stepped up with paint and brush in hand to decorate the Lionel Beck Room in the Deepings Community Centre.
Now after a couples of weekend`s work it is sparkling and fresh again.
PLEASE SHARE
Last Monday John Slimmon brought along a set of scales and announced to the Club that he intended to lose 3 stone in weight over the next 12 months.
To try put this effort to good use he will be seeking sponsorship to raise money specifically on behalf of a project to help get solar panels into remote schools in Nepal. All monies will go through the Rotary Club of the Deepings so we can be sure the money gets to where it is needed.
As there is very little electricity available in remote communities in Nepal this will allow the children to benefit from equipment such as dvd's and an e-library giving them an opportunity to receive a better education which, as we all know, is one of those vital things helping to lift them and their communities out of poverty.
Anyone wishing to support this please contact John Slimmon and share this post on your own pages.
John's starting weight is 20 st 7.25 lbs. A weigh in will take place at our business meeting each month so we can not only monitor his progress but also cheer him on! Good luck John.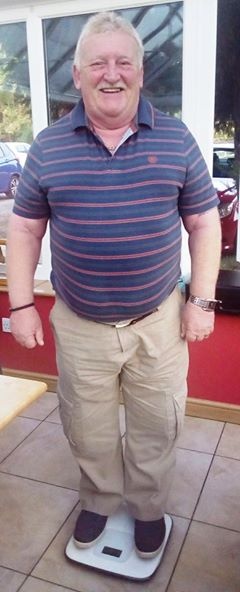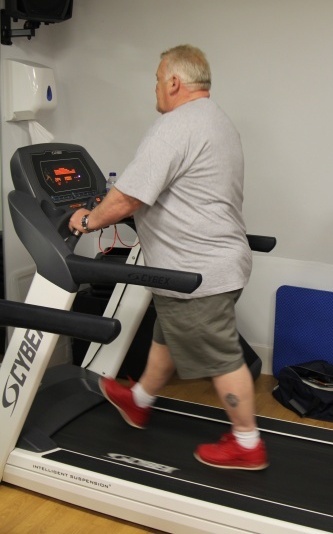 18th Sept.... weigh in @ 19st. 10lbs
10th Nov..... weigh in @ 19st. 6.5lbs

12th Jan......weigh in @ 19st. 2.1lbs

17th Apr..... weigh in @ 18st. 3lbs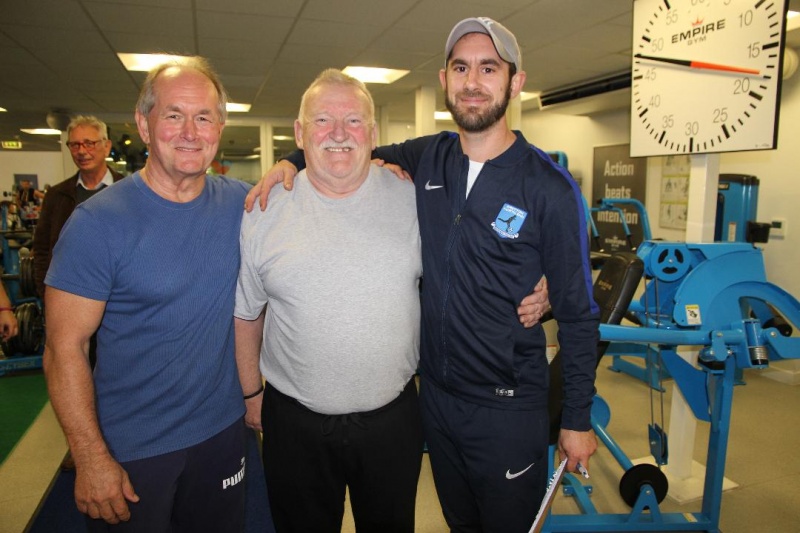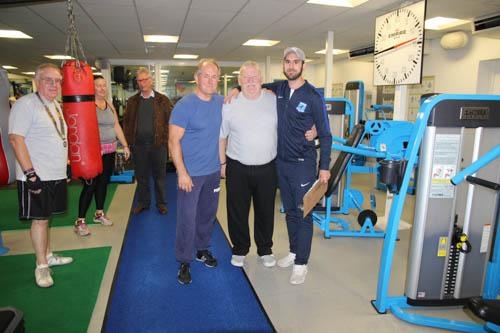 Empire Gym support Rotary`s Sponsored Weight Loss for the Nepal Remote Village Trust Appeal.
The challenge is for me to lose three stone in one Rotary Year and the members of the Rotary Club of the Deeping's are sponsoring me in my quest. T
he Empire gym in Market Deeping has given so much support, I cannot thank them enough and the Gym owner Steve Weston has also sponsored me. The funds raised will help provide solar panels in a school in a remote area of Nepal thus allowing the children to have the use of an e-Library to further their education.
This Rotary Year ends on June 30th 2018.....WISH ME LUCK! John Slimmon The Rotary Club of the Deepings
THE ROTARY CLUB OF THE DEEPINGS 2017 - 2018
Members photo..

Rotary`s Annual Trip to Wickstead Park with the Children of Chernobyl.
The pictures show the Children from Chernobyl enjoying a day out at Wicksteed Park, organised by the Rotary club of the Deepings.
As usual they had a most enjoyable day and it was an extreme pleasure to see them excitedly go on the rides etc. their happiness and laughter was a joy to see.
Rotary have been taking these young children to Wicksteed for many years. They come from a very poor community in Belarus and live in a radiation area. The wonderful Friends of Chernobyl in Helpston bring these children here for a month which increases their life expectancy by two years and they come over a period of 4 annual visits. Their life expectancy before the visits is 45 years.
Rotary would like to thank the TESCO Store in Market Deeping for the supply of food for the visit and also Coaches of Langtoft for their kind assistance.






Open LINK below for more details...



Club Night Visit to Oakham Castle
A very enjoyable evening, for Rotary Members & Partners, was spent on an excellant guided tour of Oakham Castle..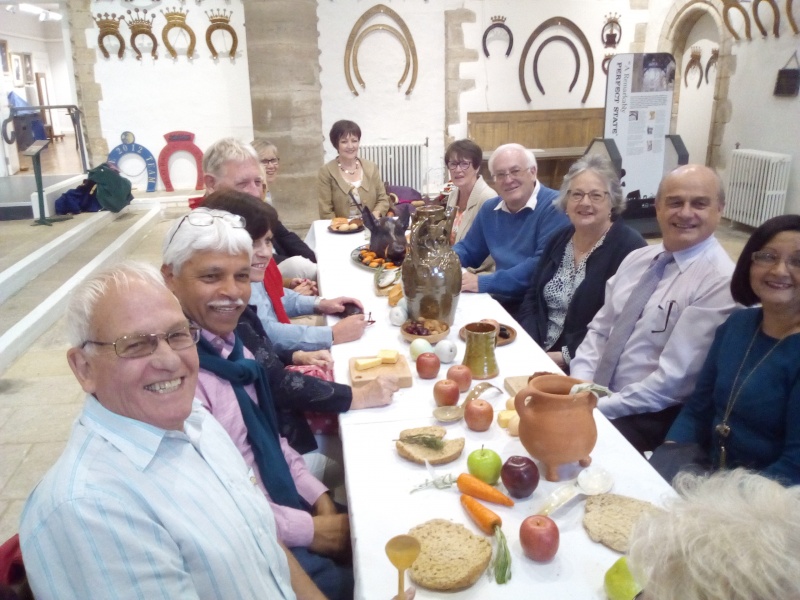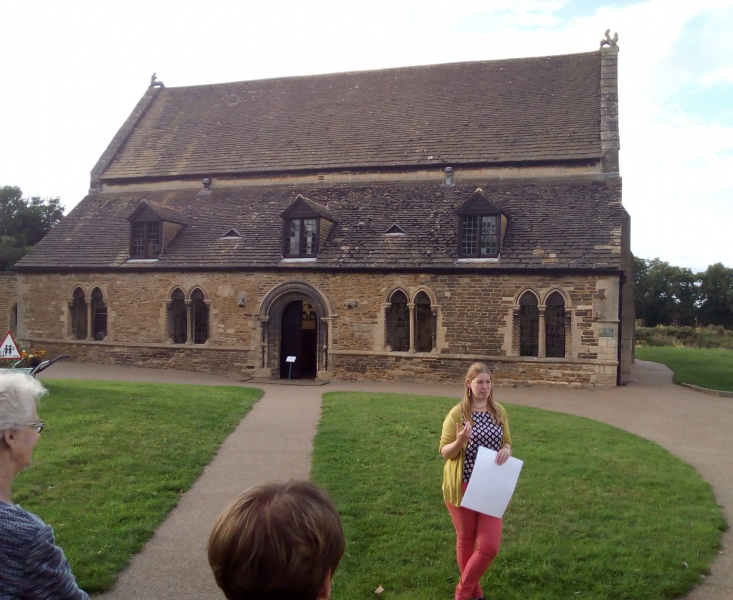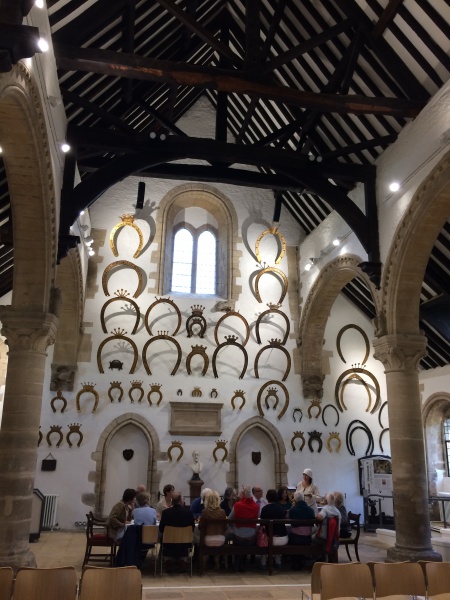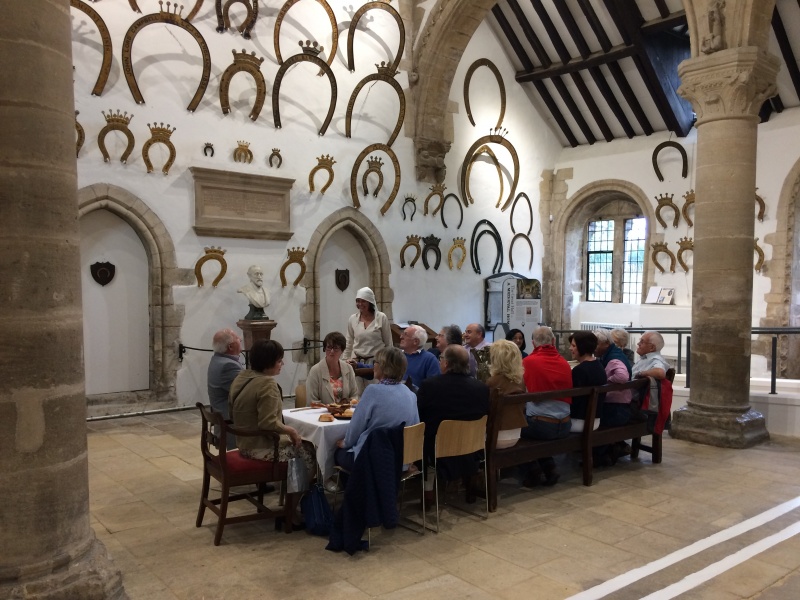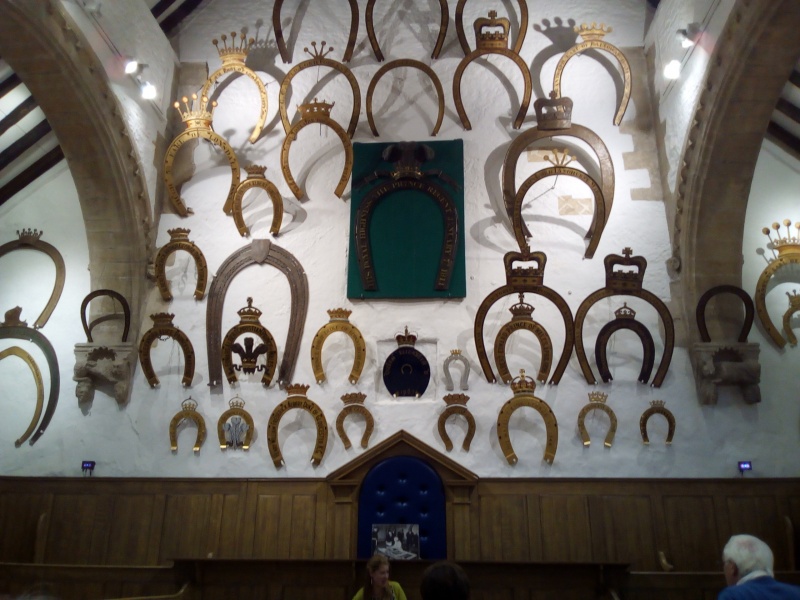 President Alan Kendrick @ The Deepings Dog Show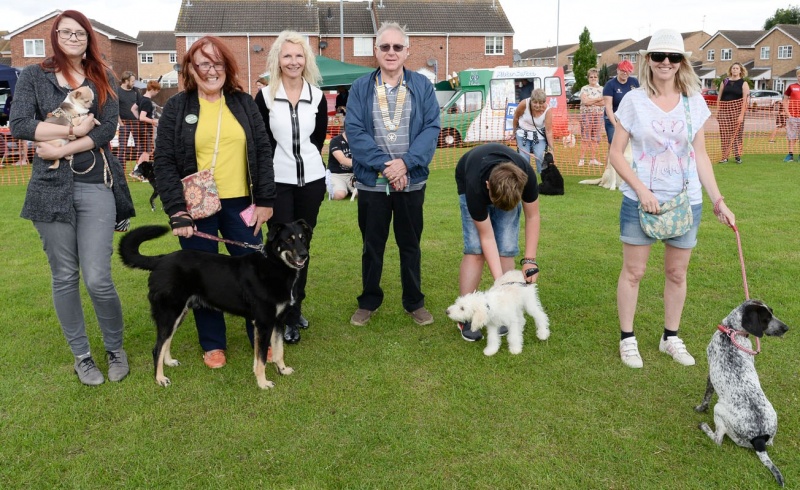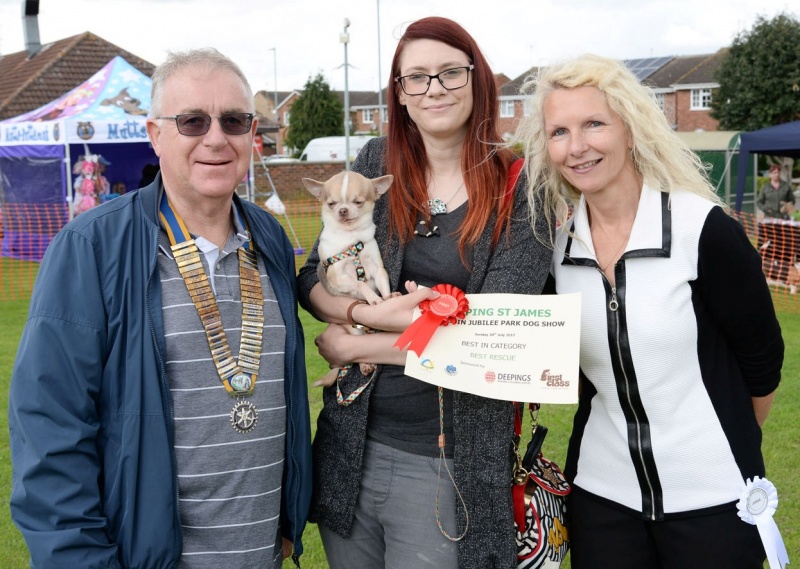 Deepings Interact Handover.... July 2017
New President takes over the Chain of Office.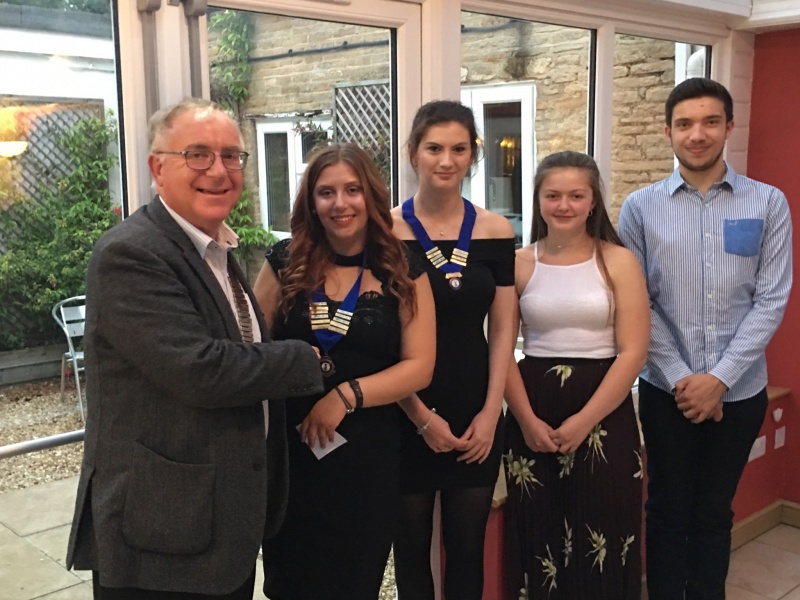 Rotary President Alan Kendrick with new Interact President Tayla mai Tomlinson,
Vice President Louise Sturman and the team..

Deeping Carnival... 2nd July 2017
Sunny weather saw a big crowd turn out for the annual Deepings Carnival and Parade .
The event, organised by Deepings Lions Club and the Rotary Club of the Deepings, began at 11am on Sunday when the parade left the Deepings Leisure Centre and set off towards the John Eve Field.
The colourful procession of people, floats, bikes and vintage vehicles had the theme Carry on Rio. The carnival itself featured a funfair, craft stalls, beer and wine tent, car boot sale and live music throughout the day. There was also a flypast by Spitfire and Hurricane aircraft from the Battle of Britain Memorial Flight.
District and parish councillor Judy Stevens, who helped to organise the event, said there was a great atmosphere, in excess of 1,000 people attended which was great.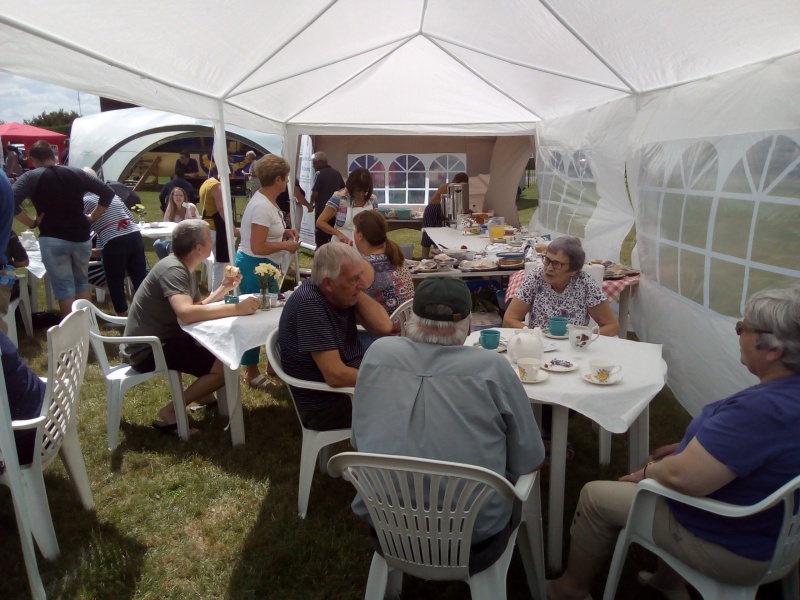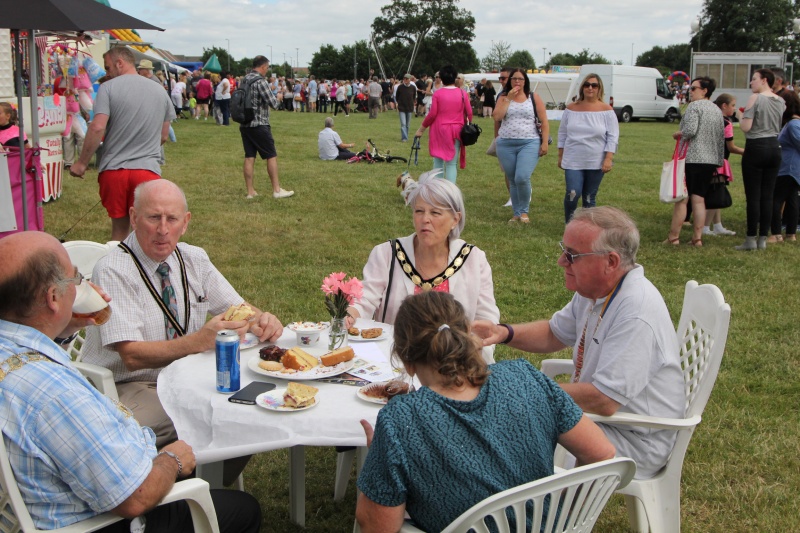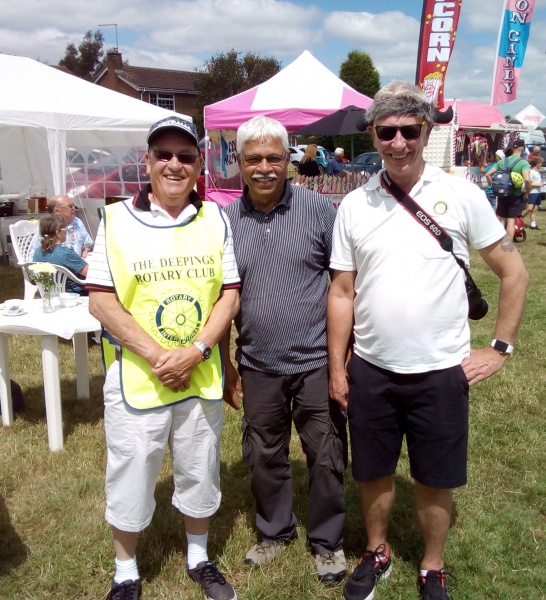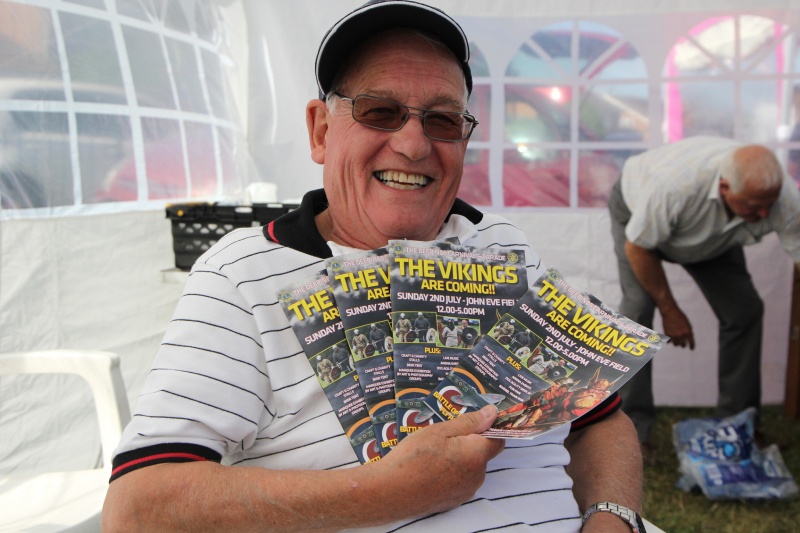 ROTARY ran a Bar, whilst, INNER WHEEL served Tea & Cakes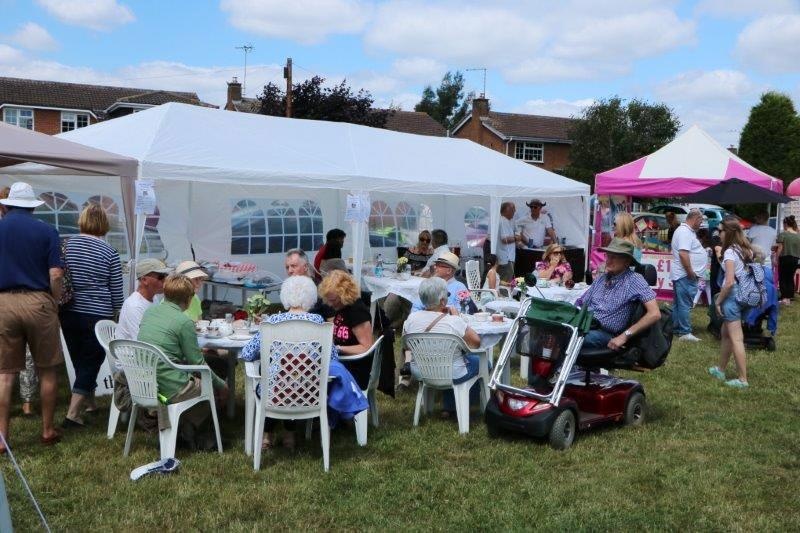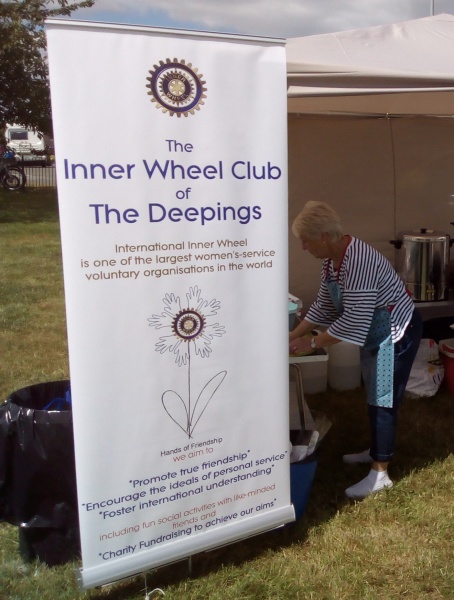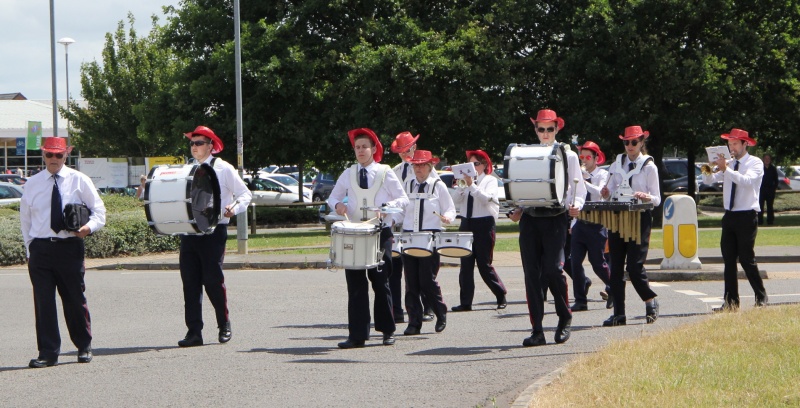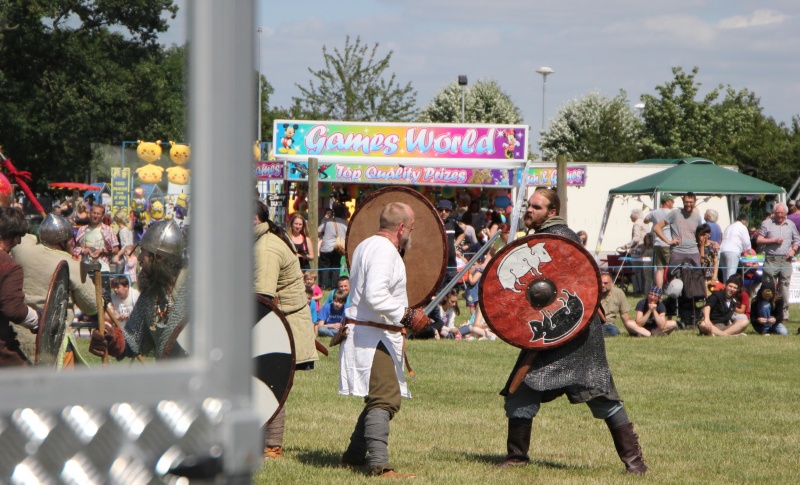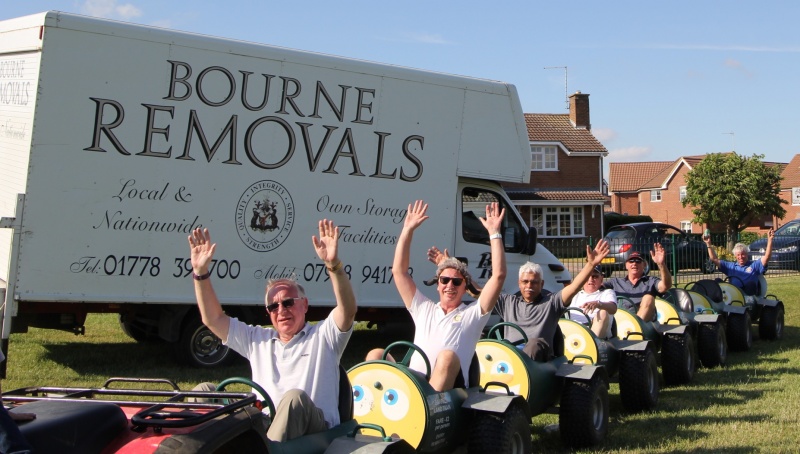 Sarah Duncan to The Rotary Club of the Deepings... 13th July 2017
"I would like to say a big thank you on behalf of Headstart Nursery to the lovely lady we saw this morning whilst taking part in our Little Bears Club camping activities at Scout Island - Low Locks, with some of the children.
The Rotary Club have done a Fab. job of clearing the paths and making it a lovely place to use, we are grateful that it is a well kept place for us and others to enjoy.THANK YOU"

(Found on FACEBOOK)
Members and Guest watched Alan Kendrick don the Chain of Office, as the new President of the Rotary Club of the Deepings, in it's 44th Year, from Past President, Carl Midgley.
Accepting the chain Alan said "I am sure we will have a great year because we all have the same aim which is to make the Rotary Club of the Deeping successful by our work in the local community, making contributions to overseas projects, and at the same time having fun. Long may it continue.....
I am looking forward to my year as President of possibly the best Club in the District and working closely with our Inner Wheel and Interact Clubs, who's support is always forthcoming, welcomed, and invaluable ".
Earlier in the Evening, a presentation was made by the President Carl to Jill Thomas of " Rotarian of the Year Award", for all her commitment and work during the past year.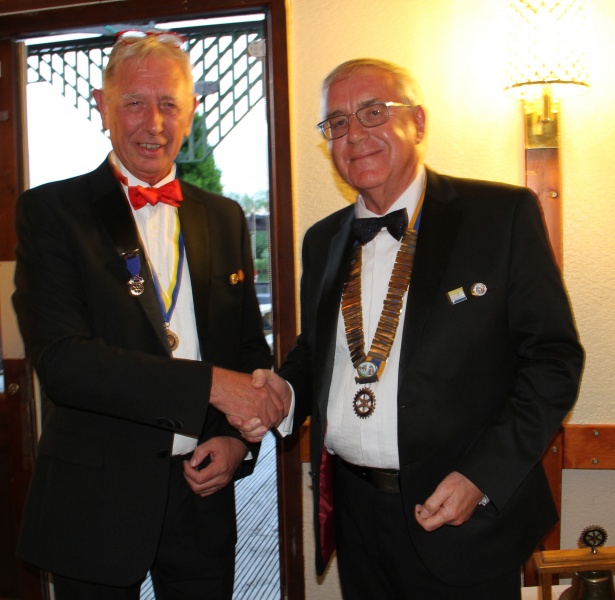 Past President Carl Midgley with New President Alan Kendrick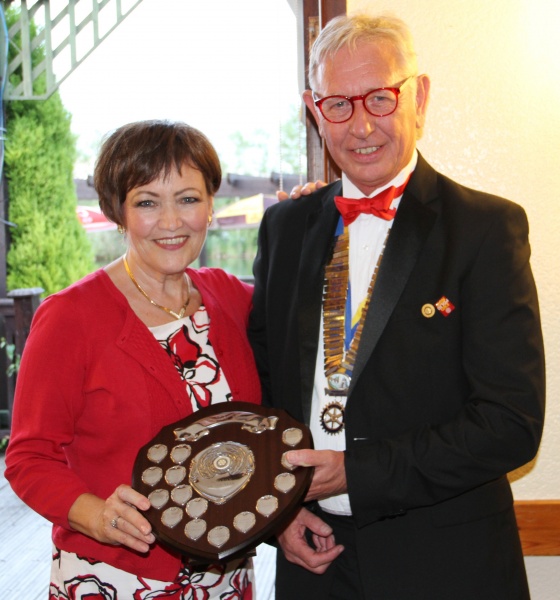 President Carl Midgley & Rotarian Jill Thomas, receiving "Rotarian of the Year" Award.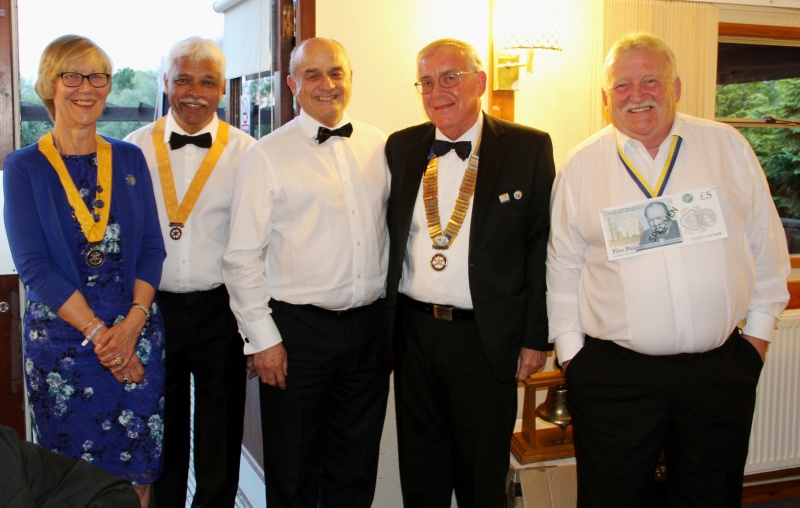 President Elect Jenny Spratt, Vice President Amrit Mistry, Treasurer Robert Amies, President Alan Kendrick and Secretary John Slimmon


Deepings Rotary "Youth Speaks" Competition 2017 ....
Deepings Rotary Club's Annual "Youth Speaks" Competition took place at The Goat, Frognall on Monday July 9th.
James Jessop, Luke Giddings, Bradley Harrison and Demi Wey, all lower sixth pupils at The Deepings School, each gave a prepared talk to a panel of judges and an audience of some thirty Rotarians and members of The Deepings Inner Wheel Club, on subjects as diverse as "The importance of good man-management to the national speedway teams of Denmark and Poland", "How Social Media can change your life", "Learning the hard way, what is truly important in life", and "Why a person's personal image is so important".
After a very close competition, the judges awarded runners- up prizes of twenty five pounds each to James, Luke and Bradley and the Youth Speaks trophy and a prize of fifty pounds to the winner, Demi.
Presenting the prizes, Rotary President Alan Kendrick, said "Not only was this a very close competition, but it was also a pleasure to meet young people who are such a credit to themselves and to their school. All credit to them and also to their teacher Jo Dexter for all the work she did in preparing them for this evening."
Luke Giddings - Demi Wey - Jo Dexter - Bradley Harrington - James Jessop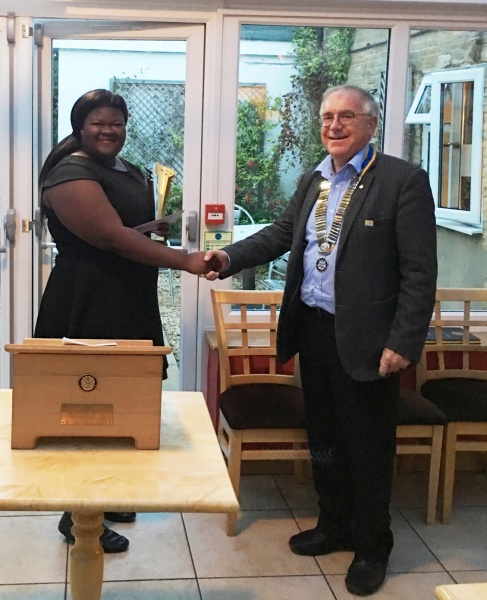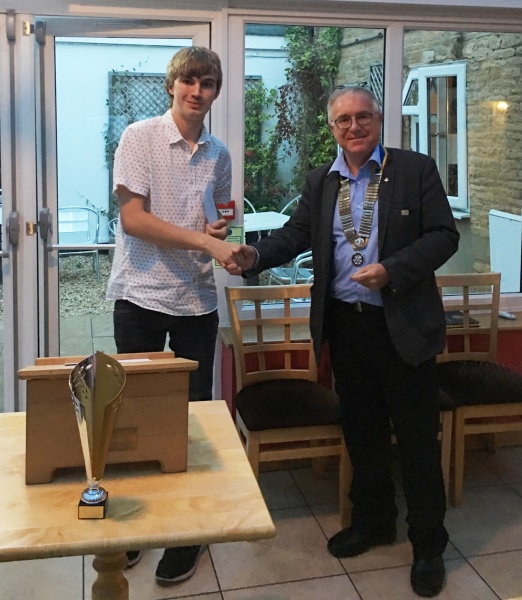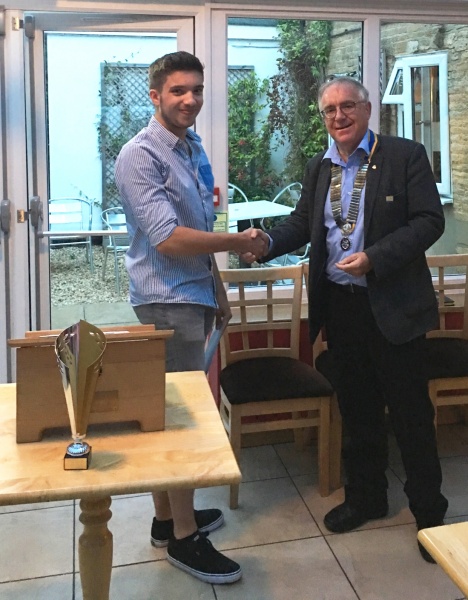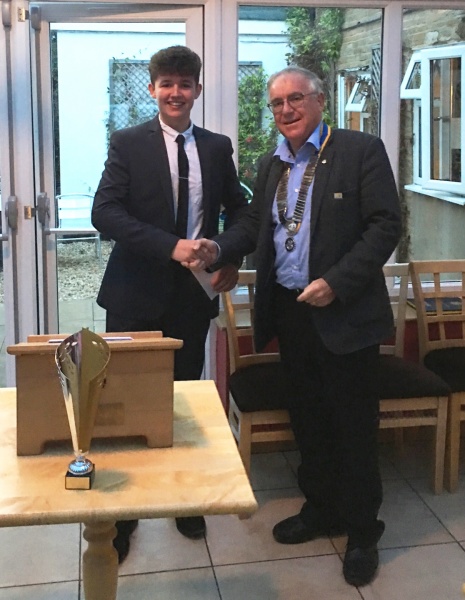 End Polio Now with Rotary Ride 2017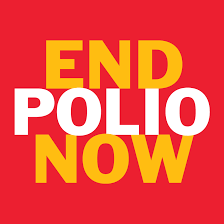 Rotary Ride is a series of charity bike riding events being held by Rotary Clubs across the UK and Ireland on Fathers Day weekend (17th-18th June) to raise money and awareness of End Polio Now. Deepings Rotaryís version of this Fund Raising Event.
If you cannot ride then run and if you cannot run then walk. As far as I am aware the above is not a famous quote but it will become one within the Rotary Club of the Deepings.
We decided we would like to take part in the Rotary Ride for End Polio Now so we approached our local Gym to see if we could use their cycling machines. The answer was a disappointing no, but Steve at The Empire Gym came up with a better idea. We could use their running machines and the gym would put up teams to see who can cover the most distance in 5 hours.
The event was to be sponsored and all the money raised to go to End Polio Now. We actually would have preferred to do the cycling because at least we could sit down whilst doing it but Rotary does not shirk a challenge.
The other teams consisted of 5 members and had serious tactics about when to change over runners but we had our own tactics. Our team was to be unlimited in number and if we could not run then we were going to walk. After all it is a Rotary Charity and we were going to play a full part.
Approximately 140 miles were run that morning and although all the money has yet to be counted we are expecting over £1000 to be raised. We presented an End Polio Now Teddy Bear to the winning team and gave End Polio Now badges to everyone who took part.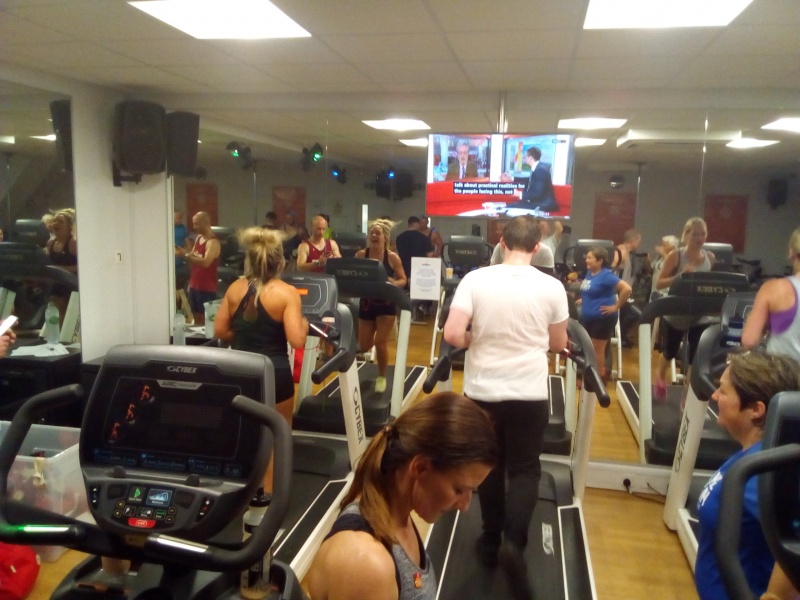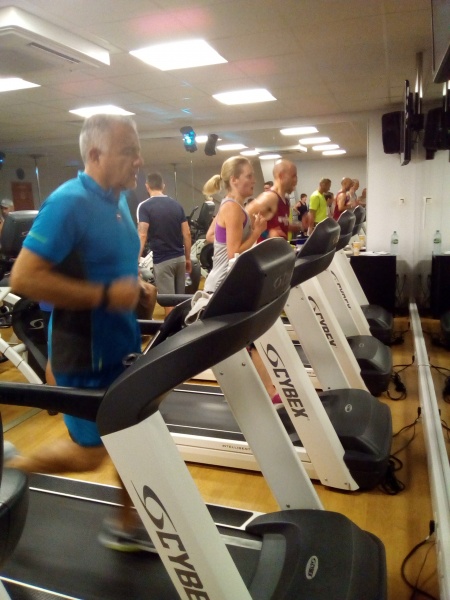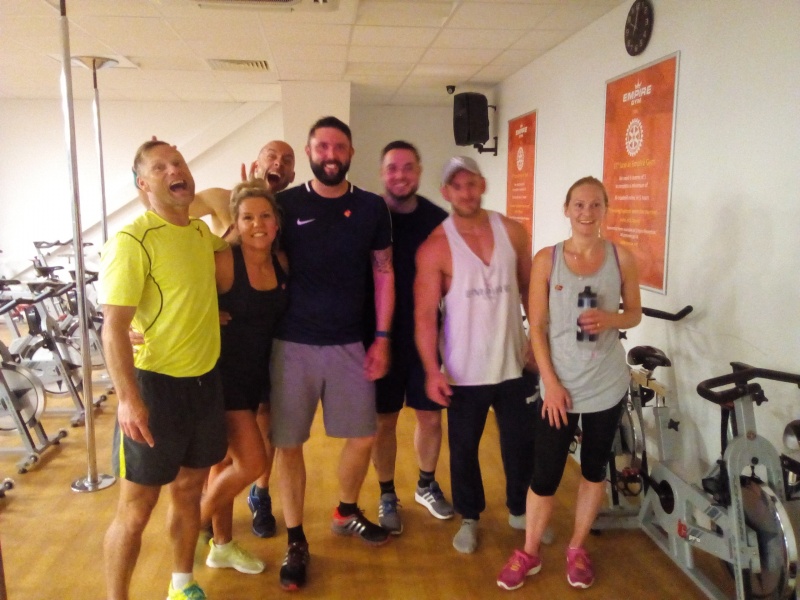 "What a Brilliant Event".
Tremendous Thanks to Deepings Empire Gym for setting this up and supporting it so well. They and the teams who entered raised a fantastic £400!!
The competition which was won by a team from the Gym with a staggering (well it would have been if we did it!) 36 plus miles running in 5 hours. The second team of 5 ladies who ran for a continuous hour each did 33 plus miles.
Well done to everyone who took part. As one gentlemen competitor said "There were no losers today, only polio". What a great quote.
Incidentally our team did about 22 miles probably most of that was put on by President Elect Alan and his family who fielded 5 competitors.
The final figure raised will be around £1,000 which after Bill Gates Foundation contribute their bit will mean that this event raised a total for polio of approx £3,000!
Empire Gym was rightly awarded a Community Service award by the Rotary Club of the Deepings, not just for this event, but for all they do supporting the community... Very Well Deserved.
Thanks to all for taking part and/or supporting this event.
President Carl Midgley
The Rotary Club of the Deepings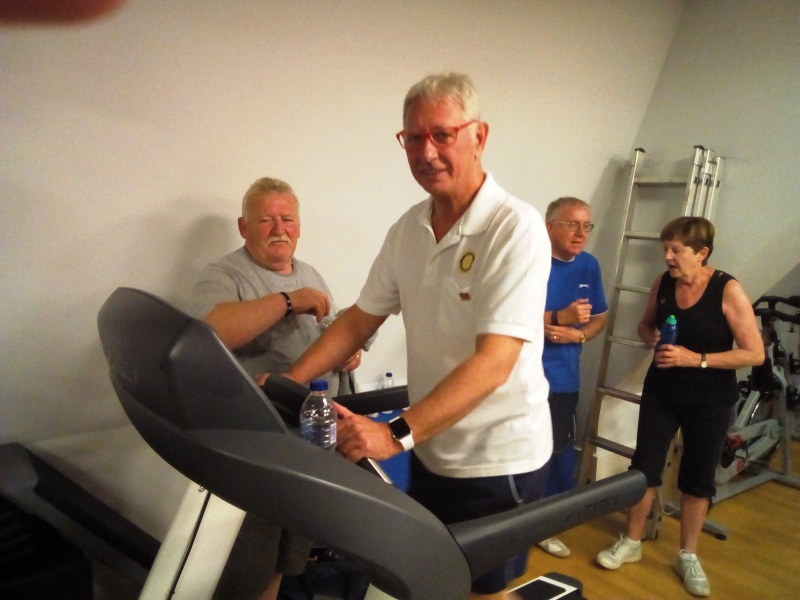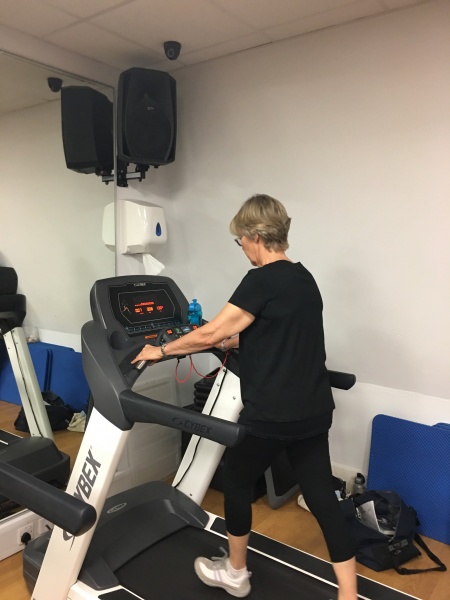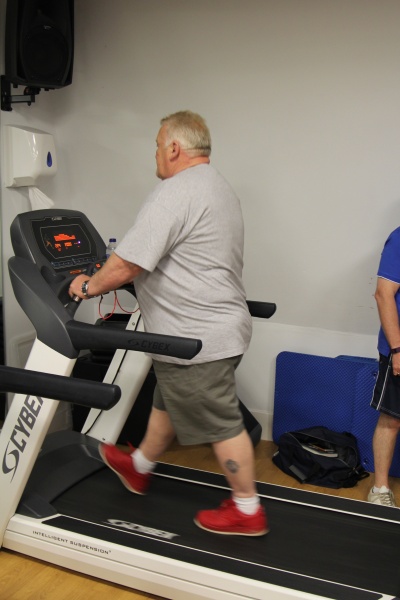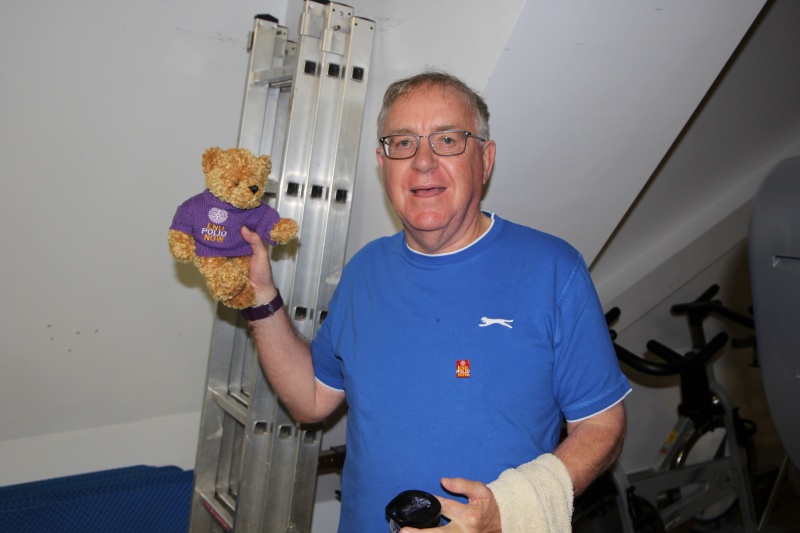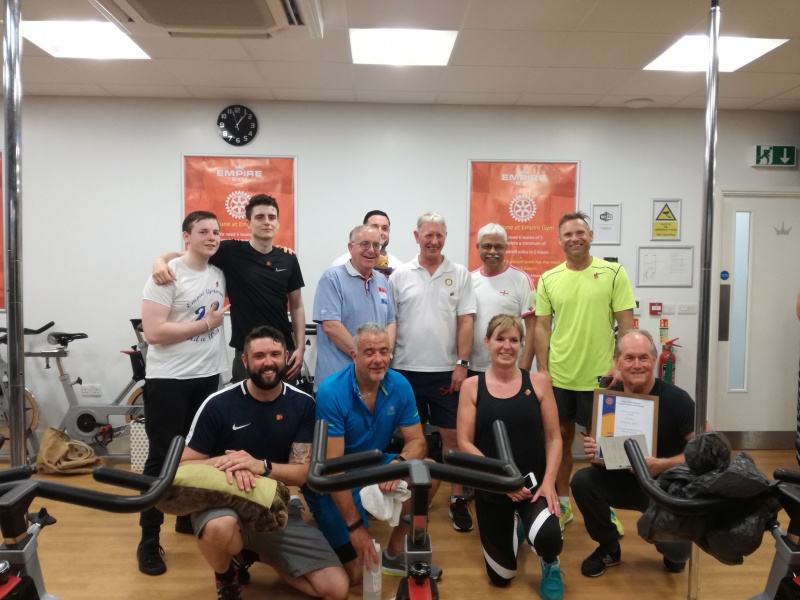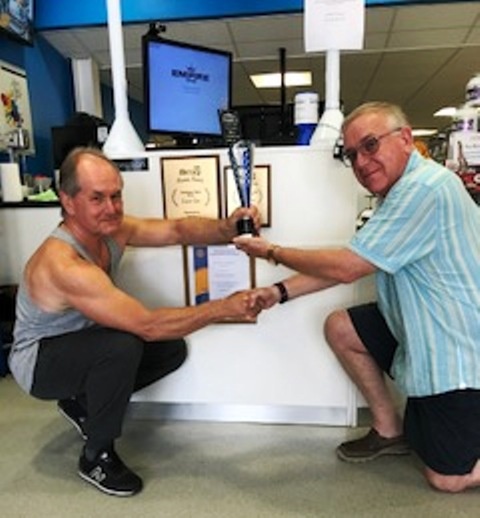 "BAKE- OFF" CHALLENGE 2017
This week the Annual "Bake Off" Challenge took place at the Deeping School, with Competitors from Rotary, Inner Wheel, and Interact, all attempting to make the best Cookies.
In a very hot kitchen and with the ovens cutting out half way through the bake, it was a tense and stressful time for the competitors to produce their best 4 cookies for the judging.
This year, again, PDG Linda May came to adjudicate and duly cast her eyes and taste buds over the final offerings, whilst members looked on, offered comments, and nibbled, where they could.
In 1st place was Rotarian Justin Gray, followed closely by just half a point in 2nd place, Helen Bembridge (Inner Wheel) and Charlie and Elliott (Interact) were 3rd.
Certificates and Prizes were presented to all by President Carl Midgley. He then thanked the School for the use of their facilities and the Buffet provided, which was enjoyed by all, following the presentations. Carl expressed our thanks to Linda May for her judging and to Roger again attending, as Linda`s chauffeur. He presented Linda with a bunch of flowers and hoped they would return for next year`s event.
WHAT WILL THE CHALLENGE BE NEXT YEAR??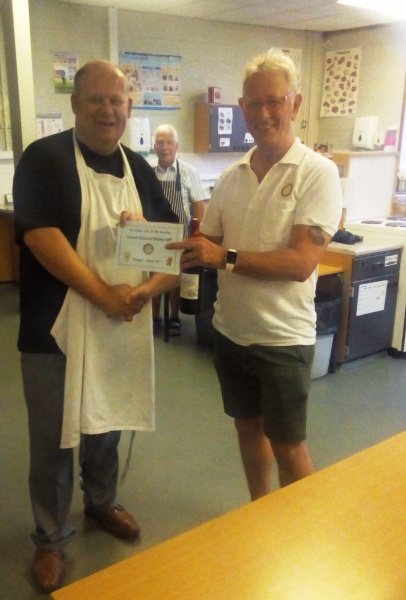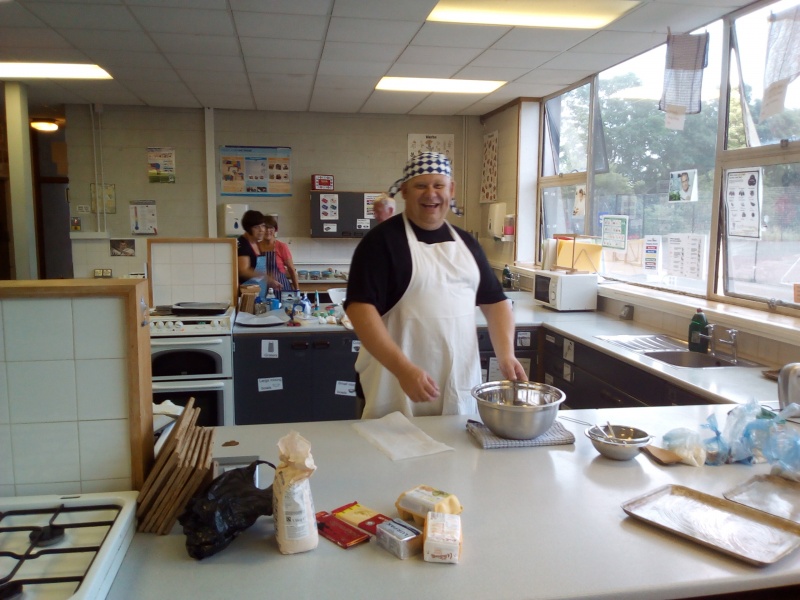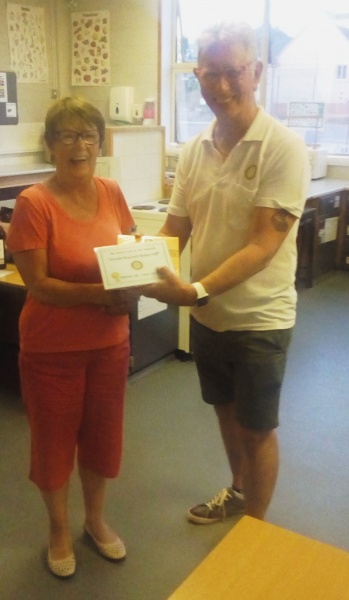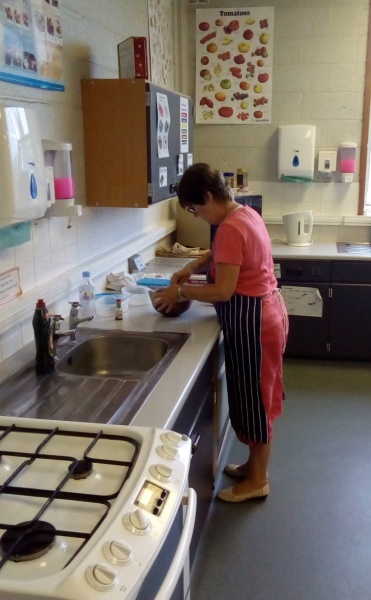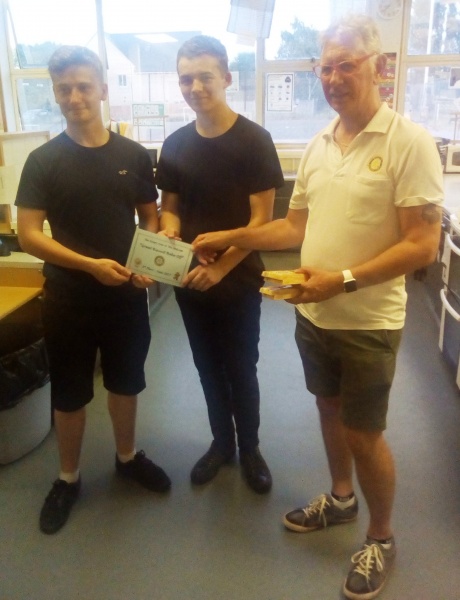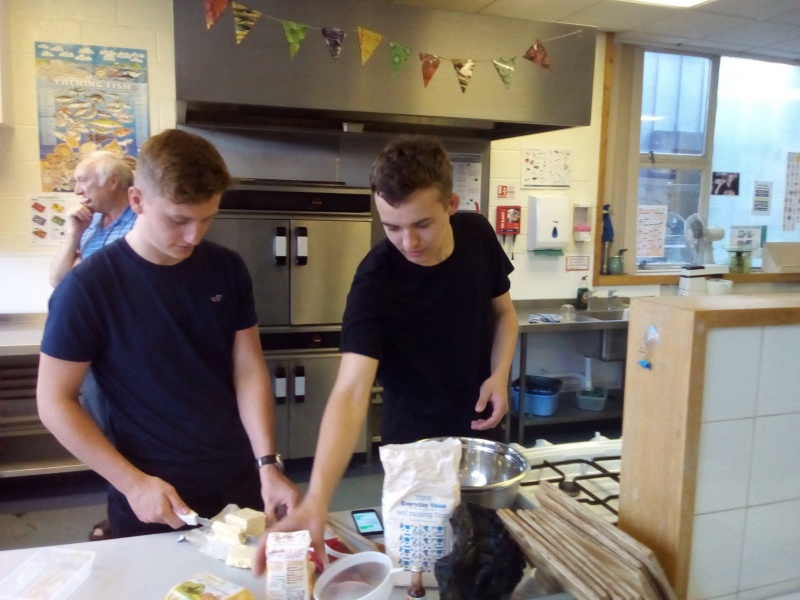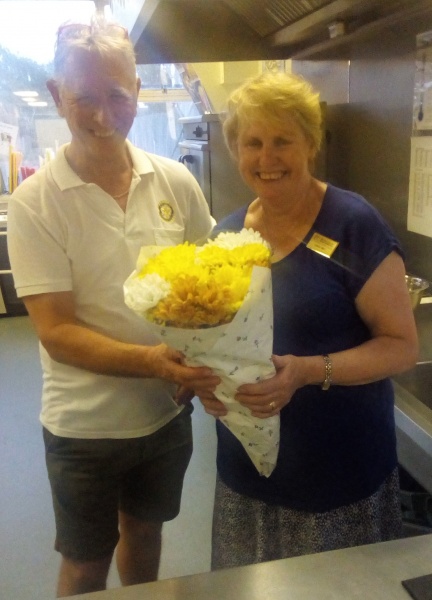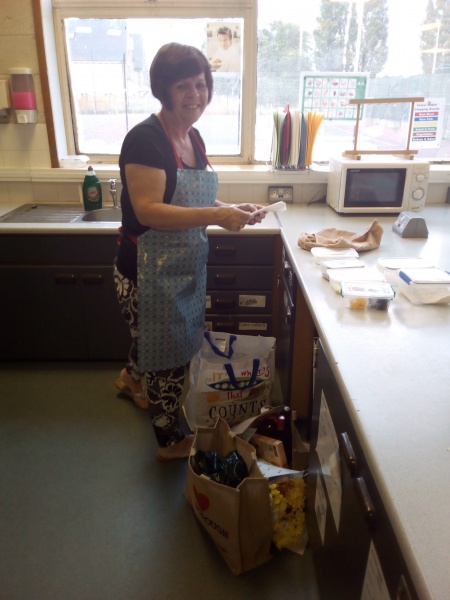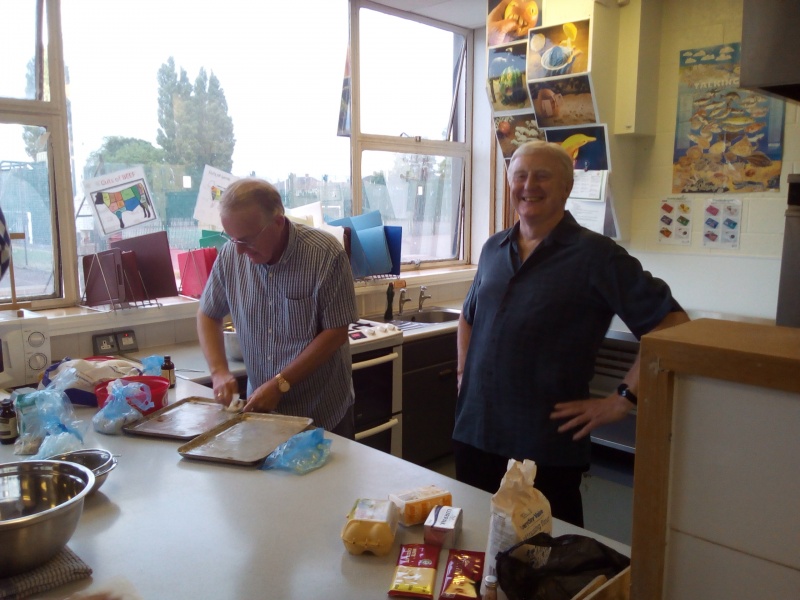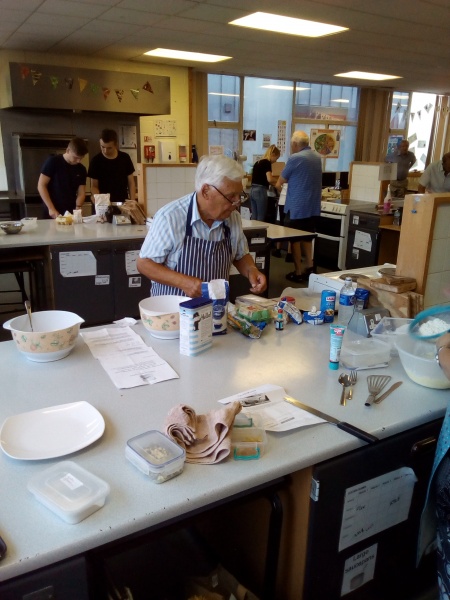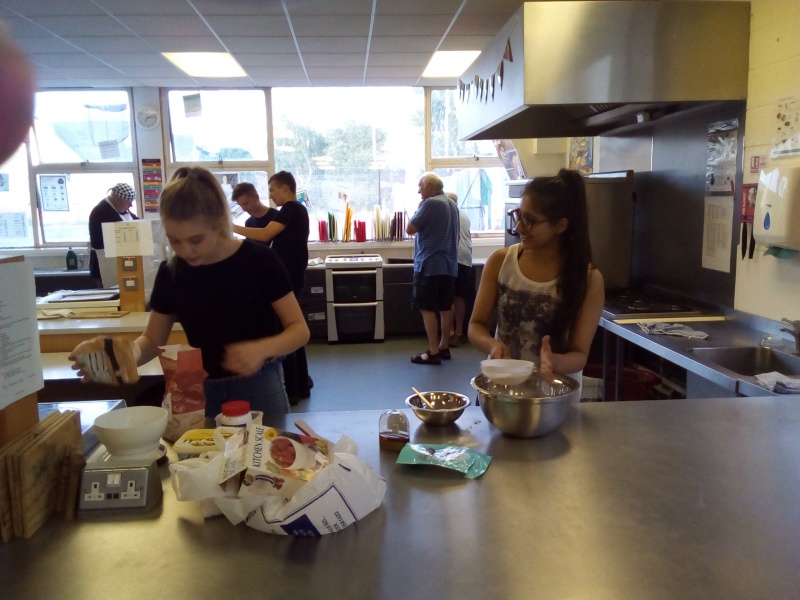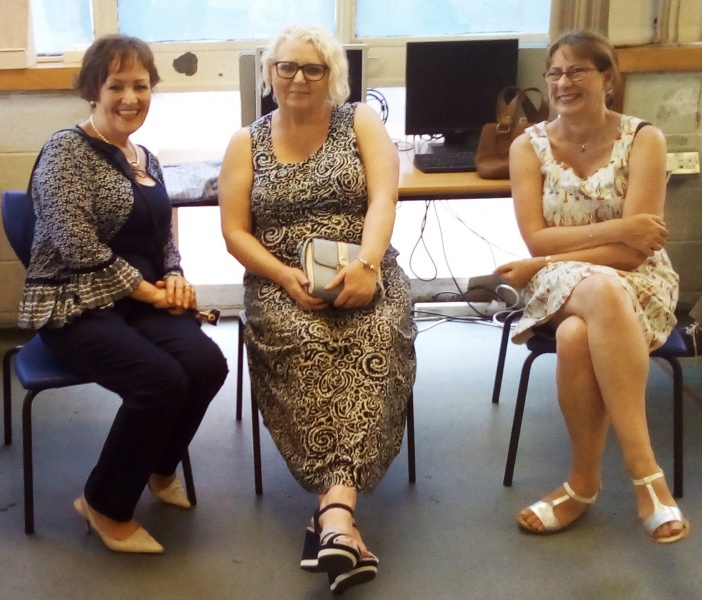 RESULTS - 3 k Fun Run and 10 k Road Race
Please click the following links and the pdf should open in a new window:
2017 - 10k Provisional Results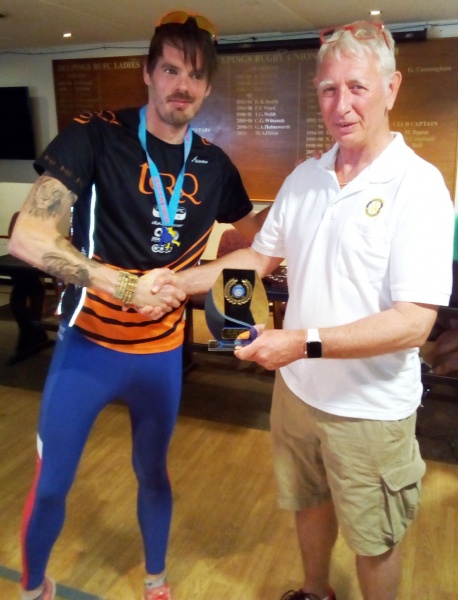 Mens Winner Phil Martin receiving Trophy from President Carl Midgley.
Deepings Rotary Fun Run & 10k Road Race 2017
A beautiful sunny day with light winds attracted a record entry of over four hundred for the thirty first running of the Annual Charity Fun Run and Road Race organised by the Rotary Club of the Deepings, on Sunday 21st May.
One hundred and fifty runners of all ages tackled the Three Kilometre course, while over two hundred and fifty took on the more serious challenge of the accurately measured and AAA licenced Ten Kilometre event.
The Deepings is the third of the local spring treble of ten kilometre races following similar events at Eye and Langtoft, in the two previous weeks. All of these races are particularly popular with both local runners and ones from further afield, because they all have fast level courses, giving serious runners the chance to put up personal best times which several competitors did on Sunday.
Both the men's winner Phil Martin of Peterborough and the ladies winner Claire Steels of Bourne came within two minutes of breaking the course record.
Race organiser Joe Piercy said that the Rotary Club was particularly grateful to Piper Physiotherapy of Market Deeping and the Spinroom Studio of Deeping St James for sponsoring the races, to the Deepings Leisure Centre for making their excellent changing facilities available to the runners and to the Deepings Inner Wheel ladies and the Rugby Club for providing refreshments and glasses of something long and cool for both runners and spectators.
"The Rotary Club always enjoys organising events which are as popular as this" he said "especially when they also help us to raise money for Rotary Charities."
As a Runner, your comments on how we can improve this event would be appreciated...
Deepings International Committee have purchased a SHELTER BOX and a TRADE AID BOX in their efforts to support aid where needed throughout the world.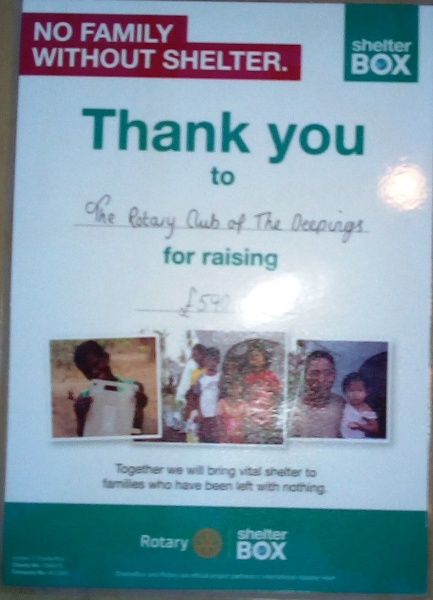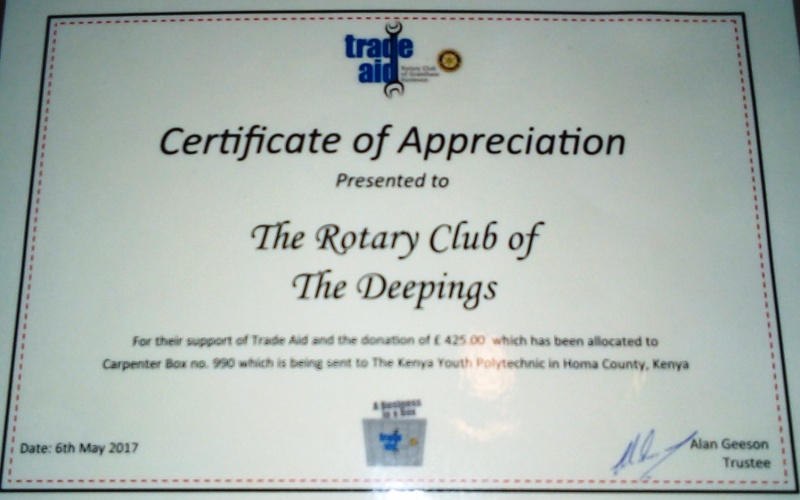 Young artists in the Deepings area have been impressing supermarket shoppers with their creative work. The youngsters have been taking part in the annual Young Art Competition run by the Rotary Club of the Deepings.
The competition, established 16 years ago, was set up to encourage young people to take an interest in art. This year the competition was opened up to children in both Key Stage One and Key Stage Two, with entries invited from schools in and around the Deepings area.
All the submitted artwork was displayed at the Tesco store in Market Deeping. A panel of three independent judges had the difficult task of selecting the winners from a total entry of 90 pieces of work. The results of the competition were:
Key Stage One:
1. Charlie Doud (Market Deeping Primary School);
2. Liam Adcock (Market Deeping Primary School);
3. Flo Munton (Kirkstone House School)
Key Stage Two:
1. Megan Smith (Langfoft Primary School);
2. Lilley McCann (Northborough Primary School);
3. MacCauley Wicks (Market Deeping Primary School)
School prize: Northborough Primary School
A prize of £50 was awarded to each of the individual winners, with £25 going to the runners-up and £15 for the third placed entries. The winning school received £50.
The prizes were presented by Mayor of Market Deeping councillor Wayne Lester and Rotary Club president Carl Midgley, with Tesco providing chocolate goodies for all the prizewinners.
Competition organiser John Lavery said: "The standard of entries this year was as high as it has ever been and all the young artists who took part should be proud of their efforts. "We are grateful once again for the continued support of the local schools and, of course, to Martin Reece, manager of Market Deeping Tesco, who has been a good friend to the competition over the years."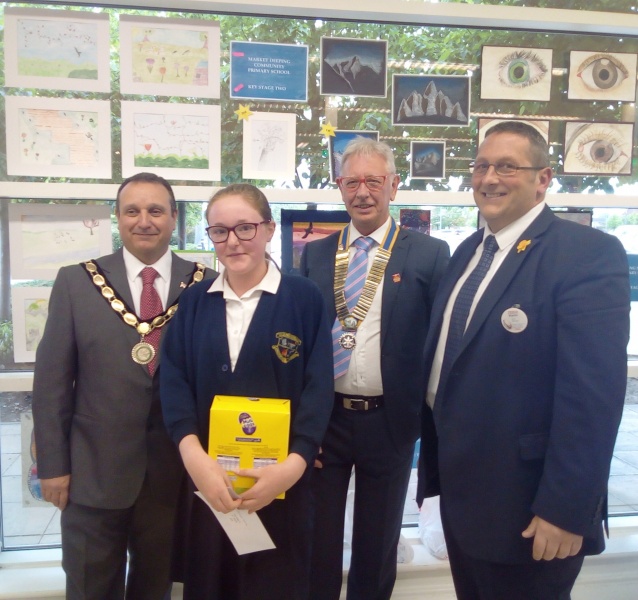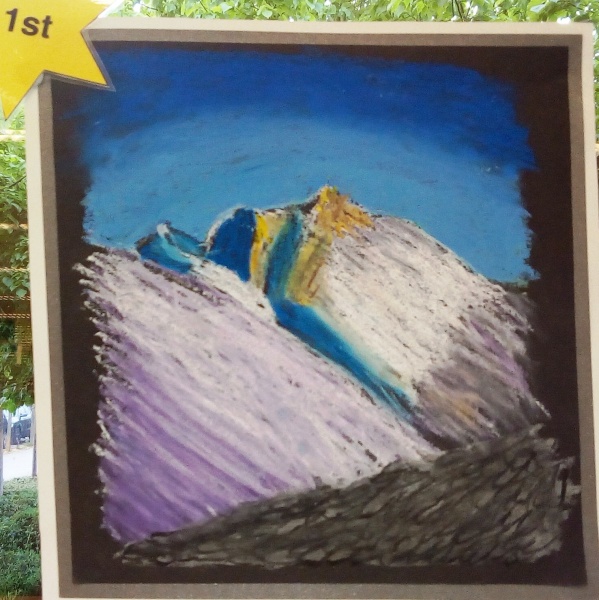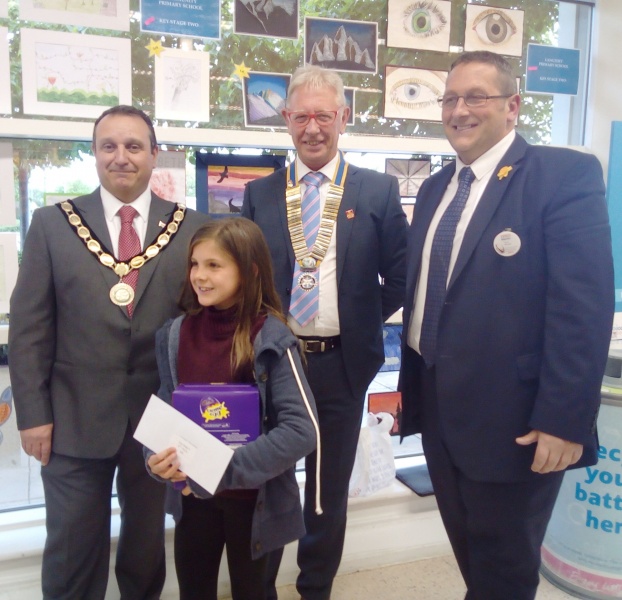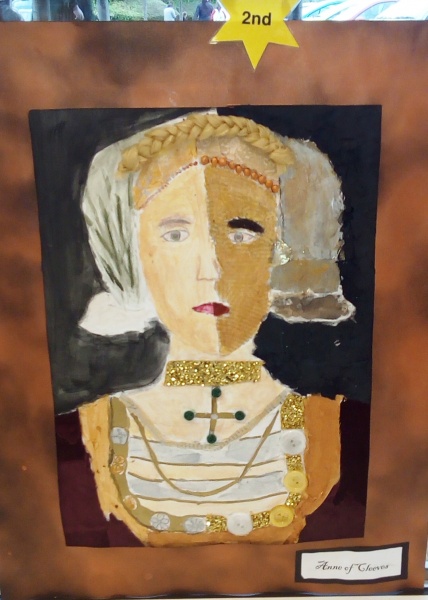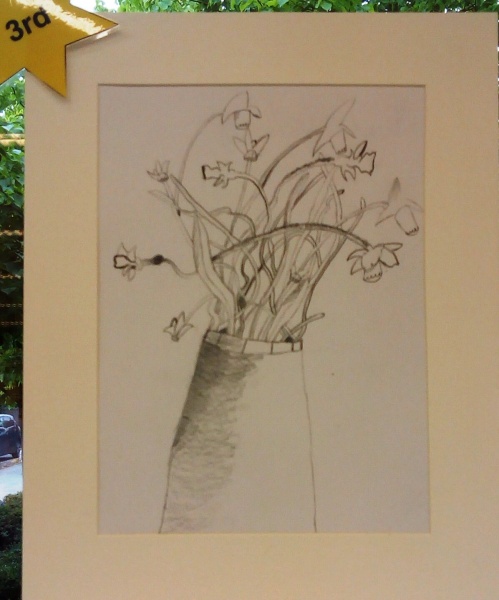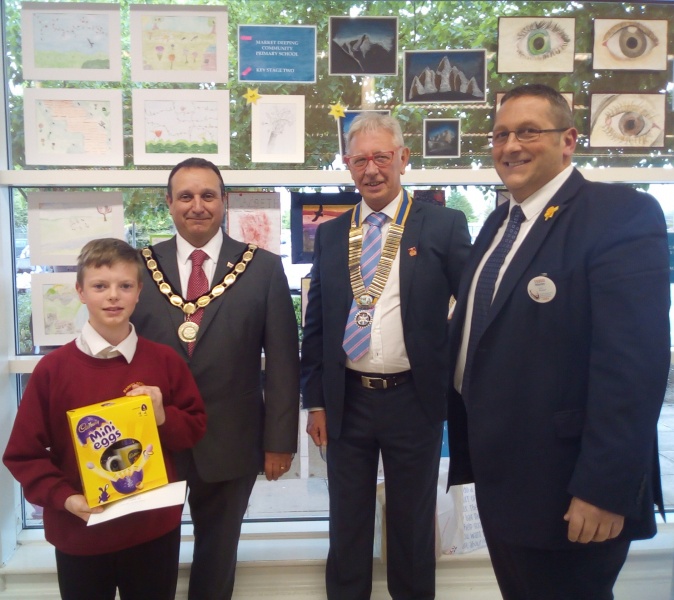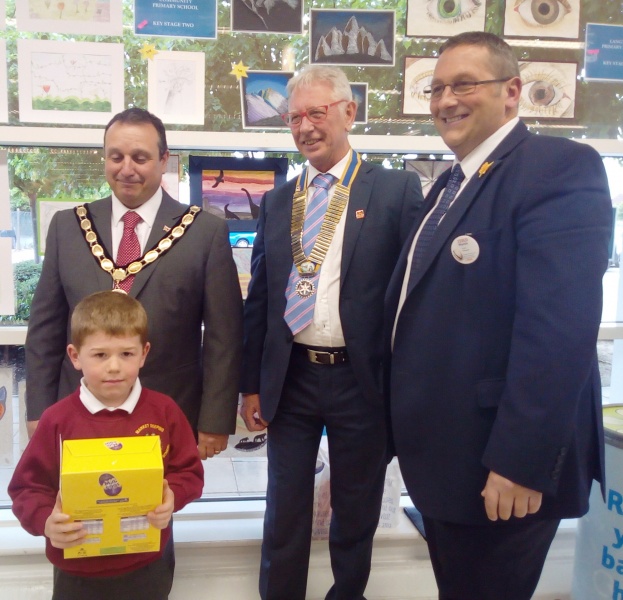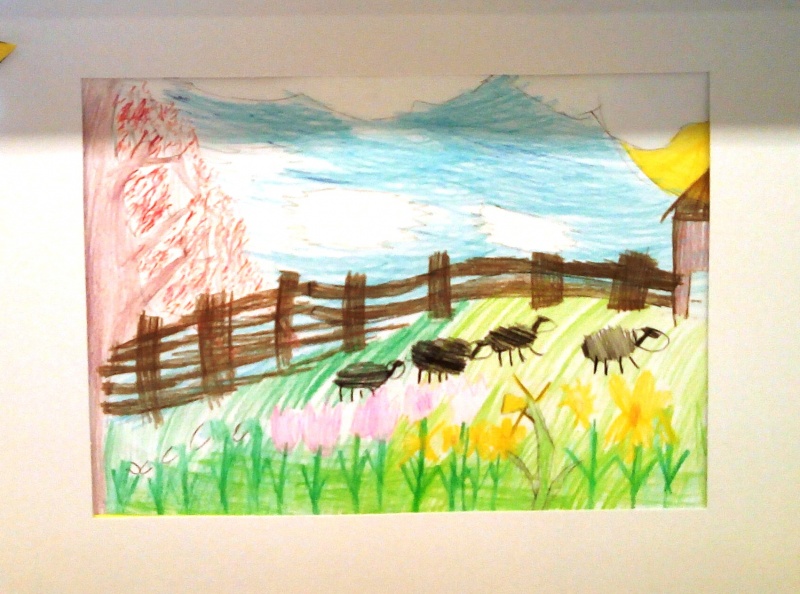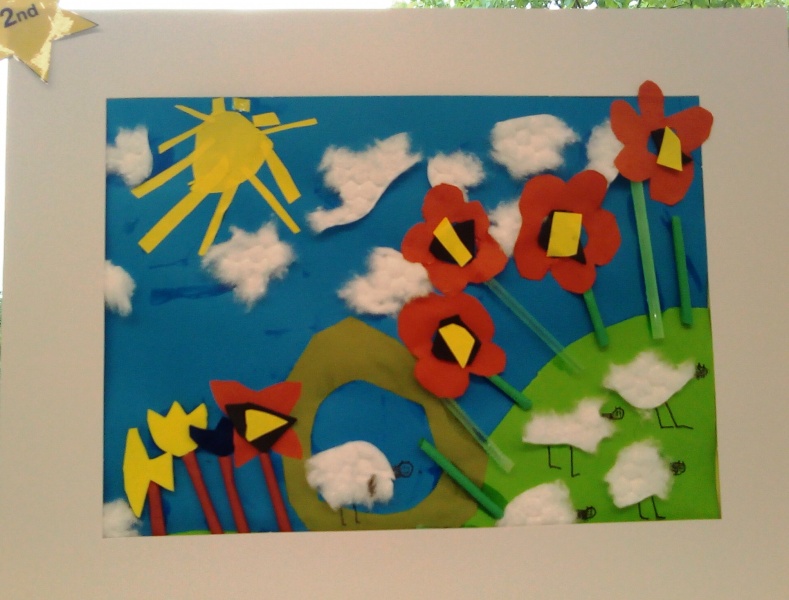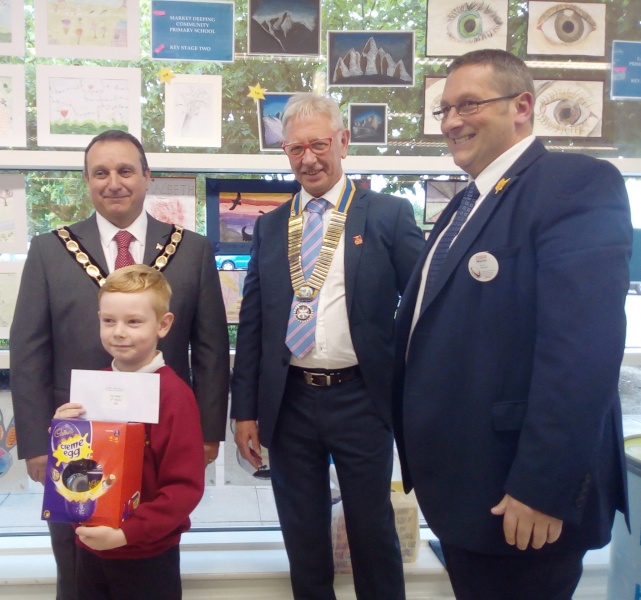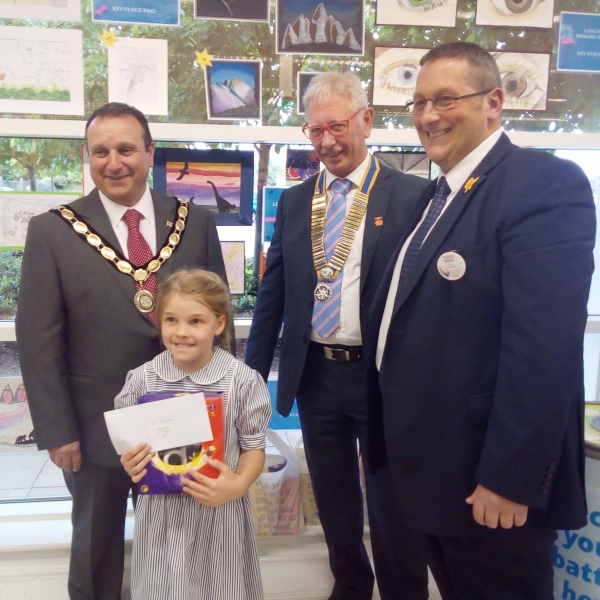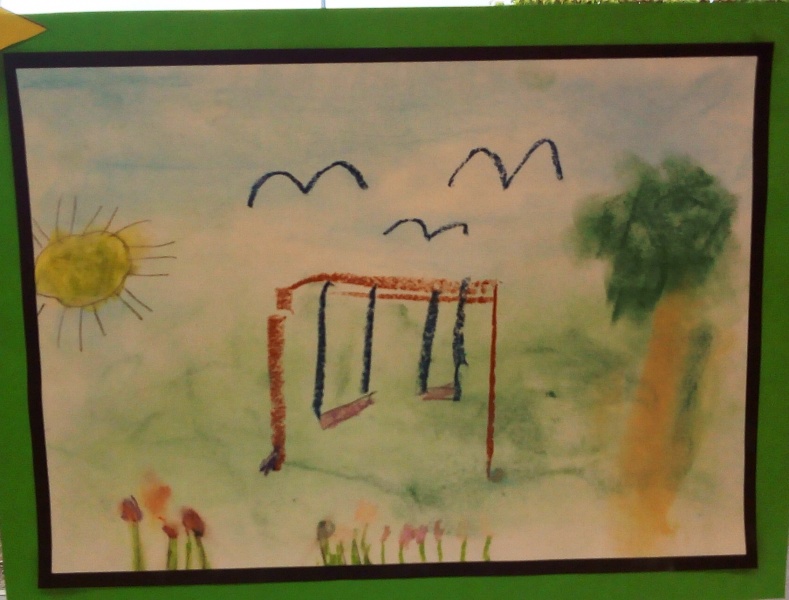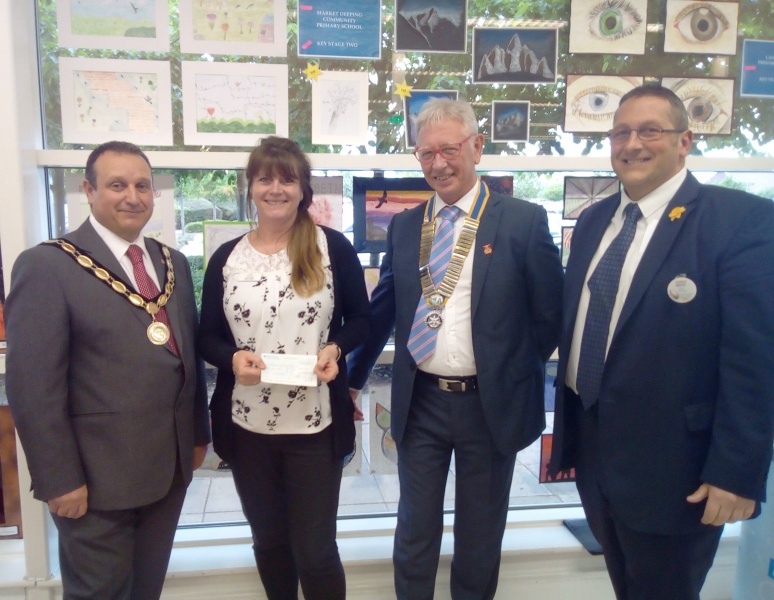 Young Art Blossoms in. the Deepings
Budding Monets and Picassos at schools in the Deepings area have been rising to the challenge of this year's Rotary Schools Art Competition.
No fewer than 90 entries have been received for the competition, which is organised each year by the Rotary Club of the Deepings.
On Thursday a small team of Rotarians put up the submitted works at Tesco supermarket in Market Deeping and the exhibition can be viewed in the store until mid-May.
This year the competition has been opened up to Key Stage Two pupils, having previously been aimed at Year Six only. And, for the first time, a Key Stage One section has also been introduced.
Competition organiser, Rotarian John Lavery, said: "We have been delighted with the response and the support from local schools. "It is possibly the best exhibition of school artwork that we have ever staged. The young artists and the schools themselves are to be praised for their efforts.
"We are also very grateful to Tesco once again for allowing us to hold the exhibition in store."
A panel of three independent judges will decide the prize winners, with a first, second and third prize to be awarded in both the Key Stage One and Key Stage two sections, plus a special prize for the school that most impresses the judges overall.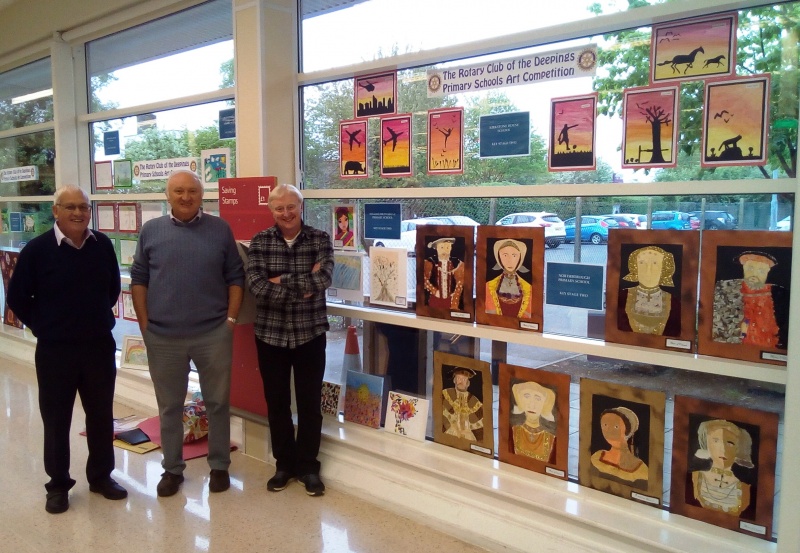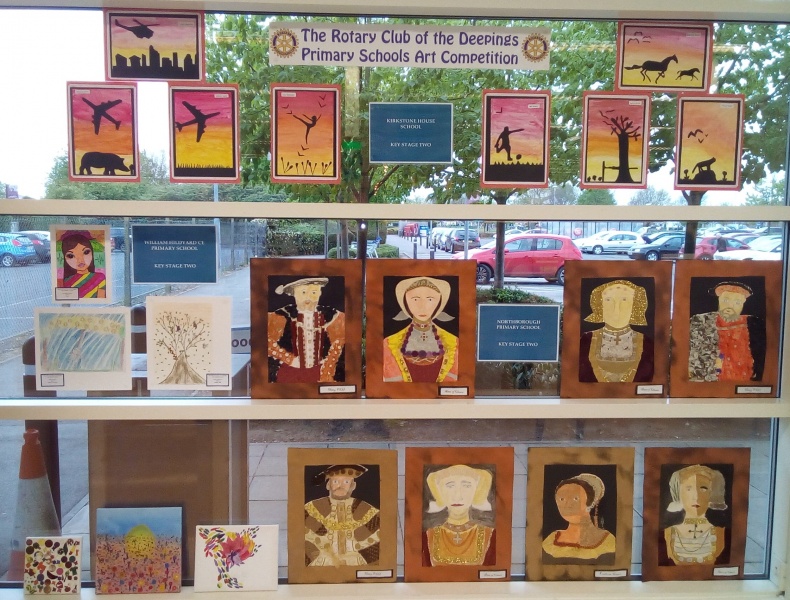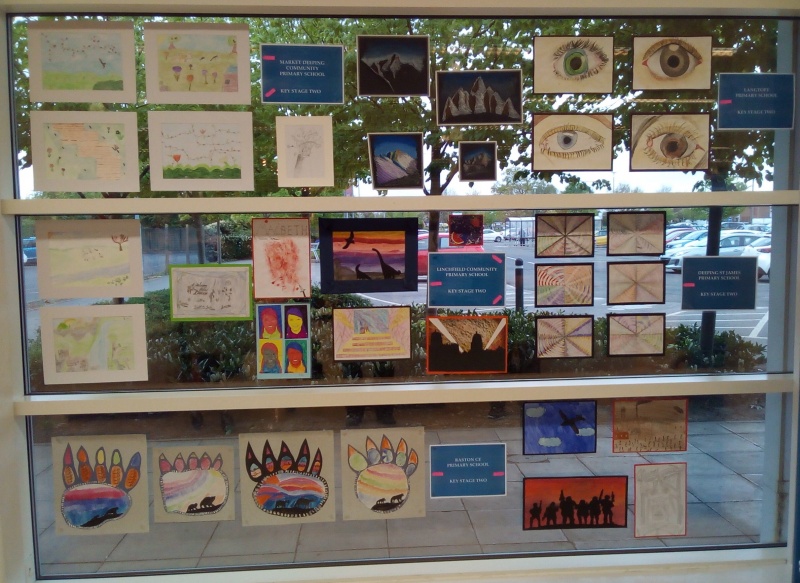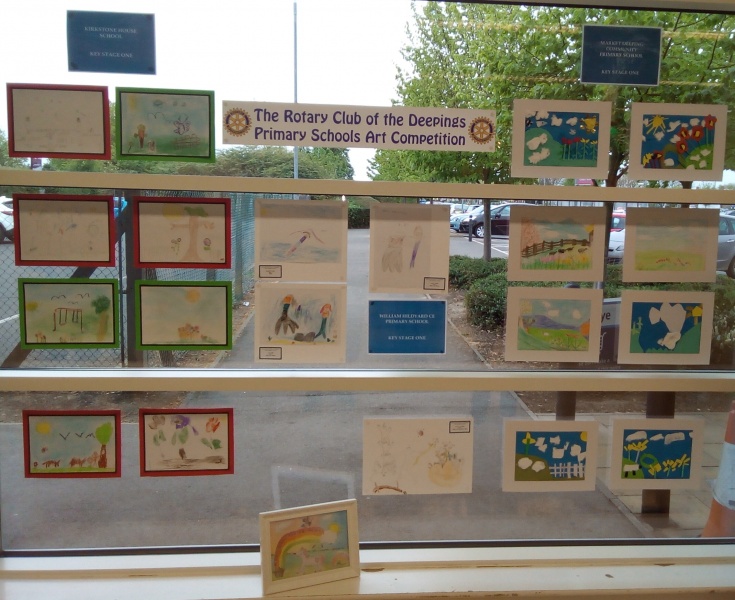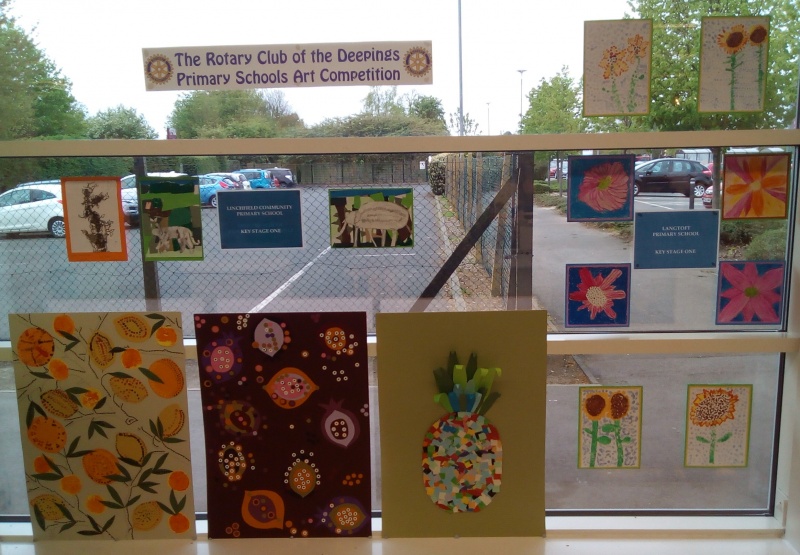 New Members join Deepings Rotary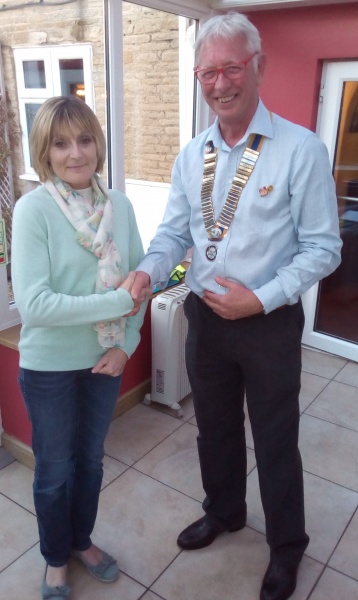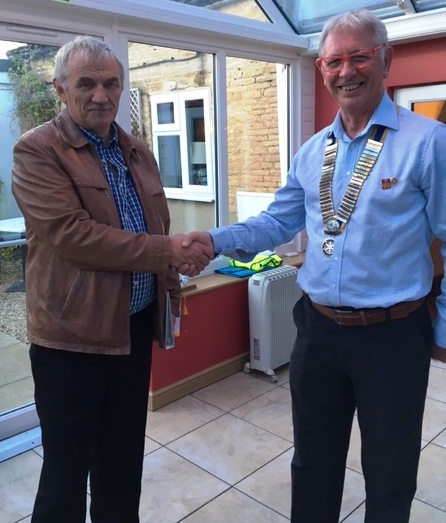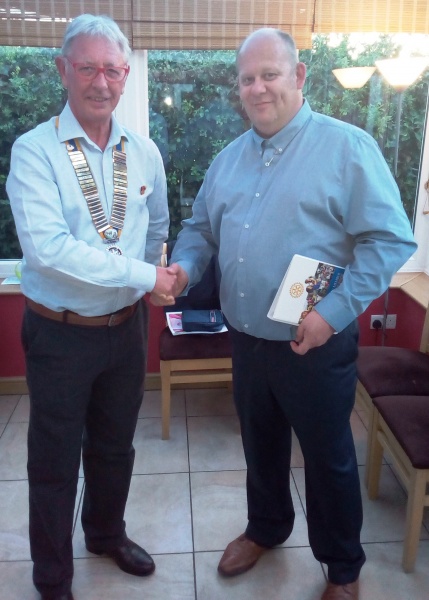 Know Your Own Blood Pressure... (Stroke Awareness Day)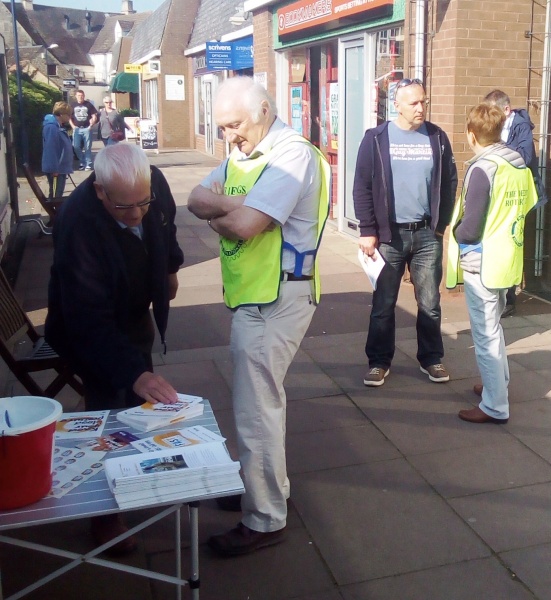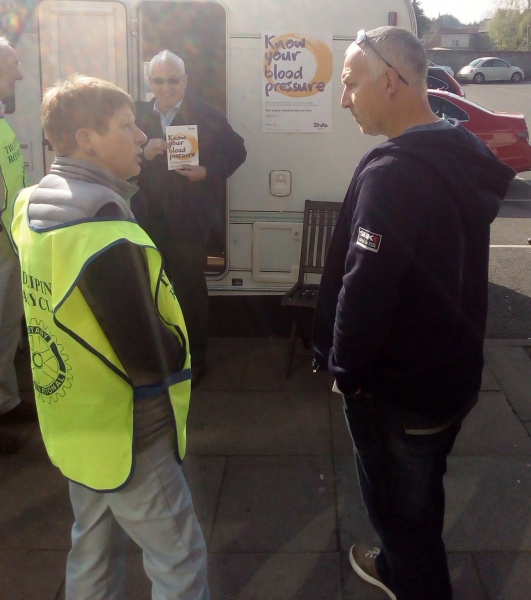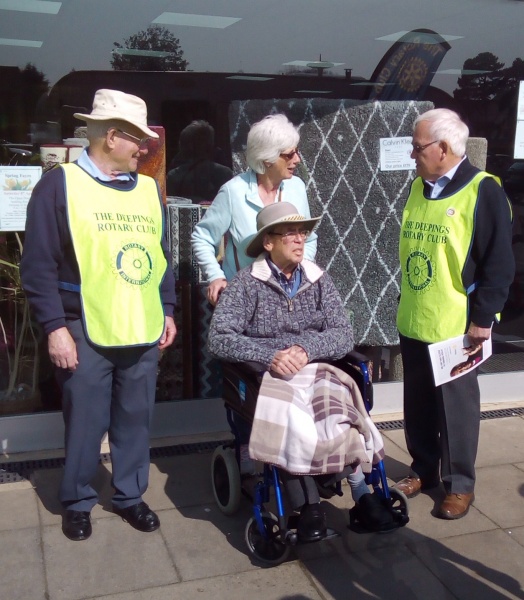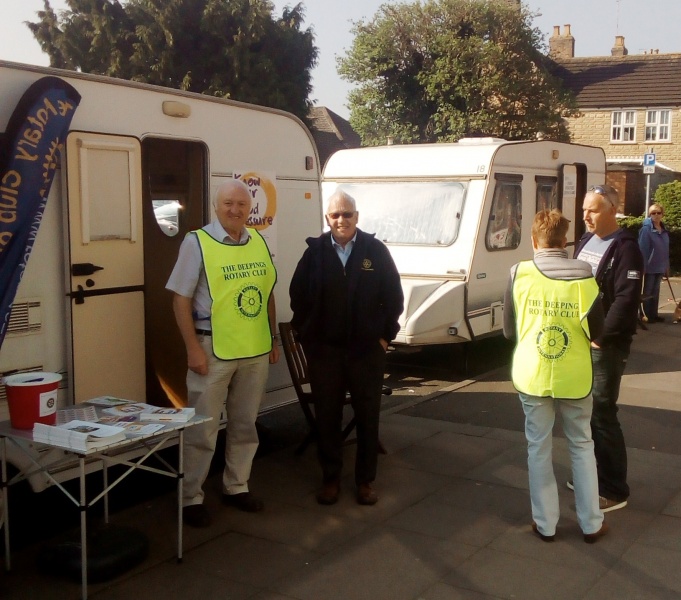 Rotary Foundation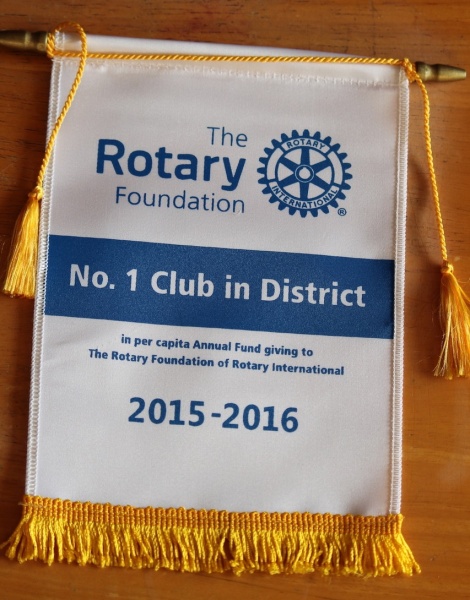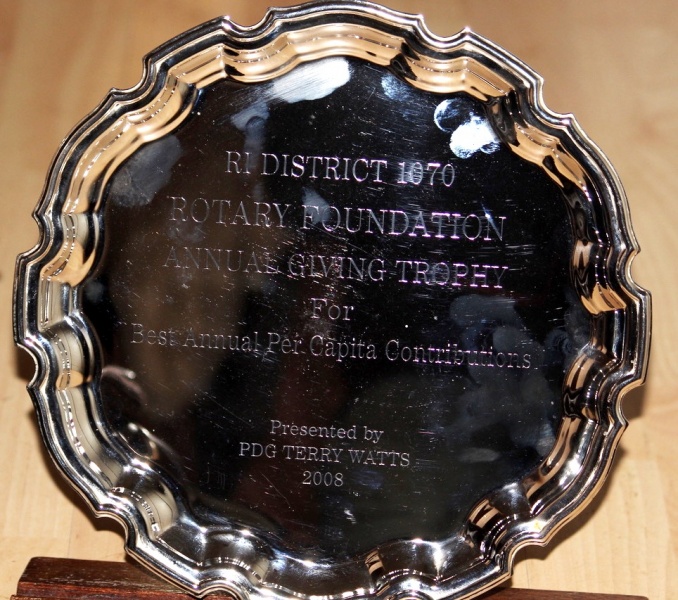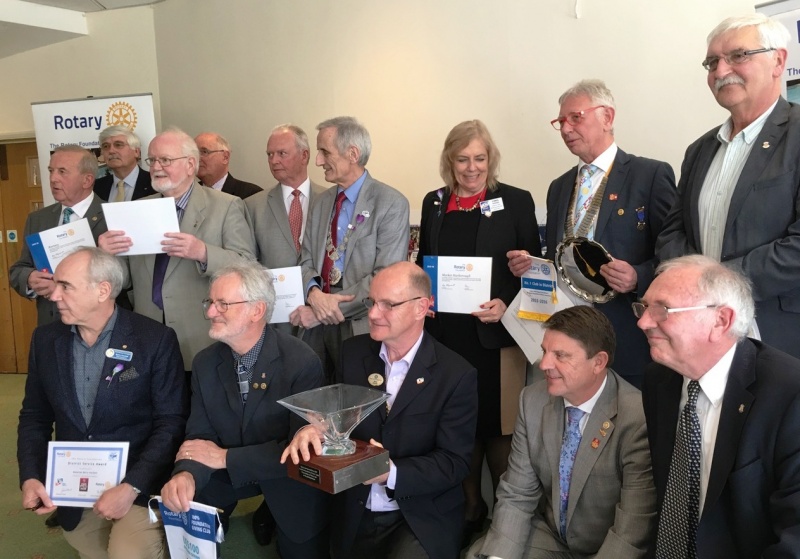 WELL DONE DEEPINGS ROTARY !
The Rotary Club of the Deepings raises £4,000 for the
Mustard Seed Project in Mgongeni, Mombassa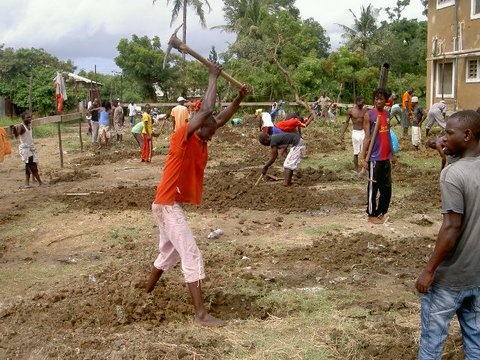 When you think of a school probably the last thing you would think about is a cesspit. However good sanitation is vital to protect against preventable diseases and so provide a safe environment in which children can learn. Both sanitation and education are areas of focus for Rotary so this project hits two targets.
With the aid of a matching District Grant from Rotary Foundation (which is our own charity) it meant that the funds raised through our Club could do so much more. In fact as the name suggests the total was double what we could have put in from our Club.
The cesspit has now been successfully installed which means that the teachers and students can concentrate on the development of the young people - the school has 250 students.
It was only with the aid of the Foundation Grant that we could do this, one of the key things about such grants is that it is overseen by Rotarians in the country to which the monies are going so we can be sure that 100% of the funds goes to the cause for which it is intended.
It is brilliant to see what a difference such help can make.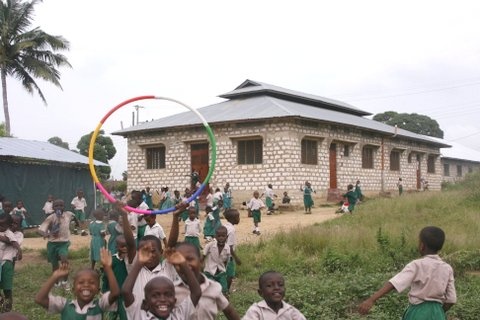 New Rotarian @ The Deepings Club


Rotary President Carl Midgley welcomes new member, Rita Fowler, into the Club at this weeks meeting....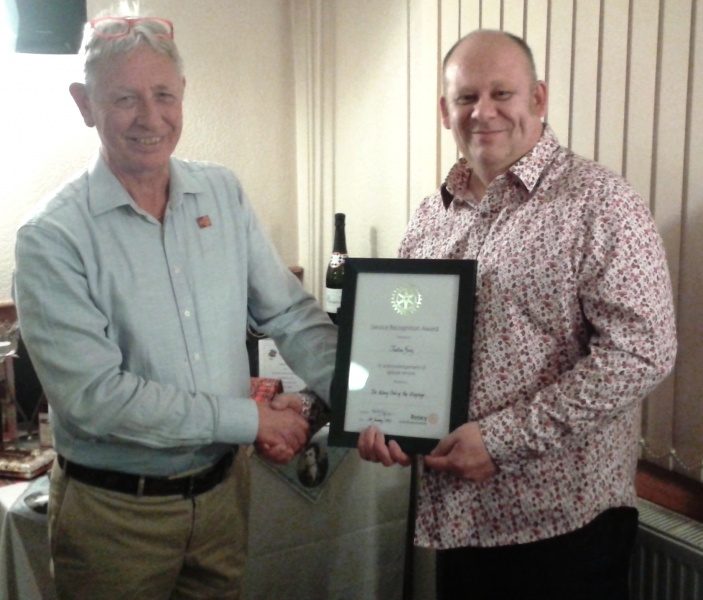 Rotary President, Carl Midgley presents a Service Recognition Award to Justin Gray (Graytones Printers), for all the services he has given to Deepings Rotary, over many years.
Without his help and commitment as a Friend of Rotary, the Club would be much poorer.....
GOOD NEWS....Justin is soon to become a new member of the Club.
Rotary Charity Auction
The Rotary Club of the Deepings Charity Auction was an enjoyable and successful evening, raising £2300 for local charity projects.
John Castley entertained us all as Auctioneer for the evening..
Many Thanks..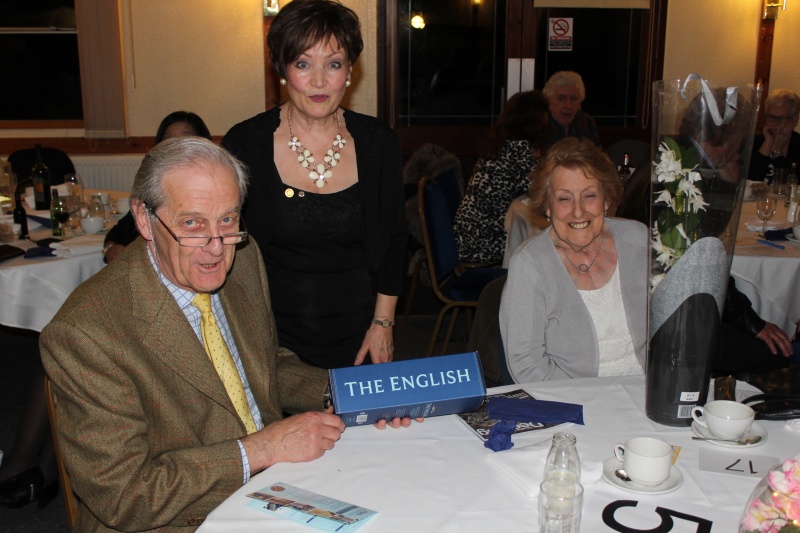 Deepings Rotary presents The Deepings Health Centre with a Cheque for £600

to purchase needed equipment, including a new SPIROMETER, which will benefit about 3,000 Practice Patients...




President Elect, Alan Kendrick

handed the cheque over to Jo Kevan (Business Manager) and Jacki Wright (Operations & Facilities Officer), also in the picture is Rotarian Bill Shaw (The Boundary Fish & Chip Shop) who with his Staff (who worked for nothing) donated the day's takings from his Charity Day, to this and "Anna's Hope"





Spirometry is a simple test used to help diagnose and monitor certain lung conditions by measuring how much air you can breathe out in one forced breath.

It is carried out using a device called a Spirometer, which is a small machine attached by a cable to a mouthpiece. Spirometry can be performed by a nurse or doctor at your GP surgery, and the results are fed through the system for immediate action. Spirometry can be used to help diagnose a lung condition if you have symptoms of a problem, your doctor feels you're at an increased risk of developing a particular lung condition, it may be ecommended if you have a persistent cough or breathlessness, or if you're over 35 and smoke.






---
Happening soon...
Meetings and events happening soon
Monday 28th May 19.30
Bank Holiday - No meeting
---
Monday 4th June 19.30
Speaker Meeting - Talk about ST Barnabas Hospice
---
Monday 11th June 19.30
Business Meeting
---
Members only
Monday 18th June 19.30
Speaker Meeting - Talk about DSJ Youth Club
---
future events completed calendar district events local events
---
---
Rotary News
Be part of a global network of volunteers, trying to make the world a better place. Please also see the 'links & news' page for information from the local district and live feeds from Rotary International and Rotary International in GB&I.
Family Rotary club use skills to kick-start local charities
---
Rotary members unite to tackle world hunger
---
---
Meetings & Venue
Where and when:
We meet on Mondays at 19:30
The Goat
155 Spalding Road
Frognall
Deeping St James PE6 8SA