Having problems viewing this website in MS Windows?
Welcome
by Mike Gay
The Rotary Year got off to a busy start with the challenge, set by Club President Tony Bryant, to buy a boat! To explain: this year the President's charity is Bristol Sailability; a charity run from the Bristol City Docks and affiliated to the Royal Yachting Association. This excellent charity provides an opportunity for young people, of all levels of disability, to enjoy dinghy sailing and power boating. Bristol Sailability is run jointly by the Bristol Sailing School and the West of England Schools Sailing Association: who are both now part of All-Aboard! Watersports.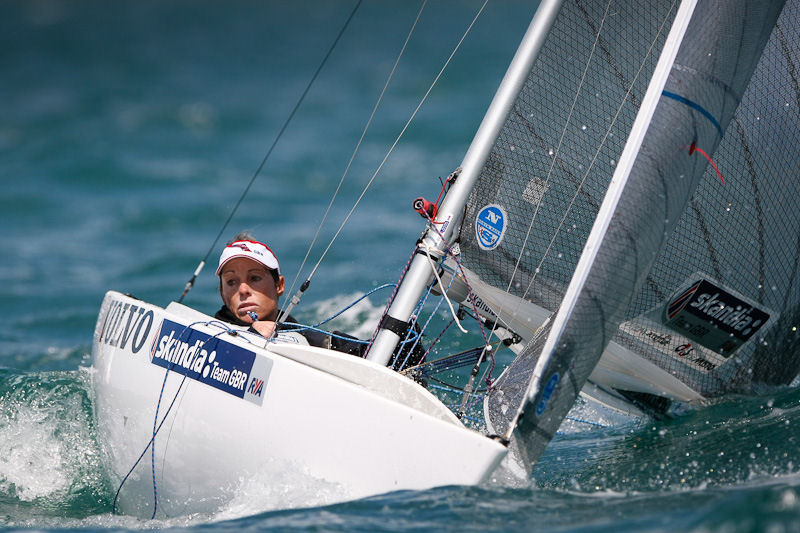 The Norlin 2.4 - note the low sailing position making it a safe and ideal boat for disabled sailing

Bristol Sailability already have a number of watercraft that they operate for disabled people including two 2.4 metre Norlin sailing dinghies. These dinghies are used extensively in competition sailing including Olympic competitions. In order to qualify for Olympic involvement the prospective organisation must have a fleet of three such boats.

That is where we aim to help by raising funds to buy, and equip, a third Norlin 2.4 for Bristol Sailability. This will involve the raising of £6,000 by holding special events throughout this Rotary Year. We also want to continue supporting the other charities that we have been donating to over many past years.

Achieving our aim will enable Bristol Sailability to apply for Olympic funding and to enter into preliminary Olympic competitions and live the dream of qualifying for the Olympic Games in 2016 and beyond.

Throught this Rotary Year we have held a number of events in support of our 'boat-fund' and by the end of month 5 (November last year) we had already achieved 47% of our target. Something that we hadn't taken into account did however became a major factor in achieving our aim.



Back in early November last year a party of nine F&D Rotarian's gave up part of their Friday evening to help out at the Great Western Round Table's annual Downend Firework Night. In the event, the initial pessimism that prevailed about the fall in spectators attending were quashed when G.W.R.T. advised, in early December, that the event 'gate' was approximately £20,000 – this was obviously an unqualified success.

In a letter to G.W.R.T. we made an appeal for a donation to our President's charity, and our aim to raise £6,000 for a new sailing dinghy, expecting a modest donation at best – but we were not prepared for what happened next!

On the 9th January Secretary Derek James received a letter saying that a donation of £3,000 to our Sailability fund would be made. This was read out at our weekly meeting that evening and everybody was blown away by the magnificent gesture by G.W.R.T. In one fail swoop we had achieved our target of £6,000 having already raised the other half from various fundraising events. So we raised our glasses in a toast to our Round Table friends.

Things then moved on as Bristol Sailability were informed that they could start sourcing a boat: and one has in fact been purchased complete with trailer and delivered to the boatyard in Bristol where it will be modified for use by Sailability's work. We look forward to hearing of progress on preparations and the organisation of a Club visit and BBQ for the naming ceremony and launch (when the warmer weather gets here that is).
---
Want to find out more about joining Rotary or attending our events?
email: president@fishpondsanddownend.rotary1100.org
Have you got the potential to be a F&D Rotarian?
We invite all our members to take an active role through Club Service, by local community service, by support for national and international Rotary projects, by participation in Club social occasions, and by interaction with Club events and projects. Have you the skills, the energy, the qualities and a little time to spare? If so then we are looking for you!
Could you place Service Above Self? Would you like to have fun and enjoy the rewards of fellowship? Do you need to network and promote your skills? Would you enjoy helping organize Community Service Events? Could you lend a hand to those less fortunate and support Rotary charities and good causes? If so then you are looking for us!
---
OK - so what's been happening?
by Mike Gay
As normal with most Rotary Clubs, the start of the year tends to be quieter; in our case with such a busy 2 or 3 months leading up to and over the Festive Season we welcomed the break! The beginning of the year saw such rotten weather so any outdoor events would have been a total wash-out anyway.

We are, however, stirring from our languor and getting into a purposeful stride. We helped out at the Macmillan Cancer Support "Tree of Hope" take-down on the 4th January. This was very much the first work of the calendar year, even before our first event or weekly meeting. On the 7th January we played and won our final Skittles league match: but didn't qualify for the latter stages of the competition. On the 9th January we had our first meeting of the year and were visited by speaker Linda Greenland, who gave a talk on her work with "Maji Safi" a charity that supports education to underprivileged children in Kenya. Some of our Members and partners attended RC Kingswood's "Burns Night" on the 25th January. The speaker on the 6th February was Chippenham Rotarian Rick Squires: one of the world's leading experts on Energy; specializing in Renewables. Then on February 20th we supported close neighbours RC Yate & District by entering three teams for their annual "Quiz Night". On Sunday 23rd February we supported RC Bristol North West's "Pahar Trust Fundraiser (Nepal)" by attending a lunch at the Kathmandu Restaurant in Colson Street, Bristol. We had a really excellent meal and were treated to some traditional Nepalese dancing by Nepalese children. We again supported RC Yate & District by attending their "Sing for Your Supper" event on the 15th March. On March 13th our speaker was from the Bloodhound SSC Team, soon to attempt to break the World Land Speed Record - very interesting. On the 29th March a party of our Members and partners attended RC Kingswood's 75th Charter Dinner & President's Night at the Hilton, Bradley Stoke. A couple of our Members also took part in RC Calne's 26th Annual Fun Run. A good representative group also attended RC Bristol Meeting to hear Mayor of Bristol George Ferguson talk about the plans for Bristol. We have also now held four Club Council meetings. We ran a local "Know your Blood-Pressure Day" event on the 5th April at Boots Emersons Green and hosted the associated visit of speaker Jackie Southon from The Stroke Association who visited us at our meeting on the 27th March. The main event though has been the District 1100 Conference held in Bournemouth on the 7th to 9th March where a party of 12 Club Members, with partners, gathered to enjoy great company, good food, good wine, much laughter, a bit of dancing, and some inspiring speakers.

Planned are, of course, more weekly meetings and Club Council meetings where we discuss plans for our up and coming events, like: presenting a 'Dictionary for Life' to each Christ Church Downend Junior School leaver - more details to follow. We hope to finalise our plans for a Race Night soon and we are starting planning for a 70's Revival Live Band Disco on August 16th - watch out for the posters. On the sports front we have a Skittles Challenge Match or two and the Boules season to look forward to.

In late April through to the end of the Rotary Year in June we will be attending other President's Nights including those at RC Yate & District and RC Royal Wootton Bassett & District. We will be holding our own President's Night on May 31st. Our annual Easter Chocolate Raffles have just started at venues near you. This involves the purchase of a number of very large Chocolate Easter Bunnies and these will be placed at pubs, clubs and shops in and around our patch. Each bunny is then raffled to members of the public who invest in 100 x £1 lots, with the draw being made nearer to Easter. The lucky winners then are able to take the bunnies away and give them a good home! Our Speaker Programme to the end of the year is now complete and we have a varied selection of topics including Courtroom Memoirs, Gardening, and the Rotary Foundation. So keep your eyes open for more news on this webpage.
---
Breaking News
by Mike Gay

F&D make donations to help the victims of the Philippines Typhoon Disaster - see here.
Immediate Past President Derek James won recognition for his outstanding service to both Club and District having been bestowed a Paul Harris Fellow at our meeting of the 7th November last year. Derek became our fourth current holder of Rotary's most prestigious honour. A most deserved award as Derek is at the heart of much that the Club does, and has, for the past 12 years, been central to the organisation of the District 1100 Young Musician competition. As one member observed Derek is a most humble man and a good friend to all.
We are sad to announce that F&D Rotarian Chris Bentall has suffered a stroke and is currently recovering and undergoing rehabiliative physiotherapy, but at least Chris is now at home. Progress is slow but determined.

The Rotary Club of Fishponds and Downend is a Registered Charity No. 1034555
Any trademarks, text, sound-bites & images (copyrighted or registered)
used in this non-commercial website are acknowledged.