Welcome to the website of the Rotary Club of Fishponds & Downend
Welcome




by President Derek James
Fishponds and Downend are a brilliant Rotary Club. We get a kick from working together, and satisfaction when we get things done. We enjoy ourselves! We have fun in everything we do. We take part in sporting tournaments and other competitions, we enjoy speaker meetings, we attend concerts, we hold family orientated social occasions, and we collaborate, join and work with other Rotary Clubs. Our weekly meetings have a buzz, and we deepen friendships through our fellowship. cont ...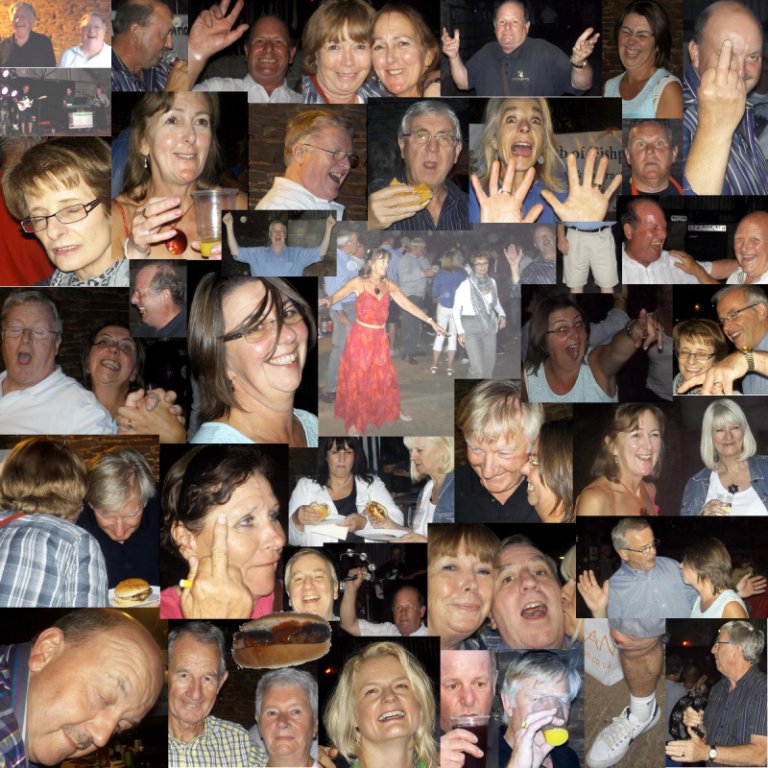 CiderFest 2012 - good drink, good food, good music, good company - great times!
... cont Rotary was founded as a networking organisation where business people could trade with one-another in the secure knowledge that ideals of trust and fair-mindedness prevail. Rotary has evolved to become so much more, and change is ongoing, but the philosophy of Rotary still stands the test of time.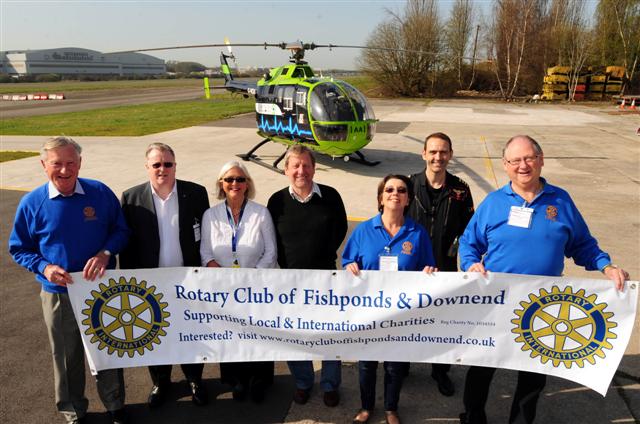 Above: A recent visit to the Great Western Air Ambulance HQ at Filton following a donation by the Club.
(Picture courtesy of Bristol News and Media Ltd./Northcliffe Media Ltd.)
---
The Temperance Seven
by Pete Lawry, Janet Palmer & Mike Gay
Pictures by President Derek James
Fishponds and Downend Rotary Club together with the Rotary Clubs of Yate and District, Kingswood, Keynsham, Keynsham Chew Valley and Chipping Sodbury put on a concert by 'The Temperance Seven' at the Hexagon Theatre, Kingswood. Over 200 people enjoyed an evening of'nostalgia as the band of eight (not seven!) musicians played their brand of zany 1920s and 30s style jazz music including some hits from the height of their popularity in the 1960s.
There was a bar serving draft beers, wines, and soft drinks ably staffed by volunteer Rotarians including Phil Simon, Pete Lawry and Mike Gay from F&D.
The concert was organised to raise funds for Rotary Internationalís contribution to world eradication of Polio. F&D co-ordinator Pete Lawry says "It was a good example of local Rotary Clubs working together, achieving a common goal and promoting fellowship between fellow Rotarians."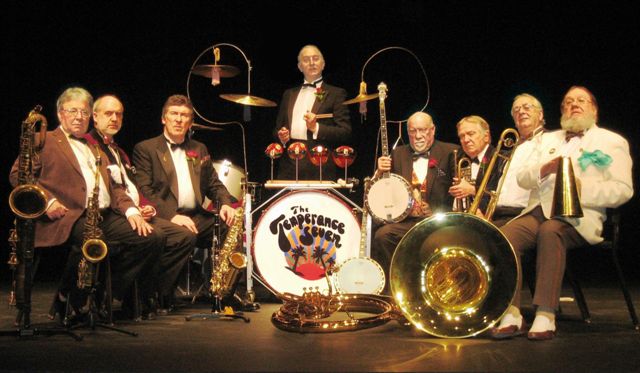 The Temperance Eight (picture courtesy of the band's website)
New F&D member Janet Palmer reports: "So it was on a cold winters eve (or do I mean spring) an audience of many (including Rotarians) gathered together, in anticipation of a good time, at the Hexagon Theatre. Promised was popular music and jazz from the 1920s and 30s played by 'The Temperance Seven'. The audience were not to be left disappointed. 
"The lead singer, Colonel Alexander Hitchcock Galloway kept the audience entertained with his amusing commentary between each song. The audience listened to numbers such as 'Hard-Hearted Hannah', 'Chilli Bom Bom', 'Alexander's Ragtime Band' and 'The Charleston'.
"In addition to expected jazz band instruments of trumpet, trombone, clarinet, and saxophone etc., the band relied on a sousaphone for a thumping bass. It was a good evening's entertainment, clearly enjoyed by the audience who enthusiastically clapped, and tapped their feet along with the performance. 
N.B. The band had, as mentioned above, notable success in the early 60ís and scored a number one hit in the UK with 'You're Driving Me Crazy' / 'Charley My Boy' in 1961.
---
District Conference 2013
by Phil Simon
Pictures by Phil Simon
With the Conference for District 1100 being held in Torquay this year 10 members of our Club with 8 partners decided to make it a weekend away.
We travelled down on Friday morning and met up for an enjoyable relaxed lunch at The Coombe Cellars, Newton Abbot. We then headed towards Torquay and the Conference hotel "The Grand". Some of us even managed to get to the first afternoon sessions of the Conference.
In the evening we had dinner in the hotel and then went to the Casino Royale night. The money raised at the gaming tables went to Rotary Foundation, and a prize for the person who won most at the tables. As usual Fishponds and Downend entered into the spirit of the event with everyone dressing-up: a good time was had by all at the tables and listening to the band.
President Derek set a fine example and attended the first session on Saturday morning. This was just as well as he was able to receive, on behalf of the Club, the Attendance Cup (winning it 3 times in the last 5 years), and the prize for the Casino night on behalf of Dave Powell.
Most of us managed to attend the remaining sessions of the day listening to inspirational speakers and ordinary Rotarians doing extraordinary things. A visit to the Hall of Fellowship to view, again inspirational, projects being undertaken by Clubs throughout the District was well worth the effort. Unfortunately a scheduled headline speaker for the day had been called to Iraq, but was more than adequately replaced by a young man who has already achieved many of his life goals through his determination.
In the evening, after sampling wicked gin and tonics mixed by our President, we all attended the Conference dinner dressed in all our finery. Whilst the food and music was not to our taste we did not allow this to get in the way of enjoying ourselves as the photographs demonstrate. We also showed our own determination by being the last to leave the hall after most had departed a few hours earlier.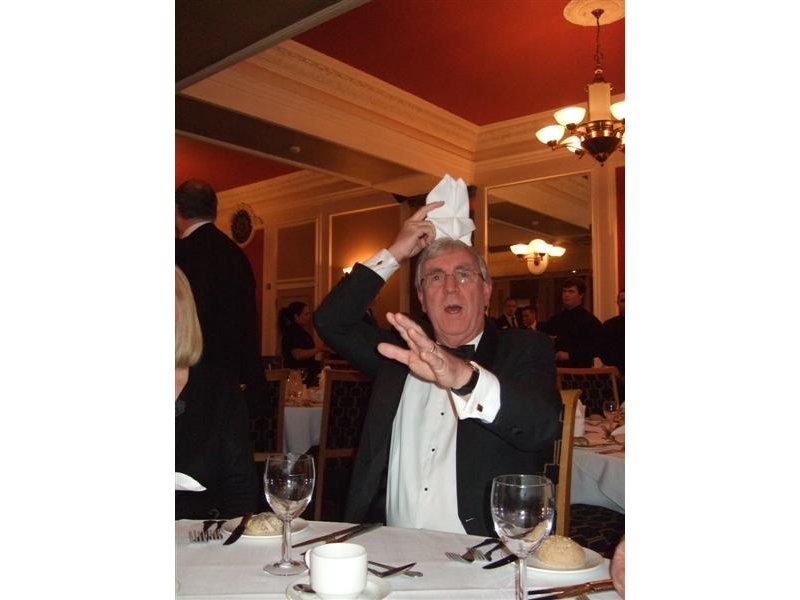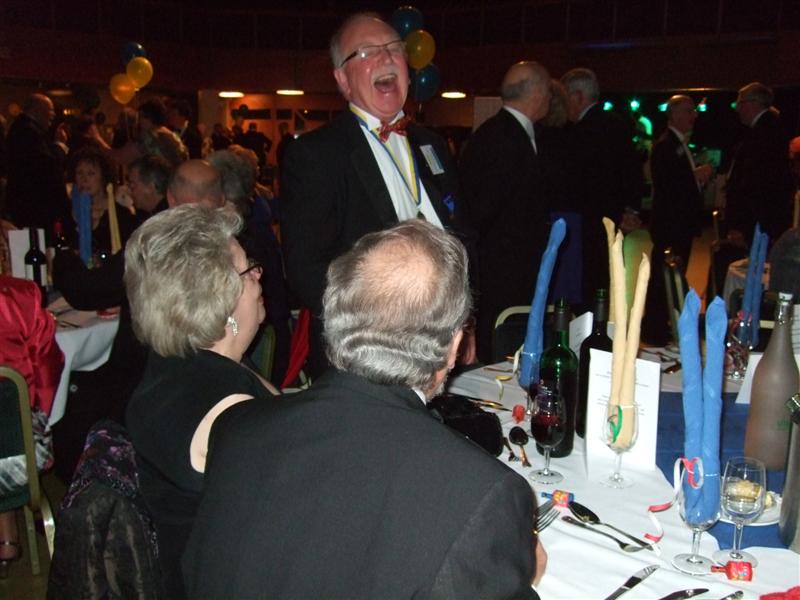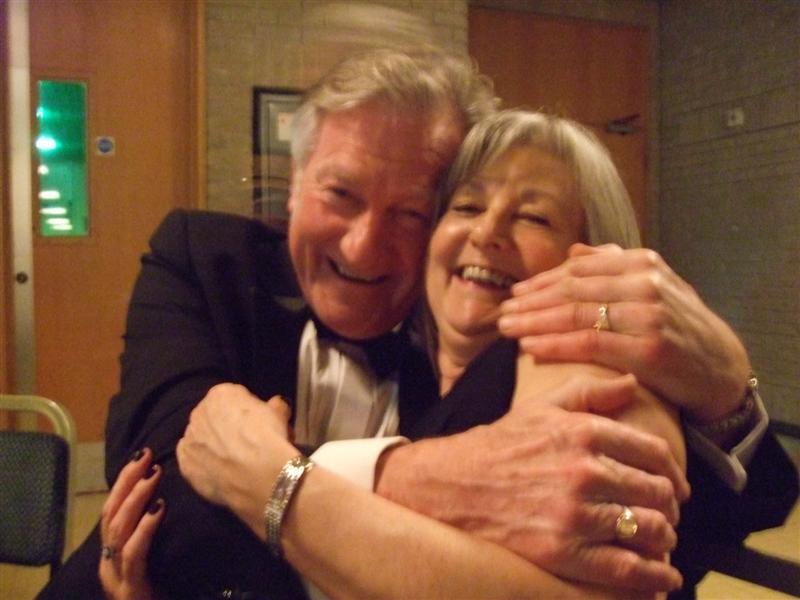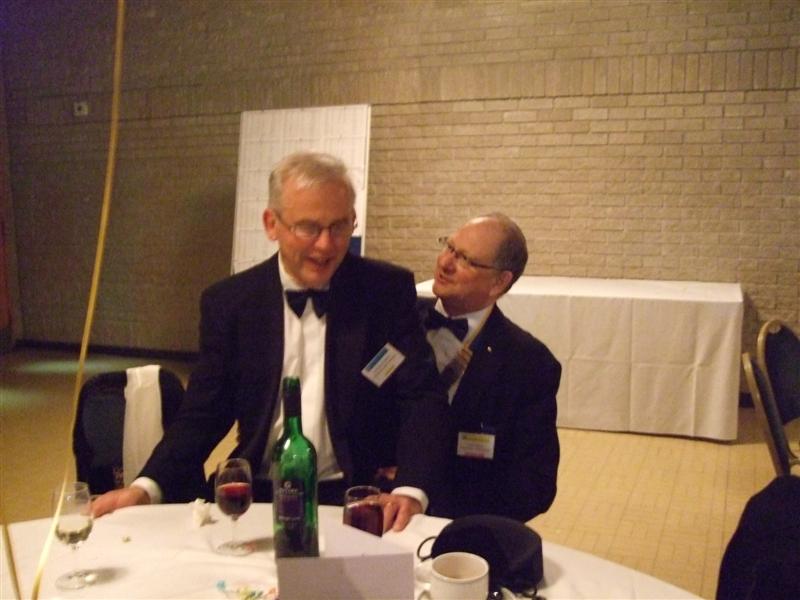 F&D@Conference.2013
(Clockwise top left to bottom left): Papal blessings by Pete Lawry, Fun-filledTony Bryant, Musical chairs by Mike Goodman & President Derek James, and Best of friends Ron Aspbury and Marcia James
On the Sunday morning we attended Conference in the anticipation of seeing one of the headline speakers. Unfortunately although he had been able to successfully navigate to and from the North Pole he was unable to distinguish Bournemouth from Torquay. His stand-in performed admirably at short notice.

We managed it back to The Grand Hotel for lunch and then to make our weary way home.

Conference reminded us that we need a final push to achieve world eradication of Polio. Many Clubs in our District are undertaking extraordinary projects, and that one Rotarian is not alone but belongs to an international community that can, and does, achieve so much that is positive in the world.
---
Group Study Exchange visit to Lacock
by Judy Powell
Pictures by President Derek James
Group Study Exchanges form an important part of Rotaryís drive to improve international peace and understanding. Every year our District sends a small team of young professionals to another Rotary District abroad, and that District selects a team to return here. The teams spend several weeks moving around the District learning about the host countryís culture and undertaking vocational visits to exchange business practices and ideas.
This year the exchange is with a District in North Carolina and, during the teamís few days in the Bristol area, our Club had the opportunity to spend a day with them. We decided to take them on a visit to the charming villages of Lacock and Castle Combe. Lacock Abbey is an amazing building with medieval cloisters and a mixture of architectural styles showing the tastes of the owners over the years until its donation to the National Trust in 1944. The whole village is managed by the Trust, so all was of interest Ė especially the pub where we had lunch! The G.S.E. team, who come from the biggest pork producing State in the U.S.A., made adventurous meal choices with the pheasant in particular being a big hit.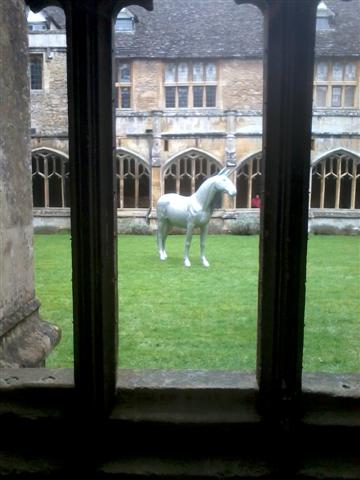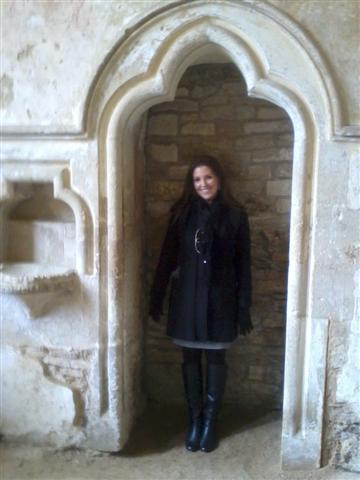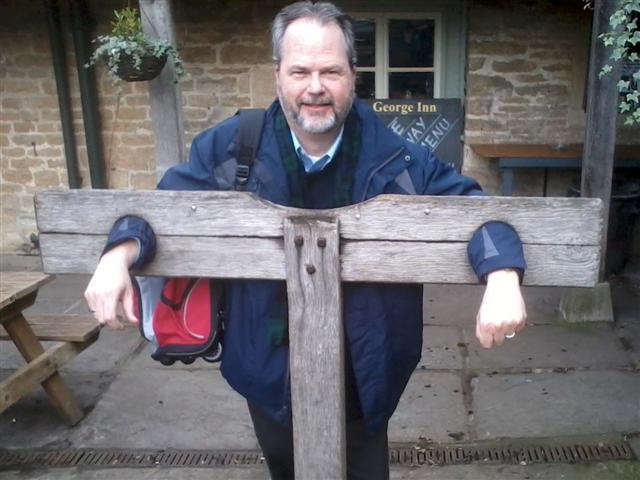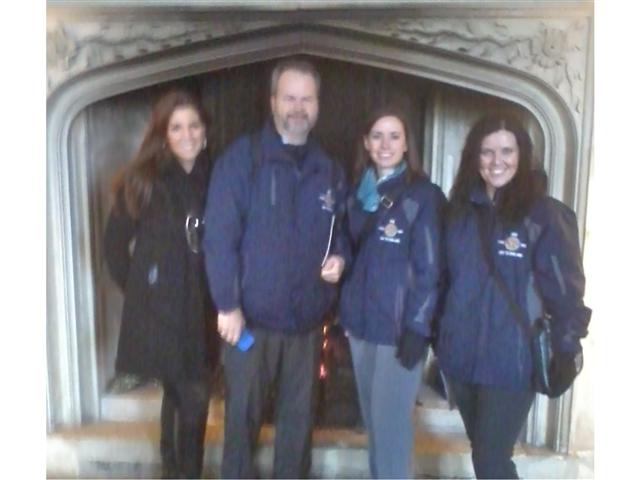 U.S. invades Lacock!
(Clockwise top left to bottom left): Life-size wire & resin horse sculpture, G.S.E. participant
Lindsey Bush in Abbey alcove, The G.S.E. team (L-R) Lindsey Bush, Bevin Wall ,Sheila Roberts,
and Rachel Nelson, and in the stocks is Leader Rtn. Bevin Wall
Our afternoon stroll around Castle Combe provided some much needed exercise, along with many more photo opportunities.
The three young business ladies and their Rotarian team leader were a pleasure to spend time with, even if one took so many notes for the team journal that it felt a bit like an interrogation! Eight of our club members went on the visit and all are grateful to the G.S.E. team for giving us an excuse to spend the day in the beautiful Wiltshire surroundings with good food, fun, and interesting company. Almost unbelievably it didnít even rain!
---
St. Valentine's Night
by Pete Lawry & Mike Gay
On February 14th a group of F&D Rotarians along with their partners attended a St. Valentine's Night Dinner and Disco hosted by the Rotary Club of Yate and District. The venue was the Beaufort Hunt public house in Chipping Sodbury. We thank our Yate Rotary colleagues for their kind invitation and for some fine Rotary fellowship.
Sadly no photographs have survived the evening, but if anybody sends some they will be published.
---
RC Kingswood Burns Night
by President Derek James
F&D happily sent two tables of sassenach supporters to the annual Burns Night organised by Kingswood Rotary Club at the BAWA. The Haggis was suitably addressed before consumption, the latter being lubricated by appropriate drams of the Water of Life. Several rounds of Roast Beef later, the entire mixture was shaken down by strenuous sets of country dancing. An evening of good fellowship thoroughly enjoyed by all who remember it. We look forward to next year.

Again no photographs have survived the evening, but if anybody sends some they will be published.
---

The Rotary Club of Fishponds and Downend is a Registered Charity No. 1034555
Any trademarks, text, sound-bites & images (copyrighted or registered)
used in this non-commercial website are acknowledged.