Welcome to the Rotary Club of Pershore
Featured pages:
The Rotary Flash Freeze, Worcester 13 October 2013
Worcester South Rotary Club together with other clubs taking part, organised a "Freeze Mob" to promote the drive to eradicate Polio from the World. We are "Just This Far" is saying as Rotary works towards this goal with others, such as the Gates Foundation. The World is so close to achieving this.
Please click and link below to view the video of the event.
http://www.youtube.com/watch?v=lHYD-EC7EQo&feature=youtu.be
RAIN DIDN'T STOP PLAY (OR FUN) FOR ROTARY PARTY GOERS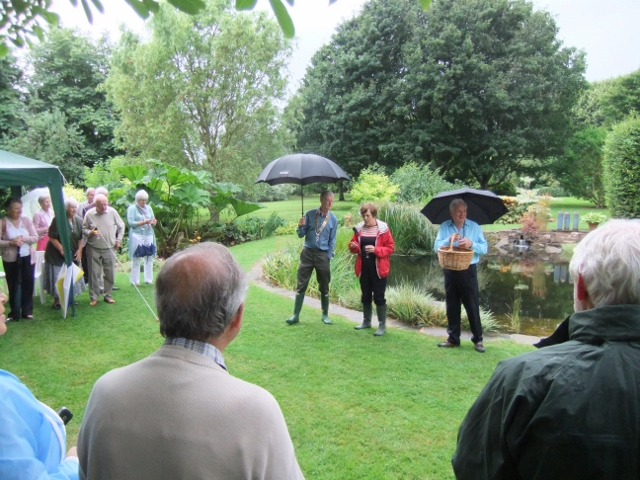 In the time honoured tradition of our Club's Summer Garden party the rain, although not heavy, was relentless. So much for St Swithin's Day predictions. I understand the Australian cricket team have raised the issue with the 3rd umpire of why the English will enjoy a garden party in the rain but not play cricket (when a draw retains the ashes). HOWEVER, the new format of bring and share (Stephen was bringing 5 loaves but couldn't catch any fish) with chairs strategically placed under gazebos made for a very successful and social afternoon in a wonderful setting. A net income of £652.27was achieved through the sale of tickets, plants (thank you Audrey), the raffle, and of course the bar. This will be divided between the Stroke Association and other Rotary charities
ROTARIANS BECOME HERITAGE KNIGHTS FOR A DAY
Where has my congregation gone?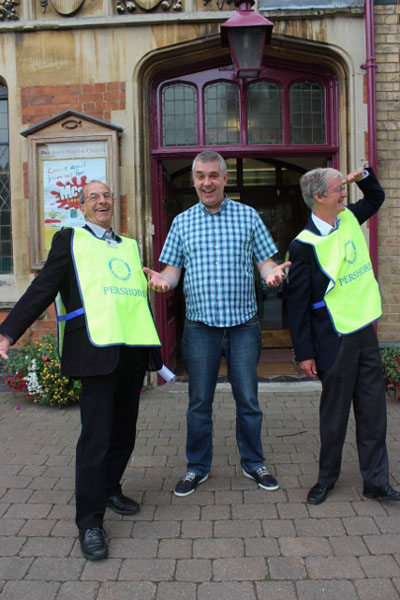 A team of Club members helped launch the Pershore Big Heritage Quest on July 3rd, supporting Sandy Marchant. 180 local school children took part from 8 local schools discovering what a time traveler from 1204 might recognize in Pershore and its surrounding villages today. Sandy asked the Bulletin to thank all those members who took part "we couldn't have done it without them" Chivalry and seeking a lady's favour are traits of Pershore Rotarians
GSE TEAM TO VISIT THE RAILWAY
The British (outward) GSE team will be the star attraction at the Community Service Committee social evening on September 4th. Partners will be made most welcome. Members and partners of Evesham and Bredon clubs are also to be invited. As a result space could be limited and bookings taken on a 1st come 1st served basis. Please therefore book asap to reserve your place(s). Guido will be providing one of his excellent cold buffets, preceded by Parma Ham and melon and followed by profiteroles AND cheese & biscuits AND coffee AND Rennies? – all for £15!!! The starvation Diet is recommended day before and after
SPREADING THE WORD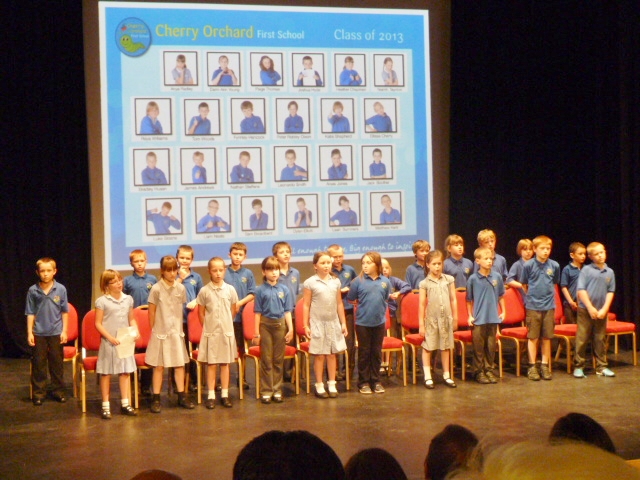 The donation of Usborne Dictionaries to all the leavers moving on to Middle School from the four Pershore First Schools was again much appreciated by each of the Schools. The arduous task of attending the final assemblies to make the presentations was undertaken by Alan, Judith, Kit and both the Kens.
BOTTLE STALL SOLD OUT BY 3PM !!!!!!
Hordes of people descended on Pershore for the Plum Fair and it appears a healthy proportion could not resist the chance of winning a bottle from our stall – helped of course by its excellent location – requiring some restocking at 3pm. The combination of a hot day and lack of stalls selling soft drinks also helped. It was suggested at Council that we should consider selling soft drinks and perhaps plants next year as part of the stall.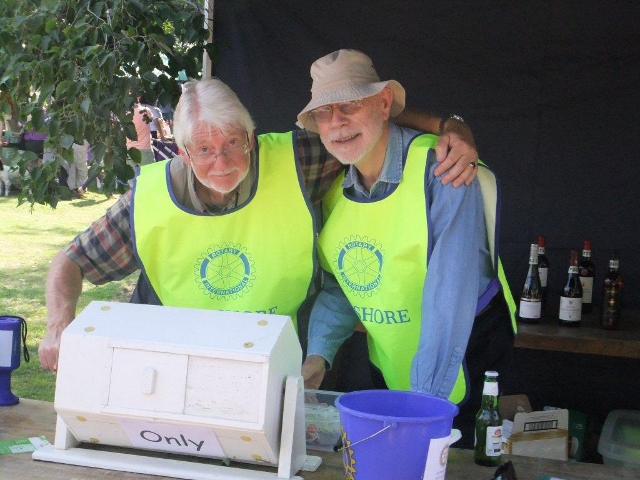 "We really need an electric starter motor for this"
Proceeds amounted to £577.35p (35p???) – a really excellent result. Well done Kit and team and of course all the volunteers on the day.
CROOME CLOCKS AWAY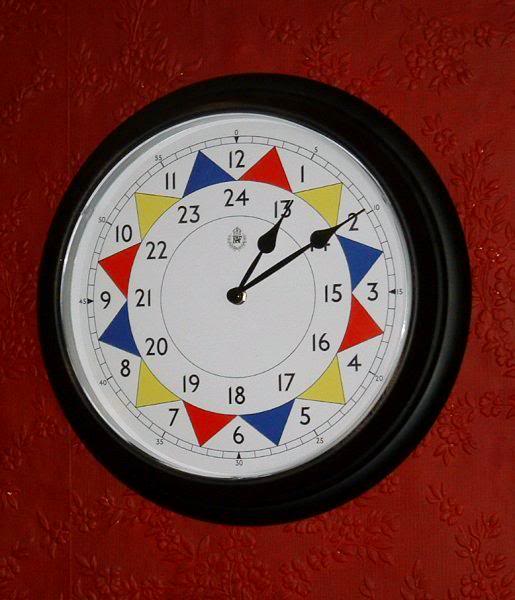 Rather than make a monetary donation to thank the speaker from Croome Court, they have now suggested an RAF Operations clock.
Council has agreed this and will ask for a Rotary plaque to be displayed. The Croome entrance area has a number of war time RAF exhibits.
NEW PRESIDENT FOR PERSHORE ROTARY CLUB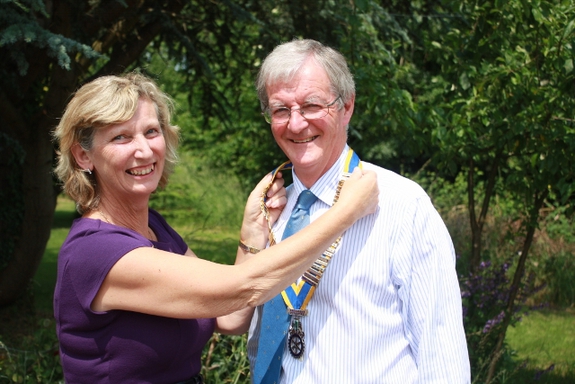 The new Club President is Alan Fulton. He trained as an engineer and spent most of his career working for the old-established Birmingham company Albright and Wilson where he progressed to Vice President of the Supply Chain before retiring.
On receiving the Chain of Office from Judith Gath he said "I am sure all members will agree with me that we have had an excellent year under Judith's Presidency. It's been a real pleasure to belong to the Club. We are doing some very good things that I hope we can continue and build on. In particular to raise our local profile so Rotary is known as an important part of the Community, with a professional image. Also to run international projects that fill a need not met by other organisations. The 2 main charities I would like the Club to support this year are the Pershore Riverside Youth Centre – 3 of our members are Trustees at the Centre – and Acorns Children's Hospice.
PRESIDENT'S YEAR ENDS IN REAL STYLE WITH A SWING
Now this was the way to end a President's year with black ties, ball gowns, a lovely setting and excellent food and company at Dumbleton Hall. The band from Prince Henry's High School – Nick Brown and the Profile (only a teacher could think of that) – were as always excellent playing swing/big band music – in fact rarely have so many well fed and wined ageing Rotarians taken to the dance floor following their dinner (some of us were of course spurred on by young daughters).Your Editor suggests that the funky chicken becomes a part of the initiation ceremony for all new members of the Club which they must perform to a high standard to be admitted.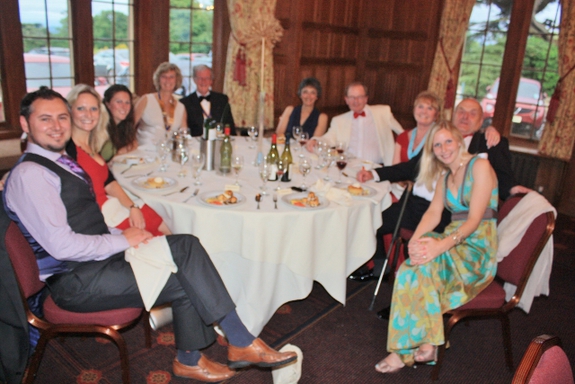 CLOSE FINISH IN CHARITY GOLF
Eight teams competed in this year's competition raising the excellent sum of £775 for Kids Out. Winners were Rediroll with 75 points followed by Nicklin LLP with 73 and a Midshires Communications Guest Team on 72. Unfortunately no-one carded a low enough score to receive an invite to play in this week's Open. Well done Gerry and Team (Kit & Martin) for organising this.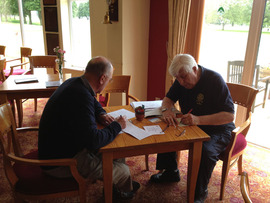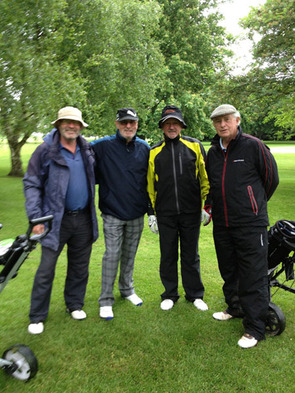 LIFE SAVER A HEARTBEAT AWAY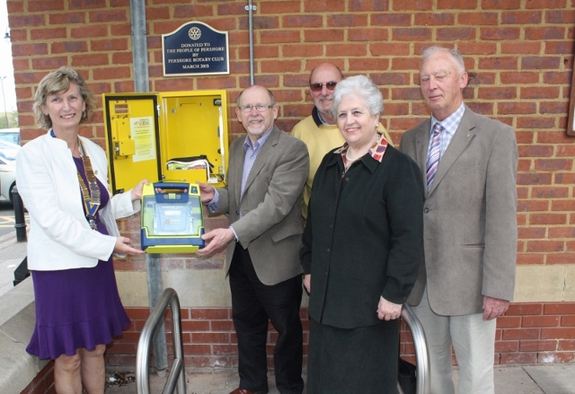 The 1st defibrillator has been registered with the ambulance service and is operational. It was officially handed over to the Mayor by Judith at a ceremony in Chapman Court. The money to fund this was raised through the Tree of Lights and donations from Anne Albright, Joe and Polly and Martin and Barbara. Sufficient funds are now available to fund a 2nd "PAD" and a location is being sought – the Baptist Church is being considered as Mark Jennings is very supportive. As well as the main donors, a small group of Club members and the press attended the ceremony at which our President gave an excellent speech explaining the importance of the equipment in saving lives and thanking the donors "To save one person's life is a gift we cannot put a price on"
Although instructions in their use are given by the equipment itself, it is important that more people are trained.The 1st training session was well received.Much time and effort has been devoted to this project by Bob and Alan who very much deserve our thanks.
We normally meet weekly for lunch, with a speaker after the meal. Sometimes we visit other clubs or places of local interest and hold evening meetings when partners and friends are usually invited to join us (see "Meeting programme"). These help develop a sense of fellowship and are enjoyable occasions. Visiting Rotarians are always made welcome.
Our main aim is to serve the community both at home and abroad. To achieve this we support a number of charities and engage in other service activities, e.g. Stroke Awareness-testing peoples blood pressure in the centre of Pershore and the Tree of Lights. If you would like to support an event or help in any way please use the "Contact form"