Welcome to the Rotary Club of Pershore
Featured pages:
---
Fund raising for Desai School
This year we have now raised £1,950 to upgrade Desai School in Nairobi.
We are supporting Swindon Old Town Rotary Club linked to a Rotary Club in Nairobi in their bid for a global grant. The grant scheme means that each £1 we raise will become £3.44 through matched funding.
This will enable the school to admit an extra 150 pupils, build a kitchen on site and provide a secure water and electricity supply.
Desai School is situated in a Nairobi slum and only takes children from the slum to give them skills, knowledge and hope for the future. All the staff are recruited from the slum and trained to teach to a high standard. Children are very keen to learn and usually attain excellent results in the National Tests.
John Angood - President 2015-16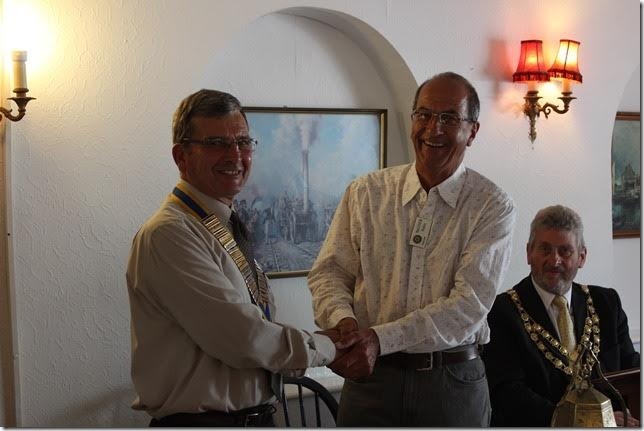 Eye Camps in Sri Lanka
Building on last year's success of improving the eyesight of 1500 people Pershore Rotary Club sent £3,500 to Kandy Rotary Club on 22nd January. The money came from a mock auction at a fun antiques evening, Flint & Holywell Rotary, a District grant and various donations. John Angood said "A big thank you to all who took part and contributed to this massive effort".
His Rotarian friends in Kandy have already organised 2 successful eye camps with more to follow. "We get extraordinary value for money as each £3 either provides a pair of prescription glasses or a cataract operation. This year we should be able to help 1,200 people".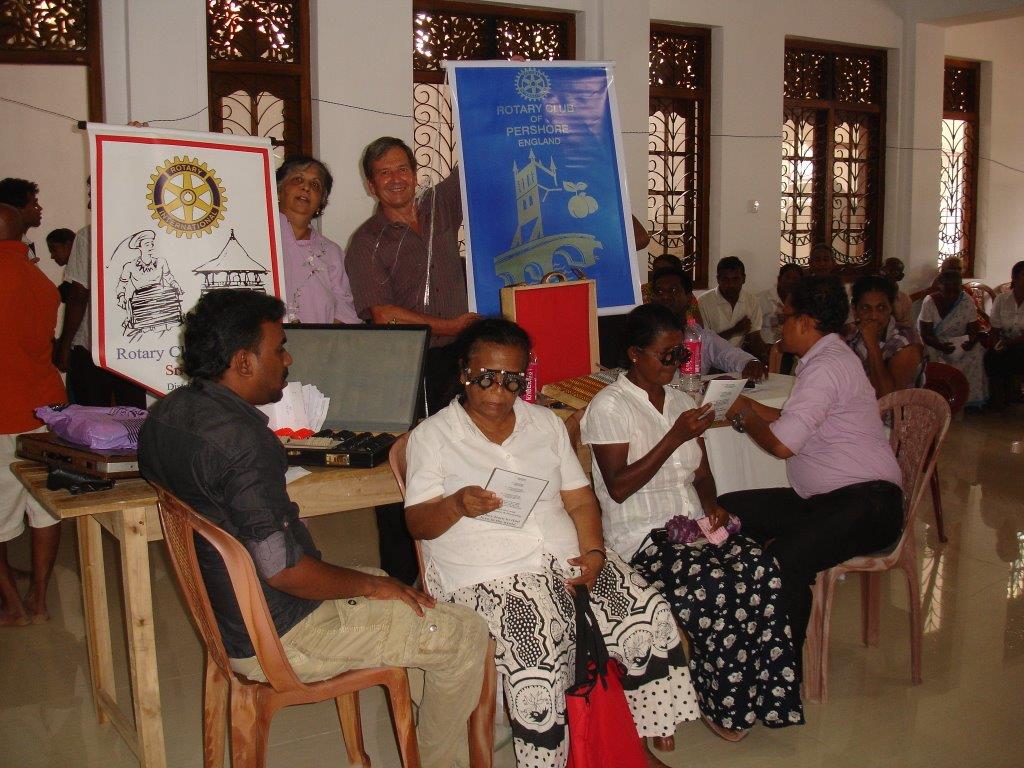 Rotarians Antiques evening raises money for Sri Lankan Eye Camps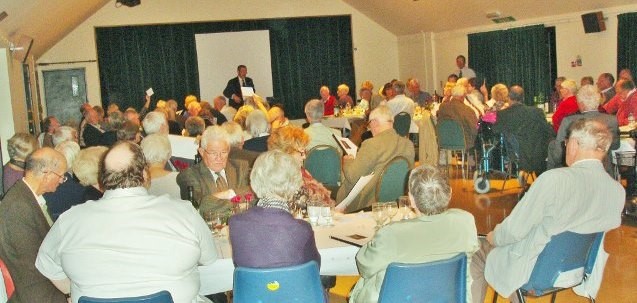 Our attempts at the antiques evening of bidding the price articles actually sold for at auction showed most of us don't know the price or value. The mock auction winner was a guest, Tony Cocks - next door neighbour to John. However John certainly knows how to organise an excellent fun evening, and yet again showed his prowess at raising funds for eye camps. The overall profit was £1,500. As usual this demonstrated the more base habits of members - gambling (the raffle raised a profit of £430) and drinking (the bar raised £226.95) With the £500 from Flint and Holywell Rotary Club, plus other donations, the total now stands at £2,340. Well done John and thanks to all those who assisted with the bar, raffle, clear up and in organising the evening. The original oil painting by Kumara Rathnayaka sold for £105 to Anne Angood.
Richard Martyr Memorial Award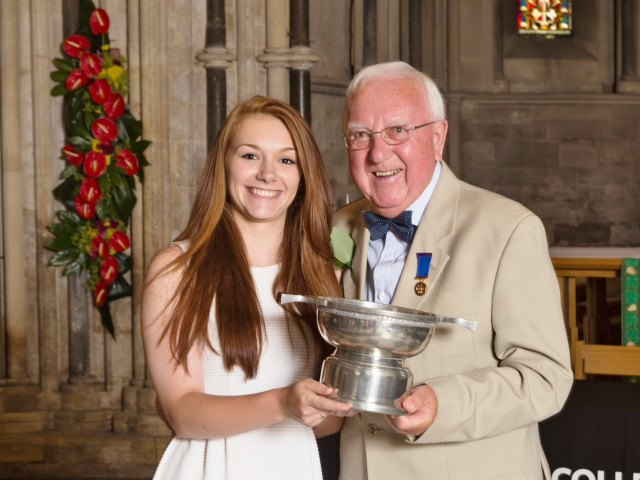 Cairns clearly enjoyed representing the Club at the Pershore College Award Ceremony where he presented this Pershore Rotary Club award to Olivia Jew
As an interesting by product of this the College has expressed the wish to further develop links with our Club. Cairns is pursuing this
Rotary Youth Leader Awards Worthwhile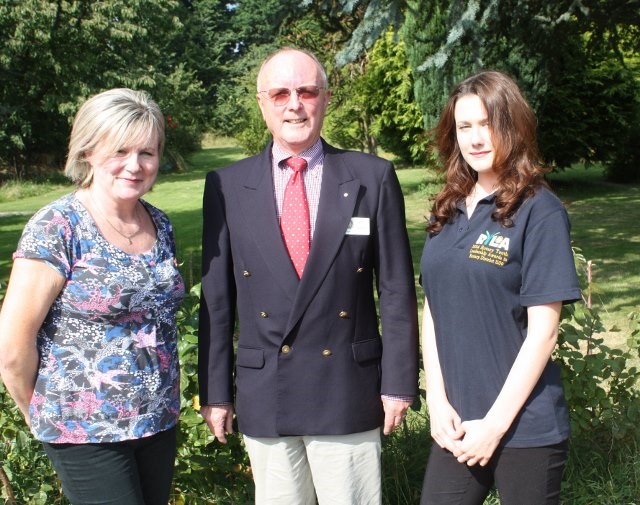 Our RYLA candidate from last summer, Lydia Stephens, accompanied by her mother, joined us for lunch at a recent meeting. She did of course have to earn her lunch by giving a presentation of her experiences on the course. All agreed this was one of the best presentations we had received from a High School student - very confident and full of enthusiasm. Her description of the activities was punctuated with "terrific"; "fun"; "brilliant"; "team work"; "worthwhile" It is listening to young people that have experienced RYLA that makes our support of it so worthwhile and rewarding.
Pershore Rotary's new President Malcolm Haden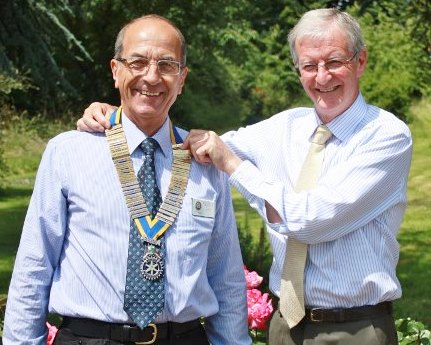 The annual handover ceremony gave Alan the opportunity to highlight the achievements of the Club this year. In total over £17,400 has been donated to charitable causes, the main beneficiaries being Sri Lankan Eye Camps (£4,539), Pershore Riverside Youth Centre (£3,500) and Acorns (£1,500). The extensive social programme included Summer Garden Party, Christmas party, Stratford Theatre trip, visit to Heritage Motor Museum and Committee social evenings. "It has been a privilege to be your President. This has been a team effort. Thanks to everybody - Officers, Council members and all those who rally round!. Malcolm thanked Alan for a brilliant year and ensuring being a member of the Club was a real pleasure.
It became readily apparent at the subsequent photo shoot that our new President and the 2 senior office holders of Secretary and Treasurer were not only members of the Wyre Piddle Mafia, but also that infamous local band "Four Old Geezers". It is hoped to recruit John, our Senior Vice, to complete the set - major musical talent is not a prerequisite John, just a sense of humour and the fortitude to survive the lengthy word tours the band will be offered after its success at Dumbleton Hall.
Normally meet weekly for lunch, with a speaker after the meal. Sometimes we visit other clubs or places of local interest and hold evening meetings when partners and friends are usually invited to join us (see "Meeting programme"). These help develop a sense of fellowship and are enjoyable occasions. Visiting Rotarians are always made welcome.
Our main aim is to serve the community both at home and abroad. To achieve this we support a number of charities and engage in other service activities, e.g. Stroke Awareness-testing peoples blood pressure in the centre of Pershore and the Tree of Lights. If you would like to support an event or help in any way please use the "Contact form"
meeting details

In the next 30 days...
Social Media...
Pershore Rotary
Create your badge
Tweets by @PershoreR
Meeting Information...
We meet on Wednesdays at 1215 for 1245 (Occasional evening meeting 7.00 for 7.30pm) Railway Inn, Upton Road, Defford, Pershore, WR8 9BA tel: 01386 750309