Welcome to the Rotary Club of Pershore
Featured pages:
Rotary has a new President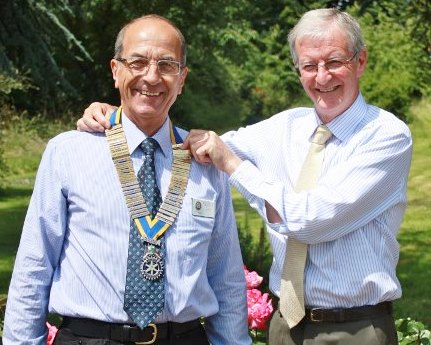 The annual handover ceremony gave Alan the opportunity to highlight the achievements of the Club this year. In total over £17,400 has been donated to charitable causes, the main beneficiaries being Sri Lankan Eye Camps (£4,539), Pershore Riverside Youth Centre (£3,500) and Acorns (1,500). The extensive social programme included Summer Garden Party, Christmas party, Stratford Theatre trip, visit to Heritage Motor Museum and Committee social evenings. "It has been a privilege to be your President. This has been a team effort. Thanks to everybody – Officers, Council members and all those who rally round". Malcolm thanked Alan for a brilliant year and ensuring being a member of the Club was a real pleasure.
It became readily apparent at the subsequent photo shoot that our new President and the 2 senior office holders of Secretary and Treasurer were not only members of the Wyre Piddle Mafia, but also that infamous local band "Four Old Geezers". It is hoped to recruit John, our Senior Vice, to complete the set – major musical talent is not a prerequisite John, just a sense of humour and the fortitude to survive the lengthy word tours the band will be offered after its success at Dumbleton Hall.
RICHARD MARTYR MEMORIAL AWARD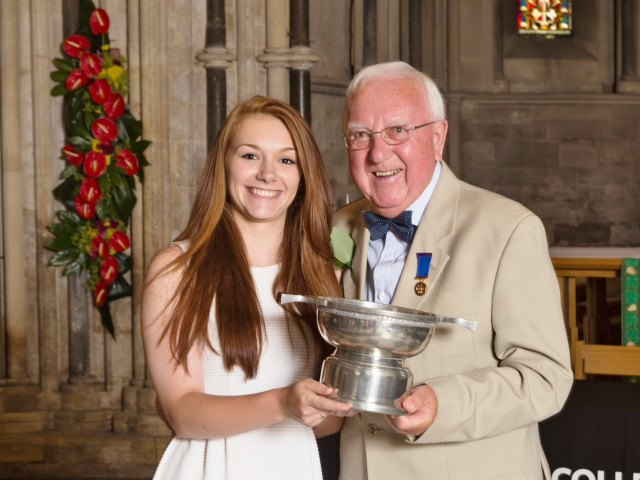 Cairns clearly enjoyed representing the Club at the Pershore College Award Ceremony where he presented this Pershore Rotary Club award to Olivia Jew
As an interesting by product of this the College has expressed the wish to further develop links with our Club. Cairns is pursuing this
CHARITY GOLF DAY
Seven teams took part in the Charity Golf this year raising £1000 for Kids Out
Are you allowed to use a mobile when driving a golf buggy? – checking the distance to the hole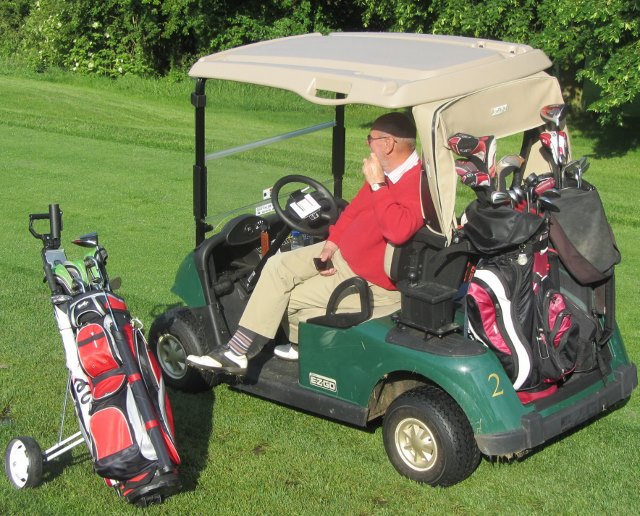 The winning team was Midshire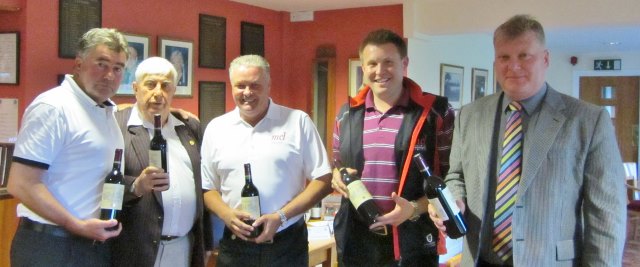 Communications,
with Piddlers 2nd and Butlers 3rd
Although Gerry may have sired one of them he was NOT part of the team
Thanks to Gerry, Martin and Kit for organising the day, the proceeds will go to Kids Out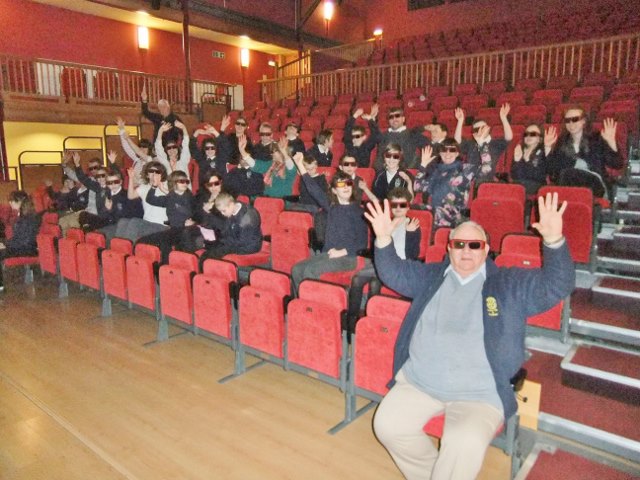 KIDS WALK OUT WITH DINASOURS
The kids were more scared of their minder (in 3D) than the dinosaurs!!!
Malcolm, Gerald and their minder accompanied 31 pupils and 12 carers & staff from the Vale of Evesham School to No8 on Friday 28th February to see Walking with Dinosaurs. The trip had originally been planned for the 14th February but the atrocious weather had closed the School that day. However Emma Bingham at No8 kept the film back and Ruth Barton from the School gave her own time over half term to enable it to be reorganised. Many thanks to them both, and to Gerry for organising it all. I am told the kids really enjoyed it but one asked Gerry if he and the other Rotarians could still remember seeing any Dinosaurs when they were young.
Normally meet weekly for lunch, with a speaker after the meal. Sometimes we visit other clubs or places of local interest and hold evening meetings when partners and friends are usually invited to join us (see "Meeting programme"). These help develop a sense of fellowship and are enjoyable occasions. Visiting Rotarians are always made welcome.
Our main aim is to serve the community both at home and abroad. To achieve this we support a number of charities and engage in other service activities, e.g. Stroke Awareness-testing peoples blood pressure in the centre of Pershore and the Tree of Lights. If you would like to support an event or help in any way please use the "Contact form"