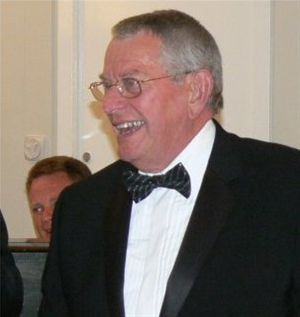 Locks Heath Rotary Club meet at the Navigator P.H., Swanwick, 1st and 3rd Tuesdays in the month at 6.30 for 7.00pm, and on the 2nd & 4th Tuesdays in the month at 12.30 for 12.45
The Club, which was founded in 1972, currently has 25 members. Most weeks the Club has an interesting speaker, details can be found under 'Meetings'.

The Club organises a number of fund raising events during the year, such as Burns Night, and an International Evening, as well as events such as a Summer Party for a group of elderly members of the local community. Our major fund raising event is a Christmas collection at the local Locks Heath Shopping Village.

We also take part in local events including Warsash Strawberry Fair, and 'Kids Out', and annually organise an evening music competition for local schools and works with Brookfield Community School on youth projects such as 'Youth Speaks' and 'Young Writer'. The Club sponsors the Lord Wilson Academy at Coldeast.

Most of the money raised during the year goes to local community projects, including Communicare, local Scouts, Mayor's Charities, Jubilee Sailing Trust etc. Some goes to help with Rotary International humanitarian charities, such as Wateraid, and Aquaboxes or Shelterboxes, which provide safe drinking water or temporary shelter and other essentials for families after disaster such as earthquakes, flood or tsunami.

Vocational visits are arranged for the members, these have recently included informative visits to Grifffon Hovercraft, Mercedes Benz World, Brookland Museum, The Watercress Line and these are often combined with visits to other Clubs. Above all the intention of the members is to have fun whilst taking an interest in our local and worldwide community and helping where we can.

The Members of the Rotary Cub of Locks Heath welcome you to their website
and hope that you will look around to learn about our activities. The Club is open to new members of either gender, and anyone interested in membership, or supporting us by means of a Business Partnership, should contact Club Secretary Stephen Kirby (01489 574901)

Top Photo: 2016/17 President Brian Russell



Rotary Club of Locks Heath Charity Fund No. 1029424

Meeting Information...
We meet on Tuesdays at 12.45 or 19.00 (1st & 3rd Tuesday - Evenings at 19.00, 2nd & 4th Tuesday Lunchtime at 12.45. (The Club does not meet on a Tuesday following a Bank Holiday) Navigator P.H.
286 Bridge Road
Swanwick SO31 7EB
tel: 01489 572123