WELCOME TO THE ROTARY CLUB OF CASTLE DOUGLAS WEBSITE
LATEST NEWS!!
Below are some of our more recent activities. For more details of what we do and what we support, both locally and internationally, please look under the "What we do" tab at the top of this page.
********************************
SANTA IS COMING TO CASTLE DOUGLAS:
Xmas is when your local Rotary Club in Castle Douglas organises its main community collection to raise the funds which will be used for a wide variety of local good causes. Last year we invited every household to drop their small change into your personal Santa's Savers plastic milk carton Elf Bank. This year we are repeating the concept but will also be reinstating, due to popular demand, the Santa's Sleigh trip around the streets of Castle Douglas and will also collect your household Santa's Savers Elf Bank.
Watch the local press for dates and details of each night's route and check the Castle Douglas Rotary Club Facebook page at: https://goo.gl/gdA9Cv.
Use your Elf Bank to collect any small change and we will collect the Banks just before Xmas. Alternatively, you can drop the Elf Banks off at the King's Arms Hotel or Castle Douglas Community Charity Shop. Five lucky households will have the honour of selecting a local good cause that has pre-registered with the Rotary Club for a Community Cash Award.
You can nominate your favourite local charity or good cause by completing and submitting the form below.
All we ask is that the group serves the residents of our local community and are active within the DG7 postcode area from Carsphairn to Castle Douglas and out to Crocketford.
Local community projects supported by Castle Douglas Rotary Club in the past 12 months include:
Kids Out adventure day for disadvantaged families
Supporting local events with funds and equipment
Local fund raising for national charities
Supporting aspiring young musicians and sporty types
Supporting Civic Week and the Stewartry Show
Santa visits to schools and nurseries
Keep watching this website for more information.
DISTRICT 1020 CONFERENCE 2016:
Castle Douglas Rotary Club members attended the Annual District 1020 Conference which was held in Harrogate this year at the Majestic Hotel.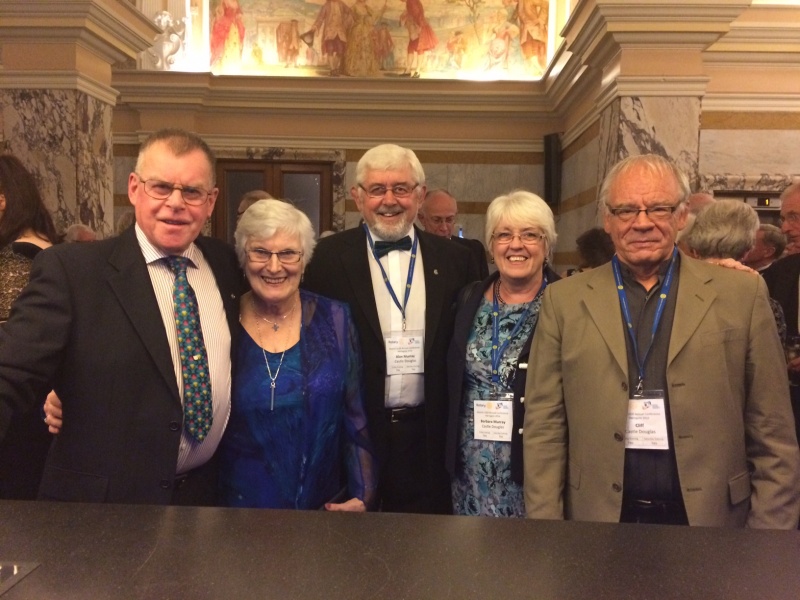 TOUR OF BRITAIN COMES TO CASTLE DOUGLAS!
The Tour of Britain 2016 visited Castle Douglas on Sunday, 4 September. The first stage of this year's Tour started in Glasgow and finished on King Street in Castle Douglas after 161 km of hard racing.
Castle Douglas Rotary Club supported the event by providing refreshments and food on the Market Hill Car Park.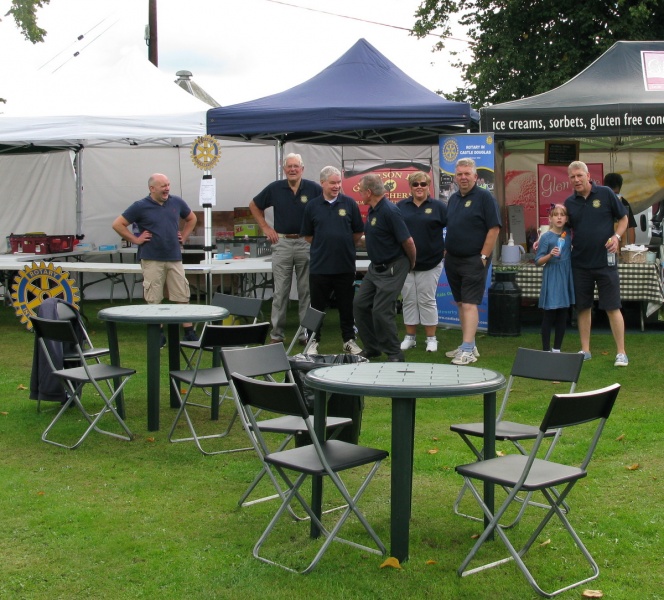 The team ready for action before the crowd arrived.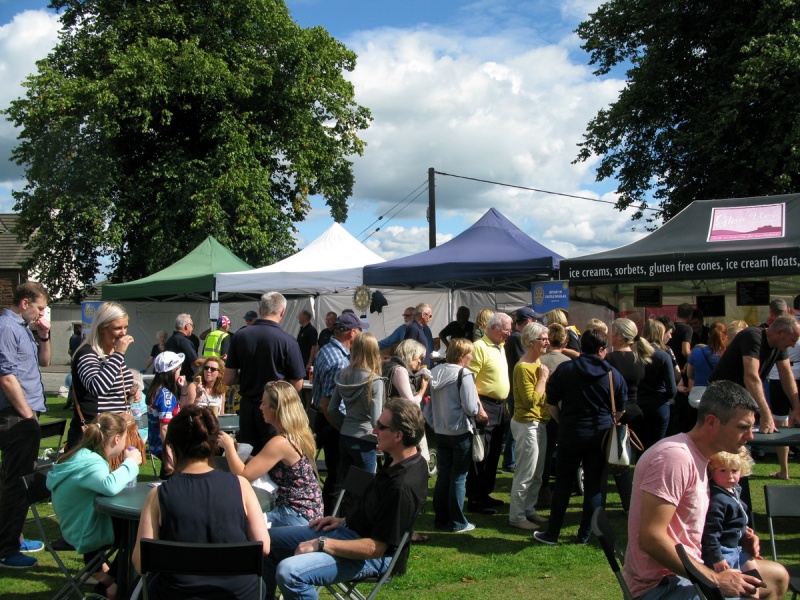 A short time later! The Hog Roast was very popular.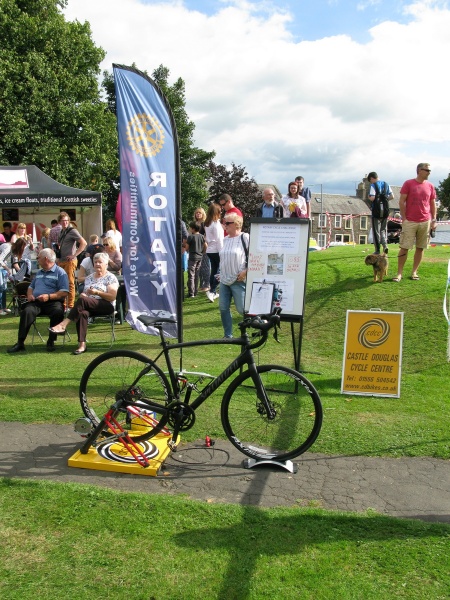 The Rotary Challenge bike ready for action.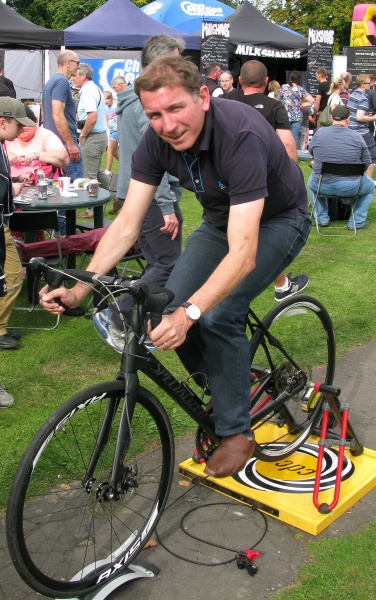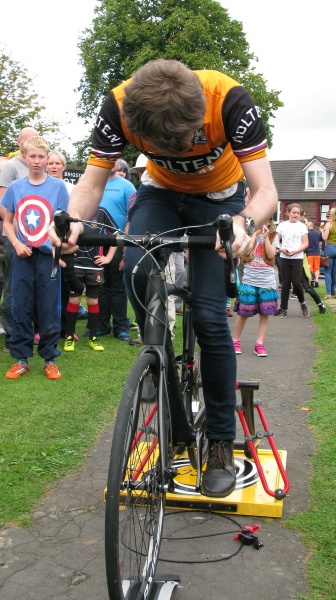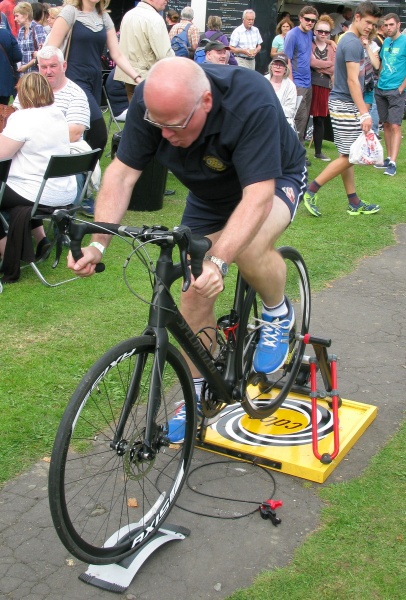 Castle Douglas Rotary Club Secretary Derek Crichton in action to record a personal best of 0.41 miles.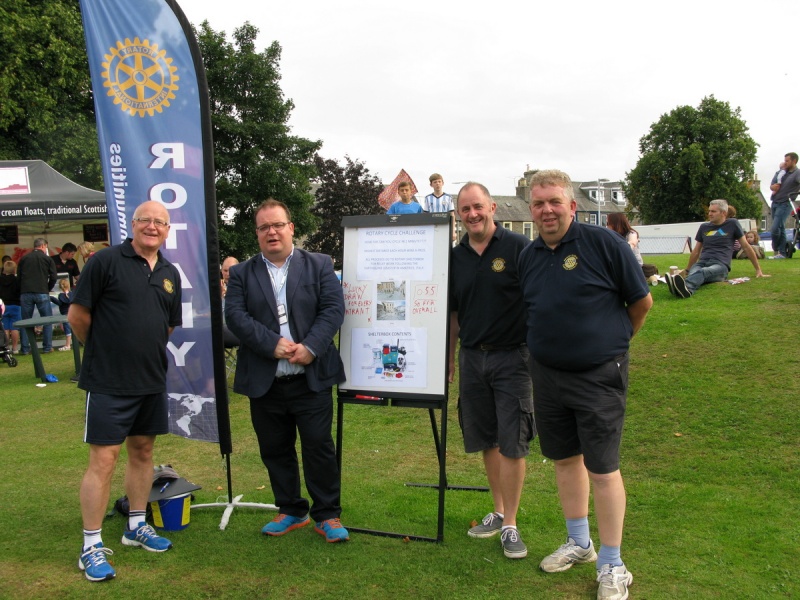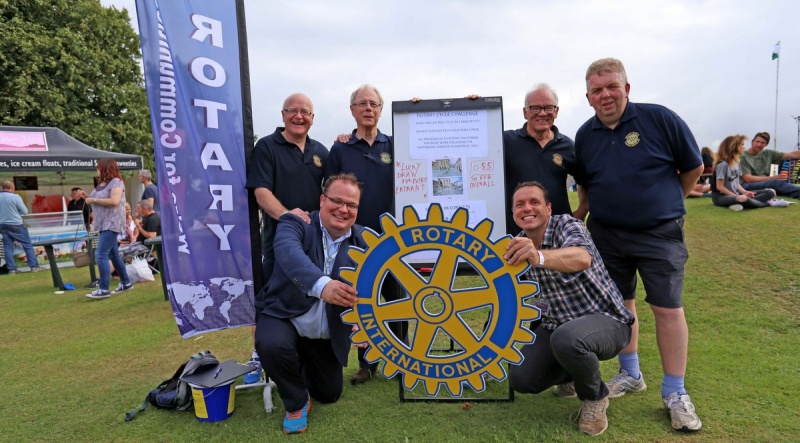 CASTLE DOUGLAS ROTARY HOSTS ROTARY RIDE 2016:
30 Stewartry cyclists joined thousands of other cyclists throughout Great Britain and Ireland to raise awareness of Prostate Cancer which now affects 250,000 men and their families each year.
The local cyclists completed routes ranging from 37 to 60 miles and it also gave the cyclists the opportunity to join up with other cyclists which created a very relaxed and informal atmosphere. Castle Douglas cyclist Davey Doherty commented " It was great to take part and join up with fellow cyclists to raise money for such a good cause and, at the same time, it really does illustrate that local people are increasingly participating in sporting activities to improve their personal fitness and general wellbeing."
The event raised £600 for Prostate Cancer and Mae Bell from Prostate Scotland commented "Prostate Scotland wish to thank all of the cyclists who took part in the Rotary Ride. It was a lovely atmosphere and it seemed everyone had lots of fun, even the chap who had had two punctures". Commenting on his punctures predicament cyclist Donald Reid said "One puncture is a bit unlucky, but two in the one day is just crazy, so I certainly didn't go out and buy a lottery ticket when I finished the ride".
The organisers of the event, Castle Douglas Rotary Club, were delighted with the numbers taking part and indicated that the cooperation of the local British Legion Club had been especially helpful as this provided a great base for the cyclists to enjoy a well-earned refreshment at the end of the ride. Event organiser Robin Hogg indicated "Yet again local people have risen to the challenge with local organisations coming together to deliver an event that no only raised £600, but also raised awareness of Prostate Cancer. We are committed to organising a similar event next year and will shortly obtain feedback from the cyclists taking part to ensure we can build on the success of this year.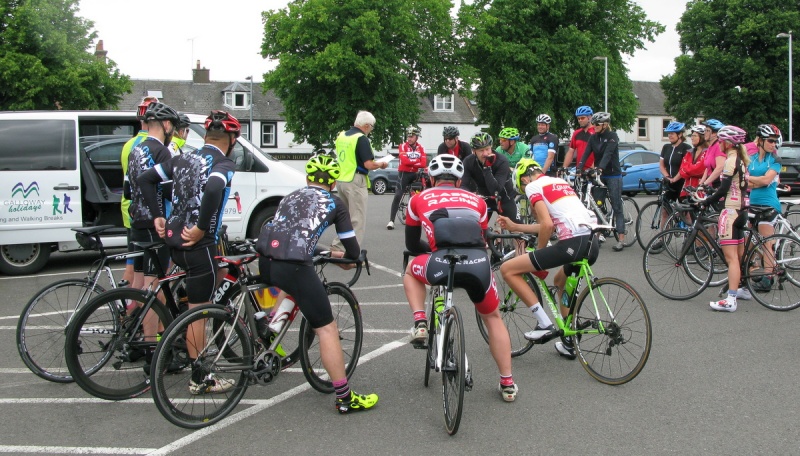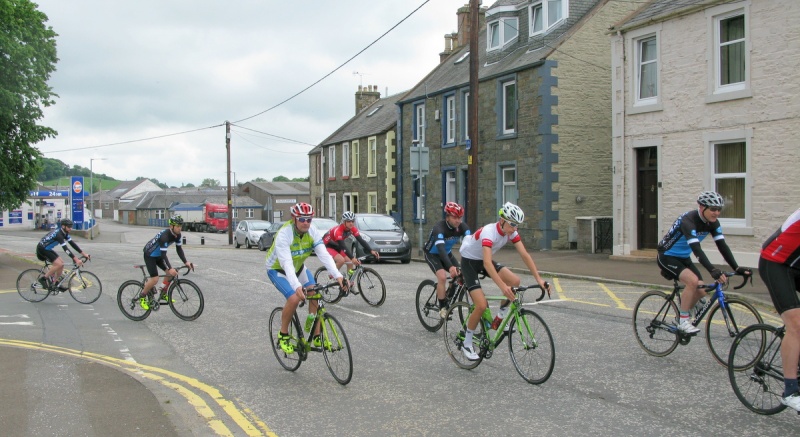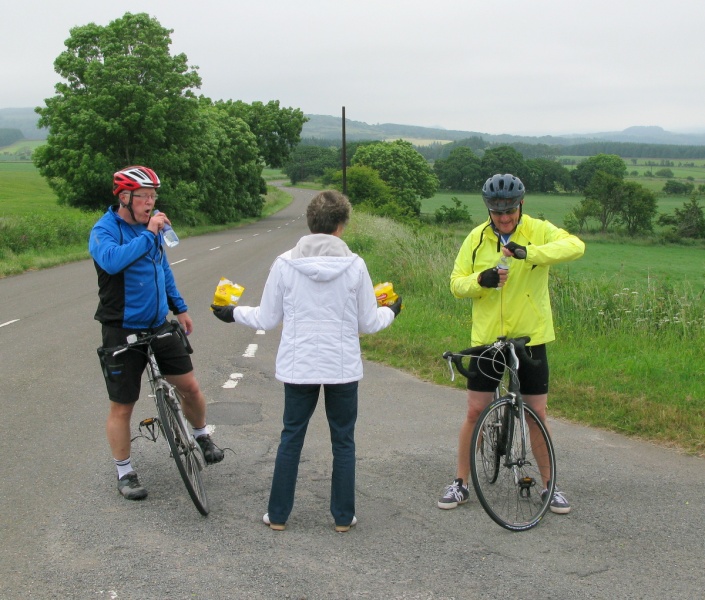 LOCAL ACCOUNTANT JOINS ROTARY:
Castle Douglas Rotary President Alan Murray recently welcomed Stephen Harman as the latest new member of the club. Stephen is a chartered accountant with Carson & Trotter in Castle Douglas and is thus a well known face to many people in the area.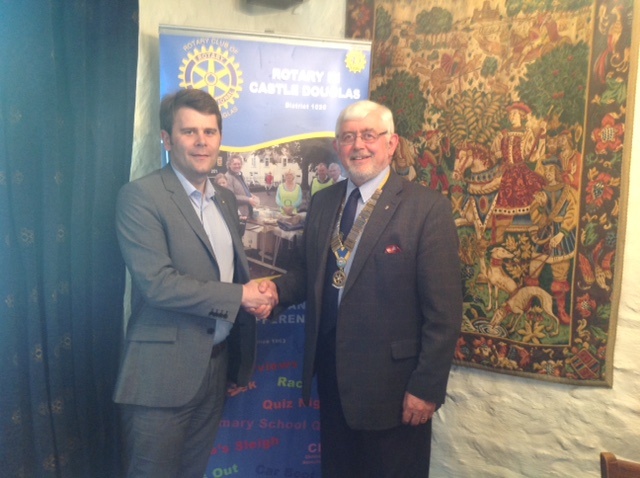 The picture shows Castle Douglas President Alan Murray welcoming Stephen as a member.
WASTE NOT, WANT NOT!
Enterprising District 1020 Rotarians, Andrew Clarke (Currie Balerno) and Cliff Robertson (Castle Douglas) put together a plan to move over 100 computers and other bits and pieces around the UK in aid of the Turing Trust Charity which Andrew's Rotary Club is supporting. Cliff found this charity when he was trawling the web looking for a home for his old computer, monitors, TV's and sewing machines.
The Turing Trust was set up by James Turing, the great nephew of Alan Turing, to support the development of a tertiary educational life skills college network in Ghana using recylced computers, sewing machines, tools, kitchen aids and anything which can be used to help learning through doing and therby improve employment prospects. Instruction and educational books covering just about any trade and course are also well received by the Trust.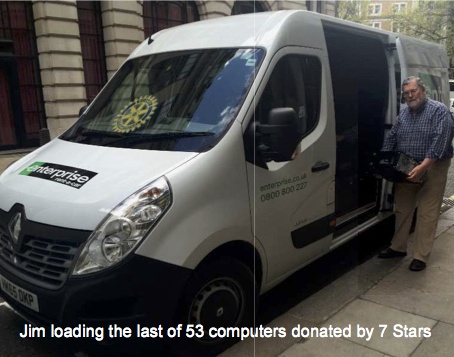 Cliff met Andrew when he delivered his first car load of computers and other items to the Turing Trust in Edinburgh and immediately recognised him as a fellow Rotarian. The most recent jaunt involved a van hired from local Dumfries based company Enterprise, who generously discounted the hire, and a road trip of over 1000 miles up and down to London via Maidstone, St Albans and Dumfries.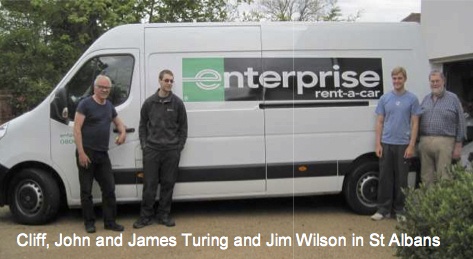 The Turing Trust would welcome any donations from the public which can be used in thier planned expansion inot Malawi and other African countries. Please contact info@turingtrust.co.uk for further information or refer to the website www.turingtrust.co.uk
NEW MEMBERS FOR CASTLE DOUGLAS ROTARY:
The Head Teachers from Castle Douglas High and Junior Schools have become our newest Rotarians. They joined as Corporate Members which allows them to represent their Schools and participate in Rotary organised events. Welcome on board.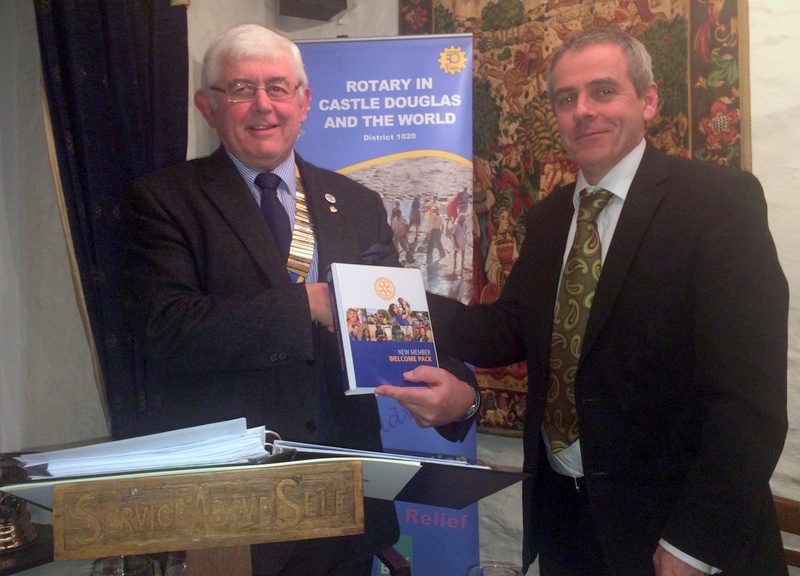 Gerry Donnelly, Head Teacher of Castle Douglas High school, is welcomed as a new member by President Alan Murray.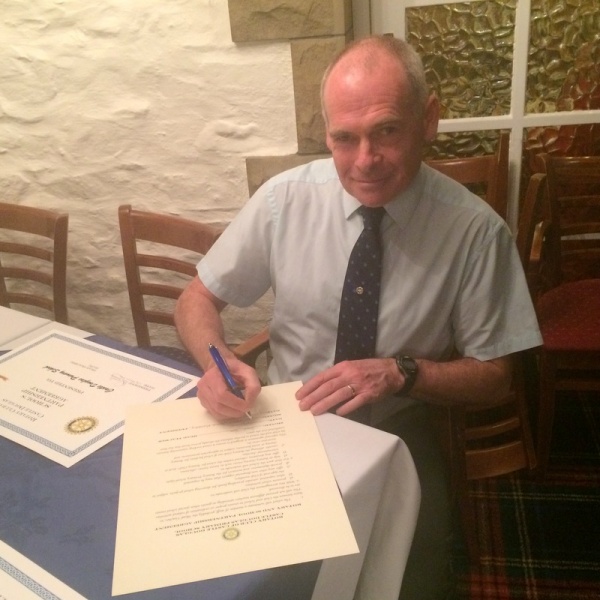 David Tyson, Head Teacher of Castle Douglas Primary School, signs the Partnership Agreement with the Rotary Club of Castle Douglas.
ROTARY HOSTS THE PRIMARY SCHOOL QUIZ 2016:
The first round of the 2016 Primary School Quiz took place at Castle Douglas Primary School. All 8 schools in the Stewartry Cluster took part which ensured that there was a great competition with lots of participants.
After a very closely fought contest including a tie-break, the winners were Castle Douglas Primary School.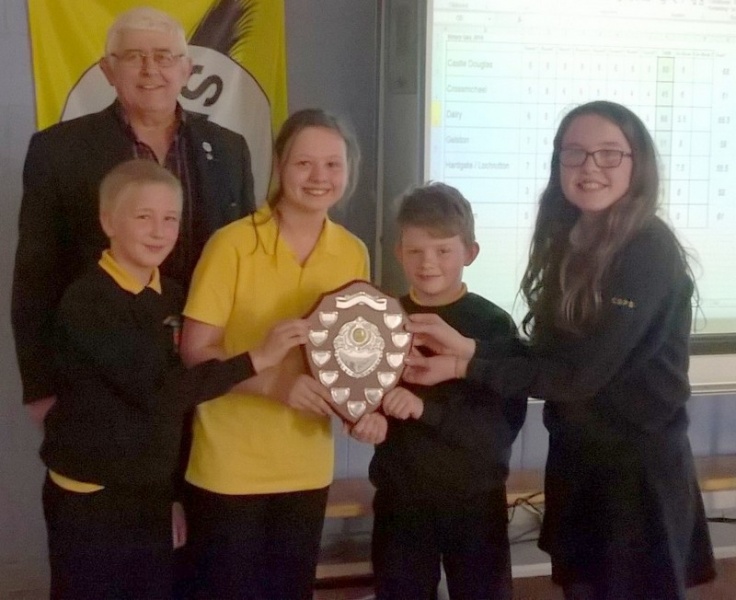 The picture shows Alan Murray, President of Castle Douglas Rotary Club, presenting the trophy to the winning Castle Douglas Primary School Team. The winning tean were, from the left, Sam King, Kelsey McGhie, Lewis Hope and Fiona McQueen.
Congratulations to the winning team!!
NEW MEMBER JOINS CASTLE DOUGLAS ROTARY CLUB:
Rotary President Alan Murray welcomed Gary Calderwood as a new member of Castle Douglas Rotary Club this week. Gary is the local Employer Engagement Officer-DG Employment TAP and will help Rotary in forming strategic partnerships with local businesses and schools.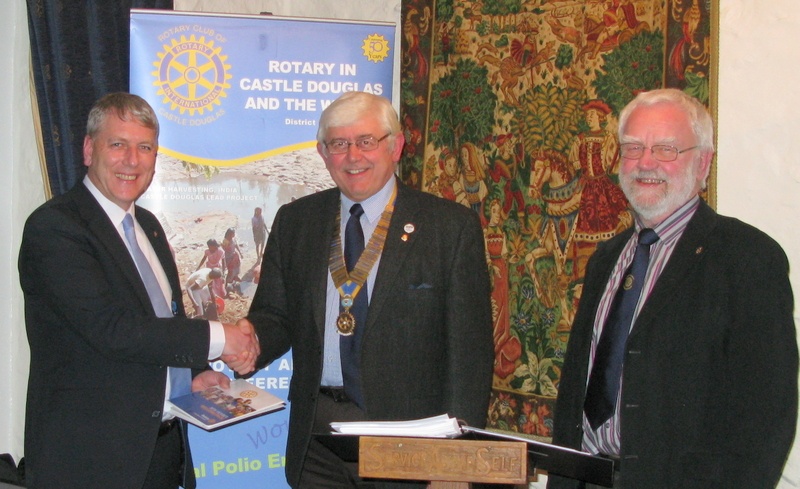 The picture shows President Alan Murray (centre) welcoming Gary (left) with John Martin, the Membership Convenor on the right.
XMAS COLLECTION BY SANTA'S SAVERS:
Xmas is well and truly over but your Rotary Club wants everyone to know how the new collection project turned out. Well, we raised over £100 more than last year through the support of our local pre-school nurseries, primary schools, businesses and the residents of Castle Douglas and district. The average household total from each Santa Savers Elf Bank was over £6 and we are grateful for the efforts of all who supported the new concept for our annual Xmas collection for community projects.
This was the first year that we engaged communities outside Castle Douglas and thank them for their support and look forward to supporting their community efforts in the coming year.
The following businesses that supported the Xmas Raffle are thanked for their support:
Castle Douglas IT Centre, Mumtaz Restaurant, G.M Thompsons, Kirks Shoe shop, Gowans, The Gem Shop, McGill Gallery, Carlos Restaurant, The Cocoa Bean Chocolate Factory, Sulwath Brewery, Ballard's the Butchers, Wilco's, Moore's Fish and Chips, McGowns, with special mention to Tescos and Gowans for donations to the Elf banks totalling £300, and finally members of Rotary for their generosity.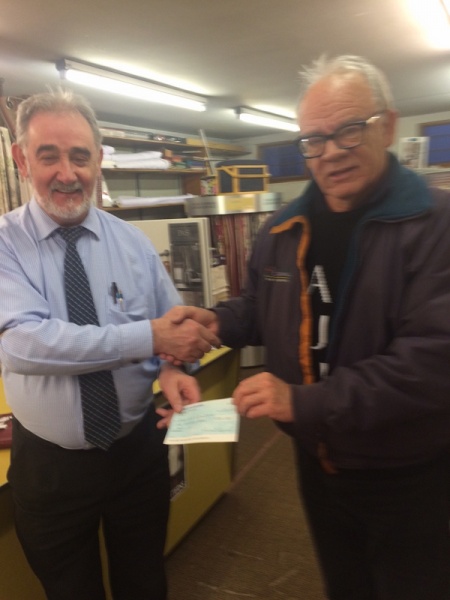 Norman Gowans presenting the cheque to Cliff Robertson.
The lucky prize winners of the donated raffle items were:
Sylvana Ross, Tina Hogg, Cathy Tennant, Leanne Rowe, Barbara Murray, Mary Watt, Jenny Anderson, Mrs Mathews, Peter Coventry, Ashley Chambers, Cath Monk, Lyndsay Harper, Syephen Robison and Angus Pip.
We will be repeating this new concept this coming Xmas and would ask the community to look out for our promotional and publicity efforts towards the end of the year. It's never too early to start collecting for Santa's Xmas Elf Bank, so set aside a few coppers each week and drop them into your Elf Bank.
ROTARY THANKS THE LOCAL COMMUNITY:
The Rotary club of Castle Douglas wish to take this opportunity to thank local people, community organisations and the business community for supporting Rotary during 2015.
Due to this support the club was able to organise the race night and santa sleigh fundraisers for local good causes, the street collection and crocus planting for the eradication of polio, and a charity cycle ride for prostate cancer.
Rotary was pleased to have the opportunity to work in partnership with a wide range of organisations and businesses. Together we have strived to make a positive difference to our community and promote the importance of placing "Service above Self"
We look forward to continuing to serve in the year ahead.
Derek Crichton
PR & Communications Convenor
Rotary Club of Castle Douglas
END POLIO NOW COLLECTION IN CASTLE DOUGLAS:
Once again the Rotary Club of Castle Douglas has been collecting for "End Polio Now", the global initiative organised and executed by Rotary volunteers to rid the world of polio and its disastrous effect on children's lives. This year the collection was boosted by the money raised by the pupils of Castle Douglas Primary School who have planted crocus bulbs at the school as part of their project to support polio eradication.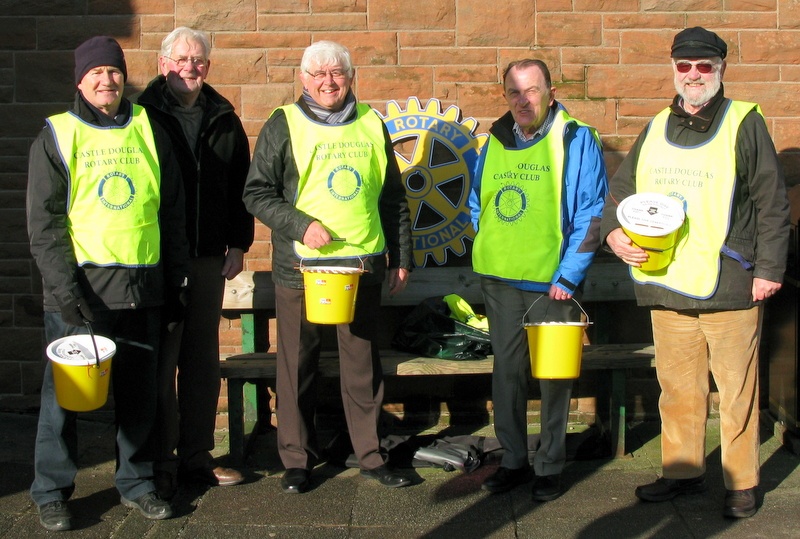 The picture shows some of the Rotary collectors ready for action!
As a result of the Rotary global initiative, only two countries in the world continue to have endemic polio. Our thanks to all the people who have so generously contributed to the collection.
CASTLE DOUGLAS PUPILS ATTEND ROTARY PEACE CONFERENCE:
Ten pupils from Castle Douglas High School attended the recent Rotary Peace Conference which was held in the Easterbrook Hall.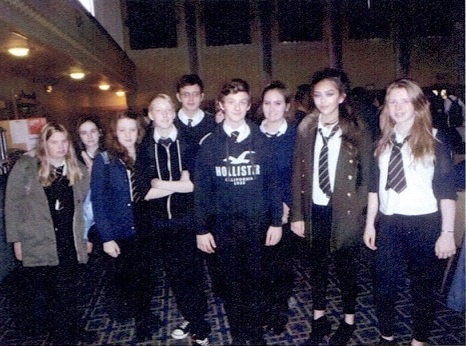 Abbie Rough, one of the pupils who attended the Conference commented "In conclusion, the Rotary Peace Conference was extremely inspiring and taught us a lot about how we can solve and prevent conflict. It was a very worthwhile day. If the aim was to make us feel inspired and confident enough to help our world, then this was definitely achieved."
HELPING THE FLOOD VICTIMS IN CUMBRIA:
Castle Douglas Rotary Club has donated £500 to the emergency relief work being carried out by the Rotary Clubs in Cumbria. The money will be used to provide immediate needs such as food and essentials for people who have been flooded in Carlisle and the surrounding area.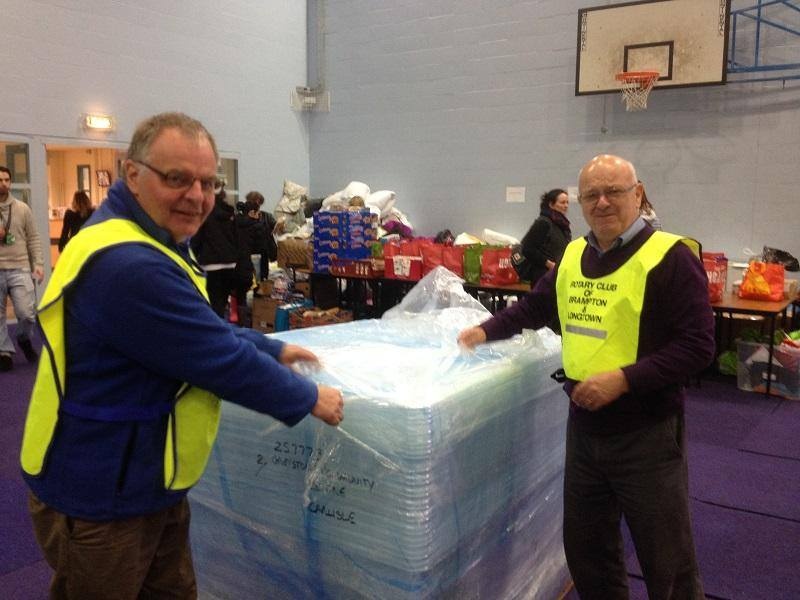 CASTLE DOUGLAS PRIMARY SCHOOL PRESENTS CHEQUE TO ROTARY: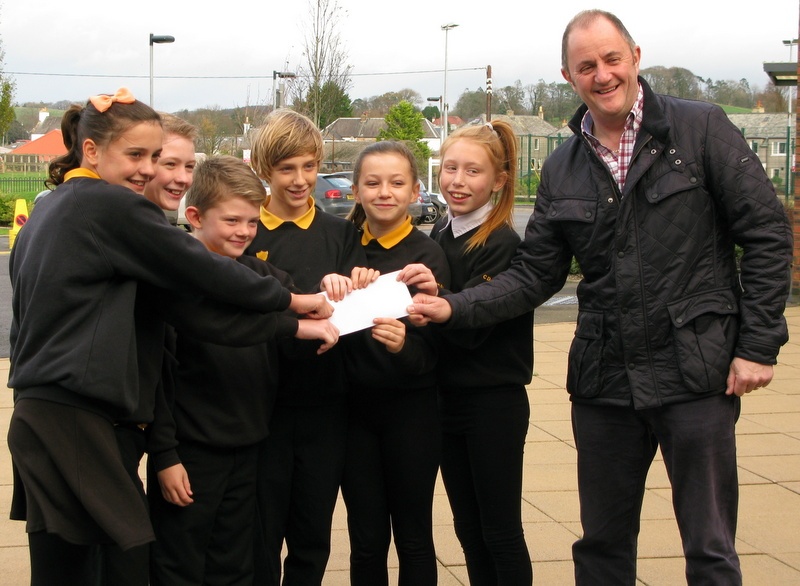 George Dickson, the International Convenor of Castle Douglas Rotary Club accepts the cheque for £440 from pupils of Castle Douglas Primary School.
In 2014, crocus bulbs were planted in raised beds by pupils at Castle Douglas Primary School as a symbol of the struggle to eradicate polio throughout the world. Since then, the Primary 7 pupils have engaged in activities to raise funds to help fight the disease. As a result of the considerable effort by all concerned with the school, a fantastic total of £440 has been raised and handed over to the Rotary Club of Castle Douglas.
George Dickson, the International Convenor with the Rotary Club of Castle Douglas said "The Club are delighted to receive such a positive reaction from the staff and pupils at the school. I would like to thank everyone very much for this generous donation. Everyone should be extremely proud of their achievement in the knowledge that they will help in the worldwide fight against polio."
LEGION DONATES SHOEBOXES TO ROTARY
Castle Douglas Royal British Legion has supported Castle Douglas Rotary Club by filling 20 Rotary Shoeboxes.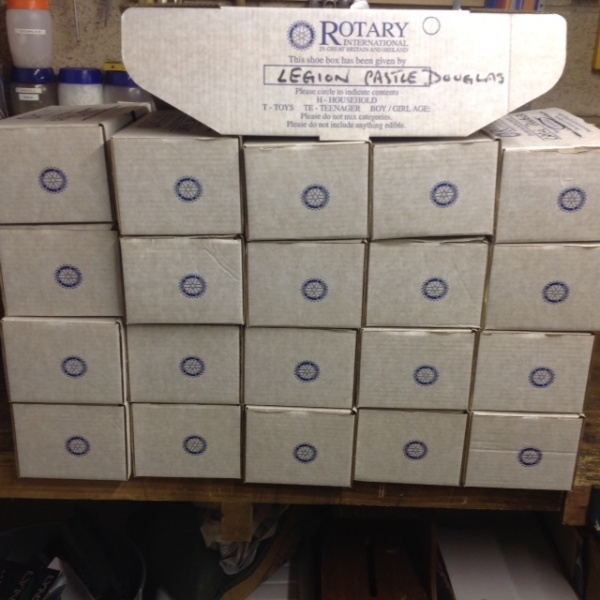 The 20 Shoeboxes will join other Shoeboxes filled by Rotarians and others. They will be conveyed to Eastern Europe to help desparately poor families.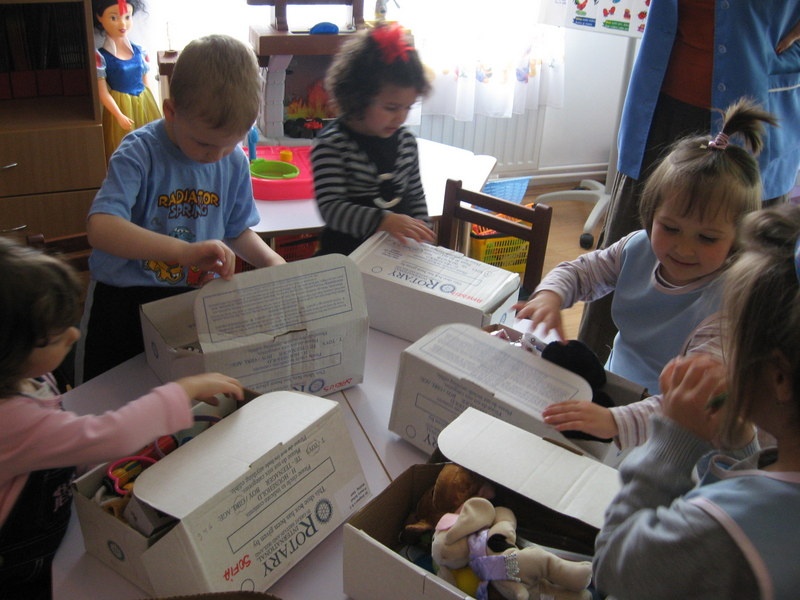 Children opening their Shoeboxes on Christmas Day in Cluj, Romania.
CHRISTMAS COMMUNITY COLLECTION 2015: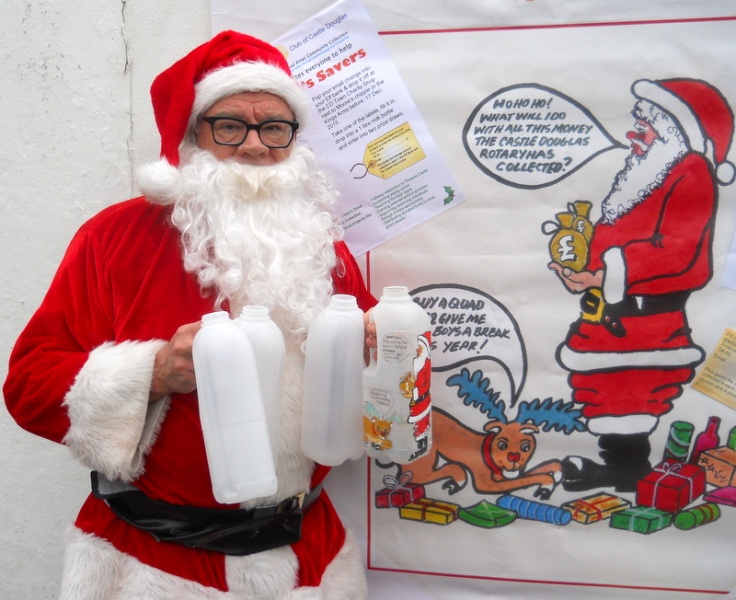 Christmas is rapidly approaching and Castle Douglas Rotary Club have introduced a novel Community Collection in addition to the Santa Sleigh events. Donations are collected in the new Santa Elf Banks using recycled 1 litre plastic milk cartons. All the money raised will be used to support the local community, youth and junior projects and activities.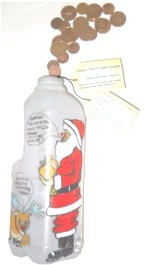 All the Stewartry Nurseries and Primary Schools have been enlisted and the pupils will be decorating 1 litre plastic milk bottles with a Christmas theme. The decorated bottles will be judged by Rotary just before Christmas for their creative and decorative merits. Special prizes will be awarded to the outstanding bottles.
In addition, Tesco, Co-op and Scotmid have agreed to support this fundraising campaign and will issue each customer with an entry label which can be downloaded. If you are not offered a label then please ask for one - the shops have supplies of labels.
You can download the label here.

Complete the label, pop it into the cleaned out plastic milk bottle and start collecting your small change. Please deliver your Elf Bank to the Castle Douglas Town Charity Shop next to Moore's Chippie or to the King's Arms Hotel before 17th December this year. Every returned label will be entered for two prize winning chances; guess the average amount in each Elf Bank and the big prize raffle draw.
SHELTERBOX PRESENTATION:
Castle Douglas President Alan Murray attended a meeting of the 3rd Castle Douglas Brownie Unit where he was presented with a cheque for £317 for the Rotary Shelterbox charity by Bryony Wilson on behalf of the unit. The money was raised by Vicky Long following a presntation by Alan on the work of Shelterbox last year. The picture below shows Alan accepting the cheque.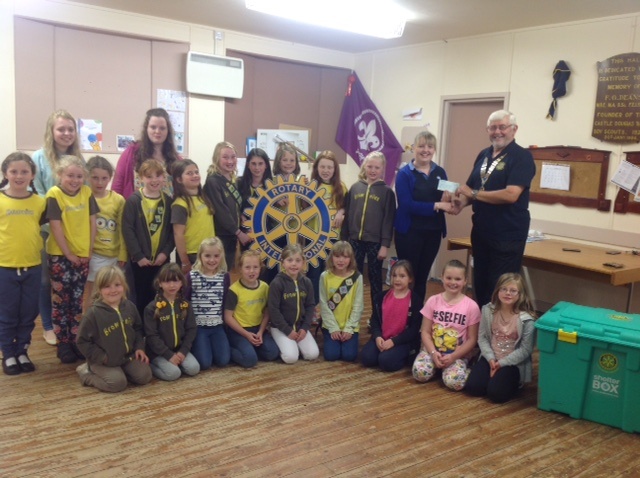 YOUNG GOLFER OF THE YEAR COMPETITION 2015:
Castle Douglas Rotary Club organised the District Young Golfer of the Year Competition which was held on the challenging Lockerbie Course. The winner was local golfer, Angus Bendall, who gave an superb display of his golfing skills. Angus was presented with the trophy by Andrew Campbell who had organised the event.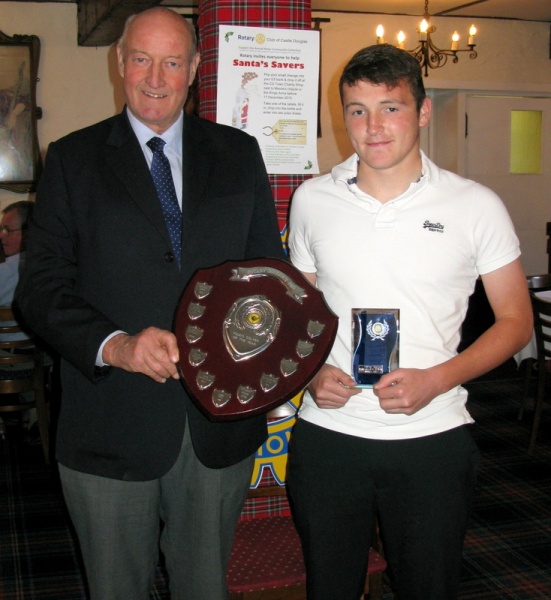 "END POLIO NOW!" GARDEN PARTY:
The Annual Garden Party to celebrate the start of the new Rotary Year provided the opportunity for an excellent social evening while raising money for End Polio Now! Owing to the disappointing weather, the event was moved to Castle Douglas Parish Church Hall. However, this provided a comfortable location for an excellent evening with much good humour. Thanks to George Dickson and Liz Harper for organising the event which raised £560 for End Polio Now!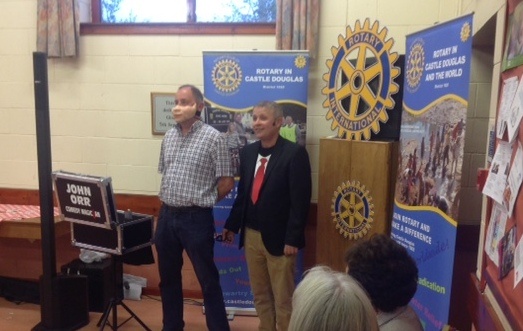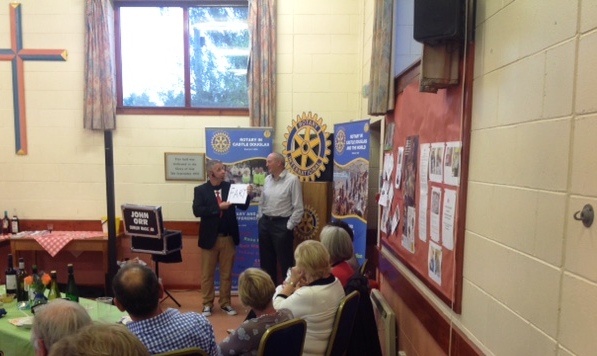 John Orr provided the entertainment.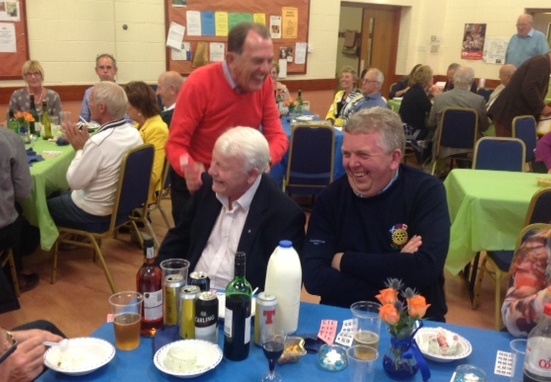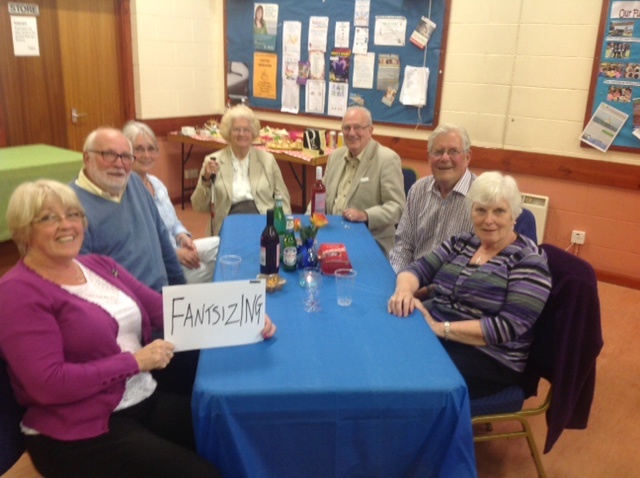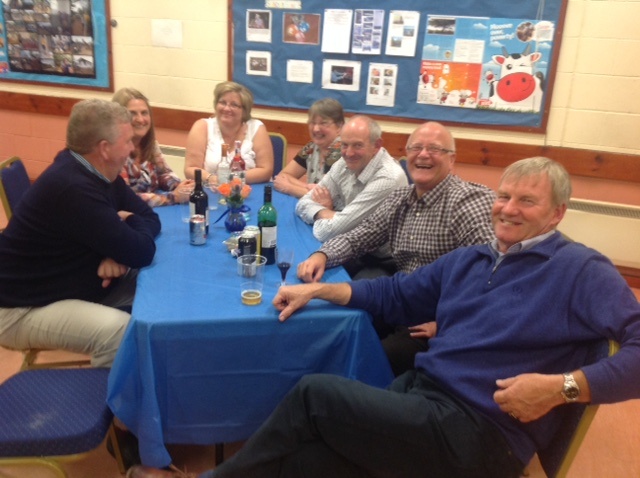 DISTRICT GOVERNOR VISITS CASTLE DOUGLAS:
New District Governor Andy Ireland made Castle Douglas Rotary Club one of his first visits of his year in office.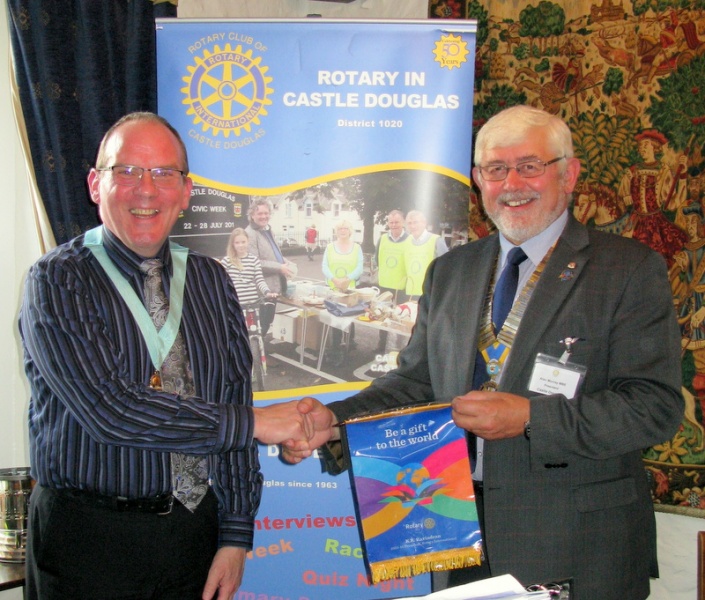 Andy, on the left, presents Castle Douglas Rotary Club President Alan Murray with one of the Rotary International President's banner.
DOUGLAS DAY PARADE 2015:
There was a god turnout of entries for the parade and Castle Douglas Rotary Club undertook the difficult task of deciding the winners in each of the categories.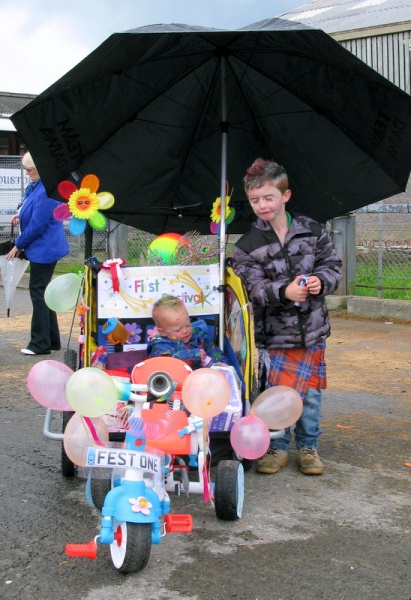 Winner of the Under 7 Best Dressed Bike.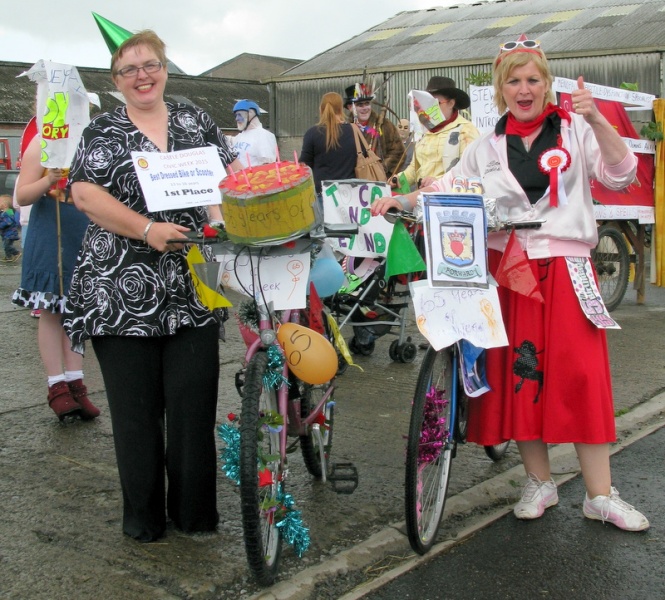 Winner of the Adult Best Dressed Bike.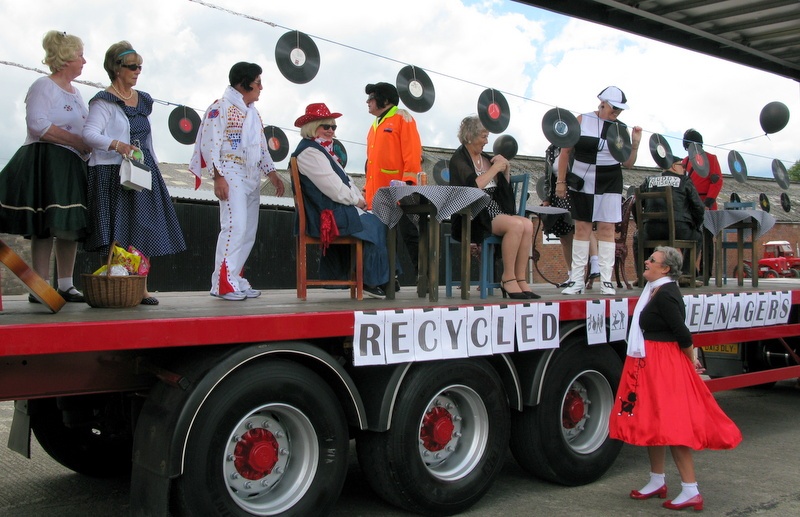 PRESIDENT WELCOMES VICE-PRESIDENT FOR THE NEW ROTARY YEAR:
A good turnout of members attended the meeting of the Rotary Club of Castle Douglas on Thursday 25 June 2015 to celebrate the achievements of the last year and hear about the plans for the year ahead. President Alan Murray looked back on a busy year during which time the Club made a positive impact on the lives of local people whilst at the same time supporting many international good causes.

Castle Douglas President for 2015-16, Alan Murray, welcomes Kenny Murray as his Vice-President for the Rotary year. Kenny has previously served as President in 2009-10 and will take on the Presidents role again in 2016-17.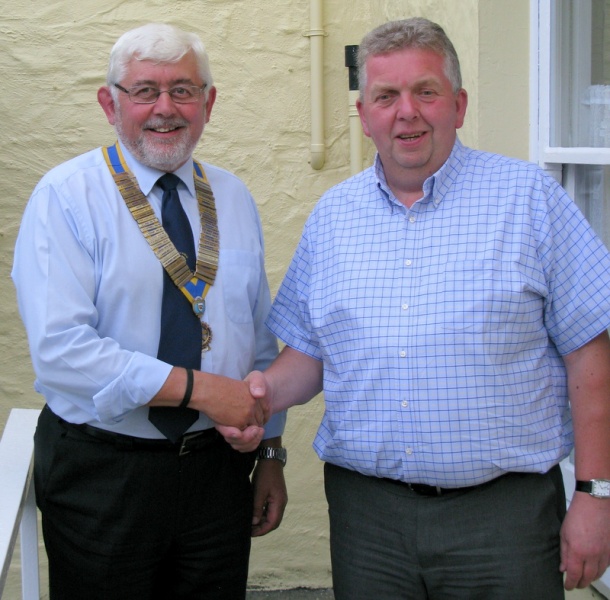 CASTLE DOUGLAS ROTARY RIDE RAISES NEARLY £500 FOR PROSTATE SCOTLAND:
Rotary Ride is a series of charity bike events which were held by Rotary Clubs across the UK on Fathers Day, June 21st, to raise money for prostate cancer.
A total of 27 riders took part in the 37 mile cycle ride through the wonderful scenery of the Stewartry and visited the home towns of two other Rotary Clubs in Dalbeattie and Kirkcudbright. Thanks go to the two Rotary riders from the Dalbeattie Club who joined us on the ride. One seasoned Rotarian rider did break down on route and had to be recovered. Although a bit wet and windy an enjoyable day was had by all, raising a total of £450.36 for Prostate Charity Scotland. Well done and thanks to all those who took part and helped.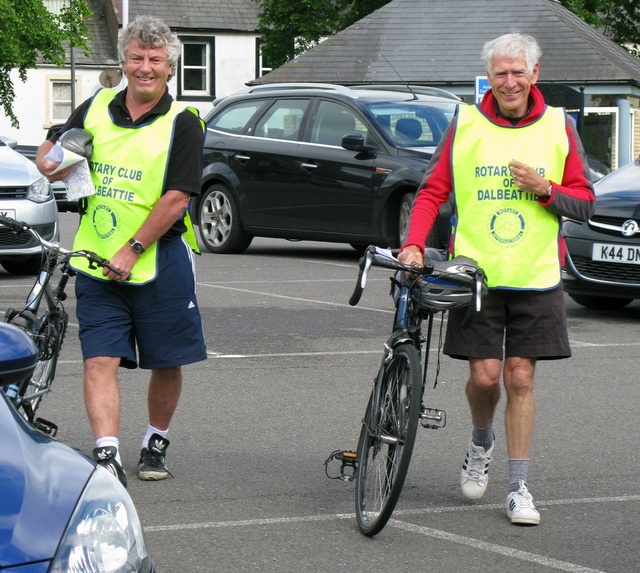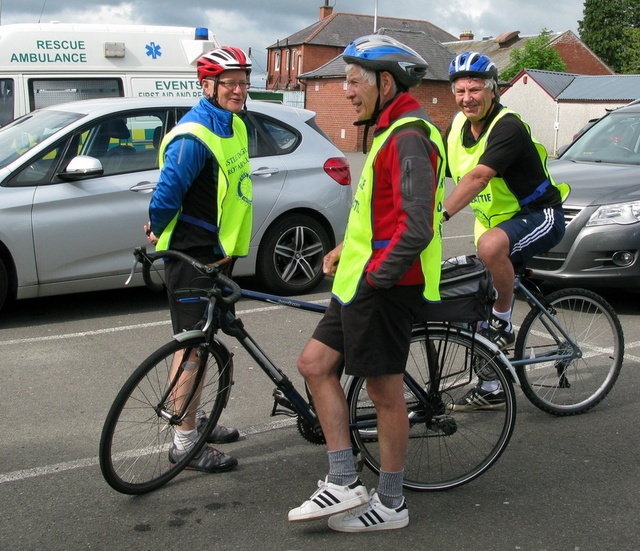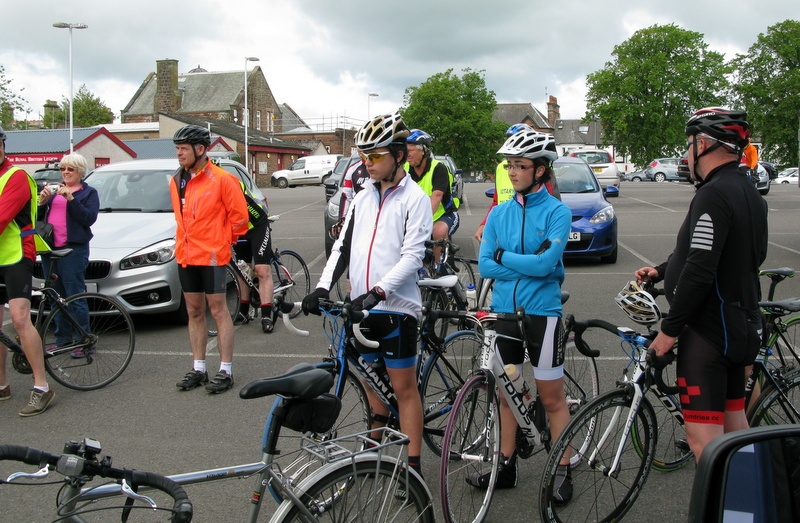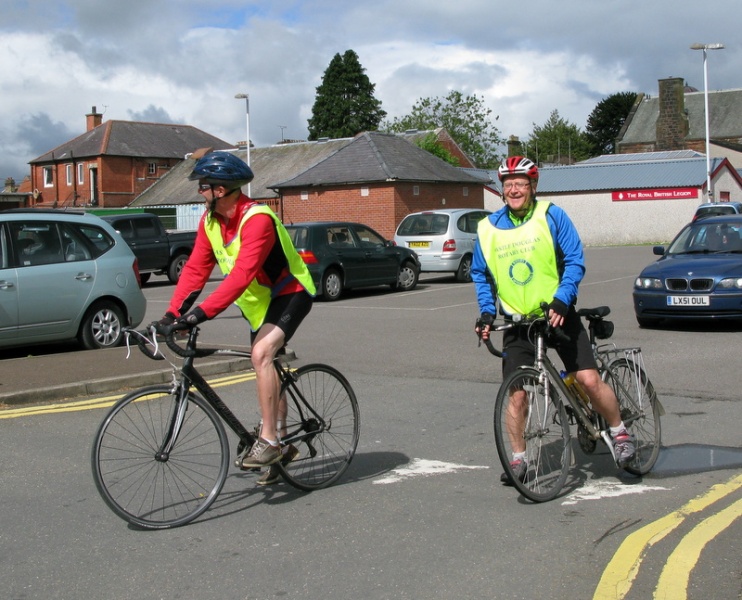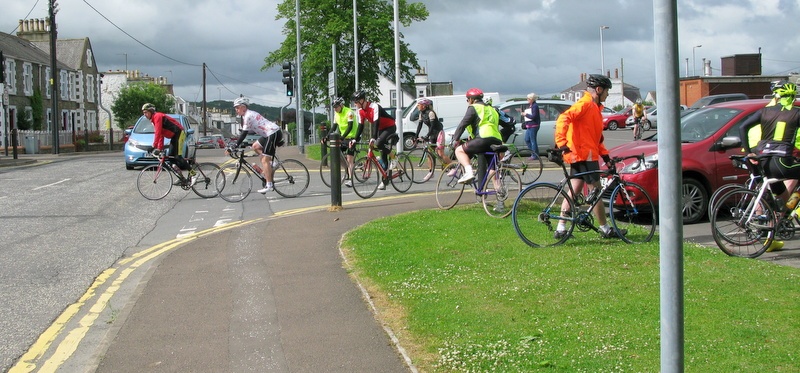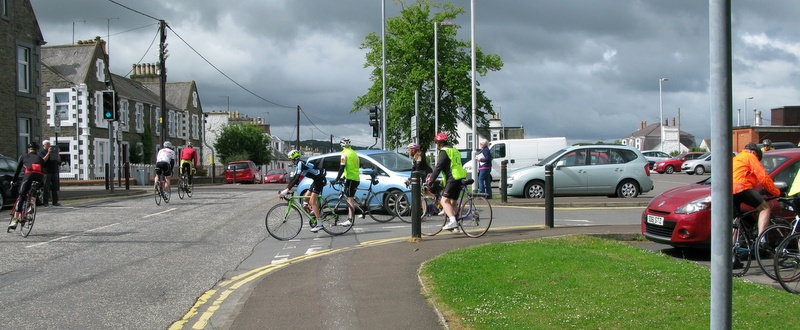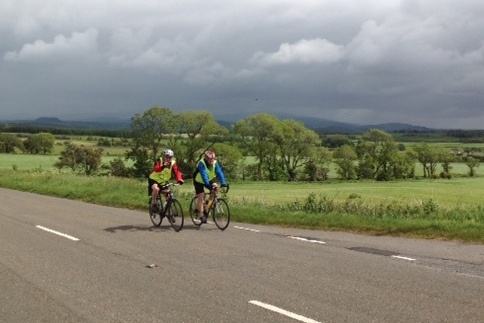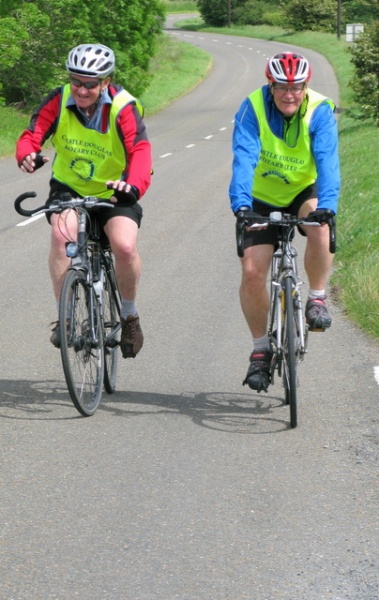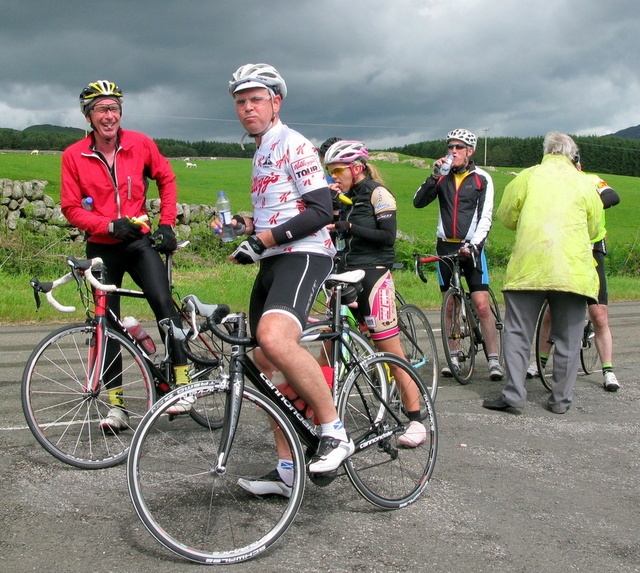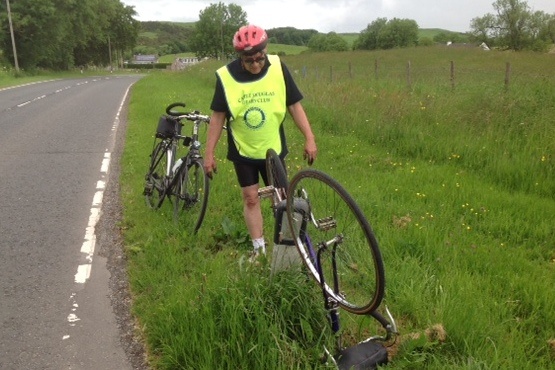 ROTARY KIDS OUT AT CREAM O' GALLOWAY
On Wednesday 10 June 2015, the Rotary Clubs of Castle Douglas, Dalbeattie, Kirkcudbright and Newton Stewart held a special day out for kids with special needs from the Schools in the West Area of the South West Rotary District 1020.
57 kids with 29 carers and teachers attended the event and 19 Rotarians from the 4 clubs acted as stewards and helpers during the day. The weather was superb so the outdoor activities Go Boing, Adventure Playground, Pond Dipping and Tractor rides were all very popular, while the indoor play areas the Pirate Ship and Smugglers Warren were also enjoyed by the kids.
A splendid lunch was served in the Burger Barn and the helpers took full advantage of the sunshine out on the veranda, while the day was rounded off by everyone enjoying a special Cream o' Galloway ice cream.
Rotary Kids Out has been an annual event in District 1020 for many years, mainly at Barony College, but the numbers have grown so much that it was decided to run separate outings for the East and West Areas. This part of Scotland is well known for its excellent support for children with special needs and this event fits in well with the aims and objectives of all the schools in this part of Dumfries and Galloway.
The organising Rotary Clubs would like to thank the Cream O'Galloway and the participating schools for making this event such a great success.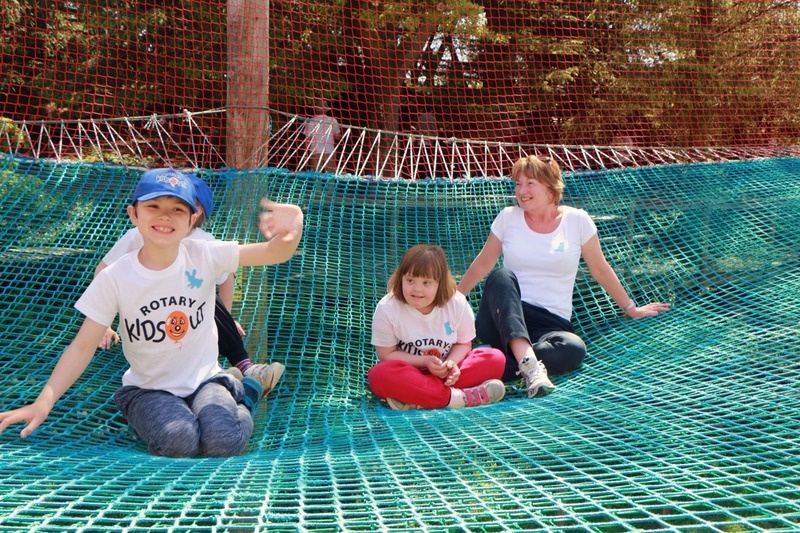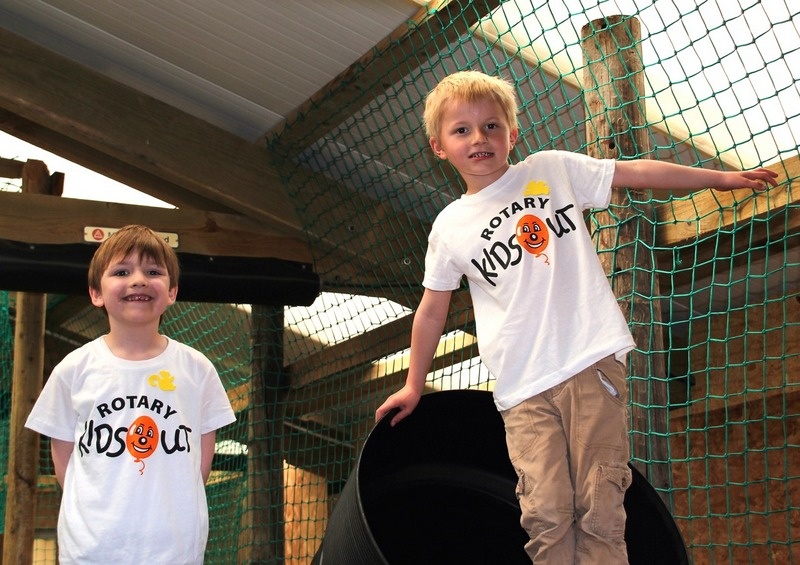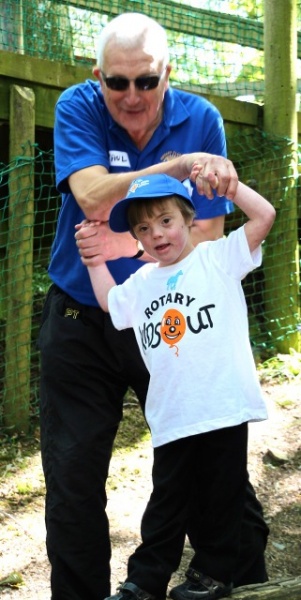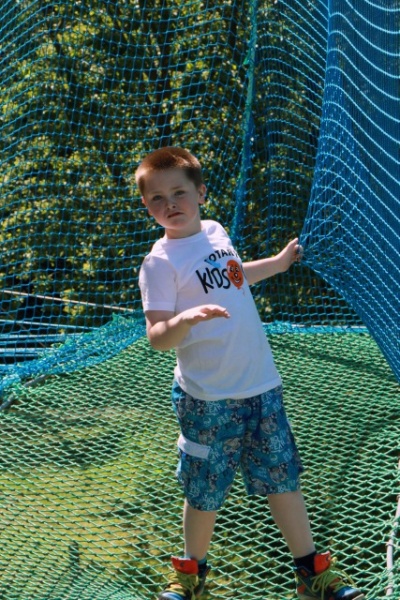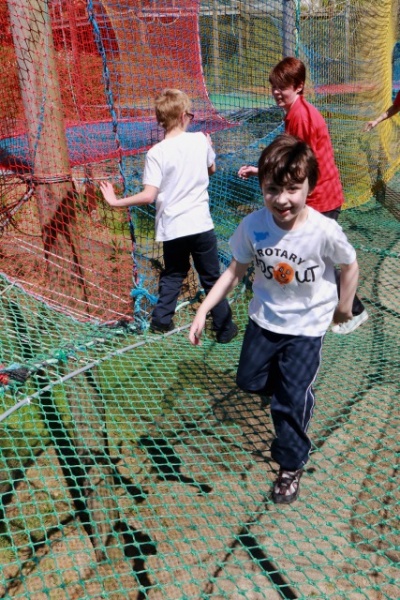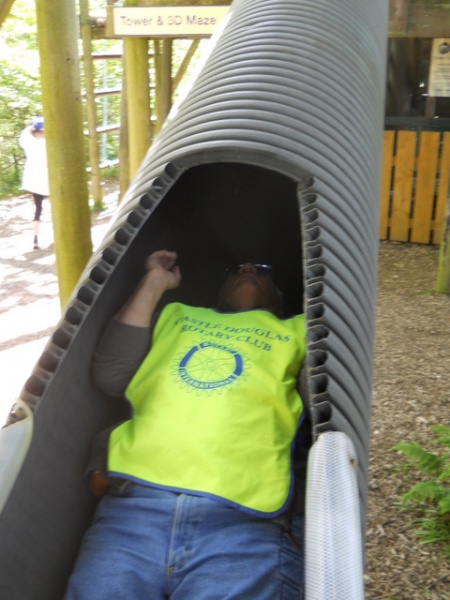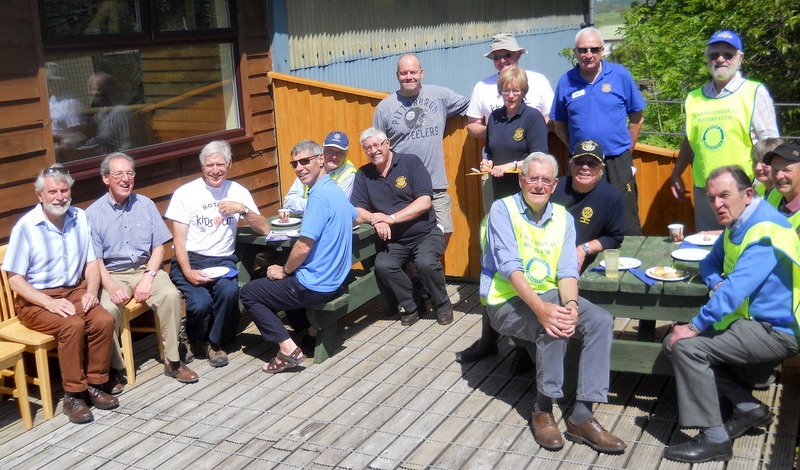 ROTARY SHELTERBOX ACTIVE IN NEPAL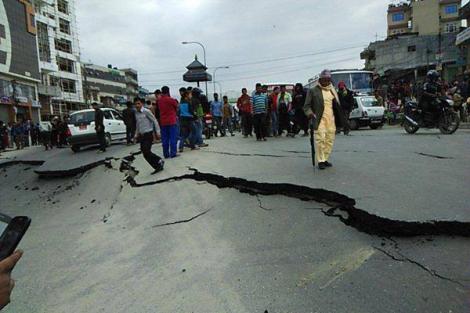 Since the 7.8 magnitude earthquake that rocked Nepal on Saturday, 25 April, Rotary connections in the country have been assisting ShelterBox with essential information and logistics.
The ShelterBox operations team was first able to get a clear idea of the level of destruction when Ashish Chaulagain, who is a member of Rotary International's youth programme Rotaract, got in touch to explain situation in the capital of Kathmandu. Ashish said: 'The situation is that the environment is filled with fear. Still there is an expectation of more tremors and the weather forecast has also said to be alert. There is much damage in Kathmandu. Emergency relief is required that is for sure.' The speed of this information helped to inform ShelterBox's decision to send an assessment team, made up of Phil Duloy (UK) and Nicola Hinds (UK) to the city. On arrival, they were met by local Rotarians who were able to give them a full briefing on the current situation. Phil said: 'We have had a huge amount of help from Rotary groups so far. They have been taking part in search and rescue teams, debris clearance and facilitating bringing aid into the city, so they have been able to give us an insight into the type of aid that is needed.'
ShelterBox is sending an initial 500 shelter kits to Kathmandu to help provide shelter to the thousands of people who have been sleeping on the streets, despite the plummeting temperatures and thunderstorms. The shelter kits can be used in a variety of ways to help repair structures and create temporary shelters.
Local Rotarians will be further assisting ShelterBox by acting as consignee for the shelter kits, helping to import the aid into the country and take responsibility for it as it goes through customs.
The global network of Rotary clubs has been important to ShelterBox since it was formed in 2000.
Castle Douglas Rotary Club is a supporter of Shelterbox and has contributed Shelterboxes to all the major disasters for many years.
EASTER TREATS FOR YOUNG CARERS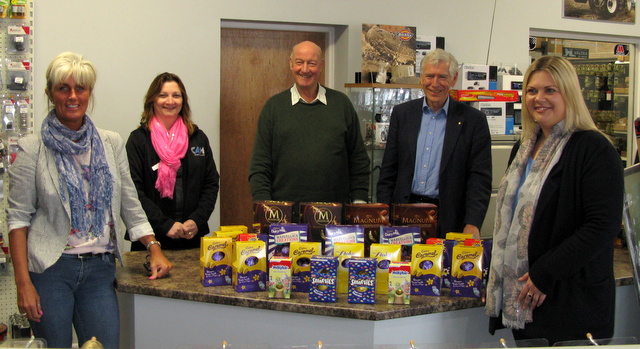 Castle Douglas, Dalbeattie and Kirkcudbright Rotary Clubs are working together with the Young Carers Project to provide help and support for Young Carers throughout the Stewartry. Many of these Young Carers are denied the normal treats and presents which other children receive. As it is Easter time, the Rotary Clubs have collected Easter Eggs so that every Young Carer will have at least one to enjoy.
The picture shows the collection of Easter Eggs before they were distributed to the Young Carers. Present are Jennifer Montgomery and Andrew Campbel from Castle Douglas Rotary Club together with Fraser Sanderson from Dalbeattie Rotary Club and Joy and Sara from the Young Carers Project.
CROSSMICHAEL MARATHON: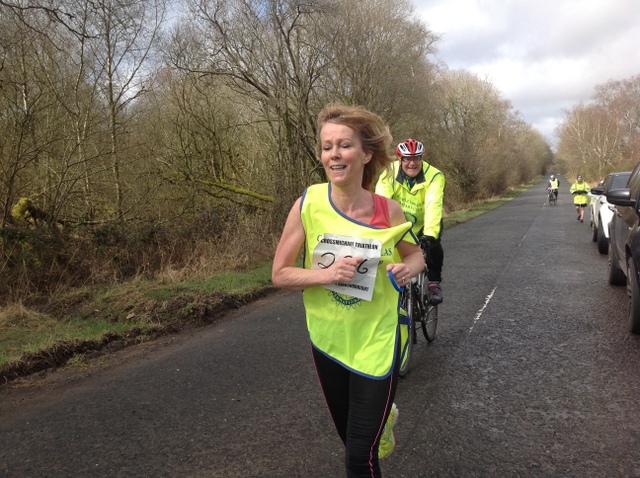 Pauline Fulton looking relaxed as she nears completion of her leg of the Crossmichael Marathon hotly pursued by Derek Crichton! Castle Douglas Rotary Club supported the Crossmichael Marathon with a team of runners and a crew of support marshalls.
For more pictures of the event click here
IT EQUIPMENT FOR YOUNG CARER:
As part of the project to support Young Carers in Castle Douglas, the Rotary Club have worked with the IT Centre in Castle Douglas to equip one of the Young Carers with the IT equipment necessary to complete their homework and for other needs. Castle Douglas IT Centre have resourced a suitable laptop, printer and other items.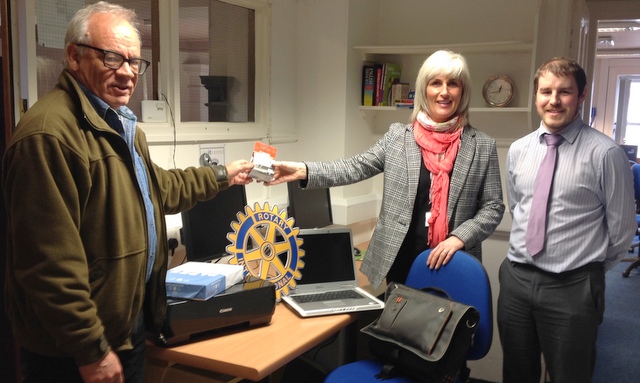 The picture shows the laptop and equipment being handed over to Cliff Robertson of Castle Douglas Rotary Club. Also in the picture are Joy McLure from the Young Carers Project and Chris Fyles from Castle Douglas IT Centre.
RACE NIGHT 2015
Thanks to everyone who attended Race Night and contributed to the success of the evening. Also, many thanks to the sponsors of the event, the race sponsors, the horse owners and all who helped on the evening.

The proceeds from the last race went to the 1st Castle Douglas Scouts to support their Kenya project, details of which are below.
LOCAL SCOUTS TRAVELLING TO KENYA

The Rotary Club of Castle Douglas are delighted to announce that they have formed a partnership with the 1st Castle Douglas Scouts Group.

The new partnership has seen funding from the Rotary Club being given to assist the Patrol from Castle Douglas Scouts to fund their trip to Kenya in July. The Scouts are funding the construction of three double latrines in schools in and around Ekalakala, a market centre 80 miles north east of Nairobi. The money to build the latrines was funded by a successful cycle ride mounted "latrine" through Galloway in 2014.

The money from Rotary came from Race 7 at the Race Night held in Castle Douglas Town Hall on Saturday 14 March 2015 at 7.30pm. Commenting on this partnership, Rotary Club President Alan Murray said, "Rotary is all about service and the voluntary work being undertaken in Kenya by local Scouts is service of the highest order and we are determined to ensure that support is given to this good cause".

The money raised at the Race Night will help to assist the Scout Patrol with the costs associated with the trip to Kenya.

Commenting on the partnership Paul Hodson from 1st Castle Douglas Scouts said "The support of Rotary is fantastic and the Scouts are looking forward to this once in a lifetime opportunity which will include the Scouts lending a hand in finishing the toilets, installing a well point and hand pump in a sand dam near the village of Isyukoni, in the same area of Kenya. Not content with this the Scouts will also conduct a feasibility study into the construction of further sand dams for future projects".
END POLIO NOW!


Castle Douglas Rotary Club was out and about in Castle Douglas last Saturday collecting for END POLIO NOW! which is a global campaign to eradicate polio across the world. Over the 30 years that Rotary has been working to eradicate polio, over 2.5 billion children have been immunised in 122 countries. This has prevented 5 million case of paralysis and over 250,000 deaths. Today, polio only remains endemic in Afghanistan, Nigeria and Pakistan.

Polio vaccine costs about 20p per shot. For every £1 which we raise, the Gates Foundation match funds the campaign with another £2. Thus each £1 raised enables Rotary to treat 15 children with vaccine and thus save their lives from disaster. The vaccine is delivered by Rotary volunteers so all the money goes into vaccine supplies.

This year we vaccinated 4500 children from the money collected in Castle Douglas.

Thanks to everyone who contributed.
Meeting Information...

We meet on Thursdays at 1800 for 1830 hrs (We gather in the Bar around 6:00pm. Meal is in the Dining Room at 6:30pm. No meeting between Christmas and New Year.) KINGS ARMS HOTEL, ST ANDREW STREET, CASTLE DOUGLAS DG7 1EL tel: 01556 502626
meeting details