We are a friendly and active club, supporting many charities and we have a range of social activities. Each week we meet for lunch and regularly have interesting speakers. We have around 40 members and welcome enquiries from prospective new members who would like to work with us towards our goal of improving our community locally, nationally and internationally.
_________________________________________________________

Here are some of our recent social and charitable activities
Brecon walking holiday
Our 2016 walking holiday was in Brecon in South Wales. Thirteen couples arrived in glorious sunshine for the week. Everyone had a thoroughly good time; thanks to Bill Fairhall who organised a great holiday and perfect weather. Our party was split between walkers and strollers. The walkers were guided by experienced leaders on easy, medium or hard walks and the strollers ... well they took their cars...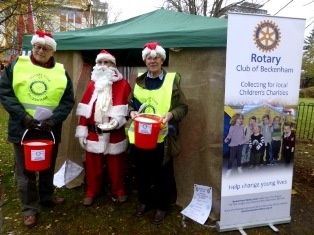 Collecting for childrens' charities

The picture shows Rotarians collecting at the Beckenham Christmas Market
Each Christmas we tour the neighbourhood with Santa and his sleigh collecting for several local childrens' charities. In 2015 we collected nearly £12,000 which typically is donated to Demelza, CASPA, Bromley Young Carers, Burgess Autistc Trust, Amaze Penge, 9th West Wickham Scouts and many more.
President's charity
Each year our incoming President selects a charity he wishes the club to support. In 2015 we were asked to fund and to assemble a potting shed for MindCare Bromley. The following year the incoming President has chosen the National Osteoporosis Society.
The President for 2016/17 will announce his chosen charity very soon.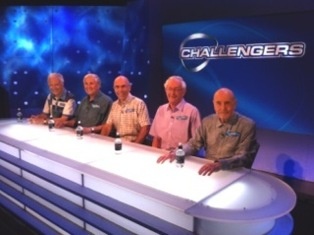 Eggheads
This year the club was selected to enter a team for the Eggheads quiz show on BBC2. If we had won, the prize money would have gone to charity.
The show was screened in January 2016, but alas for those familiar with the show and despite a spirited effort, the result was predictable.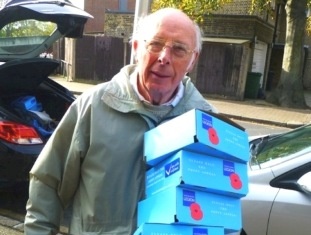 British Legion Poppy Appeal
Each year we organise the collection in Beckenham. This includes filling and distributing the poppy trays, together with money boxes, to our supporters, then retrieving them after 11 November, and counting and banking the contributions. Last year we collected over £30,000 from the generous people of Beckenham.
In addition we raised further funds with our unofficial Poppy walk in the summer; a circular walk and quiz through little known parts of Central London.

African charities
We support several charities in Africa. This picture shows the Gumboot Dance being performed by children at the Butterfly Project (RSA).
Other charities supported include Bizweni Centre (RSA), Laissez l'Afrique Vivre (DRC) and Tools for Self Reliance (throughout Equatorial Africa).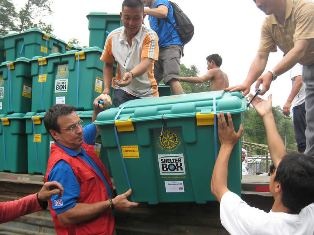 Shelterbox
ShelterBox provides emergency shelter and vital supplies to support communities around the world overwhelmed by disaster and humanitarian crisis.
In the past 12 months we have funded boxes for both natural and for man made disasters throughout the world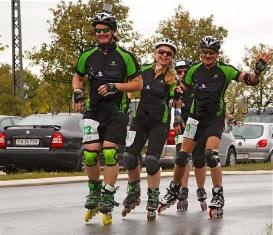 End Polio Now
Rotary International is one of the driving forces in the campaign to eradicate poliomyelitis and has donated nearly $1 billion towards this. Polio is no longer endemic except in Pakistan and Afghanistan.
In 2013 one of our members raised £2,700 in sponsorship, participating in the Copenhagen Inline Marathon (26 miles in the rain!). He's on the right waving! He is planning a further marathon in 2016.
Worldwide there are about 1.2 million Rotarian members in 34,000 clubs in 160 countries. People join Rotary to "give back" to their communities and to connect with like-minded leaders and friends. Together, we empower youth, improve health, promote peace and advance our communities throughout the world.
We hope you find our activities interesting; to contact us, just select the Contact link. We will be very pleased to hear from you.
You can follow us on Facebook by searching "Rotary Beckenham" or by just clicking on the link (above on the right).
_________________________________________________________________________
meeting details

In the next 30 days...
Social Media...
Rotary Beckenham
Promote Your Page Too
https://twitter.com/rotarybeckenham
Meeting Information...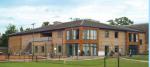 We meet on Thursdays at 13.00 The Parklangley Club
44a Wickham Way
Beckenham
BR3 3AF tel: 020 8658 9028