The Purley Rotary Club is a community

led organisation with a long history of serving the local Purley community since 1923.
By combining their skills and resources, members of the Purley Rotary Club work to make a real contribution to the lives of others.
Should you wish to become a community organiser, then Rotary can provide the skills and support for those individuals wanting to experience leading an existing project or to maybe start a new project.
You may enjoy taking part in helping towards good causes and want to contribute to the well being of others through collaboration with fellow Club members.
You may wish to join in the social life of the Club and meet other like minded individuals; joining in the regular cultural activities or enjoying varying competitions organised between Clubs throughout the UK.
If you like to learn more about our activities, please feel free to contact us.We look forward to introducing ourselves and our club to you. Please call 0845 607 0443 or email info@purleyrotary.com . We meet alternate Tuesday lunchtimes and Wednesday evenings at the Purley Sports Club, The Ridge, Purley, CR8 3PF.
Julian Speroni CPFC goalkeeper gets the 2nd day of the annual Purley Swimathon underway.
Having had local, 'KEEP PURLEY POOL OPEN' campaigner Fred Wallis do the honours on day 1 of the Purley Swimathon we were fortunate to have Julian Speroni do a similar job on day 2. There was certainly a buzz in the air when spectators and swimmers alike realised Julian was there. He even got to speak to some swimmers and spectators before leaving.
As it was the event, planned and organised by Purley RC, had 262 swimmers across 37 teams swim 100 kilometers whilst raising over £20,000 for local charities and causes. Started in 1088 the Rotary Club has helped to raise £470,000 to date and hopes to reach the magical figure of £500,000 in 2017.
It's not a marathon and we generally have swimmers aged between 6 and 80+ and of all abilities, take part. We do all the work you just have fun! If you didn't bring a team to the poolside this year you can register your interest for 2017. The dates are provisonally Saturday 25th February (4-9pm) and Thursday 2nd March (6-9pm). For further information contact Tony Farrell via email at: purleyswimathon@gmail.com
Julian Speroni gets Day 2 of the Swimathon under way (Go to ''What we Do' section at the top of this page to access more photgraphs of the 2016 Swimathon)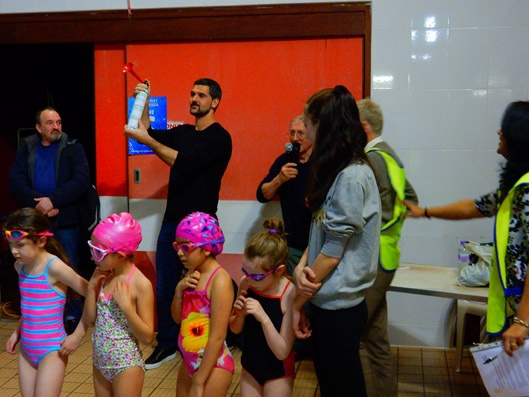 Meeting Information...
We meet on Wednesdays at 19:00 (The Club meets on alternate Tuesdays [Lunch: 12.30 for 1pm], and alternate Wednesdays [Dinner: 6.30 for 7pm].)


Purley Sports Club, The Ridge, Purley. CR8 3PF

We welcome visitors from other clubs and individuals who feel they may be interested in joining Rotary. …
… tel: 0845 607 0443 (charged at National Rate)
meeting details