This site is under review and being updated-please call back soon
The Purley Rotary Club is a community

led organisation with a long history of serving the local Purley community since 1923.
By combining their skills and resources, members of the Purley Rotary Club work to make a real contribution to the lives of others.
Should you wish to become a community organiser, then Rotary can provide the skills and support for those individuals wanting to experience leading an existing project or to maybe start a new project.
You may enjoy taking part in helping towards good causes and want to contribute to the well being of others through collaboration with fellow Club members.
You may wish to join in the social life of the Club and meet other like minded individuals; joining in the regular cultural activities or enjoying varying competitions organised between Clubs throughout the UK.
If you like to learn more about our activities, please feel free to contact us.We look forward to introducing ourselves and our club to you. Please call 0845 607 0443 or email info@purleyrotary.com . We meet alternate Tuesday lunchtimes and Wednesday evenings at the Purley Sports Club, The Ridge, Purley, CR8 3PF.
Latest News:
Historic First Conference in Bournemouth:
18 members and partners attended the historic first disrict conference at the BIC Bournemouth over the weekend 2-4th October. A great time was had by all with lots of socialising as well as good food and drink. It was both humbling and inspirational to listen to many of the speakers.
The new district of 1145, totalling 104 clubs, is due to a merger of districts 1140 and 1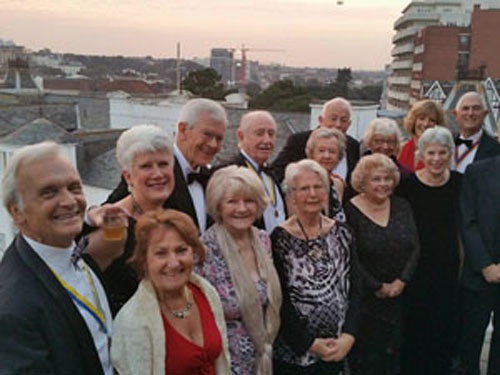 The Balcony Scene from the top floor of the Royal Bath Hotel.
Note: 2016 Purley Charity Swimathon dates are Saturday 27th February and Thursday 3rd March 2016
Many of the swimmers this year were aged between 6 and 80 plus.Despite being a fun event, between them, they racked up over 4,500 lengths over the two evenings. This equates to just over 70 miles. If you live in the UK this is the distance between Purley and Portsmouth.
The Purley Swimathon, oranised by the Purley Rotary Club, has been going since 1988 and, to date, has raised over £465,000 for local and national charities. In the next couple of years we hope to reach a target of £500,000. Why not enter a team in 2016 and help us to achieve this?, just send an email to the organisers at purleyswimathon@gmail.com. Click (here) for an Entry Form which should be completed and sent to the aforementioned email address. If money matters,make waves and join us in 2016!