The Purley Rotary Club is a community

led organisation with a long history of serving the local Purley community since 1923.
By combining their skills and resources, members of the Purley Rotary Club work to make a real contribution to the lives of others.
Should you wish to become a community organiser, then Rotary can provide the skills and support for those individuals wanting to experience leading an existing project or to maybe start a new project.
You may enjoy taking part in helping towards good causes and want to contribute to the well being of others through collaboration with fellow Club members.
You may wish to join in the social life of the Club and meet other like minded individuals; joining in the regular cultural activities or enjoying varying competitions organised between Clubs throughout the UK.
If you like to learn more about our activities, please feel free to contact us.We look forward to introducing ourselves and our club to you. Please call 0845 607 0443 or email info@purleyrotary.com . We meet alternate Tuesday lunchtimes and Wednesday evenings at the Purley Sports Club, The Ridge, Purley, CR8 3PF.
Page under review, we apologise for any inconvenience please come back soon
Member crashes in on Wall Street RC!
Nina Guha, member of Purley Rotary Club, took advantage of a short holiday to New York by visiting not only the Rotary Club of New York but also found time to visit the Rotary Club of Wall Street, NY. Picture below shows Nina swapping pendants with Rotarian John L German, Chair of the Interantional Service Division of the Rotary Club of New York. (more pictures to follow). For those not in the know being a Rotarian has many benefits, and one of them is being able to drop in, and be made welcome, at any Rotary Club around the globe.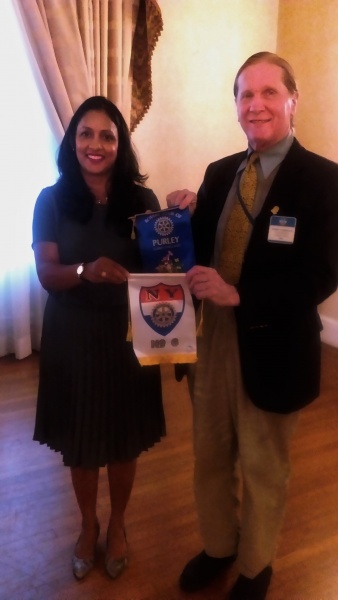 Meeting Information...
We meet on Wednesdays at 19:00 (The Club meets on alternate Tuesdays [Lunch: 12.30 for 1pm], and alternate Wednesdays [Dinner: 6.30 for 7pm].)


Purley Sports Club, The Ridge, Purley. CR8 3PF

We welcome visitors from other clubs and individuals who feel they may be interested in joining Rotary. …
… tel: 0845 607 0443 (charged at National Rate)