Welcome to Clyde Valley Rotary Club

Primary Schools Quiz
Did you try our Primary Schools Quiz at the Our Larkhall day? Find the answers here , (or download the questions from the same page if you want to give it a try).
Each year we run the quiz, with a total of 16 schools taking part. It is always popular with pupils, teachers and Rotarians alike and gives a chance for our kids to shine.
Shelter Box Display at Blackwood Gala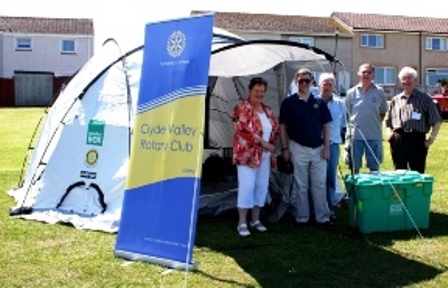 Clyde Valley Rotarians display a Shelterbox at Larkhall, Lesmahagow and Blackwood/Kirkmuirhill gala days. Local schools and youth groups have sponsored Shelterboxes, which provide survival equipment in disaster areas. A number have already been sent to Vanuatu in response to the cyclone which hit recently.
End Polio Now
When we gave out the Primary Schools Quiz papers (see above) we asked for donations for End Polio Now. This campaign was started by Rotary over 25 years ago and with partner organisations like the Bill and Melinda Gates Foundation has nearly succeeded in eradicating polio from the planet.
About the Club
Clyde Valley Rotary Club was formed in July 1973, as Larkhall Rotary Club, and in January 2011 we were re-chartered as Clyde Valley Rotary Club.
Membership is aimed at local business, professional and community leaders who want to make a difference.
Click on link below to find out what we're all about. We're for Communities
.
For membership information, e-mail info@clydevalleyrotary.org.uk
We'd love to hear from you!
We meet in the Radstone Hotel, Shawsburn, Lanarkshire
on Thursday evenings at 7.00pm
meeting details

Social Media...
Clyde Valley Rotary Club
Promote your Page too
Meeting Information...
We meet on Thursdays at 7.00pm Contact Secretary tel: 01698 791111