Sign up to Clyde Valley Rotary

Clyde Valley Rotary Club welcomes you to our Web Site, our functions, our fellowship, to our efforts in making a difference. Look below to see some of what we do and who we are.
Shelter Box Display at Blackwood Gala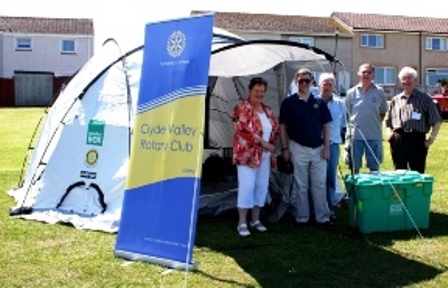 Clyde Valley Rotarians display a Shelterbox at Larkhall, Lesmahagow and Blackwood/Kirkmuirhill gala days. Local schools and youth groups have sponsored Shelterboxes, which provide survival equipment in disaster areas.
Primary Schools Quiz

Primary Schools Quiz 2013
Clyde Valley Rotary Club run two quizzes each year, one for the ten schools in the Larkhall cluster and then again for the schools in the Clyde Valley. It's always fun for the pupils, teachers and Rotarians alike. We have just run the 2013 quizzes and this year's winners were Glengowan in Larkhall, and Milton in the Clyde Valley.
Contestants at the Clyde Valley quiz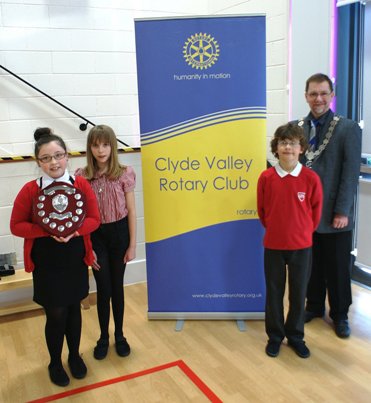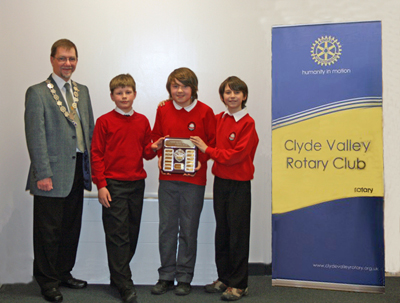 Winners Glengowan and Milton
'Stirred but not Shaken'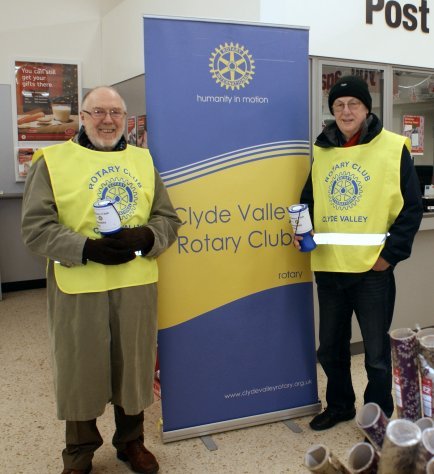 John and Frank, just one of the teams that raised a magnificent £598 during the Christmas Can Collection at the Co-op Supermarket on the 22nd December during a very wet, wet, wet, day. The Club are greatful to the generous shoppers who contributed to our benevolent fund, which will help support many local causes.
About the Club
Clyde Valley Rotary Club was formed in July 1973, as Larkhall Rotary Club, and in January 2011 we were re-chartered as Clyde Valley Rotary Club.

Membership is aimed at people "of good character and good business, professional and/or community reputation" (that's the official bit!) who live or work in the Clyde Valley communities. We're looking for people who want to make a difference.
Click on link below to find out what we're all about. We're for Communities
.
For membership information, e-mail info@clydevalleyrotary.org.uk
We'd love to hear from you!
We meet in the Shawlands Park Hotel, Shawsburn, Lanarkshire
on Wednesday evenings at 7.00pm
Shawlands Park Hotel is on the North East side of the M74,
about 600 yards from Junction 8, on the A71

Social Media...
Clyde Valley Rotary Club
Promote your Page too