Innes Bending
Wed 24th August 2016
Innes's talk to our Rotary Club on 23rd August 2016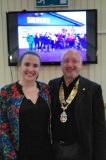 Our speaker at our meeting on 23rd August 2016 was Innes Bending, a former pupil of McLaren High School (pictured with Club President, Brian McKay), who came to tell us about her experience of working on a 12-month project in Honduras. Having completed her schooling at the age of 17, Innes decided she wanted to spend a year doing something worthwhile and challenging before proceeding to university. Her application to the Project Trust brought a number of challenges, not least the need to raise £6000, and the gruelling initial interview & assessment process, which took place on the island of Coll.
Having been allocated to a posting in Honduras, Innes was initially alarmed to read on Google very negative reports of drugs, gangs, kidnapping and murder! However, on arrival in the country, although it was hot and humid, she found it was also very beautiful, with lush forests, lots of tropical fruits and picturesque beaches. Her home for the next 12 months was in a mountain village, where she encountered a very 'laid-back' culture amongst friendly, happy people. Subsequent challenges included a lack of water due to drought conditions, frequent unpredictable power cuts and a dialect full of slang, totally different from the Spanish she had studied at school!
Innes found herself working up to 11 hours a day, 6 days a week. Her work was divided between Miqueas Orphanage, which provided a caring home for children aged 3-18 years old; and the local primary school. In the orphanage, in addition to teaching basic English and social skills, she had to undertake physical therapy work with two severely disabled children, a humbling experience which she said taught her how to be patient. With her project partner, she volunteered to teach English to primary school children who had no knowledge of the language and little understanding of school discipline. This was testing, but satisfying, as she observed the children's progress and recognised the new opportunities which a second language would open up for them. (However, it was alarming to find that some of the children carried machetes in their schoolbags!) Highlighting her achievements in this challenging environment, Innes cited: putting on a nativity play (persuading 8-10 year-old boys to sing and dance!); running a sports day; organising a family quiz; and establishing a pen pal scheme between the children in Honduras (who wrote in English) and a school in Aberdeen (whose children wrote in Spanish). The appreciation of the local community was due reward for all her endeavours.